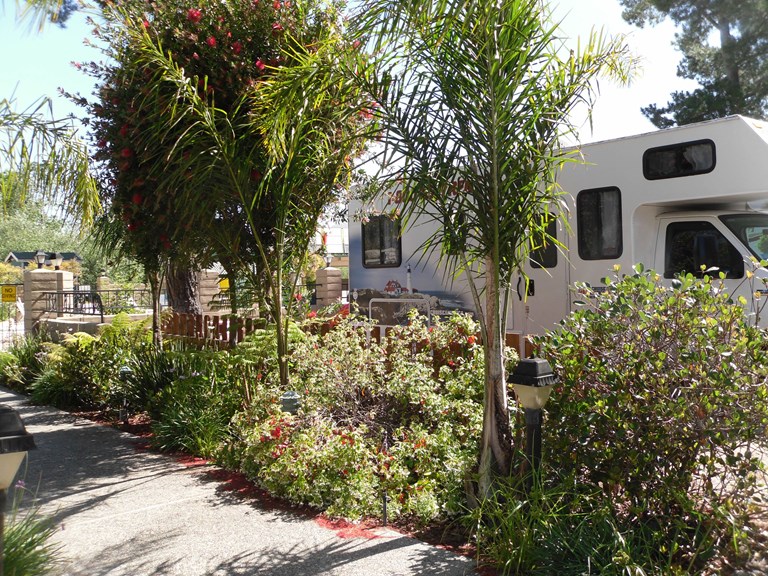 Avila / Pismo Beach KOA Reviews
Directions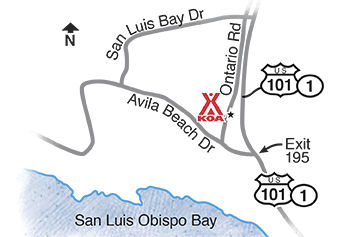 This campground is just off Exit 195, Avila Beach Drive: Turn right onto Ontario Road. This KOA is 5 miles north of Pismo Beach, 3 miles from Avila Beach and 5 miles south of San Luis Obispo.
Get Google Directions
Jun 18, 2020
Stay was wonderful. The only downside was the smell of the sewer grate in our actual campsite. would have like
Jun 18, 2020
We love this place, however the #74 site we stayed at is barely big enough. Backed up tight to the fence to extend the slide out then pulled forward to have room to walk behind trailer. All of this because the hose faucet is too high. We have stayed at #72 site one time and there was a strong sewer gas smell coming from the manhole cover. Wish we could pick our site #. Thank you
Jun 18, 2020
Our stay was short but I noticed how clean and organized you were, offering many activities for families. My only complaint was the young bearded man who attempted to park us, hit our trailer with his golf cart by wedging himself between us and a pylon. He left a 2' black mark along our fender. He offered no apology nor did he offer to make things right for us, i.e. clean it. VERY disappointing
Jun 17, 2020
Campground is very small and close together. No campfires allowed so we had to rent a propane fire ring and were not allowed to roast marshmallows on it which was disappointing for the kids. We kept getting whiffs of sewage due to close proximity to bathrooms. The service from the staff was very good. No complaints there.
Jun 16, 2020
This was our first stay, and it was perfect! The grounds were clean and maintained. The movie nights were super fun! And the staff was extremely kind and helpful. Definitely booking another stay!!
Jun 16, 2020
This is basically a parking lot - nothing at all charming about this location.
Jun 16, 2020
Cable TV didn't work, also checked other locations with cable and they didn't work as well.
Jun 15, 2020
The park was nice and clean and the staff went above and beyond to make sure we were happy. Great location!!
Jun 15, 2020
Everyone of your staff was friendly and courteous. Great store, check in was easy, awesome location, clean place overall. Our only problem was it was too tight of a space. We couldn't open our slide outs and awning at the same time. Our truck didn't fit well in our space. Pretty much everyone we met complained about their site size too. Nevertheless, we had a great time and for that we thank y
Jun 15, 2020
This KOA is right near Avila Beach, and very easy to get into and out of (for my 24' Sprinter). I stayed in Spot #21 that was at the end. It was easy for me to back into my spot. Spaces are rather close together. Good General Store has most items you may need. On Friday, they had Movie night with free popcorn, which I didn't attend.
Jun 15, 2020
Very nice and easy! Bathrooms/showers were very clean.
Jun 14, 2020
Downside freeway noise. Upside very clean and well maintained. Close to paseo Robles breweries and Pismo Beach v
Jun 13, 2020
Nice staff but spaces are very small. Internet did not work. Also not sure why the restrooms were closed and they are open at other KOA camps?
Jun 13, 2020
great location, due to covid I couldn't use the amenities. when we were about to leave, we had brought our second vehicle to the site for loading. two staff gave us a hard time about one car per site rule. I really felt uncomfortable, and belive it was due to the color of our skin. I really like this place and would think about revisiting. but we'll see.
Jun 13, 2020
The manager is a miserable person, I parked my truck in my neighbors space with his permission, and the manager threatened me and was going to tow my vehicle. The neighbor was kind enough to let us use the spot , but the manager is on some kind of power trip
Jun 12, 2020
We purchased our first travel trailer and Avila/Pismo Beach KOA was our FIRST camping trip. We loved it. The employees are so nice and helpful. The guests we met were really friendly. Location is awesome and the park is SO nice. Looking forward to returning (we booked for September). Hopefully the pool, game room, etc will be open. I HIGHLY recommend this location.
Jun 12, 2020
The rv spaces were very narrow. Barely had room for the awning to extend. The space between the fence and the trailer and the picnic table was very tight. It seem we were packed in like sardines.
Jun 12, 2020
Check In Staff not friendly! Put us in a spot that was difficult to maneuver even though there were many open sites that would have been easy to get in and out of! The support staff (men taking you to the site and checking on us) were friendly and helpful! The attitude of the check in staff needs to improve!
Jun 12, 2020
Sites are pretty tight. I simply asked the workers in the store for reservations the following week and they wouldn't even take a minute to look- they just immediately said they are booked. I looked online and found what I needed with sites available
Jun 11, 2020
Unfortunately all facilities were not open (Covid-19, but nonetheless the superb service made it up. Would definitely recommend this site and will come back to stay!
Jun 11, 2020
We had to leave early because the wifi is no good. I talked to another man that was leaving for the same reason. Lots of camper travellers work remotely and need good internet connections. Also I think the stay should've been cheaper since all the amenities were closed that people like in your park. We may come back if wifi improves. Thanks
Jun 11, 2020
Very nice property and the staff was very helpful. All amenities were closed due to the virus.
Jun 11, 2020
Campsites too close together people packed in like sardines, No social no one wearing face coverings. There was a small town close by not very friendly. We decided to head inland instead of staying on the coast.
Jun 10, 2020
It was a beautiful place. Well maintained. The employees are so kind and helpful. The place itself is Crowded when fully booked and cramped, like camping in an RV storage lot because roads are narrow feeling with all the cars and park is small overall.
Jun 10, 2020
We were not allowed to stay in our Mercedes Class B Motorhome with attached matching enclosed Trailer. We had to take the trailer elsewhere and store with many of our camping supplies. The site barely fit our 24' van. We were charged $75/night which is double what we would have expected. Local Hampton Inn $109/night. We love KOA, but this was not a good experience.
Jun 09, 2020
Some of the sites are pretty small. Other than that the whole place is very clean and well maintained. The Bob Jones trail is right across the street and is perfect for exercising or just taking a stroll through nature. The general store had everything we needed and then some. Very friendly staff too. We will be back!
Jun 09, 2020
The staff was great and very friendly. The spaces were a little tight quarters for my liking, otherwise the park would have gotten a 10.
Jun 08, 2020
Great location, with very nice facilities and a very helpful staff as especially Jim the manager.
Jun 08, 2020
This was our first time staying in Avila and we enjoyed it! The KOA was very well kept, lots of space for the kids to run around and for everything being closed, we had plenty to do. We will definitely be returning soon!
Jun 08, 2020
Location was great, close to Avila and Pismo beaches. Public areas were closed due to Covid so can't really comment on those but everything else was fine. The spaces are a bit close together so expect that coming here but I would come back again.
Jun 08, 2020
site too small for our rig. No place to park the truck and couldn't even use picnic table. Instead of being asked nicely to move our truck from another site, which by the way was never used, the lady yelled at my sweet husband. Very inappropriate.
Jun 08, 2020
Very clean and helpful staff. The guy taking us to the campsite was super helpful! Just wish the bathrooms and showers were open. We understand why, didn't make our stay any less enjoyable. This was our first RV trip so happy we choose to stay with you.
Jun 07, 2020
They have CRAMMED far too many spaces into this park. It feels like you're in a can of sardines. When I asked if we could pay extra for one of the larger sites I was told they have to save them for the bigger rigs so we had no choice. The contortions we have to go through to back in is ridiculous.
Jun 06, 2020
Our campsite had no space between the next campsite. Our awning was 3 inches from the neighbors slide out. Wouldn't want that site ever again. Would go again but would probably choose a pull through as they looked like there was more room between rigs.
Jun 06, 2020
Pool closed, showers closed. If you want freeway close this is the place to be...NOISY!
Jun 04, 2020
Even with the C19 restrictions we had a wonderful stay. No restroom or shower open yet. Great place to stay with excellent, caring staff
Jun 03, 2020
Enjoyed our stay. Disappointed that the facilities weren't open due to COVID but understandable. Great location except for the freeway being so close we could hear the traffic. Very clean and well maintained.
Jun 03, 2020
Public restrooms were open but not at the half full campground. Also I don't like not being able to pick a RV site by number. Sun RV Resorts does it. Most other resorts you can pick your spot. Very important to me.
Jun 03, 2020
Campground personnel were very nice especially with the added strain of Covid 19 rules. Everything was clean and orderly. This would be a 5 star location except for the 24 hour freeway noise. A sound wall of some sort would be wonderful.
Jun 29, 2020
Great place to stay. Helpful staff
- Matt Furrer on Google
May 13, 2020
Amazing location with tons of amenities! There is even an outdoor screen for movies when its nice out! Pool/spa, horseshoe pit, large kids playground, dog friendly fenced in K9 Camp! It's got it all and will definitely be back!
- Justin Harrison on Google

Avila / Pismo Beach KOA
Open All Year
7075 Ontario Road
San Luis Obispo, CA 93405
Check-In/Check-Out Times
RV Sites
Check-in: 1:00 pm, Check-out: 11:00 am
Accommodations, Cabins
Check-in: 3:00 pm, Check-out: 11:00 am
Get Google Directions

© 2020 Kampgrounds of America, Inc.