Directions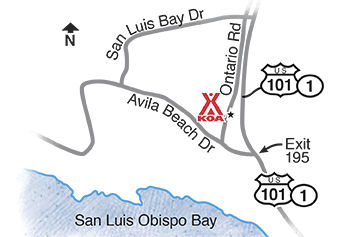 This campground is just off Exit 195, Avila Beach Drive: Turn right onto Ontario Road. This KOA is 5 miles north of Pismo Beach, 3 miles from Avila Beach and 5 miles south of San Luis Obispo.
Get Google Directions
Sep 23, 2021
Great camp hosts! Excellent and well maintained facilities.
Sep 22, 2021
the park was clean The managers were very helpful and assisted in parking my trailer The cable worked great but the wifi needs help
Sep 21, 2021
Everything was great. We checked in with no problem. We are new to trailering, but they had someone take us to our spot and help us to back in. The park is clean and close to everything. The store is well equipped. The staff is nice and the other guests were friendly. Two cons; freeway noise and small parking area for your car. Overall we had a great time.
Sep 21, 2021
Starts with the front desk, always. They were friendly and helpful.
Sep 21, 2021
Staff is very friendly and our room was clean and well maintained. Would like ther to have a drinking water fountain or water cooler instead of having to buy drinking water.
Sep 21, 2021
VERY clean Very quiet Great service when we checked in. Internet is really bad Spaces are extremely tight
Sep 21, 2021
Although the facility was clean and the staff was friendly and helpful, there is no private space between you and your neighbors.
Sep 21, 2021
Campsite was very clean and the staff was very friendly and helpful. It was just a little too close to the freeway
Sep 20, 2021
great spot. quiet and staff was awesome
Sep 20, 2021
We had a great time. Everyone was really friendly except for one person in the camp shot, she had an edge to her and was quite rude in her manner, everyone else was lovely. Other than her we had so much fun! We will definitely be back
Sep 20, 2021
We love this KOA because of it's proximity to the Bob Jones Trail and Avila Beach. It's clean, has a heated pool and hot tub, playground, and we like that it is small so it is less crowded at the pool and playground. My only complaint was that the sprinklers came on every night and drenched our picnic table, our chairs and our fire pit.
Sep 20, 2021
Well maintained, very good amenities, clean restrooms, staff was courtesious, priced was out of line for the value received.
Sep 19, 2021
We (my husband and I and our little Emmy) had a wonderful time.The weather was perfect. The staff was very helpful. Our Frenchie loved it .!!! With the RV's getting bigger I think you might run out of room....
Sep 19, 2021
Love the area, the people and the care that is given to the park. We always enjoy our time at Avila KOA. The check in process is easy and efficient, the grounds are well cared for and there are lots of activities right at the park. We always meet wonderful campers while we are there. Love the beach being so close and so many places to visit while at the KOA.
Sep 19, 2021
The deluxe cabins was great. Love the barn across the street.
Sep 18, 2021
We had a really nice stay. Everyone was very friendly and helpful. You kept the place clean and we would come again.
Sep 18, 2021
This was our 1st Time Staying at Avila KOA. It was very clean and well organized at check in. The spots were smaller than I thought but we have a great time. I will stay longer next time to enjoy the area and all that is available.
Sep 18, 2021
Avila & Pismo Beach are beautiful locations. The KOA was very cramped and close to the noisy 101. It was however clean and the wifi worked (slowly in the evening, fine in the morning).
Sep 18, 2021
Lied about wi-Fi available. NOT SO.when complained about it, check in person said " it is only available while in the office" They should make mention that when booking. Also, the check in person was rude when I complained and said we are only paying for rv site. Again NOT SO , They knocked at our RV much before 11 am, reminding us about the check out time. DO NOT NEED TO DISTURB US CLEAN ROOM
Sep 17, 2021
We always have a great time here. The staff is friendly,the cute farm across the street has the best fresh baked pies and we picked our own apples and tomatoes, but the best is the bike path to the beach. We will be back
Sep 16, 2021
We really enjoyed the stay
Sep 16, 2021
Clean facilities, spaces are pretty close in the center of the park. The perimeter ones are a little better. Everyone working there, as usual with KOA, is extremely nice and helpful. Great location. Loved the bike/walking trail and the little surprise stops along the way! Will be back for sure.
Sep 14, 2021
Great place, super great staff!!!
Sep 14, 2021
I had indicated that I have a 32 ft. 5th wheel unit when I made my reservation. The space that I was placed in was clearly not sufficient for that size unit. Upon arrival I was questioned about how long my unit really was, as if I didn't know anything about my own trailer. After putting out my slid-outs I barely had room to park my truck. Was not able to open my canopy and utilize the outdoors.
Sep 14, 2021
Very helpful parking guide :)
Sep 14, 2021
We took the free trolley that picks up right next door on Saturdays and Sundays. The trolley driver even let our Cocker Spaniel come. It takes you to Avila Beach, & Port San Luis, & down to the Pismo Outlets. The weather is always great here, & the Bob Jones trail next door is an easy walk down to the beach. Almost 3 miles, though. The lady that checks you is , & runs the little store is very nice
Sep 14, 2021
The freeway noise was pretty bad. Our site had a lot of wasps also. Other than that, it's a nice campground with a lot of amenities.
Sep 14, 2021
Very clean facility, we only stayed for one night. Surprised no one talked to us about joining a KOA. Thought 150 was a lot for one night though.
Sep 13, 2021
Staff was amazing, thank you for a fantastic stay! We had a small stone patio with private gas fire & BBQ, we would definitely come back again :)
Sep 13, 2021
Love all the amenities, the movie night, mini golf, etc. However spots are tight to get into and get out of. Overall great campground would stay again, maybe in the perimeter spots instead.
Sep 13, 2021
This KOA has very small sites, packed in like sardines. Our neighbor parked their truck partly in front of our trailer and had we needed to get up early and get on the road, we would have had to wake them up to move the truck. They did move it when they heard us up and about getting unhooked. I would only recommend if you had a small trailer and a small vehicle. No problems other than that.
Sep 13, 2021
It is a great little park, with a great pool, breakfast Saturday, movie night and more. The only two downfalls are it is super tight for big rigs, narrow pads, freeway noise. None of these were issues for us, our trailer is 25 feet. We have been there 5 times so we know. Office staff are so friendly. Just a little info for those huge rigs. We will be back!
Sep 13, 2021
The cabin wasn't cleaned properly. Also, there seems to be more regulations than my previous stay. Cleaning up the cabin is part of what we paid for, however I was told to clean the cabin after my stay. I was also told there's no open fire, yet the people that stayed next to me was lighting up the camp fire for both nights. Might want to stick to your own rules. I will try other KOA's next time.
Sep 13, 2021
As usual, it was a wonderful weekend getaway. Even though the mattress was very uncomfortable, the cabin was very clean & cozy! The staff was wonderful!
Sep 13, 2021
Overall experience was OK. It was nice to have help backing in our camper.
Sep 13, 2021
What a pleasure! The amenities were fabulous,clean,and everyone was so friendly! We will definetly be staying again!
Sep 13, 2021
Yes, the sites were narrow, but I like that the website mentions that up front. Very appreciative of the help backing in. Clean, clean, clean. Great dog area and walk.
Sep 12, 2021
Clean, safe, everything works, friendly staff. The freeway noise is very loud and did not have a restful sleep for three days, so unfortunately we can recommend the site to our friends. We will pay more attention in making reservations to other KOA site in the future.
Sep 11, 2021
My Check in was great and the lovely 2 people that checked me in. Unfortunately, in the morning I met a rude dude, red faced, says, "By the Way, that mat you moved was there for a reason." I told him "I did not move any mat." He says, "well if you smell a foul smell, that's why." I said, "lets fix it now." He said, "NO, I'll fix it when you leave, and this conversation is over!" He threatened me!
Sep 10, 2021
Great place to stay
Sep 09, 2021
nice small place but where we stayed at was up against the freeway. I booked two spots and for some reason every time we NEVER get placed together.. very far away from each other. When a family has infants and we need to be close to each other because babies go to sleep early.... it becomes a hassle and a pain that we are not close to each other.
Sep 05, 2021
Awesome campsite! The only thing I disliked was they do not allow campfires. They do however have propane firepits but it doesn't provide the old campfire appeal. The staff was friendly and the showers and restrooms were clean.
- Anthony Acosta on Google
Aug 29, 2021
Nice clean park. Ed took us to our spot and helped us back in. Very clean not far from Avila beaches and Pismo
- John Perez on Google
Aug 21, 2021
Wonderful place that is packed. The pancakes were the best I've ever had not sure if its nutmeg, cinnamon, or love but I am certain I will wake up in the wee hours of the morning craving a spot here.
- Carlene. on Google