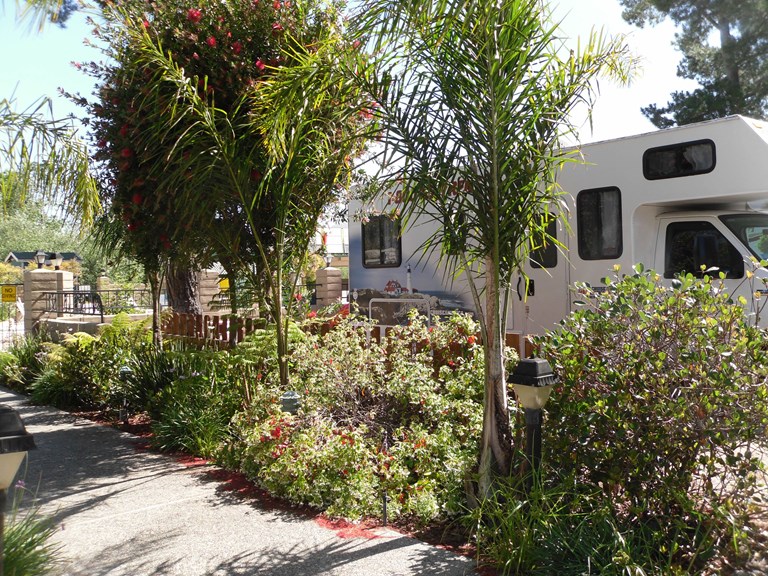 Avila / Pismo Beach KOA Reviews
Directions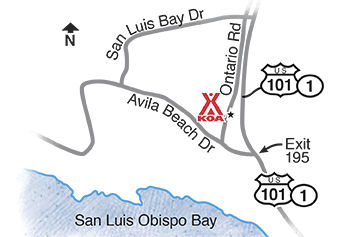 This campground is just off Exit 195, Avila Beach Drive: Turn right onto Ontario Road. This KOA is 5 miles north of Pismo Beach, 3 miles from Avila Beach and 5 miles south of San Luis Obispo.
Get Google Directions
Sep 17, 2020
No dish washing liquid no hand soap a toilet and a shower is not a full bath it should have a sink and a mirror so you can shave 160$ a night is too much for a cabin like this the floor and the bed squeaks too much
Sep 17, 2020
Cabins are to expensive for a small bed with just a toilet and shower with no sink or soap to wash your hands. The bathroom smelled like urine that's been there for a long time.
Sep 17, 2020
My in-laws rented the cabins and they were very disappointed. They had to take out their own trash, the showers were too small, the beds were like rock.
Sep 17, 2020
Loved it and would recommend to everyone! Staff was great and friendly!!
Sep 17, 2020
Your managers Jim and his wife are amazing, don't lose them! I only say 4 on the stay is due to the freeway. So not your fault.
Sep 17, 2020
Nice place and people. The freeway noise is the only down side.
Sep 17, 2020
Nice folks, clean facility; will be back
Sep 16, 2020
We had a great time and would come back.
Sep 16, 2020
Jodi and the staff were very helpful when I asked to extend our stay for 3 days (we were on evacuation advisory from the Creek Fire), and responded quickly when the noise next door got out of hand. But . . . I have never been in an RV park, KOA or not, that was as cramped as Avila! Our 10 (yes, TEN) neighbors crowded around their outdoor TV and whooped well past Quiet Time. Won't be back, ever
Sep 16, 2020
Beautiful campground! Very well maintained and super helpful staff! Spots are a bit close together but other than that it was fantastic!
Sep 15, 2020
Nice clean campground. Some sites are tight. Request a pull thru if you want a little more room. Great bike path to the beach
Sep 15, 2020
very friendly staff, and clean facility.
Sep 15, 2020
Great! Welcome. Very helpful when guiding us to our camping spot.
Sep 15, 2020
Good people clean facility helps you guide rv in will be returning
Sep 15, 2020
It was our 2nd camping trip after bought our travel trailer. It was wonderful. Park is clean and is at good location.
Sep 14, 2020
This was my maiden trip in my very first trailer, and you guys made it a very positive trip. You all worked very well as a team. My only complaint is the tight spacing in the interior spaces in the park. I will be reserving the single spaces along the exterior of the park in the future.
Sep 14, 2020
We loved our stay. The employees were very nice and helpful. We are already on the waiting list to go again as soon as possible!
Sep 14, 2020
We truly enjoyed our stay. Very clean and well kept. We liked it so much we made reservations to go back.
Sep 14, 2020
We were planning on going to Big Sur, but due to circumstances that were out of our control, we had to scramble and we found a spot at the Avila/ Pismo Beach site. The spot had been newly renovated and it was very nice. The rest of the facilities were very well kept and we were pleasantly surprised. All in all we found it to be a central location and even made plans to stay there again for Xmas.
Sep 13, 2020
Stayed 4 nights during bad air due to fire smoke. But the facilities were very clean. The staff helping during the parking was a nice touch. I prefer more space between sites but everything else was good. We would stay here again.
Sep 12, 2020
Great front desk - super helpful - wonderful amenities; very good cable (unfortunately wifi was very slow)
Sep 12, 2020
We had a great stay, see you again. Larry K, Bakersfield CA.
Sep 12, 2020
The management keep all areas clean and functional. Propane camp fire areas through out the site work. Bathrooms are clean. The staff is helpful and friendly. Thanks Jim.
Sep 11, 2020
When getting situated in our site, our car was damaged & back window shattered due to poor guidance from the camp escort. Offered no help in cleaning up broken glass or patching window. Had we not been meeting with others and the far distance from home, we would have left. Management claims zero liability & we were told to contact the owner. Owner has been completely unresponsive.
Sep 11, 2020
Clean. Quiet. Good people. Thanks Pepper.
Sep 11, 2020
The campsites are smaller than any other KOA site we have stayed at; no privacy, no room to feel relaxed and comfortable. I was very disappointed after driving all day to hunker inside, instead of being outside.
Sep 10, 2020
We loved it. It was clean nicest people and upgraded sites. Definitely will be back.
Sep 10, 2020
Nice amenities and great facilities
Sep 10, 2020
Other that there was no AC everything else was superb. I will most definitely be back there I the near future.
Sep 10, 2020
great place to RV. Will definitely stay there again
Sep 09, 2020
We love to camp there.. A little tight sites..Weather an staff are great!! We will be back!! CJ
Sep 09, 2020
The location of the KOA is great , the establishment is clean and the staff is nice. The downside is we rented one of the cabins and 1st the parking is horrible we had to ask the staff to ask the other cabin people to move there car and 2nd they have no AC and 3rd our toilet was unable to flush but Pepper a staff employee took care of everything but the AC so we had to suffer in the HEAT.
Sep 09, 2020
Lovely, sites are very close. Other than that, clean, friendly and well kept
Sep 09, 2020
We had a great time camping here, so much to do nearby and the entire staff were so very helpful and friendly!
Sep 09, 2020
Nice, clean campground.
Sep 08, 2020
My stay didn't start well at all but ended on a better note, thanks to Pepper. My integrity was judged by two staff members who were very impolite and at points did not wear masks and/or social distance. Thank goodness for Pepper and Sarah or we would have left yelp reviews about the attitude of those two staff members.
Sep 08, 2020
Sites were very small - our awning could not be put out and the outdoor living space around your RV was almost non existent. Other than the supplied picnic table not more could fit — other than the small site the camp was well kept and nice. Location is great for exploring Pismo/SLO area.
Sep 08, 2020
We had a good stay and in normal times I would have rated it a 5. Unfortunately, we are not in normal times and I think they could have done some things better with regards to keeping everyone safe and healthy. There should have been more cleaning supplies at the pool, less people overall at the park, and more enforcement of mask wearing. Overall it was a nice stay.
Sep 08, 2020
Site is extremely cramped - sites are very close together. Quiet hours did not seem to be enforced - people playing music past 10pm. Unfortunately campers did not always pick up after their dogs. On the plus side, the bike path to the beach was very convenient.
Sep 08, 2020
Our site smelled like sewer . It was also very crowded. The location is great.
Sep 08, 2020
Stayed here for a few nights to get away from the summer heat of So Cal. We loved this KOA! It's a little smaller than other KOAs we've stayed at but was well maintained and close to some great places to explore. The only thing that wasn't optimal was the proximity to the 101 and the traffic sounds. Definitely won't deter us from visiting again in the future.
Sep 08, 2020
Very nice site, thank you ! The gravel site would have been perfect if it were not for the dry dirt mixed in with it, made it a little dusty. Otherwise very nice stay. Could also use some more grass areas for dogs.
Sep 08, 2020
We had a very good time and the staff was very helpful we will definitely return
Sep 08, 2020
Friendly staffs, clean camp ground, spacious with great amenities - will definitely stay there again!
Aug 31, 2020
KOA is a very nice Campground close to Avila Beach Indians very friendly host helpful clean restrooms pulling sites are very clean
- Robert ceballos on Google
Aug 31, 2020
Home away from home visiting my beautiful familia Perez!! Thank u Tio Stanley, Prima Rachael and primito Ray!! Great to see primo Dewayne and his beautiful family!!
- Pamela Luera on Google
Aug 24, 2020
We had a nice stay for a week at this KOA. Staff is great. Jody was so helpful to work it out so we did not have to move spaces during the week. And Pepper was a tremendous help not only escorting us to our site but he also helped us resolve a electrical issue which our RV renting company could not. Close to Freeway, but with normal earplugs that is not an issue. Amenities were clean and good. Pool, and fire set up would great.
- John Jager on Google

Avila / Pismo Beach KOA
Open All Year
7075 Ontario Road
San Luis Obispo, CA 93405
Check-In/Check-Out Times
RV Sites
Check-in: 1:00 pm, Check-out: 11:00 am
Accommodations, Cabins
Check-in: 3:00 pm, Check-out: 11:00 am
Get Google Directions

© 2020 Kampgrounds of America, Inc.