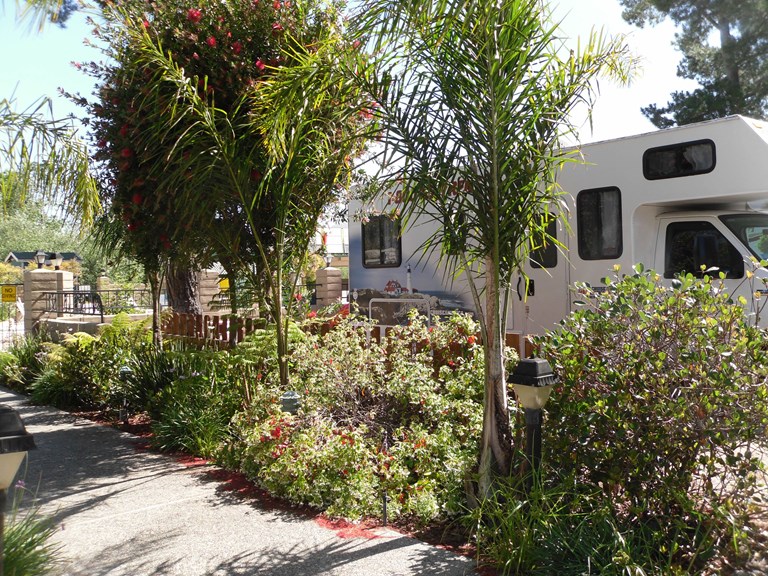 Avila / Pismo Beach KOA Reviews
Directions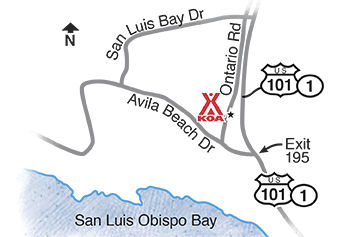 This campground is just off Exit 195, Avila Beach Drive: Turn right onto Ontario Road. This KOA is 5 miles north of Pismo Beach, 3 miles from Avila Beach and 5 miles south of San Luis Obispo.
Get Google Directions
Jul 06, 2020
Great fun relaxing time with family!
Jul 03, 2020
Cabin advertisement description was misleading. Not a shower and tub and no sink in bathroom. Not a kitchenette just 2 burners and one didn't work. Not allowed to make smores. Bunk bed very wobbly, i had to tighten screws as best I could with fingers. All else was good and staff very helpful and friendly. No military discount.
Jun 29, 2020
Needed extra towels. Had to wash some myself. Not good. BUT told 3 different times to come back for towels then can't get more. Pool was nice and clean. Quiet Bed in cabin not comfortable. Cabins are small but kind of expected that. Well equipped kitchen beach towels were a plus. Grandkids had fun
Jun 29, 2020
It's a very organized and clean camp, the crew are the best.
Jun 27, 2020
Very clean cabin and grounds.
Jun 26, 2020
We rented the large cabin. The master bed was just plain awful. Any type of movement was heard through the cabin and it was terrible uncomfortable. There are economical ways to upgrade a mattress and it should be done immediately for the price you are charging. Getting no sleep ruins everything!! Otherwise the cabin was great!
Jun 24, 2020
Small campground with RV's packed upon each other. Internet service didn't work and besides wearing masks no other measures to maintain social distancing. The cabin was clean and kitchen with just bare basics. For the price paid I don't think it was worth it.
Jun 24, 2020
KOA pamphlet given during check in did not have WiFi and bathroom code information. When we went to the front desk to ask for it, the female had the nerve to tell us that it was in our pamphlet. Also, when we checked in Thursday, we were not told that there was an outdoor movie on Friday and Saturday night only. The people managing this KOA are not happy.
Jun 21, 2020
Always love our stay at Avila/Pismo.Sad to see the Jacuzzi wast available.
Jun 16, 2020
nice relaxing weekend
Jun 09, 2020
We stayed in cabin I and it needed to be cleaned much better. There were spider webs everywhere. Mold in the bathroom shower, the light fixture was filthy. The mattress needs to be replaced!!!!!!
Jun 03, 2020
Our 1st time at a KOA and in the studio cabin. Nearly all the amenities were closed due to covid19 so we missed out on a lot, it was still relaxing. Room was nice but had cobwebs over windows and in bathroom; we did find a spider w/ nest in our dish rag. Wish we were give a spot closer to the pool since we appeared to be the only people renting a cabin.
Mar 19, 2020
Dirty and full of ants
Feb 18, 2020
Great staff and the property was very clean and well kept
Dec 24, 2019
Perfect "base camp for our daily fishing charters and kayaking adventures in Avila Bay. We will be back.
Nov 16, 2019
Love Avila KOA,Our home away from home
Nov 14, 2019
Employees were friendly what we didnt like was no sink in the bathroom. Also the price for the cabin was okay we got the one with the bunk beds my sister got one with the 2 chairs and fireplace. We had no kids with us. It's to bad TV hey didnt have a small sink in bathroom the size as the one In kitchen would be good.
Nov 11, 2019
We got cabin C1. The first night there was no source of heat and we got very cold. We were moved to C2. C2 has a sliding glass door that doesn't close properly leaving a half inch gap from the handle down. The glass window in the other door has a half inch gap where it has slipped out of place. That caused the loud heater to come on frequently disturbing our sleep. Those things need to be fixed.
Nov 11, 2019
After having problems on our way . The staff made our weekend work out very nicely
Nov 10, 2019
It was hot and the room was dusty and it had lots of spider webs.
Nov 09, 2019
What a great place - clean, friendly staff, lots to do! We stayed in a studio cabin. It had everything we needed! We will be back for sure!
Oct 20, 2019
We had a great weekend. The Cabin we rented was so cozy and cute. It had everything we needed. So close to sunny Avila beach. The pool and rec area was very clean and fun for adults and kids. The gals in the shop were very helpful. We will definitely stay again next year!
Oct 11, 2019
Very clean. Friendly, helpful staff. Close to beach. Though near the freeway the sounds of traffic were minimal.
Sep 23, 2019
Loved it: loved being near beaches, SLO and hot tub/pool.
Sep 23, 2019
GREAT PLACE TO STAY,CLEAN AND FRIENDLY.GREAT LOCATION
Sep 23, 2019
It was great
Sep 20, 2019
We go every year. This is a great site. During the day we rode our bikes to the beach, in the evening we sat outside and watched movies under the stars (Lilo and Stitch & the Wizard of Oz!). This place is great.
Sep 16, 2019
The staff is absolutely asome !!! So professional and friendly.. the cabin was great .. will definitely stay there again
Sep 06, 2019
The Cabins were neat and well equipped with bedding towels, toiletries, even beach towels! We didnt need to bring anything. We enjoyed our stay here. The only negative I would say was not having a sink in the attached bathroom. There is a sink in the attached kitchenette.
Sep 05, 2019
We had a very nice time. We stayed in a cabin and will be back with friends. Children under 15 are not allowed in the hot tub, and no wood fires, so a little different from other spots. Location and trolley are fantastic. It'd be nice for trolley to run later on holiday weekends, if you have any input on that. The KOA was very tidy and staff were friendly. Thank you!
Aug 29, 2019
We liked the effiency of the Studio lodge cabin and the grounds were nicely kept. The activities and pool were a plus, as well as, the access to the trolley. The pancake breakfast was great. It was a bit crowded and parking was tight.
Aug 21, 2019
Well maintained and nice amenities, great location for avila beach. Would like to be grouped with family when renting multiple sites
Aug 08, 2019
The sites are so close together there isn't enough room to put out your chairs to enjoy the setting. The recreation room was great for the kids. We asked for a late checkout (2 hours ) but had to pay for an extra night. I found this to be unreasonable since the park had numerous vacancies ( including our site). For this reason I will be reluctant to recommend this park.
Aug 08, 2019
We stayed in a cabin by the pool. It was very clean and nicely decorated. Very limited storage areas or places to put luggage or clothing. Could have hooks in several places to hang clothing, and one by the sink for a towel. We couldn't get our stove to work but we decided we didn't need it so we never asked for assistance. Overall, the campground is very well kept and has nice options for kid
Aug 03, 2019
Always love it!
Aug 03, 2019
We go there every year for the last 4 years because the place is very nice, good location, clean facilities, very family and dog friendly .But this will be our last year because our reservation was messed up. No one from the management made an effort to help us, despite they had another bungalows open. Sorry , not going there again.
Aug 03, 2019
We rented one of two large cabins. Staff was friendly and stay was nice, but the cabins need to be dusted and the bed in C1 needs to be replaced/upgraded. Paying $250/night should equate to a good nights sleep. Great location and overall good stay
Jul 29, 2019
We love this campground. This is the second year we have stayed at this KOA. Very friendly staff and they provide a clean safe place for our family to enjoy our vacation. The only issue I personally have is the lack of good internet.
Jul 29, 2019
I thought the sites were way too close to each other. Also,the bed in S3 was very uncomfortable. The campground was very clean considering how crowded it was and the pool was very nice. The cabins are decorated nicely.
Jul 28, 2019
We just adore this campground. We appreciate the effort in the improvements over this past year. The addition of the personal fire pits, cafe lights etc was a nice touch. We stay in the model homes and we will mention that attention needs to be given to these now. The deck on C1 is at a dangerous level, in need of repair. upgrades are needed: beds, blinds etc. it's just time. But we'll be b
Jul 27, 2019
Cozy cabin, it had everything you need. Friendly staff! Great location.
Jul 23, 2019
Our stay was fabulous. The generosity of the staff was top notch. The accommodated our group of four families with warmth friendly service. And the cabins and facilities were nicely clean. Definitely would come back. Thank you so much.
Jul 21, 2019
Perfect spot to rest and enjoy the so many day trips and bicycle trails!!
Jun 29, 2020
Great place to stay. Helpful staff
- Matt Furrer on Google
Jul 12, 2020
We had a great time here. Lots of fun things for kids to do and close to Avila Beach and the Bob Jones trail. Staff was super friendly and even had someone to help guide you while you back up your trailer (which was very nice for a family new to the RV world). We would definitely stay here again.
- Ariel Manns on Google

Avila / Pismo Beach KOA
Open All Year
7075 Ontario Road
San Luis Obispo, CA 93405
Check-In/Check-Out Times
RV Sites
Check-in: 1:00 pm, Check-out: 11:00 am
Accommodations, Cabins
Check-in: 3:00 pm, Check-out: 11:00 am
Get Google Directions

© 2020 Kampgrounds of America, Inc.