Directions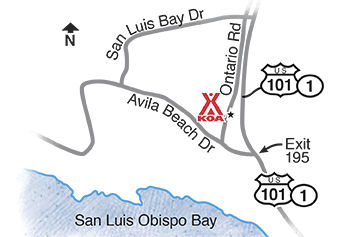 This campground is just off Exit 195, Avila Beach Drive: Turn right onto Ontario Road. This KOA is 5 miles north of Pismo Beach, 3 miles from Avila Beach and 5 miles south of San Luis Obispo.
Get Google Directions
Jul 18, 2021
We had a great stay, campground was clean and in order and all the staff were so helpful and friendly. Always love visiting this KOA, its in a great location and it never dissapoints
Jul 17, 2021
This is a well run place in a nice location. For my 12 year old boys having the Avila Valley Barn (with ice cream) just across the road, was a big plus.
Jul 17, 2021
The service was excellent people at the front desk were very polite and informative. The campground was kept very clean restrooms laundry room and pet walk. Our escort to our campsite Was made very simple for us. And overall my wife and I had a excellent time along with our dog Chloe. I would recommend this KOA to my friends and family. And next time I come back I'm definitely making Reservatio
Jul 16, 2021
Staff was was friendly and helpful and we enjoyed our stay.
Jul 16, 2021
I was very surprised people did not take responsibility for their children and dogs. i am sure people do not behave at home the way they handle themselves at your facility (not picking up after their dogs) taking the time to explain to their children the toilets are not the same as the ones at home. i appreciate the facility was clean and the curfew was enforced. i would gladly return again.
Jul 16, 2021
Staff was not very friendly with the children. Just felt cold and impersonal. Won't stay here again. The putting green and game room were great for the kids though. Just seemed like the staff couldn't be bothered
Jul 16, 2021
It was lovely, thank you! The bariety of vegetation is so wonderful, the park is well maintained, the staff very nice. ��
Jul 15, 2021
Very enjoyable. Staff very friendly. Quiet neighbors. Close to all we wanted to do.
Jul 15, 2021
Enjoyed it, only bummer is no real wood fires.
Jul 15, 2021
The park is very clean and well maintained. Staff is exceedingly friendly and kind. The location is great for easy access to the Bob Jones walking trail to the beach (and the Secret Garden), to the towns of Avila and Pismo Beach and to the wineries in the region. The spaces in the middle are a little cramped, thus the 4 star review. But we will stay there again and look forward to our visit!
Jul 15, 2021
We only stayed one night, but everything was perfect. Avila/Pismo KOA is a really nice place.
Jul 15, 2021
From checking in till the time we departed, EVERYONE was kind and accommodating.
Jul 15, 2021
Parking lot freeway close with lots of noise. Way too many rules and some I believe to be illegal. (Flag and Height) really tight spaces. Some office staff not really pleased with those job
Jul 14, 2021
1st time I was unhappy with my space, barely had room to get out of trailer, no space to sit outside. Bathrooms not cleaned properly, told by staff, papertowels, hand soap were a courtesy and that we should have our own in our trailer. It was cleaned while I was in the shower and it took them 5-10 minutes. that means no sweeping mopping or sanitizing facilities. More complaints no room to write.
Jul 14, 2021
Third time here one of our favorite KOAs!
Jul 14, 2021
Convenient location, comfortable cabins, friendly staff, nice facilities that are clean and well maintained.
Jul 14, 2021
Is is extremely overpriced and crowded. The wifi was very, very bad and the cable TV signal didn't function. Very disappointing, certainly for that price.
Jul 13, 2021
Always a great stay.
Jul 13, 2021
Friendly staff, clean campground and plenty for the kids to do. Just wish some of the spots weren't so tight.
Jul 13, 2021
We stayed in our travel trailer alongside 4 cabins with family members. As requested, our units all faced the park and pool area. The young cousins had a blast! Your entire staff could not have been friendlier or more helpful. We will be back!!!
Jul 13, 2021
Enjoyed the stay. Or space was a bit small but overall the site was very accommodating. Great dog area. We will return.
Jul 13, 2021
The staff was immensely polite, courteous and friendly! The grounds were very well kept, and check-in was a breeze! We will be back again!!
Jul 13, 2021
Please is very well kept and have a nice safe doggie area. The management is very helpful and courteous.
Jul 12, 2021
Loved the location and store on property. The bathroom floors were flooded for two days. I woke up on Saturday to find my neighbors truck a foot and a half on my site and sticking out in the road a foot and a half. I mentioned it to one in the men in yellow shirts and he said I should talk to them. There table was on my site as well. It's not my job to police your guest. Huge liability issue.
Jul 12, 2021
We really enjoyed our stay. The park is very well located relative to Avila and Pismo. We really enjoyed the Bob Jones walking/biking trail to Avila!! We really liked visiting the Avila Valley Barn!! The density of the park is quite high and we saw some spaces that we would prefer in the future that would give us a little more room. The park is very dog friendly - which we like!!
Jul 12, 2021
Location and staff were very nice. It's near a wonderful bike/walking path that leads into Avila Beach. Nice pool, playground, outdoor movie night. Cabins are very small and old, with just the basics, no air conditioning, and we thought pricey. Horrible beds! if you are sharing a bed, you better get in at the same time or you will surely wake the other up as the squeaking is very loud!
Jul 12, 2021
Great staff, nice place �
Jul 12, 2021
We had a great pull thru spot close to the store. The pancake breakfast was yummy. And we enjoyed the wine tasting. The hosts were all very helpful and friendly!
Jul 12, 2021
The place was excellent, the only thing is it's hard to back up the trailer it's too tight.
Jul 11, 2021
Had a great time at the wine tasting, and the weather was great coming from the central valley
Jul 11, 2021
Friendly staff, especially Ed. Spaces are a little bit smaller than the average campground. Great location and the girls in the store were so friendly and helpful!
Jul 11, 2021
Everyone who worked there was great! Would Love to work at a KOA!
Jul 10, 2021
These spaces were the tightest we have been in - I had to ask a neighbor to move his vehicle so we could leave.
Jul 10, 2021
Very clean, and wonderful staff! The only thing we could wish for is the spaces being a littler further apart.
Jul 10, 2021
Other than the tight quarters it is a very nice place.
Jul 10, 2021
The sites were way to small I could not have my slide out all the way your neighbors were right on top of you
Jul 10, 2021
It was our first time staying there and it is definitely a place we would love to come back to.
Jul 09, 2021
We try to visit a couple of times a year as we like the park.
Jul 09, 2021
Everyone is so friendly! Love the store, we always seem to find something fun. The only disappointment I had, we were all packed and ready to go, I needed to go to the bathroom and it was closed for cleaning (10:30am), but the sign posted on the door states closed 12 to 2pm for cleaning.
Jul 09, 2021
The RV site was very nice and clean, well kept, ladies in the front office were very nice, friendly and helpful. The only issue in the RV park was the Wi-Fi. We were located in the back of the park and had to use our phone hotspot to receive Wi-Fi. Need additional cell phone towers in the area so KOA members can purchase additional WIFI through another carrier like (Tengo)..
Jul 09, 2021
Great cool weather in July! Close to Avila & Pismo, with San Luis Obispo 15 minutes away. RVs are very close together in small spaces, though it works well. Some sewer smells outside around campground. I would stay again, just have the right expectation. We camped at Avila / Pismo Beach KOA in a Travel Trailer.
Jul 09, 2021
We enjoyed our stay. The campgrounds are very nice but a little crowded. The sites are very close together.
Jul 09, 2021
Friendly staff, nice facilities!
Jul 09, 2021
Great - clean - nice greenery around the entire grounds. The staff is attentive and helpful. The amenities are great - the only down side is most of the 'fun' activities are only offered on the weekends...and we stayed M-Th, but other than that, great times and memories! Not a lot of privacy since most sites are practically on top of one another, but the cabin was lovely!
Jul 09, 2021
We usually stay at state parks or national forest camp grounds, so the price here was a bit steep in comparison. The spaces were more cramped than we are used to also. The showers we nice, clean and hot! A lock on the shower stalls would have been nice. They provided a space for the dog to run off leash and safe. Their little store was well stocked and reasonably priced. It was a pleasant stay.
Sep 05, 2021
Awesome campsite! The only thing I disliked was they do not allow campfires. They do however have propane firepits but it doesn't provide the old campfire appeal. The staff was friendly and the showers and restrooms were clean.
- Anthony Acosta on Google
Aug 29, 2021
Nice clean park. Ed took us to our spot and helped us back in. Very clean not far from Avila beaches and Pismo
- John Perez on Google
Aug 21, 2021
Wonderful place that is packed. The pancakes were the best I've ever had not sure if its nutmeg, cinnamon, or love but I am certain I will wake up in the wee hours of the morning craving a spot here.
- Carlene. on Google