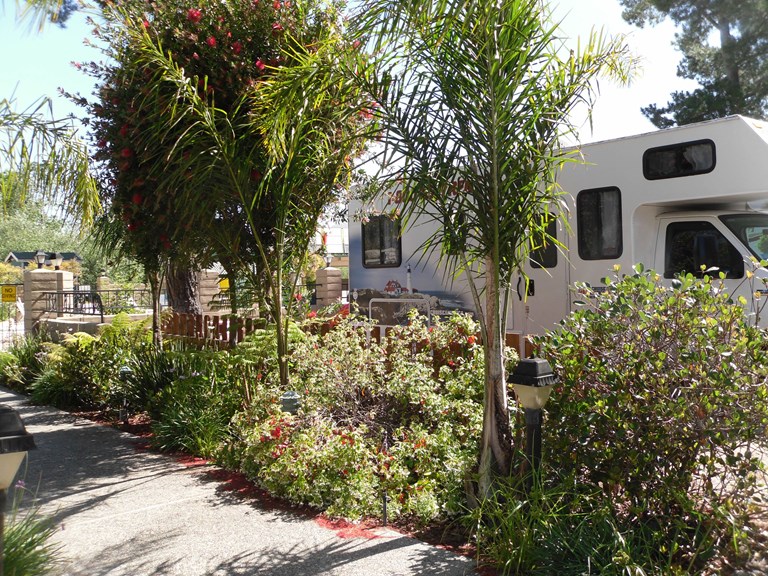 Avila / Pismo Beach KOA Reviews
Directions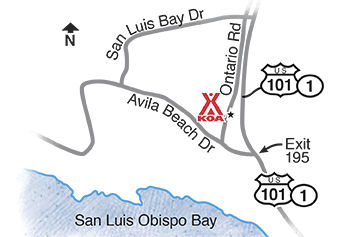 This campground is just off Exit 195, Avila Beach Drive: Turn right onto Ontario Road. This KOA is 5 miles north of Pismo Beach, 3 miles from Avila Beach and 5 miles south of San Luis Obispo.
Get Google Directions
May 17, 2020
Great respite from Covid
May 16, 2020
enjoyed our stay at this campsite. was informed prior to reservations that public camp areas...laundry, restrooms, play area, swim pool, etc were closed due to covid 19. appreciated this information
May 14, 2020
The blonde lady in the office is super rude. The lady answering phones at the register follows her footsteps. Both ladies seemed annoyed answering any questions regarding our visit. Unless the store clerk is a medical professional, she assumed (via comment) my daughter had spread the virus in the store. For the record, my family is not sick. We continue to enjoy our RV heading toward San Diego.
May 13, 2020
Amazing location with tons of amenities! It looks like they even have an outdoor movie theater for showings when it's nice out! Was here during the quarantine shutdown as we were passing through for work so all of the public spaces were closed, but plenty of room and social distancing. Will definitely be back!
May 11, 2020
One of the best KOA's we've stayed at.
May 11, 2020
The sites are small and most spots cant even open your awning all the way. The owner does not allow pellet smoker to be used in the campground. Smoking is not allowed either. If you are in your own site you should to smoke a cigarette/cigar outside. I understand the no open fire rule but using a pellet smoker is one of the safest way to bbq. We will not be returning to this campground.
May 11, 2020
The staff was wonderful. The location great. The very hard and uncomfortable rocks in the camp spaces was disappointing.
May 10, 2020
Very nice , let us stay a night on our way back home . Thank you so much �
May 06, 2020
Too loud - next to freeway�� Wi-fi very weak - unusable. Nice facilities otherwise
May 05, 2020
The place is super nice and fortunately pretty much had the place almost to ourselves. Nice grassy area to take a nap and walking trail. Played a little basketball. Jody, the staff and her dog were very pleasant and answered my RV question (since I'm new to the RV life). Looking forward to coming back!
Apr 28, 2020
We loved it here! The ONLY concern (really can't call it a complaint) was the close proximity to the freeway, but that is all. The ground are immaculate and the accommodations wonderful! We will be staying here again!
Apr 17, 2020
Great experience. Easy reservations and was so quick to register and set up. Facility was very nice and site location convenient to my work. Really appreciate all the accommodations during this time.
Apr 17, 2020
It was wonderfully quiet and comfortable. The space was almost level, and the rocks require shoes. Was able to sqweeze in between the plugins and the table and avoid hitting the table of the space directly behind my space.
Apr 14, 2020
Visited the KOA during the Coronavirus S.I.P. We virtually has the place to ourselves, but all the amenities were of course closed. The host was awesome and we will definitely try this campground after things get back closer to normal
Apr 09, 2020
In the morning of checking out, . I called several times and no one answered.. I left a message requesting for a late check out. At 11:12 Jim came along very rudely yelling "CHECKOUT IS AT 11, YOU NEED TO GO" I told him I've requested for a late check out. He said you're not even unhooked yet and dove off on his golf cart. Very unprofessional considering theres only 3 RVs in the whole park.
Apr 07, 2020
Very impressed with the grounds. So many amenity and loved that they are dog friendly. Very friendly staff. We will plan to stay again and tell our friends.
Apr 05, 2020
The grounds are beautiful but the man and woman running the place aren't very friendly and a bit rude.
Mar 29, 2020
Todo esta muy bonito la pasamos muy bien
Mar 29, 2020
Last nights in my camper für this trip. Following the directives of the government of the states and my government I had to return home. A strange situation - a big campground with 4 or 5 campers Staff was very friendly - the place is beautiful...
Mar 21, 2020
The only complaint is we were charged full price but no facilities were open due to the Corona virus. Since the only thing we had access to was the rv slot, we should not be charged full price. I emailed the rv park but haven't heard back.
Mar 19, 2020
Dirty and full of ants
Mar 17, 2020
Clean,quiet! Totally relaxing
Mar 16, 2020
We love this park, but just spent 3 days listening to a dad yell at his kids, 2 German Shepard's, and anyone else who got within earshot. Couldn't use jacuzzi because it was full of small yelling children. There were lots of vacancies, please put us old folk away from noisy neighbors. First time this has happened. Thank you.
Mar 15, 2020
Too much freeway noise. Otherwise it was nice for our short stay.
Mar 15, 2020
Everything was so clean and the staff super friendly. Can't wait to come back in June and this time we are bringing friends! Thank you!
Mar 12, 2020
It was a great stay especially with the Dog Run. All I would like is more privacy. Thank you for our amazing stay.
Mar 12, 2020
One of the guys on the golf cart was rude regarding how we were parked and about the list of rules on the last page of the pamphlet. We had no guidance or instructions upon arrival at 4:30 pm as the office was closed. Took us quite a while to find our packet with our space assignment. Nice place and well maintained though.
Mar 10, 2020
Very peaceful, the campground is very clean and everybody is friendly.
Mar 10, 2020
We stayed in one of the spots on the north side of the park. They were very narrow. The showers/facility were very well maintained. Managers were helpful and pleasant.
Mar 10, 2020
Awesome as always!
Mar 09, 2020
sites and the pool was good, I would liked to have a bigger site but it was ok.
Mar 09, 2020
The spaces are tight , not many pull through options ... watched many arrivals getting frustrated at backing into such small spaces . We weren't allowed to check in 30 min. early even with reservations and having elite KOA membership . Aside from that the campground and bathrooms were clean and amenities good .
Mar 07, 2020
Park is very clean. Friendly staff. Only negative is Wi-Fi is terrible.
Mar 06, 2020
Cant wait to return
Mar 05, 2020
This was a very nice place the property was well kept and the staff was super friendly. I have been telling my friends and family how much I loved it there and that will definitely be returning and hope they check it out as well.
Mar 04, 2020
Wonderful location, incredibly helpful staff, very clean restrooms
Mar 03, 2020
Enjoyed the location and space 81 as it was a bit wider than most.
Mar 02, 2020
Nice, clean park with friendly staff. Quiet except for some highway noise which didn't bother us at all. Level, gravel sites. A little more grass around each site would be nice. Loved being so close to Pismo and Avila beaches. Lots of nice restaurants and beautiful scenery.
Mar 02, 2020
Love this place, very convenient location, have stayed here before and will definitely return :))
Mar 02, 2020
It was clean quiet and I will be coming back
Aug 01, 2020
Beautiful place. I will go again
- Alfredo Herrera on Google
Jul 30, 2020
Really nice park. I'd come back. The only bummer is the spaces are super close.
- Pat Mancha on Google

Avila / Pismo Beach KOA
Open All Year
7075 Ontario Road
San Luis Obispo, CA 93405
Check-In/Check-Out Times
RV Sites
Check-in: 1:00 pm, Check-out: 11:00 am
Accommodations, Cabins
Check-in: 3:00 pm, Check-out: 11:00 am
Get Google Directions

© 2020 Kampgrounds of America, Inc.