Directions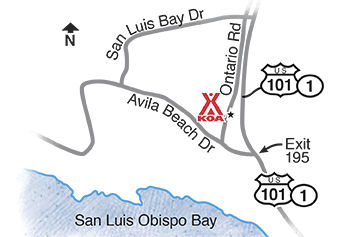 This campground is just off Exit 195, Avila Beach Drive: Turn right onto Ontario Road. This KOA is 5 miles north of Pismo Beach, 3 miles from Avila Beach and 5 miles south of San Luis Obispo.
Get Google Directions
Jul 26, 2021
We enjoyed our stay at Avila Beach. Everything was good. The only wish we had was more fireplace options at the Cabins. I noticed only a few cabins on site that has a fire pit.
Jul 26, 2021
Great place to stay! The campgrounds are beautiful and there are lots of things to do when you stay here. Awesome location!
Jul 26, 2021
campsites way to crowded.if trying to make more bucks , it robs campers from privacy. Called offic to report bad sewer smell from rest rooms. our site was right behinf the building (restrooms). Response from office was there's nothing she could do. No more sites. We stayed 4 days, doors, windows & vents closed & no outside pleasure on a campsite we paid for. And it was not coming from the HOT SP
Jul 25, 2021
We stayed in the large cabin C1 for a week. The cabin was clean and had everything we needed to have a good stay. We did have a couple of issues with the cabin though. First the shower door does not slide properly and is kinda dangerous cause you have to pull it hard to get it to close. Also the main bed has such a poor mattress that i came home with a bad back. we did have a good week
Jul 25, 2021
My one complaint we initially reserved site 46, when we pulled in the attendant urged us to ask for a different site due to our full size truck + trailer, they moved us to 74. Nobody mentioned anything about additional fees, but they charged my card $40 without telling me. I went to get office and they didn't seem to care. Otherwise, nice stay, clean and well kept campground, good location.
Jul 25, 2021
We were greeted warmly and the staff was more than willing to help with any questions we had. The property is well maintained and clean. The main reason for the "4" rating is the lack of reliable wi-fi as advertised. That was disappointing as we needed to do some work and had to use our hot spot.
Jul 24, 2021
The campground is nice but the freeway noise is awful.
Jul 24, 2021
Campground is clean, quiet with lots for the kids to do. Hosts are friendly and ready to help in any way.
Jul 24, 2021
Only overnight, we LOVE Avila and usually boondock when we come. Drove by this KOA and thought it was really nice. A bit loud with the freeway, but very nice and great customer service!
Jul 24, 2021
Help full and frendly staff!
Jul 23, 2021
The actual campground was very nice, it was the manager that was extremely rude and agressive. I questioned why part of my deposit was kept and she became agressive and seemed irritated that I wd question why she kept half of my deposit. I also spoke to the housekeeper and when the manager found out she called me and began yelling at me, telling me i had no right to speak to her staff.
Jul 23, 2021
You won't be disappointed with this RV park. The park is very clean, the staff is helpful and friendly. We plan on returning soon.
Jul 23, 2021
I completely respect your policy for only allowing newer trailers. Somehow I missed it when making my reservation. And yes I looked for it. But my poor review is for how your staff handled it and mostly because the campsites are so close together. I don't like being able to hear the neighbors close their eyes at night. I won't be back even with my new rv.
Jul 22, 2021
CLEAN CAMPGROUNDS, CENTRALLY LOCATED, HELPFUL STAFF. ONLY COMPLAINT TRAILER SPOTS UNDERSIZED.
Jul 22, 2021
Great stuff �
Jul 22, 2021
Loved your site. Thank you so much.
Jul 22, 2021
Nice facility and wonderful staff.
Jul 21, 2021
Very nice & clean facility. VERY FRIENDLY and HELPFUL staff!
Jul 21, 2021
Great family friendly campground. Loved all the amenities provided, pool, spa, Game room, basketball court, tether ball, multiple fire pits to enjoy, playground etc. Another plus, just a short walk to Avila Barn!!
Jul 21, 2021
First time camping at this Pisom. We enjoyed it. I wish there was more outdoor space in our camp, but we made the best of it. Our trailer was the length of the spot, so we weren't able to park our truck and had to back it in to where our hangout spot would be. There is overflow parking outside of the campground. We could of used a bigger campsite.The staff was friendly. We will definitely be back.
Jul 20, 2021
Very clean campground. We had a pull through site, and it was plenty of room for our truck and trailer. Staff was friendly and helpful. Very nice a pool and spa, BBQ area, playground, and game room. Kids loved riding their bikes. Close to beach and activities. There is freeway noise, and occasional sewer smell. The freeway you can't do much about, not sure why the sewer smell.
Jul 20, 2021
It was very clean and the staff was very nice and accommodating. Also it felt very safe and well organized.
Jul 20, 2021
The staff at the Avila KOA were rude and very unfriendly. The manager Allen rode his cart around like he owned the place. He even threatened to kick us out if we didn't change our attitude. He is a rude old man that takes his title way to seriously. Will never stay there again because of him.
Jul 20, 2021
Nice workers. But felt claustrophobic. No reason it couldn't be nicer. Camping on rocks is not camping. Spaces way too tight. Make larger spaces with natural dividers between spaces like plants or trees. Give everyone some grass. Was very unappealing
Jul 20, 2021
Everything was great really love staying there except that you can't burn wood in a fire pit that was the only bummer everything else was awesome
Jul 20, 2021
We lost our cabin key the first night; the emergency # provided for emergencies wasn't available. We ended up having to drive half hour away to spend the night elsewhere because no one was available help us. We found the key the next morning at a parking lot kiosk. The services stated were available were most definitely not available.
Jul 20, 2021
We had an enjoyable stay and will definitely return to this KOA for the location. There are some trade off's to be in this fabulous area; super tight spaces and road noise are what you need to plan for.. BUT so worth it! The weather is Amazing, the Bob Jones Trail to Avila Beach is a wonderful walk or bike ride, The Barn's baked goods are delicious, the park was clean and has very friendly staff.
Jul 20, 2021
We had an awesome experience. The facilities were very well kept and clean. The location was perfect. The only down side to our trip was that we only had 1 night reserved. Looking forward to our next stay P.s the cookies upon arrival were awesome as well
Jul 19, 2021
The staff was helpful and friendly. Our trailer is the max size and I felt we were in too small of a space.
Jul 19, 2021
Great stay. Staff very friendly, site was clean and well taken care of.
Jul 19, 2021
Wonderful Staff-Such a great group of folks, friendly helpful and generally happy to work here. Great amenities and activities. Some sites are pretty tight but as long as you didn't expect seating for 8, its quite doable. Especially given how close we were to the many places we planned to visit, we were ok with the snugness The dog park is a good size and clean. Can't wait to go back t!
Jul 19, 2021
The campground was well Maintained, camp staff was very friendly and helpful. We will definitely be back! Thank you.
Jul 19, 2021
The cabin was clean and convenient. The wifi didn't work.
Jul 19, 2021
Owners of this campground purposely hire rude office staff who discriminate against disabled persons. I asked Cindy for late check-out due to my a daughters physical disability I only needed extra 1 hour window and will be out 12 noon. Cindy sai " No you have to be out by 11 am no exceptions" I asked for mgr. Terry said they don't have to comply with ADA. We left campground @ 11:35 am .
Jul 19, 2021
Great facilities and staff. Will definitely return!
Jul 19, 2021
The staff was all very helpful and kind and the site was clean.
Jul 19, 2021
you get what you pay for...for this place, you pay more but it is worth it. grounds were spic and span, pool and hot tub were great, site required no leveling, check-in was super easy, nice game room for the kids, super close to the awesome beach at Avila.
Jul 19, 2021
clean and very friendly helpful staff
Jul 19, 2021
Ez access, nice place , I'd go back�
Jul 18, 2021
After reading some of the reviews I was apprehensive, but it was a very pleasant stay. Spaces are on the small size but big enough, I could fully extend the awning. Tight to get my 33 foot t.t. backed in but once in everything was fine. The office staff is pleasant and the guys on the golf carts are helpful. Seems that if you have a problem with the park or staff maybe you're the problem.
Jul 18, 2021
A beautiful park with a great dog walk, pool, hot tub. Friendly people, safe place to stay. The rv's were very close together. And lots of people.
Jul 18, 2021
Yes our 1 st visit to a KOA it won't be our last!�
Sep 05, 2021
Awesome campsite! The only thing I disliked was they do not allow campfires. They do however have propane firepits but it doesn't provide the old campfire appeal. The staff was friendly and the showers and restrooms were clean.
- Anthony Acosta on Google
Aug 29, 2021
Nice clean park. Ed took us to our spot and helped us back in. Very clean not far from Avila beaches and Pismo
- John Perez on Google
Aug 21, 2021
Wonderful place that is packed. The pancakes were the best I've ever had not sure if its nutmeg, cinnamon, or love but I am certain I will wake up in the wee hours of the morning craving a spot here.
- Carlene. on Google