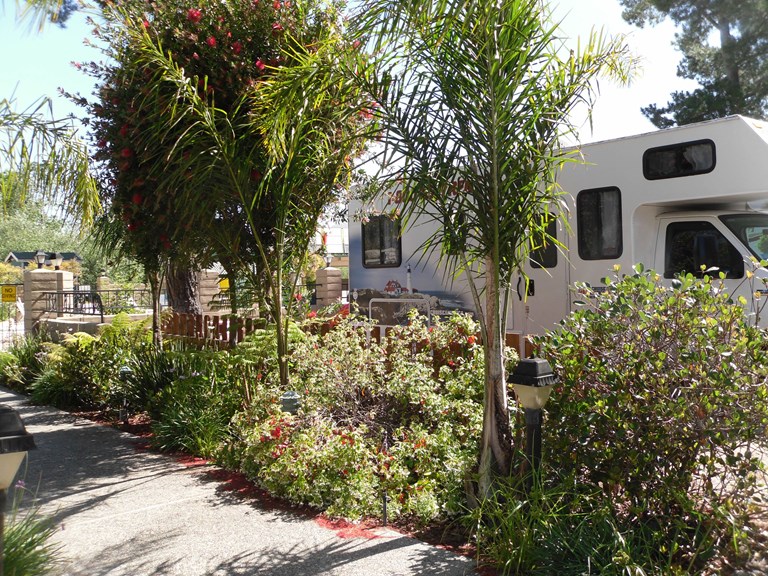 Avila / Pismo Beach KOA Reviews
Directions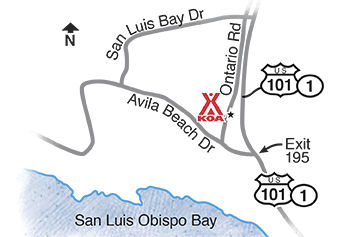 This campground is just off Exit 195, Avila Beach Drive: Turn right onto Ontario Road. This KOA is 5 miles north of Pismo Beach, 3 miles from Avila Beach and 5 miles south of San Luis Obispo.
Get Google Directions
Jun 12, 2020
Check In Staff not friendly! Put us in a spot that was difficult to maneuver even though there were many open sites that would have been easy to get in and out of! The support staff (men taking you to the site and checking on us) were friendly and helpful! The attitude of the check in staff needs to improve!
Jun 12, 2020
Sites are pretty tight. I simply asked the workers in the store for reservations the following week and they wouldn't even take a minute to look- they just immediately said they are booked. I looked online and found what I needed with sites available
Jun 11, 2020
Unfortunately all facilities were not open (Covid-19, but nonetheless the superb service made it up. Would definitely recommend this site and will come back to stay!
Jun 11, 2020
We had to leave early because the wifi is no good. I talked to another man that was leaving for the same reason. Lots of camper travellers work remotely and need good internet connections. Also I think the stay should've been cheaper since all the amenities were closed that people like in your park. We may come back if wifi improves. Thanks
Jun 11, 2020
Very nice property and the staff was very helpful. All amenities were closed due to the virus.
Jun 11, 2020
Campsites too close together people packed in like sardines, No social no one wearing face coverings. There was a small town close by not very friendly. We decided to head inland instead of staying on the coast.
Jun 10, 2020
It was a beautiful place. Well maintained. The employees are so kind and helpful. The place itself is Crowded when fully booked and cramped, like camping in an RV storage lot because roads are narrow feeling with all the cars and park is small overall.
Jun 10, 2020
We were not allowed to stay in our Mercedes Class B Motorhome with attached matching enclosed Trailer. We had to take the trailer elsewhere and store with many of our camping supplies. The site barely fit our 24' van. We were charged $75/night which is double what we would have expected. Local Hampton Inn $109/night. We love KOA, but this was not a good experience.
Jun 09, 2020
We stayed in cabin I and it needed to be cleaned much better. There were spider webs everywhere. Mold in the bathroom shower, the light fixture was filthy. The mattress needs to be replaced!!!!!!
Jun 09, 2020
Some of the sites are pretty small. Other than that the whole place is very clean and well maintained. The Bob Jones trail is right across the street and is perfect for exercising or just taking a stroll through nature. The general store had everything we needed and then some. Very friendly staff too. We will be back!
Jun 09, 2020
The staff was great and very friendly. The spaces were a little tight quarters for my liking, otherwise the park would have gotten a 10.
Jun 08, 2020
Great location, with very nice facilities and a very helpful staff as especially Jim the manager.
Jun 08, 2020
This was our first time staying in Avila and we enjoyed it! The KOA was very well kept, lots of space for the kids to run around and for everything being closed, we had plenty to do. We will definitely be returning soon!
Jun 08, 2020
Location was great, close to Avila and Pismo beaches. Public areas were closed due to Covid so can't really comment on those but everything else was fine. The spaces are a bit close together so expect that coming here but I would come back again.
Jun 08, 2020
site too small for our rig. No place to park the truck and couldn't even use picnic table. Instead of being asked nicely to move our truck from another site, which by the way was never used, the lady yelled at my sweet husband. Very inappropriate.
Jun 08, 2020
Very clean and helpful staff. The guy taking us to the campsite was super helpful! Just wish the bathrooms and showers were open. We understand why, didn't make our stay any less enjoyable. This was our first RV trip so happy we choose to stay with you.
Jun 07, 2020
They have CRAMMED far too many spaces into this park. It feels like you're in a can of sardines. When I asked if we could pay extra for one of the larger sites I was told they have to save them for the bigger rigs so we had no choice. The contortions we have to go through to back in is ridiculous.
Jun 06, 2020
Our campsite had no space between the next campsite. Our awning was 3 inches from the neighbors slide out. Wouldn't want that site ever again. Would go again but would probably choose a pull through as they looked like there was more room between rigs.
Jun 06, 2020
Pool closed, showers closed. If you want freeway close this is the place to be...NOISY!
Jun 04, 2020
Even with the C19 restrictions we had a wonderful stay. No restroom or shower open yet. Great place to stay with excellent, caring staff
Jun 03, 2020
Enjoyed our stay. Disappointed that the facilities weren't open due to COVID but understandable. Great location except for the freeway being so close we could hear the traffic. Very clean and well maintained.
Jun 03, 2020
Our 1st time at a KOA and in the studio cabin. Nearly all the amenities were closed due to covid19 so we missed out on a lot, it was still relaxing. Room was nice but had cobwebs over windows and in bathroom; we did find a spider w/ nest in our dish rag. Wish we were give a spot closer to the pool since we appeared to be the only people renting a cabin.
Jun 03, 2020
Public restrooms were open but not at the half full campground. Also I don't like not being able to pick a RV site by number. Sun RV Resorts does it. Most other resorts you can pick your spot. Very important to me.
Jun 03, 2020
Campground personnel were very nice especially with the added strain of Covid 19 rules. Everything was clean and orderly. This would be a 5 star location except for the 24 hour freeway noise. A sound wall of some sort would be wonderful.
Jun 02, 2020
Hard to score due to activities in resort closed due to coved virus. Also very noisy by freeway side of park.
Jun 01, 2020
A poorly managed facility. We were given a site next to an construction area. For two days all we heard was sawing and hammers. When we asked if we could change to another site we were told we could not even though most of the park was empty. Not a relaxing visit.
Jun 01, 2020
Great clean place with helpful staff. Can't wait to go back.
Jun 01, 2020
Second time here. We stayed at site 33 during 50% capacity from Covid 19 restrictions. They put rigs too close to each other, adjacent and behind. The sites we were in were pull through that were converted to back in to increase capacity. It was a mistake. Modern rigs are larger with slides. These sites should be changed back into pull through set at a diagonal to accommodate larger rigs.
May 28, 2020
I just wish the amenities would have been open while we were there, but because of the Covid 19 virus things were closed. Everything else was great.
May 26, 2020
We had a great time. The staff was amazing! An employee had us follow him to our site, so we didn't need to search for it. Everyone was pleasant, and one of the employees even came over when I was trying to back up to hook up my trailer and helped me. The only reason I didn't give a 5 star rating was because (of the covid-19) the facilities (bathrooms, pool, jacuzzi) were all closed.
May 26, 2020
RV Park was great and met some great people. I wished some of the amenities were open.
May 26, 2020
Campground was nice.
May 25, 2020
It was a really nice place and the people were pleasant when we encountered them. Looking forward to the next stay.
May 24, 2020
nice campground but the site we had was to narrow for our RV. there was a fence in the way of our slid out and our steps.
May 23, 2020
First time , very impressed, it was clean, the store was amazing!! Can't wait to come back!! Wish the pool would have been open, but understand!
May 22, 2020
Staff unwilling to extend a late check out even though campground was mostly empty
May 21, 2020
Beautiful landscaping at this park! This was a stay during Covid-19, so we didn't use any facilities. The beach is very close. Fisherman's Beach is a dog beach! There is a bike/ walking path very close to the park. The staff was very friendly.
May 21, 2020
We enjoyed staying at this campsite despite Covid restrictions. The campsite was very close to bike paths leading to Avila beach. Pismo beach is 15 minutes away.
May 20, 2020
The only bad thing was the pool and playground were closed due to the Corona Virus.
Sep 21, 2020
Great location with nice views. Staff is nice and extremely helpful.
- monica mitchell on Google
Aug 31, 2020
KOA is a very nice Campground close to Avila Beach Indians very friendly host helpful clean restrooms pulling sites are very clean
- Robert ceballos on Google
Aug 31, 2020
Home away from home visiting my beautiful familia Perez!! Thank u Tio Stanley, Prima Rachael and primito Ray!! Great to see primo Dewayne and his beautiful family!!
- Pamela Luera on Google

Avila / Pismo Beach KOA
Open All Year
7075 Ontario Road
San Luis Obispo, CA 93405
Check-In/Check-Out Times
RV Sites
Check-in: 1:00 pm, Check-out: 11:00 am
Accommodations, Cabins
Check-in: 3:00 pm, Check-out: 11:00 am
Get Google Directions

© 2020 Kampgrounds of America, Inc.