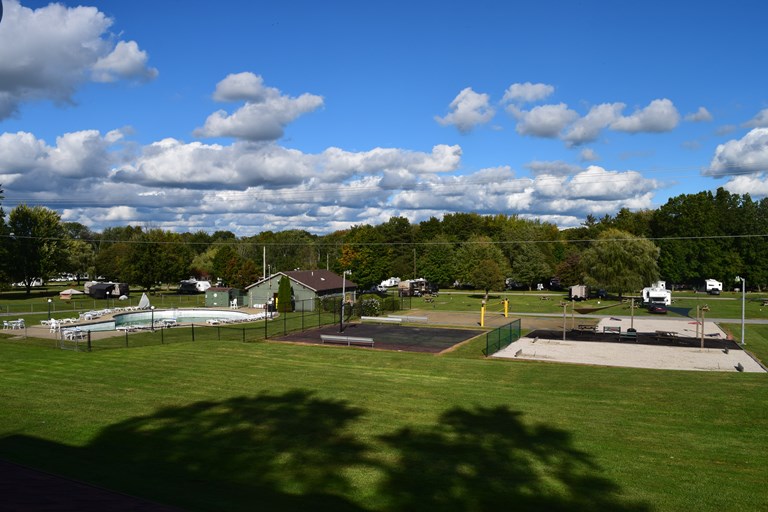 Andover / Pymatuning Lake KOA Reviews
Time to get away! Book your 2020 stay!
Directions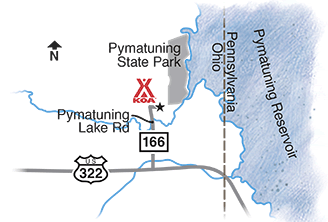 From Pittsburgh: Take I-79 North to Route 358 West in Greenville. Turn RIGHT onto Route 58 West to Route 322. Follow Route 322 West. Turn RIGHT onto South Pymatuning Lake Road. Travel North for 1/2 mile.
From Cleveland: Take I-271 to Route 322 East (Mayfield Road). Travel 50 miles and turn LEFT on Pymatuning Lake Road. Travel North 1/2 mile.
From Niles / Warren / Youngstown: Take Route 11 North to Route 322. Turn RIGHT (East) and travel 10 miles to Pymatuning Lake Road. Turn LEFT onto Pymatuning
GPS: N41.542104, W80.533583
Get Google Directions
Jul 01, 2020
Love the large shaded site. Staff was friendly and helpful.
Jun 30, 2020
They were treat and super friendly!
Jun 30, 2020
A terrible first KOA experience. The sites weren't level, the water hookups drippy, the electric scorched. The bathrooms were worn and showers cold. I could have gotten over all of that but the kicker...bathrooms closed from 8pm-8am. I understand with Covid there are cleaning rules but to not offer bathroom facilities 12 hours a day is unacceptable. We've paid less for much better,we won't return.
CAMPGROUND RESPONSE / COMMENTS:
We are very sorry to hear you were not happy with your stay, Our manager will be reaching out to follow up on how we can fix this issue. Our bathhouse was able to be fully open on June 26th 2020. We understand how frustrating our new Covid style of camping can be. We hope to be able to return to our normal operations soon.
Jun 29, 2020
Campground was overall clean and welcoming. My one concern was that there were several old tree stumps. There appeared to be no effort to replant new trees. In the area where sure was there was very little tree cover. New plantings would greatly improved the feel of the campground.
CAMPGROUND RESPONSE / COMMENTS:
Thank you for your feedback. We agree the loss of our trees is a huge disappointment, our resort was hit with a tornado which caused a large amount of damage to our grounds. We have started the replanting process but unfortunately it will take some time for our new growth to take affect.
Jun 25, 2020
Everything was great. Disappointed about the pool not in use, but completely understand. The staff was very courteous and the cabin was very nice.
Jun 23, 2020
All the staff members were very kind and helpful. It was only our second time camping with our travel trailer so we didn't have all the supplies we needed, but I was able to get what I needed at the camp store. My son enjoyed the bigfoot hunt and craft. The sites were very large.
Jun 23, 2020
The pool was closed; our water connection was broke and asked me to switch handles from neighbor faucet. The camp site was not level. Not up to standards of other KOA's.
Jun 23, 2020
Well-kept, nice grounds. Staff wore masks. Everyone was helpful and friendly. Staff really couldn't do enough for us. Had a great stay!
Jun 22, 2020
Had alot of fun and the camp staff was excellent, ground manager Erica did a great job. Thanks again for the hospitality!
Jun 22, 2020
Very friendly staff. Your Manager was very accomodating and I appreciated how the staff all wore masks to follow CDC guidelines. It made me more comfortable when in your store and around your staff.
Jun 22, 2020
First time visit. Sites were very wide and deep. Very grassy. Nice that we weren't camping on top of other campers. Although we rated you very high for the reasons stated, we were very disappointed in the Internet strength. We have grandchildren who live far away and we FaceTime with them every weekend. That was not possible during our stay. ���� Probably would not return for that reason.
Jun 22, 2020
Very quiet. Accommodated our pets. Helpful staff. Friendly Campers. Not disappointed at all int he experience. Already planing our next trip.
Jun 20, 2020
Stayed for 5 nights, everyone was so nice. Adelle and Noah helped make our stay better by dropping off wood and serving ice cream in the store, and always conversing with us when we would go by. Dale, our Chocolate Lab loved the dog park!! We wlll see you soon!
Jun 20, 2020
The site we were on has ruts, could be an ankle breaker. They need to fix the electrical and water hook ups so it is easier to hook up to the camper, several campers have agreed. The campground is clean and quiet. Staff is helpful and friendly.
Jun 19, 2020
Staff is very friendly and helpful. Clean and tidy grounds. Unfortunately, the pool wasn't filled so it wasn't available for use during our stay. Also, the sites are very deep and the utilities are not always on the side of the driver side of the camper. This makes it so you may need an extension or longer hoses in order to use the electric, water, and sewer hook-ups.
Jun 18, 2020
It was ok. Disappointed that you have limited hours for the bath house. Your rates are high to have no amnesties. It was our first visit, probably our last. The employees were all very nice and helpful.
Jun 18, 2020
Our problem, we thought when viewing map we were getting a tree for shade, didnt happen. We have been here maybe 1/2 dozen times and this was first time, no rain. Pool closed, and limits on other activitis. Staff was very friendly and when asked we got answers right away. Very quiet since no real young children during our time at facility. I would recommend using this KOA.
Jun 17, 2020
This camper comment has been removed by KOA due to profanity.
Jun 17, 2020
We were allowed early check in so that was nice. However, the cabin had issues. WiFi and cable did not work in the cabin. Cabin head s bad smell and there were mice. Grounds around the Cabin needed attention. We emailed twice about the cable and never received a response. Definitely not worth what we paid.
CAMPGROUND RESPONSE / COMMENTS:
Thank you for informing us of the issues, we will follow-up. If email communication is easier, we are happy to converse accordingly, we ask it to go through our main office email. We find this works better, as multiple people are on duty to monitor while one personal email may not get followed-up on
Jun 16, 2020
My suggestion: Keep the bathrooms open at night.
Jun 16, 2020
Upon arrival, the check in was very pleasant with some very courteous personnel. I was offered help when parking my trailer along with an extension cord for my power which I never thought I would need. Very friendly people everywhere within the campground staff and other campers. The campgrounds were very clean and the sites had plenty of room to setup our trailer and outdoor cooking area.
Jun 15, 2020
TERRIBLE! when we arrived we discovered that nothing was open despite the App telling us that things were open. There were no emails or anything telling us that things were not open. Luckily we were able to book another campground at the state park. I will not be coming back.
CAMPGROUND RESPONSE / COMMENTS:
We apologize you did not see the notices. We sent the updates in the email confirmations, as well as the reminder email. Thank you for the chance to speak with you as well as refund your entire stay, we do hope to see you in the future.
Jun 12, 2020
Got in late but was greeted by Greg. Helped me back in and then lent me a 30 amp extension. The park was clean, well kept, and quiet.
Jun 12, 2020
The staff is very helpful and friendly Erica and Adele went above and beyond. The site were supposed to have was really wet. We have a 35ft 5th wheel and was worried that we would get stuck. When we went to the office Adele was very apologetic and called Erica to see what sites we could move to. We really appreciate that they allowed us to move to a new site. Again all of the Staff were very
CAMPGROUND RESPONSE / COMMENTS:
Thank you for your feedback. We always want our guest to have a great stay! It was nice having you here, and we hope to see you soon!
Jun 02, 2020
Great stay as always. The sites are large and well kept. The staff is friendly and very helpful. My only complaint is the $3.00 per dog/per day fee. I understand there are those inconsiderate people that don't pick up after their pets, but $3.00 per day is a bit much. Regardless, we will visit again as this a very nice campground!
CAMPGROUND RESPONSE / COMMENTS:
We will follow-up on your reservation to ensure the charges were correct. As a note, we count 2 pets as part of your reservation. Our basic reservations rate includes 4 people and 2 pets; any amount over that is a daily fee. We hope to see you soon!
Jun 01, 2020
The sites are large some with shade. The staff was friendly and helpful. However, there was constant yard work being done in this campground. I understand that maintenance must be done but lawn cutting and weed whacking for 2 days straight was too much. At the entrance of every site there's a ditch. If you don't cut it just right you could end up in the ditch. I'm not sure I would return.
CAMPGROUND RESPONSE / COMMENTS:
Thank you for your feedback. We apologize you were unhappy with the groundskeeping. We find it best to mow grounds during the week instead of the weekend. Our mowing is done once a week on Wednesday, while weed-eating is taken care of Monday and Tuesday.
May 29, 2020
We really enjoyed the campsites. We had a low water pressure. They told us others had no water. The maintenance workers did get us better water pressure but it still wasn't great! We would visit again.
CAMPGROUND RESPONSE / COMMENTS:
Thank you for your feedback. We will follow-up on our pressure tanks and make sure we are offering all we can. We hope to see you soon.
May 27, 2020
The staff is wonderful, Kelsey was a joy and very helpful! We had trouble with the WiFi and television and the staff did everything they could to correct!
May 27, 2020
Wished the site didn't have those ditches and only a small entrance, it's difficult to get a large coach parket
May 27, 2020
We were upset about the restrooms not being open. You need to tell people up front about the situation and allow them to cancel without penalty if they do not want to stay under those conditions. I called and was told that if I canceled I would lose my deposit because it was a holiday weekend. No activities for the kids and that's part of the holiday extra! Very disappointed.
CAMPGROUND RESPONSE / COMMENTS:
We understand your disappointment, unfortunately, we must comply with our state-issued guidelines. We send an outline of all restrictions with confirmation emails, post updates on social media, as well as speak to everyone when reserving, and at check-in.
May 27, 2020
I discussed with staff at time on stay. AC did not work properly, refrigerator did not keep food cold. A few advertised items were missing from cabin (TV, Coffee maker) We brought supplies to watch TV and make coffee , but had to request those items. We did not hold it against the camp since they just opened due to the current pandemic. Overall it was a clean camp. Friendly Staff. We will be back.
CAMPGROUND RESPONSE / COMMENTS:
Thank you for your feedback. We appreciate you informing us of the areas we need to improve on. We are looking forward to your next stay.
May 26, 2020
We had a great stay!! Bummed that there weren't more activities but we know that's because of the coronavirus and having to limit gatherings.
May 26, 2020
Check out time is too early
CAMPGROUND RESPONSE / COMMENTS:
Thank you for your feed back. We hope to see you again, and we do offer a late checkout.
May 26, 2020
This was a wonderful campground. Even though most activities were closed due to COVID-19 the friendly and helpful staff made up for it. Very clean camp. The only thing i would change would be to have the electric on the correct side for our camper. We were very impressed by the site size and the camp in general. We will be back for sure!
CAMPGROUND RESPONSE / COMMENTS:
We can't wait to see you again! Hopefully, we will be able to host you when our activities are in full affect.
May 26, 2020
Staff was very nice, sites are grassy, no pads, narrow and long. The section we were in were not level, took 3 bags of Lego blocks to level both mine and my sons campers. Water and electric hookups definitely require at least 50' to connect. Facilities looked nice unfortunately covid restrictions had most shut down. Will probably try the campground again once the restrictions are lifted.
CAMPGROUND RESPONSE / COMMENTS:
We have larger sites then most, (50x70) we recommend hook-up extensions, as mentioned in your confirmations. We can't wait to get back to camping as we normally do- hopefully soon! Thank you for your feedback. We hope to see you soon.
May 26, 2020
Very clean and friendly people. We camped during COVID-19 so the majority of the amenities were not open, understandably.
CAMPGROUND RESPONSE / COMMENTS:
We thank you for your understanding in camping outside our norm. We hope to see you again soon.
Nov 02, 2019
Great campground. Family oriented and pet friendly. We loved it so much we got a seasonal site.
CAMPGROUND RESPONSE / COMMENTS:
We are so glad you did! What a great addition to our resort family you guys have been!
Nov 02, 2019
Came to just stay a weekend and ended up getting a seasonal site! Plan on being there for awhile. Very friendly ppl and great workers!
CAMPGROUND RESPONSE / COMMENTS:
We are so happy to have you as part of our resort family! Hopefully, we have many more awesome seasons together!
Nov 02, 2019
First year seasonals. Love it there. All staff are so nice. Don is awesome!
CAMPGROUND RESPONSE / COMMENTS:
We couldn't agree more! Don is a blessing for us-no doubt. We are thankful you're apart of our resort family!
Oct 28, 2019
Wonderful campground! Very clean and beautiful, surrounded by walls of gorgeous trees. Spacious enough for each resident to have room and not feel crowded. The staff was also very helpful and welcoming. Looking forward to our next stay here!
Oct 26, 2019
The staff is extremely helpful and the park immaculate. I really enjoyed the new wifi system.
Oct 22, 2019
Although the accommodations were nice the visitors across the way we're playing music very loudly, swearing, driving a golf cart while drinking alcohol. When I called, I was ignored nobody even bothered to call me or stop by, and ask me what the problem was, or to tell them to be quiet. They kept us up the first night we were there and part of the second night .
Oct 22, 2019
As always it was perfect!
Jun 20, 2020
This place rocks....they go out of there way to help
- Patrick Walker on Google

Andover / Pymatuning Lake KOA
Open April 1 - October 31
7652 Pymatuning Lake Road
Williamsfield, OH 44093
Check-In/Check-Out Times
RV Sites, Tent Sites
Check-in: 1:00 pm, Check-out: 11:00 am
Accommodations
Check-in: 3:00 pm, Check-out: 11:00 am
Operating Hours
Sunday: Open 9:00 AM to 5:00 PM
Monday: Open 9:00 AM to 5:00 PM
Tuesday: Open 9:00 AM to 5:00 PM
Wednesday: Open 9:00 AM to 5:00 PM
Thursday: Open 9:00 AM to 7:00 PM
Friday: Open 9:00 AM to 9:00 PM
Saturday: Open 9:00 AM to 9:00 PM
Andover / Pymatuning Lake KOA
Get Google Directions

© 2020 Kampgrounds of America, Inc.