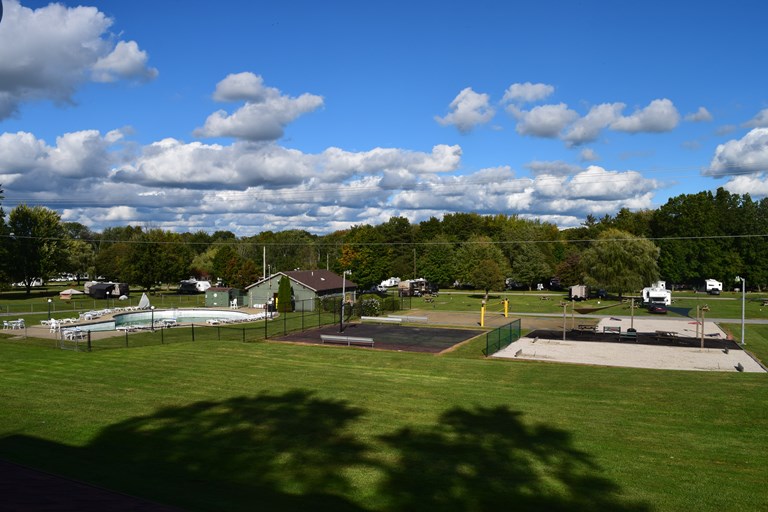 Andover / Pymatuning Lake KOA Reviews
Time to get away! Book your 2020 stay!
Directions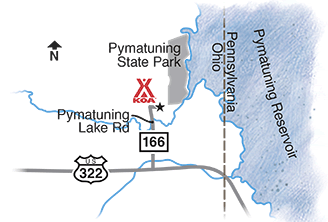 From Pittsburgh: Take I-79 North to Route 358 West in Greenville. Turn RIGHT onto Route 58 West to Route 322. Follow Route 322 West. Turn RIGHT onto South Pymatuning Lake Road. Travel North for 1/2 mile.
From Cleveland: Take I-271 to Route 322 East (Mayfield Road). Travel 50 miles and turn LEFT on Pymatuning Lake Road. Travel North 1/2 mile.
From Niles / Warren / Youngstown: Take Route 11 North to Route 322. Turn RIGHT (East) and travel 10 miles to Pymatuning Lake Road. Turn LEFT onto Pymatuning
GPS: N41.542104, W80.533583
Get Google Directions
Sep 16, 2020
We always have a great time. We will be back. We stayed in c-5 a very nice cabin out of the way. We would like to try c-6 next time.
Sep 15, 2020
Great place!
Sep 15, 2020
The area I always try to get is level and spacious. Camp staff are friendly and helpful
Sep 15, 2020
Very nice sites, plenty of room. Very nice people
Sep 15, 2020
The staff, especially the maintenance team are hard working and hospitable for the camper needs
Sep 14, 2020
I understand that there is Covid but you guys seem to be the only campground around the area not doing any activities. Which is fine just wish we would of known that ahead of time. Dead zone for service and internet so it was hard to keep the kids entertained. The girls in the gate house were very nice though and gave us some crafts to do with them. This was our second stay there and last. :(
Sep 13, 2020
Nice campgrounds with all clean facilities. Staff very nice and helpful.
Sep 11, 2020
It would have scored higher if we hadn't been put under an acorn tree...what a pain!!!
Sep 10, 2020
Love it here!
Sep 09, 2020
VERY NICE, LARGE SPOTS. EVERYONE IS SPREAD OUT. MOST SITES HAVE NICE TREES FOR SHADE. COULD USE MORE GRAVEL AT SITES.
Sep 09, 2020
large sites and friendly staff.
Sep 09, 2020
Each and every time I stay at this K.O.A. is the same. The manager's and the entire staff is fantastic. The cabin was clean and very accommodating. Very friendly and very professional !! Definitely will stay again.
Sep 08, 2020
nice campground , quite , peaceful. but have to fix wifi. 2nd trip there this summer NO WIFI on trips
Sep 08, 2020
They were great at helping us out w a few issues we had w our camper.
Sep 08, 2020
Every employee was so kind and helpful. The campground, bathhouse and stores were extremely clean. We would definitely stay there again.
Sep 08, 2020
No apparent quiet hours, loud music and loud talking till 1a. Very small camp sites with no privacy or noticable division. Website stated activities to look forward to. However all activities were canceled due to covid. I wish we had gone to the state campground.
CAMPGROUND RESPONSE / COMMENTS:
Sorry to hear you were not happy with your site. 20x30 is our tent site size. We do have security that patrols and had no complaints of loud guests. Our quite hours are 11p to 8a. We do feel this review is due to having you move excess of cars off site and asking you to stop cutting down our trees.
Sep 05, 2020
Office was closed.and we didn't know how to get in. We found a packet left for us with the code, but it was incorrect. Called for assistance to get in using the on-call number and left several messages.. We were stuck at the gate with cars behind us and didn't get any assistance until we started beeping the horn. Took around 45 min.total to get in.
Sep 03, 2020
The campground was marvelous however the lower rating of 4 was because the internet and phone coverage was minimal. Maybe if the cabin was closer to the office it would have been better.
Aug 29, 2020
We all had a great time - with four camp sites it was a great family weekend - the children loved the pool - areas were in great shape - having our garbage picked up constantly was a wonderful asset, and everyone was very helpful - will all be coming back - our nephew had camped there earlier this year, and he is the one that suggested it for the family outing.
Aug 27, 2020
Our first stay at this place started out a bit bumpy. An older gentleman in a golf cart stopped us to say we were going over 5miles an hour trying to get to the site. We were not because we had just made a stop at a corner. It seems like the people that have preminent sites have more say so then the owners. Dont believe I will be back
Aug 26, 2020
Only 1 night - the site had grass (rather than dead spots from mats) but the drive was narrow.
Aug 26, 2020
Very nice campground loved the cabins
Aug 25, 2020
Athough many of the amenities were closed for Covid we enjoyed our stay at Andover/Pymatuning. Our only problem was the rough terrain at our camp site. There were dips and holes on the grass that made it difficult to walk and set up.
Aug 24, 2020
Had a great stay. Cabins need a little TLC but overall was very nice. Staff was friendly and Fannie the Amish lady makes delicious donuts and pies. Will be coming back again.
Aug 24, 2020
We had a wonderful stay, Staff was fantastic, Site was very large and clean
Aug 24, 2020
The sites were very spacious. I didn't feel crammed in like I have at other campgrounds. The staff was super friendly and helpful. The location was close to many area attractions. This is one of my favorites. I would like to visit again when the COVID restrictions are lifted so we can enjoy more campground ammenities.
Aug 24, 2020
We had a great time! The sites are huge and we like the location. Our dogs enjoyed the dog park and the water that was less than a 5 minute drive. This was our second time and we will be back!
Aug 24, 2020
Staff was extremely friendly and helpful. Easy check in, accessible sites. The campground could use a few upgrades, but we had a great time and will return.
Aug 24, 2020
The bathrooms where closed for cleaning on Saturday At 7 pm. Everything. Was closed because of Covid.
CAMPGROUND RESPONSE / COMMENTS:
We are sorry to see you were disappointed in your stay; we do close the bathrooms for cleaning and post the times. We hope to get back to our camping normal as soon as we are able.
Aug 23, 2020
We had a wonderful stay at this KOA! The staff were extremely friendly, helpful and kind. (Especially Larry, and Noah at the pool). Our site was spacious, level and peaceful. The only downside was the poor Wi-fi service. However, we will definitely be back and extend our stay! Thank you!
Aug 20, 2020
Me,my dad, uncle and cousin went for a fishing trip. We all caught fish, and had a blast. Definitely will be back.
Aug 19, 2020
The staff was very friendly. Due to the virus, our plans to have family come visit were curtailed. No day visitors so we had to pay for each person as if they were an overnight camper. It got expensive quickly. Other than that, it was a great stay and an enjoyable weekend.
Aug 19, 2020
Very pleasant, attentive staff, nice clan facility, shady site.
Aug 18, 2020
Cabin was great! It was clean and spacious!
Aug 18, 2020
The people were very friendly and helpful, the playground and pool were nice and well maintained. Would have liked a little shade or plants (our site was in a flat open field like setting), but for an overnight stop, it was very nice.
Aug 18, 2020
Had another great weekend, wished the live music would have been allowed to come. I think there was more then enough room for social distancing plus the sites that border the pavilion could have listened from there site. Our site was double booked on our second night, this was the second time camping here and our requested site was messed up. Campground took care of it.Met new friends Because of i
Aug 18, 2020
everything we needed and nothing we didnt.
Aug 17, 2020
The staff and grounds were great. Perfect location, close to everything. The lower field sites that we were in could use some more trees, but it was overall nice.
Sep 06, 2020
Nice people, good size lot, level
- David fdfgfddghfddg Winkleffgfbwfjhr on Google
Sep 05, 2020
Great family fun.... open,clean,pool,park, and dog park... So much for the whole family and RELAXATION!!!!!!
- Tiffany Kaercher on Google
Sep 03, 2020
Well kept campgrounds with lots of amenities, large sites, and friendly staff. The skies are dark enough to see the Milky Way. Not for the roughneck tent camper. More for the relaxed RV/ Cabin type.
- Bob Oliverio on Google

Andover / Pymatuning Lake KOA
Open April 1 - October 31
7652 Pymatuning Lake Road
Williamsfield, OH 44093
Check-In/Check-Out Times
RV Sites, Tent Sites
Check-in: 1:00 pm, Check-out: 11:00 am
Accommodations
Check-in: 3:00 pm, Check-out: 11:00 am
Operating Hours
Sunday: Open 9:00 AM to 5:00 PM
Monday: Open 9:00 AM to 5:00 PM
Tuesday: Open 9:00 AM to 5:00 PM
Wednesday: Open 9:00 AM to 5:00 PM
Thursday: Open 9:00 AM to 7:00 PM
Friday: Open 9:00 AM to 9:00 PM
Saturday: Open 9:00 AM to 9:00 PM
Andover / Pymatuning Lake KOA
Get Google Directions

© 2020 Kampgrounds of America, Inc.