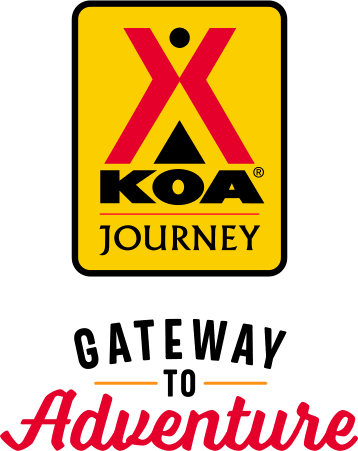 KOA Journey Campgrounds
KOA Journey campgrounds are the perfect oases after a day on the road. Whether it's along the way or a quick getaway, they've got you covered. Located near the highways and byways of North America with long Pull-thru RV Sites, they deliver convenience to the traveling camper. Pull in, ease back and take a load off.
KOA Journeys Feature:
Pull-through RV Sites with 50-amp service
Premium Tent Sites
Well lit after hours check-in service
Directions
From I-78 or PA 22: Take Fogelsville Exit 49B, 100N 6 1/2 miles, left on Narris Rd 1/2 mile. If GPS advises you to exit before 49B, please do not follow those directions.
Get Google Directions
May 10, 2021
Looove this camp ground. The staff is amazing, its super clean and I all around really enjoy this location!
May 10, 2021
Loved this little campground!! I like having a stream nearby. And we realized we didn't book full hook up but all was good because someone drives around to clean out your tanks for additional $20....well worth the convenience!!!
May 10, 2021
Great!!!!!!!!
May 09, 2021
Beautiful camp, definitely coming back
May 09, 2021
No power and no water
May 08, 2021
Had a great stay and Scott is very helpful
May 08, 2021
Beautiful campground and friendly folks!
May 08, 2021
Office staff were friendly and helpful. We forgot a few things your store had everything we needed at a reasonable price. Everything was clean and well kept. Enjoyed meeting fellow campers. Will definitely come again
May 05, 2021
staff was courteous, extremely helpful. the site was crowded, loud and we were disappointed that the surroundings were more people and less natural. walking in the area was very nice.
May 05, 2021
Disappointing weekend. We understand the power going out couldn't be prevented, but we felt it could have been handled better. Not being able to use the bathrooms for a large portion of our stay was very frustrating.
May 04, 2021
The power was out for 24 hours. We understand it wasn't the campgrounds fault, but they didn't even have a generator to run their pump so we also didn't have water. A gesture of 10% off the next stay, or something, would have been nice but they offered nothing. This was not our first stay here, but it may be our last.
May 04, 2021
Electric power was out the entire time and campers were not kept informed
May 03, 2021
We had a great time here! All of the employees were awesome and we would definitely stay again
May 03, 2021
nicely kept pleasant staff
May 03, 2021
Unfortunately we had no power or water for the first two days but when the power came back on it was a truly enjoyable experience.
May 03, 2021
We had a really good time there. Despite the fact we didn't have power for the first 12 hours there, we made due and still had an awesome time. Will definitely return for another weekend.
May 03, 2021
The environment is great. People are nice and quite. However, my husband has so many bed bug bite in the lodge! It is terrible! After we got home, we have to buy some bed bug killer to make sure our sleeping bags do not come with bed bugs! My husband is painful after the visit! He felt itchy and painful. He has to go to see the doctor!
May 03, 2021
My kids and I had a great time, we'll definitely stay again soon!
May 03, 2021
We had a great spot, Site 22, and loved it. The campground lost power due to wind on Friday and that was challenging. We had great neighbors at another site who went home and brought their generator back for us to use due to me using oxygen at night. Thank goodness for them! But we loved the campground and will return again.
May 03, 2021
Website should indicated that hayride and rec room are canceled due to covid.
May 03, 2021
We were just there for an overnight but it had everything we needed. Easy in and out.
May 02, 2021
The owners are great people and very hard working. They are extremely accommodating, helpful and friendly. We enjoyed our stay. Our site #46 was level, but the 50 amp had a problem.However, the owner called us ahead of time to tell us in case we wanted to cancel. We told him thank you and that we still wanted the site.
May 01, 2021
Campground is in the woods nestled in a hollow next to a creek, very nice, very remote setting. No cell phone service at the site (no bars). Restrooms and showers were clean. Staff was friendly. Cable TV worked fine. Our pull-through site was so out of level that even with our jacks fully extended it wasn't level. Water pressure was low but worked OK. If in the area we would stay again.
Apr 27, 2021
Weekend away for wife's birthday - beautiful campground. Great staff. Can't wait to return
Apr 27, 2021
We weren't there much, busy with other persuits. However, did enjoy a walk down the quiet country road and visited Valley Forge. Such beautiful country side in this area.
Apr 27, 2021
Really nice place, loved the dog area!
Apr 26, 2021
The cabins were great. Very clean and made our stay easy and enjoyable. Camp staff were all very friendly and the campground layout is perfect for families. Looking forward to staying again!
Apr 26, 2021
Everything was great with the campground and staff but we didn't notice the no alcohol on the registration. Going back to your website I do see it mentioned once. Myself and most of my friends enjoy a few drinks. We don't get crazy. I would not take the chance that you enforce that rule. We had a great time in the area.
Apr 26, 2021
This was our first time camping with a travel trailer. As others have said, the sites are close together, but we knew that before we went and didn't find it to be an issue. Staff was very friendly and helpful, appreciated the escort to our site! We used the hiking path and they really do mean steep! We had a quiet relaxing weekend and a very nice time! Little/No service on Verizon, ok on T-Mobile.
Apr 26, 2021
Very nice, very quiet. The only issue was that I was in site 13 and there was confusion with my neighbor about which fire pit was theirs, so I think that could hav ebeen better handled, but other than that very happy with my stay. Will be back.
Apr 26, 2021
We had a great weekend getaway. The campground is well maintained and the staff is incredibly friendly.
Apr 24, 2021
Staff is excellent/ most helpful and accommodating
Apr 23, 2021
Very good and liked the atmosphere Quiet
Apr 23, 2021
We always enjoy our stay at Allentown KOA, the staff is very friendly and the cabin is always very clean and well-maintained.
Mar 31, 2021
Allentown KOA is always a great place to camp.
- Erin Schoepflin on Google
Mar 09, 2021
Definitely a Great place to camp. Wonderful and friendly staff
- Evelyn Terrill on Google