Directions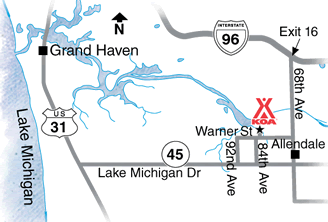 From Grand Rapids: Take 96 West toward Muskegon. Take Exit 16 toward CR B35/ Coopersville. Turn left onto 68th Ave. Turn right on Warner St to KOA. About 6 miles.
Get Google Directions
Aug 23, 2020

So much character and enthusiasm in this place! You can tell the owner is a kid at heart! Will definitely be bringing my twins back we had such an amazing time!
Aug 23, 2020
Staff was friendly but covid precautions were not being used. Bathroom facilities were old and didn't seem clean. Seemed more of a campground for seasonal and local area residents. Although it's in a nice wooded area premium patio sites were crowded together out in open , not worth extra cost. We stayed here in a motorhome one night traveling through Michigan.
Aug 23, 2020
Very clean and friendly plan to return again!!
Aug 22, 2020
We enjoy the shaded peaceful sites, but most important is the very friendly family and staff who work very hard to make our stay pleasant. The surrounding area offers many opportunities for various recreational activities. We have camped here for more than 25 years and hope to be back next year.
Aug 22, 2020
Spent a fabulous week with my grandson. Looking forward to our next visit.
Aug 22, 2020
What an amazing campground! So many activities available! Super clean and well kept! You can tell the folks who run this campground love what they do! Contact-less check in was so well organized! Office staff really knows what they are doing! Wonderful place to stay!
Aug 22, 2020
Great to b by the pool/playground. Quiet, great activities.
Aug 21, 2020
The deluxe cabin was very spacious and clean and equipped with everything we needed!
Aug 21, 2020
Beautiful campground and very clean! Sites are very roomy, lots of stuff for kids to do! Jump pad, playground and pool were used a lot by us with our grandson. He enjoyed the goats too! Older kids were having fun with paintball. We stayed during the week so we couldn't take advantage of the wagon ride. We stay at many places & really recommend this campground!
Aug 20, 2020
we enjoyed our stay, but we were not aware of the fact our site a dlx cabin was upgraded making our costs higher,
Aug 19, 2020

Had a great time. Clean grounds, nice owners next to everything you want to do!!
Aug 18, 2020
Nice family oriented campground I've been to many KOA's around the State and this is one of the best. It was my younger kids first time staying in a tent we usually stay in a cabin they loved it. My older daughter attends GVSU so we will definitely be back. The weekend was busy I found the bathroom facility in the back to be way cleaner than main bathroom other than that no other issues.
Aug 18, 2020
The place was wonderful! There were a lot of fun activities to do
Aug 17, 2020
Stayed in a deluxe cabin. The cabin and campground were very clean. Staff was very nice. Would stay again
Aug 17, 2020
Very friendly staff. nice location. Very clean!
Aug 17, 2020
We had an excellent time, my wife and I were there with our kids and our grandkids. They had plenty of stuff to do, they had so much fun and so did we. It was a very nice and well-kept campground. Thumbs up to the mohawk, thank you. Will be back
Aug 17, 2020
Nice deep wooded sites and ownership is great. Very friendly. I will be back
Aug 17, 2020
We had the best weekend! Thank you
Aug 17, 2020
Very enjoyable. Staff were fantastic. Camp sites are well spaced and everything is clean. I'm usually not one for many words but I feel this is by far one of the KOA camps I would return to and recommend. We stayed in a large site with water/30amp/sewer. Please thank Mohawk for a job well done for me!
Aug 17, 2020
It's refreshing to see an owner take pride in his campground. Mohawk genuinely loves his job, and it shows through in every aspect of this campground. Incredibly family-friendly. The glow-tractor-ride at night was the highlight for my boys. We will definitely stay again.
Aug 17, 2020
We had a fabulous week. Made new friends, and really enjoyed the pool. Hayride minus the hay and add in music and lights and yoy have ton of fun. Great lots and excellent bathrooms and showers.
Aug 17, 2020
Staff is always friendly and extra helpful! Love camping here.
Aug 17, 2020
The management and office staff were friendly. Nice campsites. A bit crowded for my taste, but that's not koa's fault, just busy season. Some loud and rude neighbors, again not the fault of the campground. The staff make it fun for the kids, and the goats are a nice touch.
Aug 17, 2020
Stayed 8/12-14; site 50. My site was quite nice and I liked the shade throughout the day. Only used the restrooms; nothing else. It would have been nice to know about the 68th street road closure if traveling from northern Michigan south to your campground
Aug 17, 2020
This place was awesome, we loved everything about it!
Aug 17, 2020
Absolutely loved it! Great management, very accommodating and plenty of things to do. We will definitely be going back!
Aug 15, 2020
We were very disappointed with our stay due to many misleading advertisements. We will NOT be back to this campground!
Aug 15, 2020

Aug 15, 2020
The campground itself is fairly nice. The lot we had was long and wooded. It was quiet and the grounds were well kept. At check in no one was wearing a mask and there was no attempt at social distancing.The owner said he was not required to follow the executive order and said he would refund our deposit. They had call in check in but did not answer the phone. We stayed since we were self contained
Aug 14, 2020
Took the grandkids, their 1st camping trip. Lots to do: clean pool, jumping pillow, outdoor games, goats to feed. Sites are ample, ours was deep so plenty of room. It backed up to the woods which was a plus for the boys. We'd go back.
Aug 14, 2020
We stayed for 3 nights in a 43 foot MH. Nice sites, clean and plenty to do in and around the park.
Aug 14, 2020
In disrepair, sign on door said we do not wear masks here.
Aug 14, 2020
It was quite and the pool was great. Robert is always nice to talk with.
Aug 14, 2020
Wonderful campsite! We're sorry that we only stayed one night as there was so much to do on site for everyone! The actual campsites were spread out enough so you don't feel on top of each other but all within a short walk to a bathroom. There was nice little touches such as a fairy garden and an old firetruck for the kids to explore. When driving through MI we will definitely stay there again.
Aug 13, 2020

Aug 13, 2020
Staff was very helpful and nice. The camp ground is family orientated (no loud campers). Lot's of great stuff for kids to do (playgrounds, pool, exploring nature). Most sites are well shaded and spacious. Close to some great lake Michigan beaches. Fun mountain biking at the State Park and Bass Recreation Area. Fun swimming in the Grand River. Close to some great Michigan breweries.
Aug 12, 2020
Place was dusty and dirty.
Aug 12, 2020
Sites were a little narrow and close to other sites. Bathrooms were nice, but I don't think they were cleaned that often. Pool was clean and well maintained, but very cold! Overall, a nice place.
Aug 12, 2020
Clean deluxe cabin. The staff were very friendly and accommodating. Our family had fun shooting paintball, feeding the goats and playing on the jump pad. There was a pool but we didn't get a chance to try it out. The communal restroom was clean. The only con I could come up with is the door needs some work during these pandemic times especially opening it.
Aug 11, 2020
The campground was fantastic and the staff were very friendly. We very much enjoyed the weekend. The only complaint we have is the owner and workers did not wear masks, even while in main buildings. They actually had signs saying no masks. As a person who has a pacemaker and is high risk, I do feel this is irresponsible and poses a risk to others so we stayed out of buildings to social distance.
Aug 11, 2020
Great facilities, great staff, and great activities!
Aug 11, 2020

We had an excellent camping experience! Lots of activities and a fun family atmosphere.
Aug 11, 2020
Fantastic place for families with plenty to do for the kids!
Dec 09, 2020
Love it
- Anne Nuttall on Google
Nov 07, 2020
Great place to camp.
- Sean Barr on Google
Oct 11, 2020
Staff very friendly, always like camping there
- Debbie Andree on Google