Directions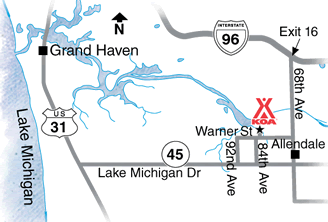 From Grand Rapids: Take 96 West toward Muskegon. Take Exit 16 toward CR B35/ Coopersville. Turn left onto 68th Ave. Turn right on Warner St to KOA. About 6 miles.
Get Google Directions
Nov 04, 2020
We had a wonderful time- very relaxing fall time getaway in a super clean and cute cabin. �
Nov 01, 2020
We had a great time. Robert is awesome! So friendly and a really good sense of humor. We are already planning on going back in August when it's a little warmer. Our Florida blood didn't like the cold temperatures. In January we will book our reservation for next year.
Oct 17, 2020
Loved it except ni one was available to get fire wood. Even when the office said they would b open at 7p. So disappointed with that!!!!
Oct 06, 2020
Anyone who has anything negative to say about this place is crazy!! Great place, great management. Great experience!!
Oct 04, 2020
The deluxe cabins we stayed in we're clean, comfortable and well stocked for our stay.
Sep 09, 2020
A lot of permanent residents. Does not have the same standards as a the other KOA's we have stayed at. Kids activities on a holiday weekend, there was nothing but a possible hayride with no details of when. Cabin mattresses were uncomfortable and painful to sleep in. Cabin was clean and staff was friendly. Close to the beach and canoeing. Never had a bad thing to say about KOA, till today.
Sep 09, 2020
My very first time camping was amazing. The cabin was very nice, clean and comfy. The staff was very welcoming and extremely helpful and nice. Everyone was very friendly which made my stay pleasant. My children had an amazing time as well swimming, roasting s'mores and enjoyed scary stories! I can't wait to book are next stay!
Sep 08, 2020
We had so much fun staying in the "tiny house" the mowhawk made our stay extra fun. The kids especially enjoyed the jumping pillow and tennis ball and glow ride. Mom and dad only wish the pool was heated �
Sep 08, 2020
Wonderful, staff so nice, clean, lot to do for kids, and the best THE LUXE CABIN..love it
Sep 04, 2020
We had a great time and the cabin was great for my 5yr who went camping for the first time. We will definitely be back
Sep 03, 2020
Great family time together
Aug 31, 2020
To close to people not a lot to do for adult
Aug 29, 2020
Great campground, we had fun. Would definitely go back. Clean, kids were happy, Mohawk and staff were friendly
Aug 25, 2020
Clean facility great host!
Aug 21, 2020
The deluxe cabin was very spacious and clean and equipped with everything we needed!
Aug 20, 2020
we enjoyed our stay, but we were not aware of the fact our site a dlx cabin was upgraded making our costs higher,
Aug 17, 2020
Stayed in a deluxe cabin. The cabin and campground were very clean. Staff was very nice. Would stay again
Aug 10, 2020
We had a great stay. Camp ground is very clean. Deluxe cabin was very nice. The deluxe cabin was very clean, well stocked. The staff are very friendly and very helpful. Will be making reservations for next summer as soon as I can.
Jul 30, 2020
This was our second time at this KOA. We stayed in the Deluxe Cabin, everything was neat and clean. We really enjoy this campground and will be back next year!
Jul 30, 2020
Great place. Quiet, clean, wonderful!
Jul 24, 2020
So much fun! The sites were large and the staff was very friendly. Thank you Mohawk we had a great time and will definitely be back!
Jul 13, 2020
Wonderful....��
Jul 05, 2020
GREAT PLACE@!!!!!!!!!!!!!!!!!! VERY CLEAN LOTS TO DO AND VERY IMPRESSED WITH THE CABIN WE STAYED IN.....EVERYONE WAS FRIENDLY AND HELPFUL ..WE WILL BE BACK!!!
Jun 30, 2020
Owner is very nice and lots of fun ! The kabin was beautiful and so clean. Staff was amazing no complaints
Jun 23, 2020
We had the best time and we will be back
Jun 12, 2020
Great place. Clean. We will be back
Jun 12, 2020
The first cabin was not cleaned from last campers. Was put into another cabin. All day fishing and canoeing, renting a canoe was advertised, which is why we chose this campground. Neither was available, we were told there were fishing options outside of the campground. We ended up spending another $250 to take our kids fishing. All in all, a horrible experience and ended up leaving early. Mark
Oct 21, 2019
Great location, friendly staff, clean cabin—one of the best KOAs and I've stayed at!
Oct 17, 2019
We rented the deluxe cabin . We were very pleased with the cleaness. The cabin was very spacious for our family of five. We we also pleased with the luxury of having everything we needed supplied. Ty for the hospitality we will be back in the spring �
Oct 14, 2019
Cabin was very nice size for 6 people. The only real negative was when we lost power for most of the day. But since we were out and about we didn't notice much
Oct 07, 2019
I love Allendale camp koa 2nd year staying in their deluxe cabin durning gvsu family weekend so close to campus and nice quite park
Sep 10, 2019
This place is the best KOA so far. We made a reservation for the weekend driving from Chicago we made it there late but the manager Scott was awesome to wait for us to check in and still delivered wood to our campsite. This place is very nice to get away from the city. It's very clean and organized. We are looking forward to coming back soon �
Sep 06, 2019
Were very pleased to be scheduled in our usual cabin and adjoining RV site. Rob certainly has the perfect personality for this organization. Everyone so friendly and helpful. Each year we see the continuing update and landscaping of this campground. We will return next year for our 14th year with the family during Labor Day Weekend in Michigan.
Sep 03, 2019
Stayed in cabin. Labor Day weekend. Loved it and campground! Loved the Mohawk!
Aug 31, 2019
We loved our time here!It is a beautiful setting nestled amongst mature pines with several pond areas and peaceful walking trails.The staff was so friendly and helpful!We stayed in a beautiful deluxe cabin and were able to enjoy many of their varied activities including the pool, water wars, the jump pad, their resident goats, gaga ball, fishing, carpet ball, and the playground.Highly recommend!
Aug 26, 2019
We had a great time, the cabin was wonderful and the staff was very nice!
Aug 24, 2019
The stay was quiet, friendly staff. The advertising was misleading as we were on understanding that there was access to the Grand River and canoe rentals at the park. This was not the case. Also o lu 1 of the 3 ponds were suitable for fishing.
Aug 19, 2019
Loved the campground! Owner is super helpful and accommodating!! The Glow Ride was really fun.
Aug 19, 2019
They went way above and beyond to make our stay memorable and amazing ..best time ever
Aug 17, 2019
We used it as a place to stay while visiting friends. Very quiet, peaceful campground!
Aug 08, 2019
We all had a great time. We used the cabin, a pop-up and a trailor and you accommodated everybodys' needs. Great staff, fishing & swimming. We'll be back.
Jul 31, 2019
No water, but they fixed it. Had trouble contacting management about it. They were very defensive.
Dec 09, 2020
Love it
- Anne Nuttall on Google
Nov 07, 2020
Great place to camp.
- Sean Barr on Google
Oct 11, 2020
Staff very friendly, always like camping there
- Debbie Andree on Google