Directions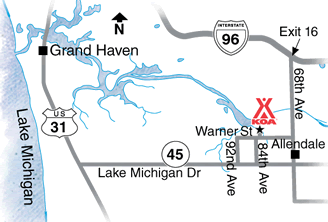 From Grand Rapids: Take 96 West toward Muskegon. Take Exit 16 toward CR B35/ Coopersville. Turn left onto 68th Ave. Turn right on Warner St to KOA. About 6 miles.
Get Google Directions
Oct 11, 2020
Rob was a great host, friendly and charming, and he runs a well maintained facility. The one metric I think you can always measure every establishment by is: "hows the bathroom?" Doesn't matter if it's restaurant, rest stop, convenience store, or or campground. The restrooms are a shared space, if either patrons or staff don't care, it's easily a mess. Rob has nice bathrooms, it
Oct 04, 2020
Camp staff was extremely helpful and personable. Lot was very large. Lot was not grassy. Delivery of fire wood was fast. Bathrooms were clean. Shower shelving is rusty and should be updated. I would add more hooks in changing section of shower. Water was wonderfully hot in shower @ 8 am. Walk from lot to bath house wasn't far at all.
Sep 29, 2020
clean and the staff was friendly
Sep 29, 2020
Great campground and even better management.
Sep 28, 2020
Great facility and friendly staff
Sep 22, 2020
It was a pleasant experience, the staff were friendly and the campground was just right for our needs. It's close to everything!
Sep 22, 2020
Beautiful grounds, plenty of wildlife to enjoy, making it feel like you could be "off the grid". Yet only 15 minutes from the grocery store. Amazing staff. Highly recommend
Sep 21, 2020
Campers talked til 5:30 am, drunk talk. Then at 7 am, gun shots around the outside of the campground for 30 m. It felt like there was a war. I left in the morning and stayed w my daughter next night and came back to take my tent down and check out the next day. I asked the front desk and she explained that they can't stop the talking and that there are hunting lands all around campground.
Sep 21, 2020
Awesome place very clean and well maintained. The staff was very nice and friendly. Rob delivered fire wood and spoke with me for a bit, very informative. Will definitely be back
Sep 09, 2020
I absolutely love this place and i would be interested in purchasing a year round pass. Tons of nature. The scenery is amazing, especially at night and the people are welcoming and friendly. Staff is on point and helpful. Its a special place that my family adores.
Sep 09, 2020
Very fun KOA site with plenty of activities. Fun tractor parade with glow sticks and bicycles. Responsive management. This trip was to celebrate an engagement. While there we discussed making this an annual visit because it was so great.
Sep 08, 2020
Facility's need updating and over all lack up keep. Buildings well used and generally worn compared to other KOAs we have visited. Facilities were clean.
Sep 08, 2020
Wonderful atmosphere and clean facilities. Will definitely be back!
Sep 02, 2020
Excellent campground with clean facilities, friendly staff, and awesome activities for younger kids (ages 3-10). We've been twice this summer and will be back next year, if not in the fall.
Sep 01, 2020
I really enjoyed my stay! Everything was clean and we'll kept. The water balloon station was a hit with the kids! Thank you!
Aug 31, 2020
This is our third year coming back to this campground, so yes, we enjoy it there. The lots are spaced out properly, people friendly and showers and bathrooms very clean. I was extremely disappointed on one thing, though. No social distancing with the children rides this year. Covid has not gone away and to have all of those kids next to each other is asking for trouble.
Aug 31, 2020
It was great! We rented the group tent site, which was very big and very well kept up. We only spent two nights but would love to come back and spend more time. The staff was friendly and they do a great job keeping the grounds looking good.
Aug 31, 2020
Great campsite with great employees
Aug 27, 2020
Great fun, great staff nice ammaties
Aug 24, 2020
The staff was great and the grounds were well maintained.
Aug 24, 2020
We really enjoyed our stay with all the kids activities. Our site was good but could of used some more shade but not a big deal. Bathrooms were the cleanest campground bathrooms I've seen. The entire staff was friendly
Aug 24, 2020
It was clean and quite, The camp operator / director "The Mowhawk" (Robert) was a very nice guy!
Aug 23, 2020
Very clean and friendly plan to return again!!
Aug 22, 2020
What an amazing campground! So many activities available! Super clean and well kept! You can tell the folks who run this campground love what they do! Contact-less check in was so well organized! Office staff really knows what they are doing! Wonderful place to stay!
Aug 18, 2020
Nice family oriented campground I've been to many KOA's around the State and this is one of the best. It was my younger kids first time staying in a tent we usually stay in a cabin they loved it. My older daughter attends GVSU so we will definitely be back. The weekend was busy I found the bathroom facility in the back to be way cleaner than main bathroom other than that no other issues.
Aug 18, 2020
The place was wonderful! There were a lot of fun activities to do
Aug 17, 2020
We had an excellent time, my wife and I were there with our kids and our grandkids. They had plenty of stuff to do, they had so much fun and so did we. It was a very nice and well-kept campground. Thumbs up to the mohawk, thank you. Will be back
Aug 17, 2020
This place was awesome, we loved everything about it!
Aug 17, 2020
Absolutely loved it! Great management, very accommodating and plenty of things to do. We will definitely be going back!
Aug 14, 2020
Wonderful campsite! We're sorry that we only stayed one night as there was so much to do on site for everyone! The actual campsites were spread out enough so you don't feel on top of each other but all within a short walk to a bathroom. There was nice little touches such as a fairy garden and an old firetruck for the kids to explore. When driving through MI we will definitely stay there again.
Aug 12, 2020
Clean deluxe cabin. The staff were very friendly and accommodating. Our family had fun shooting paintball, feeding the goats and playing on the jump pad. There was a pool but we didn't get a chance to try it out. The communal restroom was clean. The only con I could come up with is the door needs some work during these pandemic times especially opening it.
Aug 11, 2020
The campground was fantastic and the staff were very friendly. We very much enjoyed the weekend. The only complaint we have is the owner and workers did not wear masks, even while in main buildings. They actually had signs saying no masks. As a person who has a pacemaker and is high risk, I do feel this is irresponsible and poses a risk to others so we stayed out of buildings to social distance.
Aug 10, 2020
The owner is the best I have ever met and puts the customers first. Great for kids.
Aug 06, 2020
Nice campground with a lot of activities for families.
Aug 04, 2020
Me and my family had a blast!!!! The accommodations were everything we had imagined.
Jul 29, 2020
Great staff. A little Leary as they did not wear masks but we stayed distance. Great location and park was well maintained. Thanks Mohawk.
Jul 27, 2020
Clean campgrounds and friendly staff.
Dec 09, 2020
Love it
- Anne Nuttall on Google
Nov 07, 2020
Great place to camp.
- Sean Barr on Google
Oct 11, 2020
Staff very friendly, always like camping there
- Debbie Andree on Google