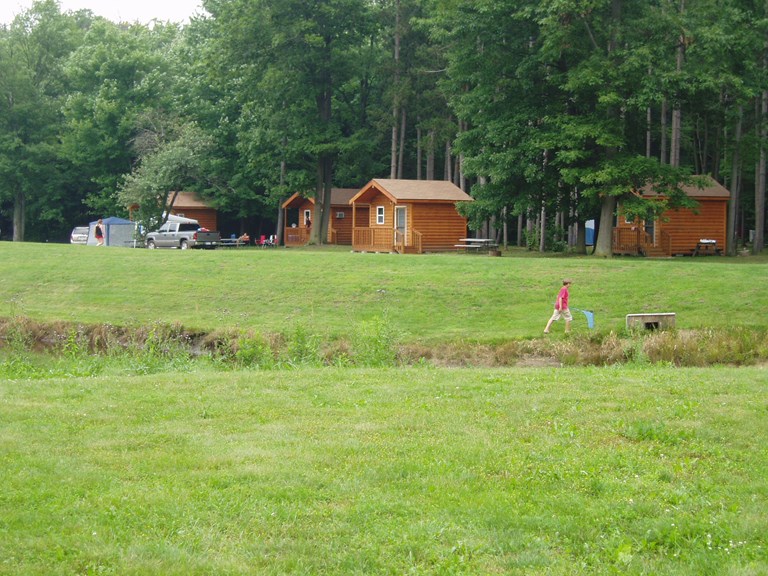 Allendale / West Grand Rapids KOA Reviews
Directions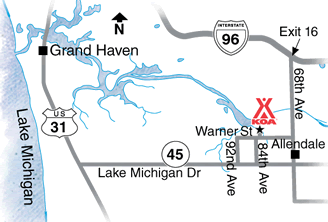 From Grand Rapids: Take 96 West toward Muskegon. Take Exit 16 toward CR B35/ Coopersville. Turn left onto 68th Ave. Turn right on Warner St to KOA. About 6 miles.
Get Google Directions
Sep 18, 2020
Park was not kept up to the KOA standards we are accustomed to. Broken vending machine on porch of office, property not mowed and trimmed, looked like a sloppy farm around wood pile, tractor and petting zoo.
Sep 18, 2020
We enjoyed our stay it was very comfortable. Loved the trees felt like a state campground.
Sep 18, 2020
Sites were very nice, well sized, staff was outstanding!! One of the best value KOA's I have stayed at! Bravo to the staff!
Sep 17, 2020
Loved the long lots Friendly hosts. Contactless check in.
Sep 16, 2020
Very friendly and accommodating our constant stay requests.
Sep 16, 2020
Very nice staff. Easy check-in. Very large spaces in a tranquil setting. It was all great. If I were to change anything, it would be to get rid of the gravel roads and pave same and put concrete pads in the rv parking spaces . . . because when it rains, there is mud and the related mess inside the rv.
Sep 16, 2020
My kids always love feeding the goats and the glow ride!!
Sep 15, 2020
location worked well for us. very rainy while we were there so a lot of sand got tracked in. biggest issue was the lack of cell service at our site. we would stay again but it wasn't perfect
Sep 15, 2020
Nice large sites, friendly staff. Enjoyed spending time there with the grandkids
Sep 15, 2020
Mohawk is the KOA owner we have come across!!!
Sep 14, 2020
Been camping here along time, absolutely love the place . Mohawk is awesome!!!!
Sep 14, 2020
very nice people, clean, nice park
Sep 14, 2020
Things were not taken care of. The water balloon sling shot filled with green water and bird poop. bathroom showers peeling. but it was quiet
Sep 14, 2020
Site clean with east access. The owner was fantastic. Highly recommended.
Sep 10, 2020
Enjoyed our stay. Very kid friendly and the staff is very nice. Packed the campers in on Labor Day weekend. Could use a third bath house for such occasions. Looked like everyone was having fun!
Sep 09, 2020
It was pretty good our neighbors were very nice. The two bundles of wood we purchased maybe the best I've had since I started camping.
Sep 09, 2020
We had an amazing time!!! The kids enjoyed all of the fun things there was to do!!! Although it was a little difficult getting into to our spot. Tight squeeze, trees, poles and other things in the way. But we squeezed in and had a great time!! The staff was exceptional, I know you have received several negative comments about mask wearing we were HAPPY it was our choice, to wear one or NOT!!!!
Sep 09, 2020
Everything was good. This place could use a little makeover to be a little more appealing.
Sep 09, 2020
We really enjoyed our stay. I loved daisys corner feeding the goats at the petting zoo, and felt staff was very attentive. Spaces are a little small but has everything you need.
Sep 08, 2020
Awesome time always! Management & staff friendly and helpful.
Sep 08, 2020
Very clean and friendly staff. Had a wonderful time there
Sep 08, 2020
We love the spacious sites, the night time wagon ride is awesome for the kids. The owners are awesome people as well as all the staff members. We will definitely be back to this KOA.
Sep 08, 2020
Don't like the electric bikes doing 20mph on walkways and roads or the dirty toilet paper on edge of woods in tent area. Park is clearly posted with 5mph limit for everyone. Restrooms not handicap accessible.
Sep 08, 2020
We had a great time and our grandson was busy from morning til night. Clean, quiet at night and friendly staff. Just wish the fishing ponds were in better condition so they could have fished also.
Sep 08, 2020
Great campground. Roger is amazing and the light show ride is like no other!
Sep 07, 2020
We loved the interaction with the campground staff and the facility. We don't usually return to same campgrounds because we like to move around. We stayed for two weeks in June and enjoyed our stay so much we booked the entire month of August and enjoyed that stay just as much. We will return again. Magnum and Sharie
Sep 07, 2020
Stayed for 10 days it's a quiet relaxing campground the owner (THE MOWHAWK) Is very personable and down to earth
Sep 04, 2020
Great staff. Long sites with nice trees and shade.
Sep 03, 2020
Laundry room has no ac and the table was dirty. No masks by the staff nor in the children's wagon ride is contrary to normal practices.
Sep 02, 2020
We stayed 2 months this summer. My 10 year old daughter said it was her favorite campground of all time. Owners are very nice, and lots are spacious. So much for the kids and family to do together.
Sep 02, 2020
What an amazing campground! Mohawk and family were the best owners we have come across in all of the years we have been camping KOAs. Truly caring that their campers were having a good time. Thanks so much for everything!! We will be back!
Sep 01, 2020
Amazing hospitality and staff!!
Aug 31, 2020
Great folks there. Sorry to say the camp could use some upgrades.
Aug 31, 2020
Very relaxing
Aug 31, 2020
Very hot with some interesting storms. Campgrounds, bathroom, and activities clean and good for kids. Liked the regular patrols by staff checking on campers and facility.
Aug 31, 2020
When I went into the office to complete registration I was wearing a mask as required bo the governor's order but the lady behind the counter made no attempt to show the same courtesy. I understand I could have used my phone and completed contactless registration but I didn't expect to be greeted by someone showing complete disregard for my safety and her own. Overall, the campground was nice.
Aug 31, 2020
Great entertainment for the kids, they are excited to return. Staff was very accommodating and friendly, had a fun time!
Aug 31, 2020
Nice quite place to stay and not to far from any site to see.
Aug 31, 2020
Nice sites and pleasant people, but very poor water quality.
Aug 31, 2020
Loved the large lot we were on. Very clean. And the staff was very helpful!!
Aug 31, 2020
Owners were very friendly. There were many activities for children. We'll return next summer
Aug 31, 2020
no masks in the office, party tractor at 9:30 was pretty annoying. kids were sleeping in the tent.
Sep 19, 2020
Nice campground, the mohawk is pretty kewl as well
- Joe Lucht on Google
Sep 17, 2020
11/10 this place was fantastic! We stayed for 2 nights on t4 tent site and we couldnt ask for better, the site was large and had space between our neighbors. The camp store is very well priced i didnt feel like i was being ripped off by any of it. We got their $30 front loader wood deal and we had fire wood for our whole stay and ended up giving a few pieces to the people next to us when we left. They have tons of amenities see pictures for those, it would be a great place to bring the family and keep the kids entertained all day! I highly recommend you go and visit the land of the Mohawk!
- Andrew Workman on Google
Sep 02, 2020
We had a great time and we are planning on returning again
- Michael Andriessen on Google

Allendale / West Grand Rapids KOA
Open All Year
8275 Warner Street
Allendale, MI 49401
Allendale / West Grand Rapids KOA
Get Google Directions

© 2020 Kampgrounds of America, Inc.