Directions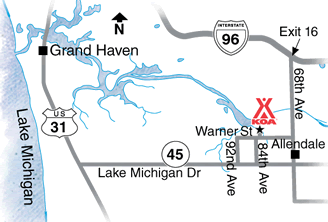 From Grand Rapids: Take 96 West toward Muskegon. Take Exit 16 toward CR B35/ Coopersville. Turn left onto 68th Ave. Turn right on Warner St to KOA. About 6 miles.
Get Google Directions
Sep 19, 2020
We loved our newly renovated site with a concrete pad and the beautiful new fire pit. The "mohawk@ is always friendly and helpful.
Sep 19, 2020
We chose this campground to stay at while touring a local university. The location to the school was excellent. The campground is small and some of the facilities could use updated. However, the thing that pushed this to a five is the staff. The staff was very kind and went out of their way to help if they could. The goats were fun and the campground was very clean and shaded. Would stay again.
Sep 18, 2020
Park was not kept up to the KOA standards we are accustomed to. Broken vending machine on porch of office, property not mowed and trimmed, looked like a sloppy farm around wood pile, tractor and petting zoo.
Sep 18, 2020
We enjoyed our stay it was very comfortable. Loved the trees felt like a state campground.
Sep 18, 2020
Sites were very nice, well sized, staff was outstanding!! One of the best value KOA's I have stayed at! Bravo to the staff!
Sep 17, 2020
Loved the long lots Friendly hosts. Contactless check in.
Sep 16, 2020
Very friendly and accommodating our constant stay requests.
Sep 16, 2020
Very nice staff. Easy check-in. Very large spaces in a tranquil setting. It was all great. If I were to change anything, it would be to get rid of the gravel roads and pave same and put concrete pads in the rv parking spaces . . . because when it rains, there is mud and the related mess inside the rv.
Sep 16, 2020
My kids always love feeding the goats and the glow ride!!
Sep 15, 2020
location worked well for us. very rainy while we were there so a lot of sand got tracked in. biggest issue was the lack of cell service at our site. we would stay again but it wasn't perfect
Sep 15, 2020
Nice large sites, friendly staff. Enjoyed spending time there with the grandkids
Sep 15, 2020
Mohawk is the KOA owner we have come across!!!
Sep 14, 2020
Been camping here along time, absolutely love the place . Mohawk is awesome!!!!
Sep 14, 2020
very nice people, clean, nice park
Sep 14, 2020
Things were not taken care of. The water balloon sling shot filled with green water and bird poop. bathroom showers peeling. but it was quiet
Sep 14, 2020
Site clean with east access. The owner was fantastic. Highly recommended.
Sep 10, 2020
Enjoyed our stay. Very kid friendly and the staff is very nice. Packed the campers in on Labor Day weekend. Could use a third bath house for such occasions. Looked like everyone was having fun!
Sep 09, 2020
It was pretty good our neighbors were very nice. The two bundles of wood we purchased maybe the best I've had since I started camping.
Sep 09, 2020
We had an amazing time!!! The kids enjoyed all of the fun things there was to do!!! Although it was a little difficult getting into to our spot. Tight squeeze, trees, poles and other things in the way. But we squeezed in and had a great time!! The staff was exceptional, I know you have received several negative comments about mask wearing we were HAPPY it was our choice, to wear one or NOT!!!!
Sep 09, 2020
I absolutely love this place and i would be interested in purchasing a year round pass. Tons of nature. The scenery is amazing, especially at night and the people are welcoming and friendly. Staff is on point and helpful. Its a special place that my family adores.
Sep 09, 2020
Everything was good. This place could use a little makeover to be a little more appealing.
Sep 09, 2020
We really enjoyed our stay. I loved daisys corner feeding the goats at the petting zoo, and felt staff was very attentive. Spaces are a little small but has everything you need.
Sep 09, 2020
Very fun KOA site with plenty of activities. Fun tractor parade with glow sticks and bicycles. Responsive management. This trip was to celebrate an engagement. While there we discussed making this an annual visit because it was so great.
Sep 09, 2020
A lot of permanent residents. Does not have the same standards as a the other KOA's we have stayed at. Kids activities on a holiday weekend, there was nothing but a possible hayride with no details of when. Cabin mattresses were uncomfortable and painful to sleep in. Cabin was clean and staff was friendly. Close to the beach and canoeing. Never had a bad thing to say about KOA, till today.
Sep 09, 2020
My very first time camping was amazing. The cabin was very nice, clean and comfy. The staff was very welcoming and extremely helpful and nice. Everyone was very friendly which made my stay pleasant. My children had an amazing time as well swimming, roasting s'mores and enjoyed scary stories! I can't wait to book are next stay!
Sep 08, 2020
Awesome time always! Management & staff friendly and helpful.
Sep 08, 2020
We had so much fun staying in the "tiny house" the mowhawk made our stay extra fun. The kids especially enjoyed the jumping pillow and tennis ball and glow ride. Mom and dad only wish the pool was heated �
Sep 08, 2020
Wonderful, staff so nice, clean, lot to do for kids, and the best THE LUXE CABIN..love it
Sep 08, 2020
Facility's need updating and over all lack up keep. Buildings well used and generally worn compared to other KOAs we have visited. Facilities were clean.
Sep 08, 2020
Very clean and friendly staff. Had a wonderful time there
Sep 08, 2020
Wonderful atmosphere and clean facilities. Will definitely be back!
Sep 08, 2020
We love the spacious sites, the night time wagon ride is awesome for the kids. The owners are awesome people as well as all the staff members. We will definitely be back to this KOA.
Sep 08, 2020
Don't like the electric bikes doing 20mph on walkways and roads or the dirty toilet paper on edge of woods in tent area. Park is clearly posted with 5mph limit for everyone. Restrooms not handicap accessible.
Sep 08, 2020
We had a great time and our grandson was busy from morning til night. Clean, quiet at night and friendly staff. Just wish the fishing ponds were in better condition so they could have fished also.
Sep 08, 2020
Great campground. Roger is amazing and the light show ride is like no other!
Sep 07, 2020
We loved the interaction with the campground staff and the facility. We don't usually return to same campgrounds because we like to move around. We stayed for two weeks in June and enjoyed our stay so much we booked the entire month of August and enjoyed that stay just as much. We will return again. Magnum and Sharie
Sep 07, 2020
Stayed for 10 days it's a quiet relaxing campground the owner (THE MOWHAWK) Is very personable and down to earth
Sep 04, 2020
Great staff. Long sites with nice trees and shade.
Sep 04, 2020
We had a great time and the cabin was great for my 5yr who went camping for the first time. We will definitely be back
Sep 03, 2020
Great family time together
Sep 03, 2020
Laundry room has no ac and the table was dirty. No masks by the staff nor in the children's wagon ride is contrary to normal practices.
Dec 09, 2020
Love it
- Anne Nuttall on Google
Nov 07, 2020
Great place to camp.
- Sean Barr on Google
Oct 11, 2020
Staff very friendly, always like camping there
- Debbie Andree on Google