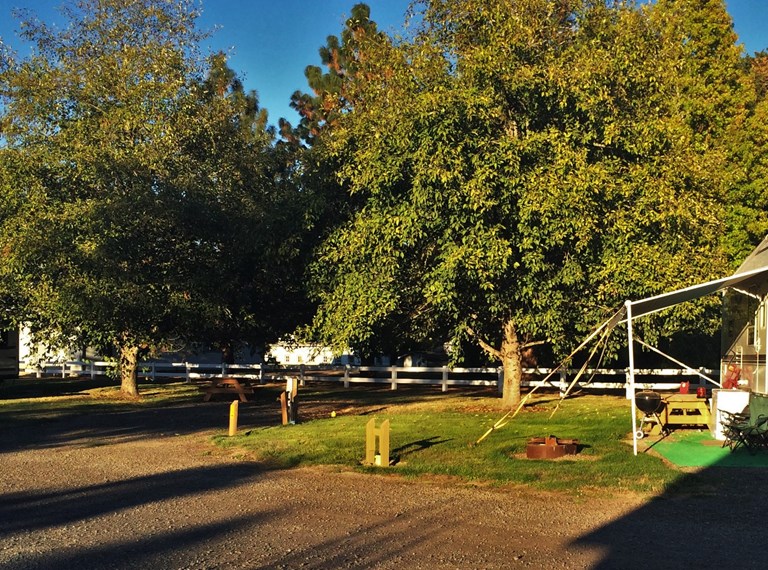 General Campground Information
visitors/wood/pool
Pool will reopen middle of May...outdoor and heated. Wood is two bundles for $9.00 Check out is noon. Check in is 1:30 Quiet Hours 10 pm to 8 am. Fires allowed until 11:00 pm. Fires are allowed year around. Nov Dec Jan and Feb store is closed from 1 to 4....use night registration.
Fires allowed 365 days a year.
Our park has 360 gallons of water a minute.  That means lots and lots of water.  So, even when no fires are allowed in the State Parks, they are always allowed in our KOA. We request that they be extinguished by 11:30PM.
We love these acres.
These acres have been in our family for 103 years.
Meet Your Hosts
We love this area, trees have grown up over the years, creating a beautiful setting in their Northwest location.
An Oregon family created a lovely KOA park on land that has belonged to the family since 1916. Built from the ground up, the Albany/Corvallis KOA opened in 1987. The family members who have helped make the dream a reality include Arlene Heins, and her daughter, Priscilla Greig, who runs it with husband, Mike Greig, daughter Susanna Greig, sister, Arlene "Tutsy" Hoehne and  nephew, Jackson Hoehne.
"We love this area," Priscilla said with pride. "We built it to put the land to good use." They've built fire pits at each large, grassy site and a long nature trail leads to bridges over the nearby Calapooia River, creating a lovely setting on this vast stretch of land. Trees have grown up over the years, creating a beautiful setting in their Northwest location.
Most of the family members have education degrees, she said, and they like to be around people. So, the campground setting affords a great opportunity to meet an abundance of travelers who stay at their KOA.
The family's mission is to help each guest have an enjoyable stay. They love to cheer for their favorite college team, the Oregon State Beavers, and many of their campers travel to enjoy the football, baseball, basketball and gymnastic events! The campground is blessed to be near the Coast, which is only 65 miles away.
Priscilla is very involved in the Lutheran Missionary Women's League and Altrusa International of Corvallis. Mike is a weight lifter and has run several  marathons and loves to read and landscape.
There are now 3 new little grandchildren and they love the KOA playground and the pool in the summer.  Their skills on the Putt Putt golf course will not get them into the PGA!