KOA Kampgrounds: An Office With a View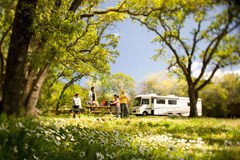 Tom Dale prefers an office with a view. A big view. A stunning view. A natural view.
A businessman from Fredericksburg, Virginia, Dale has traveled along the East Coast, staying at KOAs and working remotely from his kampsite. He initially chose kamping over hotel rooms for both business and travel because of allergies and chemical sensitivities. However, his "office with a view" quickly developed into more than just a place to sleep.
"I've gotten addicted to camping," said Dale. "I can avoid the indoor pollution while often working remotely for my job from a beautiful, peaceful location. You can't beat that."
Dale is also a Value Kard Rewards member. He has earned nearly 250,000 points since signing up in 2007. "I do a lot of research before taking a trip and have planned trips based on where the KOAs are because I know I will have a quality stay," he noted. "I took a long trip to New Mexico and up into Colorado and Idaho because I enjoy the mountains. But my family is from the flatlands, so I especially love the area where the plains meet the mountains—it has a rare beauty."
Dale particularly remembers the Alamosa, Colorado KOA. At 7,500 feet, the San Luis Valley between the breathtaking San Juan and Sangre de Cristo Mountains is a high plain that resonated deeply with Dale—he yearns to escape the East Coast congestion.
"Alamosa was absolutely beautiful," he said. "The clean air and peaceful location were perfect."
And for Dale, it doesn't get any better than that.
Are you saving your Value Kard Reward points for something special? Tell us and you may be featured in a future Kompass!