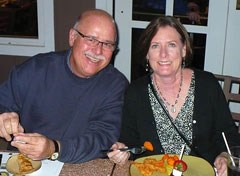 It was 1969, the year Joe Namath led the Jets to an upset victory over the Baltimore Colts in Superbowl III, The Godfather was published and Led Zeppelin released their first studio album. And for Rainer Mueller, it was the year he decided to head out to Yellowstone National Park for some camping.
"While we were there, we picked up some girls hitchhiking," he recalls. "They said they worked in the park, and that a bunch of guys had gotten fired and they were looking with new people. When I heard that there were 8 girls to every guy, I decided then and there to work in Yellowstone National Park that summer."
It was there, on his first day of work at Fishing Bridge, that he met Alabama native Marianne Till, whose job was to change the bedding in the many cabins there. Rainer was a "Molly Mover", pushing the cart loaded with cleaning materials and helping to clean the cabins. They met, and soon a romance started.
Rainer returned to school in South Dakota, while Marianne headed to college in South Carolina. They kept their long-distance romance going and finally, in 1972, Marianne accepted one of Rainer's many proposals.
"I'd enlisted in the Navy and invited her to come visit me that summer," Rainer said. "That's when she finally decided that I was an okay guy to get married to."
Thirty-eight years and two children later, the couple are still going strong—and are still avid campers. Last summer, they took their travel trailer 12,000 miles around the U.S., staying at KOA's most of the way.
"From California, we went as far south as Key West, Florida, as far east as Bar Harbor, Maine and as far north as Michigan's Mackinac Island," said Rainer. "We hit all of the great places."
And their most memorable stop? Although it was hard to come up with just one, Rainer and Marianne agreed that the Lion Country Safari in West Palm Beach, Florida stuck out in their minds.
"To wake up to the sound of lions roaring is a very unique experience," Rainer said. "It was like being on safari."
And we all look forward to hearing where this camping couple will head next.