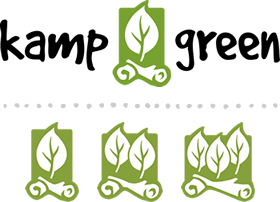 KOA believes in not only celebrating the great outdoors and but taking good care of it as well. That's why we're dedicated to encouraging and supporting eco-friendly practices at KOAs across the country.
Since 2010, KOA has been proud to sponsor our "Kamp Green" Program, encouraging KOA owners – and our camping guests – to adopt environmentally friendly practices.
We recognize these efforts by awarding KOA owners a one, two or three leaf icon to be displayed on their KOA.com web pages. Earning a leaf isn't easy, and our owners are always on the lookout for innovative new projects – both big and small – to protect the environment. In just the first four years, nearly 140 KOA Campgrounds earned green leaves.
Here are just a few eco solutions now in place at KOAs:
The Tucson/Lazydays KOA has installed first-of-its-kind solar shade structures that provide open shade for a full acre of campsites and produce clean solar energy. You can camp, gather, even build campfires under the structures!
Learn More
The Naples/Marco Island KOA Holiday installed a photo-voltaic energy system to drive down the park's electrical usage and shrink it's carbon footprint. It even heats and cools the swimming pool.
Learn More
The Carlsbad KOA Holiday installed a wind turbine to help power the campground's offices, restaurants and bathrooms. Their swimming pool uses a passive solar heater and LED lights are used throughout the campground.
Learn More
The Cape Hatteras KOA Resort added many green solutions while rebuilding after Hurricane Irene in 2011. Now, no plastics are sold on the campground, including water bottles. They also added solar heating to the new main building, providing hot water for the main building, laundry and café.
The Mount Pleasant/Charleston KOA added a solar water heater for its swimming pool, changed to efficient LED lighting and set up recycling stations.
We've got many more green camping projects in the works. Look for those one, two and three leaf awards by your favorite KOAs listed here on KOA.com.