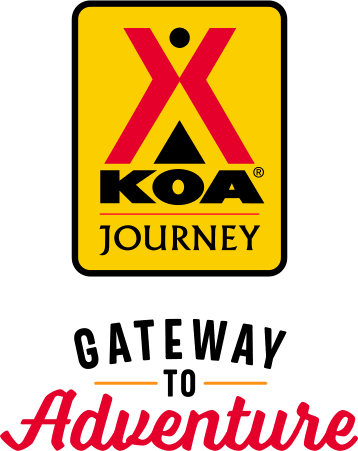 KOA Journey Campgrounds
KOA Journey campgrounds are the perfect oases after a day on the road. Whether it's along the way or a quick getaway, they've got you covered. Located near the highways and byways of North America with long Pull-thru RV Sites, they deliver convenience to the traveling camper. Pull in, ease back and take a load off.
KOA Journeys Feature:
Pull-through RV Sites with 50-amp service
Premium Tent Sites
Well lit after hours check-in service
Directions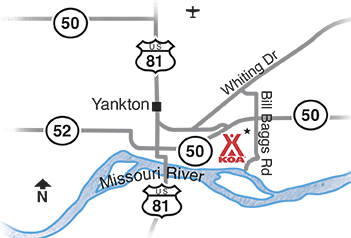 From US 81 take SD Hwy 50 East to Bill Baggs Rd: Turn Right, 200 yards, entrance on Right.
Get Google Directions
Nov 07, 2020
Overnight stay. Clean, nice sites.
Nov 06, 2020
Only stayed one night. Not crowded. Campgrounds were clean and the dog park as well. Office people were very nice.
Nov 02, 2020
very clean with a friendly, helpful staff.
Nov 02, 2020
Quiet, long sites. Ease of access to Yankton. Friendly staff. Clean bathrooms/showers.
Oct 19, 2020
We had a great time staying in the cabin. It was cozy and clean. The bathrooms were very clean as well, and we couldn't ask for anything more. Thanks!
Oct 14, 2020
Clean, well marked and level sites.
Oct 14, 2020
nice clean cabins!
Oct 14, 2020
Very quiet and relaxing.
Oct 12, 2020
clean very nice cabin in a quite peaceful setting.
Oct 09, 2020
Great camping atmosphere just a little far from the river
Oct 07, 2020
Very welcoming. It was a great spot for us coming and going.
Oct 07, 2020
Very pleasant stay. Well cared for campground with friendly staff.
Oct 05, 2020
Nice rv park well kept
Oct 03, 2020
always a great place to stay
Sep 30, 2020
very nice campground. very pleasant staff! Have been there before. and will be back! Thank you!
Sep 29, 2020
As always, the camp was clean. We always enjoy staying there. Don and Eleanor are so nice.
Sep 29, 2020
We love the campground. We were bummed the bounce pillow was closed, but understand it was due to COVID restrictions. As we were attempting to do virtual school and work through the week stronger WiFi would have been nice as we were unable to complete a lot because of the low speed. Great stay as always.
Sep 29, 2020
We stayed a week. The pool was closed due to Covid, so we didn't get to use it. The laundry room was very clean and the machines new looking and in good shape. Didn't use the showers so I can't read them. We had friends in lodge number one, it was newish and very clean. Everyone's light had at least one tree for shade. Nice park.
Sep 29, 2020
KOA Yankton is a nice, well run park. We were there in late September so lots of wind and dust but there is an abundance of trees to shelter the sites. We enjoy our morning walks. There's an amazing area immediately to the south of the park to walk/hike. We would definitely stay there again.
Sep 27, 2020
Our stay was just overnight. It was very clean and quiet. We enjoyed it.
Sep 24, 2020
very clean park, friendly staff
Sep 24, 2020
very clean park, friendly staff, good location
Sep 24, 2020
We loved this nice, quiet campground. Yankton, SD KOA should be very proud of this campground. Everything is perfect: clean, roomy bathrooms/showers, nice dog park enjoyed by our Westies, quiet campground. We will definitely be staying here often. Good job Yankton KOA!!!
CAMPGROUND RESPONSE / COMMENTS:
We are glad you came. Hope to see you again soon.
Sep 22, 2020
Great place to stay- quiet, friendly and easy to get to!
Sep 21, 2020
Kabins were VERY clean as well as the bathrooms and showers! Campground very well maintained!
Sep 21, 2020
Loved the cabin!!
Sep 21, 2020
Everything was very, very clean. The water pressure was a bit low. The wifi was outstanding. The staff was very professional and helpful. They quickly cleared up what I thought was a billing problem. It would be very nice if there was more pavement on the site. It can be a bit dusty.
Sep 21, 2020
Very clean restrooms. Nice laundry, and quiet atmosphere. Will definitely return.
Sep 21, 2020
We stayed in Cabin 1. Very clean, helpful friendly staff. Very clean bathrooms/showers. Huge plus!! Only thing is I wish the lights around the park area had worked. Other wise everything was great! Be back next fall!
Sep 21, 2020
It was AWESOME, Don the owner was very professional and courteous on all fronts. I need to stay for a week due to RV issues ( of which he referred a great professional Doug Spring). I had to move which was no issue at all he was very accommodating in the situation. The KOA organization should be very proud of this camp ground it is definitely one of their 5+ stars sites. thus has become annually!!
CAMPGROUND RESPONSE / COMMENTS:
We are happy to have been able to be of service. Hope to see you again soon.
Sep 19, 2020
1 night stay on our way west and the site was great for our truck and trailer to stay hooked up.
Sep 17, 2020
As always, another wonderful stay. Had no issues what so ever.
Sep 17, 2020
Clean cabin, the perfect size for our family. Friendly staff and great amenities!
Sep 14, 2020
This is the second time staying at this KOA in Yankton. Very easy check in. Clean and staff is friendly. Great overnight stop.
Sep 11, 2020
Agradable, tranquilidad total y lo más importante baños aseados
Sep 10, 2020
A great place to stay. Kind and friendly hosts, campground kept immaculately clean and well-ordered.
Sep 10, 2020
It's a beautiful park and well kept. We stayed in pull thru FHU site. Sites are small but fairly level. No cable tv to speak of but few OTA can be found or use Dish or DTV.
Sep 10, 2020
My husband didn't realize we are rewards members and were suppose to have $10 credit. They refused to give credit after he had checked in and I explained. We have been rewards members for over three years and our family frequents KOA stays. They also didn't have firewood over Labor Day weekend. They also did not have any activities planned and pool and jump pillow closed. Might not be back.
CAMPGROUND RESPONSE / COMMENTS:
We are able to give reward point redemptions during registration only. We were completely full during Labor day weekend. We ran out of firewood. Sorry. Especially now, we allow campers to entertain themselves. A notification about the pool was included on our web site and on the confirmation email.
Sep 09, 2020
Everyone was so friendly they went above and beyond to make are stay enjoyable &safe Don is the BEST���
Oct 01, 2020
Great rv park speed out well full hook ups
- Dragon Steamwerx on Google
Sep 23, 2020
Stayed here a week during NFAA tournament. This park is clean and neat. We had a pull through, full hookup 👍 Our friends stayed in lodge #1, very clean.
- Kathy Fruge' on Google
Sep 12, 2020
Great KOA location. We had a deluxe site and had plenty of space from other campers. The location offers a playground, dog park and pool (when in season).
- Amy Comer on Google