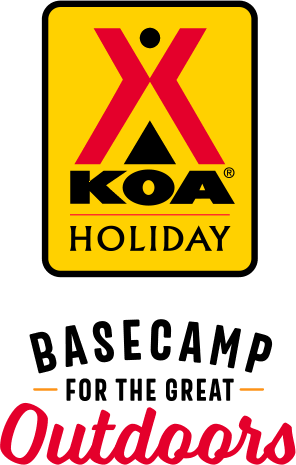 KOA Holiday Campgrounds
Whether you're exploring the local area or hanging out at the campground, KOA Holidays are an ideal place to relax and play. There's plenty to do, with amenities and services to make your stay memorable. Plus, you'll enjoy the outdoor experience with upgraded RV Sites with KOA Patio® and Deluxe Cabins with full baths for camping in comfort. Bring your family, bring your friends, or bring the whole group – there's plenty of ways to stay and explore.
KOA Holidays Feature:
RV Sites with a KOA Patio®
Deluxe Cabins with full baths
Premium Tent Sites
Group meeting facilities
Directions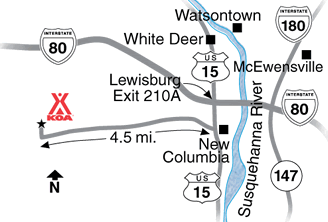 From Jct I-80 (Exit 210A) & US 15: Go 1/4 mile south on US 15 to New Columbia exit. Turn right on New Columbia Rd for 4 1/2 miles, then right on Millers Bottom Road for 1/2 mile. Park is on the right. Please use above directions, not GPS units. GPS: N41.04741, W76.95454
Get Google Directions
Sep 24, 2021
We really like the patio pull-thrus. Convenient to the highway, yet quiet. Close to the shopping attractions of Lewisburg.
Sep 24, 2021
A truly amazing KOA ! Great facility and super staff !
Sep 23, 2021
Very clean, large camp sites, very nice and helpful 10/10
Sep 23, 2021
Average campground, too many seasonals. Our site was small and a bit challenging to get into. Noticed a Lot of dead trees in the park, which would be concerning, if there was a bad storm. Some sites were unkept, and overgrown. Sites needed to be refreshed Some had very little privacy. Our stay was quiet. Nothing outstanding.
Sep 23, 2021
Everything was fabulous. Loved our tent site.
Sep 23, 2021
A very empty campground in late September. The hiking trail does need a little maintenance.
Sep 23, 2021
Beautiful grounds! Thanks KOA!
Sep 22, 2021
Our Third stay! ... My Wife and I love the Lil' Kabins... Clean,quiet ... comfortable! Also the Location is a Great Launchpad to many points of Interest, Thee BEST camp store I've EVER Visited! Incredible Staff .... We are Booking for Next Year!
Sep 21, 2021
Always awesome to stay there!
Sep 21, 2021
Fantastic campground with lots to do for the kids
Sep 21, 2021
This was our 3rd stay with them and we loved it as always. My daughter absolutely loves this place. It's so relaxing. We even caught a few catfish from the pond on this trip. The staff is phenomenal, the grounds are well kept and it's very peaceful.
Sep 21, 2021
Great park, wonderful for kids!
Sep 21, 2021
This park shares with others the problem of having inexperienced staff assigning spaces. After an initial glitch and appeal to management we finally were assigned an excellent site. Many thanks to Dan for his assistance in getting this elderly couple settled in.
Sep 21, 2021
This is a great place for a stop over, weekend or a vacation. There is so much to do in the campground for kids. The office/store staff were very friendly and accommodating. You have a great store so we purchased lots of items that we need. A+++ in our book. See you all again real soon…
Sep 20, 2021
Great cabin, and pleasant staff. Next time will plan to arrive sooner to experience more of the amenities.
Sep 20, 2021
Where we were at, the bath/showers were a ways away.
Sep 18, 2021
Thank you Williamsport KOA for a great stay! Very nice patio site, friendly staff and great pizza!! We will be back!!! We call this KOA a keeper!!
Sep 18, 2021
Grounds were clean. Our campsite, G17, was fairly level and nicely nestled in next to a small stream. I had a slight issue finding the power box as it was mounted in the midst of the cable boxes and other utilities. The staff was very courteous and the pizza lived up to its billing! Very good!
Sep 17, 2021
The staff is great, the store is well stocked. The sites are always clean when we arrive. We've filled out an application for a seasonal pass. What more needs to be said?
Sep 16, 2021
Great stay with endless activities for the kids. Highly recommend!
Sep 16, 2021
Great RV park!
Sep 16, 2021
Cleanliness and friendliness
Sep 15, 2021
Enjoyed my camping trip
Sep 15, 2021
We had a great time with the Craft Grandma, pool, mini golf, mining gems, and the other amenities. We especially had a blast with the water battle. Kids had so much riding around the campground and "battling" everyone! We only had one bad experience that had kept it from being perfect, owners took the side of a single adult and told us our 5 preteens were lying. Can explain more if contacted.
Sep 15, 2021
WiFi needs to be updated
Sep 15, 2021
Informed staff at check in, clean facility, excellent products at the store, good pizza for dinner. Could use a little more grass in the pull through spots or more gravel, less dirt. Overall very good.
Sep 14, 2021
Wonderful weather. Fun activity. Always a great stay.
Sep 14, 2021
It's our favorite KOA and we keeping coming back and staying in M Patio row. The stars are beautiful in that section of the campground and it's usually nice and quiet. My only issue is that the campground switched our site from the one that we chose to a different one. That has never happened before and hopefully won't happen again without permission. I pick a site because that's the site
Sep 14, 2021
We stay quite often at Nittany Mountain KOA. We love it there! Staff is friendly, the campground is beautiful and well taken care of. The campers are so down to earth and friendly! We feel so comfortable staying here!
Sep 14, 2021
We love this campground one of our faves!!!
Sep 14, 2021
Everyone is very friendly from the top to the bottom. They go out of their way to accommodate each and every guest. One employee stands out is Tracey. Such a kind and caring person!
Sep 14, 2021
Another win for this KOA, thank you so much for all you do! Excellent campground and staff and events!
Sep 14, 2021
we love this place
Sep 14, 2021
Love this place!
Sep 14, 2021
We love camping at nittany
Sep 14, 2021
Spacious campsites, clean rest facilities, beautifully stocked store, and many things to do. We never had to leave the campground for entertainment.
Sep 14, 2021
Easy quick check in, Site nice and private, everyone was pleasant and helpful
Sep 14, 2021
We loved this KOA and will definitely be coming back. Large sites and was very quiet. Lots to do. Great people. Thank you for a wonderful stay!
Sep 04, 2021
Staying in one of the Cottage's for Labor Day weekend. It's been awesome so far. Not participating, but it's amazing to see everything this place has to offer. Staff all seems really nice and helpful.
- Jake Morley on Google
Sep 02, 2021
We really loved it there. Bathrooms and showers were always cleaned.
- malissa bonczewski on Google