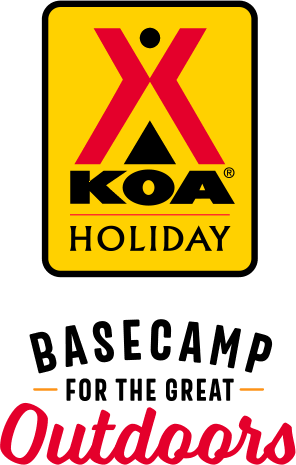 KOA Holiday Campgrounds
Whether you're exploring the local area or hanging out at the campground, KOA Holidays are an ideal place to relax and play. There's plenty to do, with amenities and services to make your stay memorable. Plus, you'll enjoy the outdoor experience with upgraded RV Sites with KOA Patio® and Deluxe Cabins with full baths for camping in comfort. Bring your family, bring your friends, or bring the whole group – there's plenty of ways to stay and explore.
KOA Holidays Feature:
RV Sites with a KOA Patio®
Deluxe Cabins with full baths
Premium Tent Sites
Group meeting facilities
Directions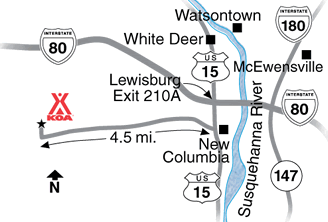 From Jct I-80 (Exit 210A) & US 15: Go 1/4 mile south on US 15 to New Columbia exit. Turn right on New Columbia Rd for 4 1/2 miles, then right on Millers Bottom Road for 1/2 mile. Park is on the right. Please use above directions, not GPS units. GPS: N41.04741, W76.95454
Get Google Directions
May 07, 2021
Beautiful campground with a farm theme. The grounds and facilities are spotless and the staff is friendly, informed and welcoming. We can't wait to stay here again ! Our top favorite KOA.
May 07, 2021
Always a good stay - they have a great campground.
May 07, 2021
Very clean campground. We loved everything about our stay!
May 07, 2021
Good. Stayed during the week. Nice and quiet.
May 07, 2021
We really like this location and they have Perry's ice cream which makes it even more Special. Also they will cook to order a Pizza not just on weekends but also during the week. We loved our pizza that we had on Tuesday. Definitely a nice campground to stop at..
May 07, 2021
The staff was great and the campgrounds was very clean and offered a lot of different things for the kids and adults as well to enjoy… I would certainly recommend people check it out if looking for something to do on a weekend…. I was most surprised when I had cable tv and it worked well
May 07, 2021
The site was extremely hard to get into and our friends wanted to camp next to us but they told them it wasn't available for the one night we stayed but no one camped in that spot the whole night. I decided to do laundry at the facilities and it was clean but one of the washing machines I used did not work properly. The spin cycle did not work
May 06, 2021
Enjoyed the space between campsites and activities planned for the weekend. The staff was friendly and always on site and available.
May 06, 2021
Beautiful campground with awesome pull-thru sites, adorable petting zoo and huge pet area with play obstacles for the dogs. Very helpful staff.
May 05, 2021
We absolutely love it at this KOA! Everything is always so clean and the staff is always so friendly! The young kids who work there are all very respectful and friendly, which is hard to come across anymore. They are interactive with the kids at the campground as well. The park and the goat area are my kids favorite part of the campground!
May 05, 2021
This KOA is our favorite go to place for long weekends. The staff are very friendly. Enjoyed the Cinco de Mayo dinner.
May 04, 2021
Great! Bathrooms need to be cleaner
May 04, 2021
My parents were making their way back to NH from Florida. I wanted them to come stay at Nittany with us so they could see how beautiful the campground was since we talk about it a lot. They were not disappointed and mentioned several times how clean it is. It's fun to watch all the children being active and we loved the adult scavenger hunt as well. Cheers to another great weekend at KOA.
May 04, 2021
This campground is VERY well maintained. Staff very friendly and the bathhouses are very clean. Large sites. The cable TV at our site was very clear. Cant wait until we have the chance to stay again.
May 04, 2021
Love it here
May 04, 2021
My granddaughter loved your activities and we liked the friendly people that worked there it also wasn't camper yo camper you had some space on your site to actually move
May 03, 2021
Was given a site that was quite unlevel. Wooded campground very beautiful, but like all KOAs, sites were very close together. Well maintained, lots of activities for the kids. Staff were friendly. Mostly didn't like the hill on my campsite. Should have level sites for the huge nightly fee.
May 01, 2021
The stay was great. Quiet and beautiful camp the only need is better wi-fi
Apr 30, 2021
We love the premium sites out front with a view of the surrounding landscape. It's the perfect distance for our first stop heading west.
Apr 30, 2021
It was just an overnight but was clean, friendly, nice place
Apr 29, 2021
My family love this campground!My 12 year old would live there if he could!!! We always have a great time!
Apr 28, 2021
Stayed in the cabin that is back along the woods line. Very peaceful and relaxing area. Would definitely go back again.
Apr 28, 2021
Great visit. Very nice, clean campground. Very family friendly. Staff is very kind and helpful.
Apr 27, 2021
Beautiful campground. Everyone was very helpful.
Apr 27, 2021
Everything was wonderful except our sewer hook up was not ideal. The sewer line sticks up way too far so our waste would flow in in its own. With that being said I would absolutely stay there again!111
Apr 27, 2021
Love the new upgrades from last year to this year. Everyone is so friendly and kind to us. Especially Tracey. She goes out of her way to make sure everyone is happy. What a great access to Nittany Mountain KOA!!
Apr 27, 2021
No issues, we always have fun!
Apr 27, 2021
Another great stay. Love your campground. Can't wait to come back!!
Apr 27, 2021
a great park. Probably the nicest KOA we stayed at this winter trip. great place for kids. I wish we were there for more than 1 night.
Apr 27, 2021
Extremely accommodating 2 of us old folks having a bad walking day they took us back to our campsite in golf cart after we had walked down to the store
Apr 24, 2021
Always feel welcome & very accommodating. We did stay very early in the camping season, however, the trees need some trimming so large campers don't get scratched with the close branches.
Apr 24, 2021
Can't say enough about this KOA. Everything was perfect. The staff was very helpful and friendly.
Apr 22, 2021
We love stopping at this campground, It is a favorite
Apr 20, 2021
We had a great time when we were their. Our site was spacious and was level. The only thing was we had poor water pressure. We would come back again.
Apr 20, 2021
Excellent service and the staff was friendly
Apr 20, 2021
Very clean and friendly staff
May 07, 2021
What a warm and friendly facility. Ownership clear cares about their property and guest.love it.
- Palazzo Sysxo on Google
May 06, 2021
We camped with our daughter, son-in-law and grandkids for an extended weekend. Our sites were right next to each other with plenty of room. The playground and jumping pillow kept the kids ( twins 13 and 4 year old) occupied. The activities on Saturday were also fun which included feeding the goats, wagon ride and a scavenger hunt. The general store was fully stocked with anything you might need along with delicious ice cream, coffee and snacks. The staff was friendly and always walking around to answer any questions and to make sure all was good. I would highly recommend staying here.
- BarbT_Phila_PA on Trip Advisor
May 04, 2021
THE BEST!!!
- David Leon Acosta on Google