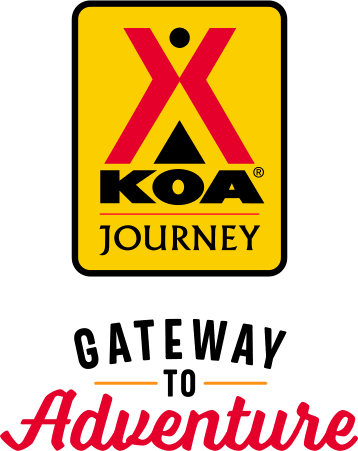 KOA Journey Campgrounds
KOA Journey campgrounds are the perfect oases after a day on the road. Whether it's along the way or a quick getaway, they've got you covered. Located near the highways and byways of North America with long Pull-thru RV Sites, they deliver convenience to the traveling camper. Pull in, ease back and take a load off.
KOA Journeys Feature:
Pull-through RV Sites with 50-amp service
Premium Tent Sites
Well lit after hours check-in service
Directions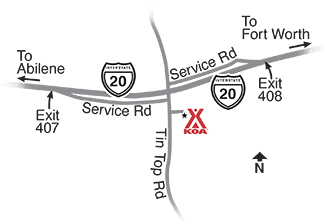 I-20 West Bound: Exit 408. Stay on service road crossing over Main Street/Hwy 51. Continue west on service road down the hill to stop sign. (Home Depot will be on your right). Turn left (south) onto Tin Top Road. Go straight under I-20. Continue on Tin Top about 1 block, we are on the left.
I-20 East Bound: Exit 407. Continue on Service Road for about 2 miles. Turn right (south) onto Tin Top Rd. Continue on Tin Top about 1 block, we are on the left.
GPS: N32.725036, W97.795830
Get Google Directions
Apr 01, 2021
Had a short but fun visit there while visiting my children in Granbury. A storm came up quickly but turned out to be strong wind. Over all everything was nice, clean and the hosts were very accommodating.
Mar 27, 2021
It was great. We arrived late but had typed it in when making reservations online, the clerk left out envelope with a map and instructions. The tent grounds light was on for us to find it in the dar. The bathrooms, showers and camp grounds were clean and enjoyable. Staff was super friendly and helpful.
Mar 19, 2021
There is nothing to do here and tent spots are completely exposed and just dumped in a cleared out area. Not worth 35 a night, much better off going 20 miles away to mineral wells lake and making the drive if you must go to weatherford for any reason.
Mar 11, 2021
Mostly long term RV's. My selected space was super nice. I had a nice view of the trees and tent area. I extended my stay to enjoy. Where I was it had minimal traffic noise. Was very quiet at night had owls to serenade me to sleep each night. Camp hosts where super nice and very accommodating with extending my stay. I did not use any facilities so can not give a review on them. Loved the trees.
Mar 02, 2021
The WORST KOA we have ever stayed at, AVOID this one at all costs, you are better off sleeping in the Walmart lot up the road. This "KOA" is full of trailer trash, LOUD pickups trucks (not diesels) starting very early in the morning and going in and out. The sites are a mess with a piece of wood covering the sewer opening. Never been so disappointed in a campground! Read some old reviews.......
Dec 19, 2020
Felt like a trailer park, no other campers. Felt unsafe, had to go to a hotel.
Dec 12, 2020
I have tent camped all over the USA & this was the worst spot. I arrived 8:30 PM. Rest room toilet was clogged, at 1030 Am next day still clogged. 1 hand dryer, 4 sinks, shower plumbing all loose, common drain for 3 showers? & very unclean, built up grime. Camp site had litter around it, no picnic table at my site. A black eye on KOA. A letter to Corp headquarters is next.
Nov 09, 2020
I enjoyed staying here. I would enjoy staying here again. The price was good. Nice clean bathrooms with the cutest Texas shaped sinks! I enjoyed having electricity and water. I felt safe. It was near the woods as I heard coyotes in the distance for a short time. So cool. That is much better than traffic sounds. Other than that it was very quiet with lots of campers here! Others love it!
Nov 02, 2020
they treated me like an old friend. would recommend to everyone.
Oct 20, 2020
The facilities were well maintained and the staff is efficient and friendly.
Oct 19, 2020
Nice little campsite. Wooded and shady even though close to highway. Restrooms always clean, and staff/owners friendly.
Oct 16, 2020
We tent camped here in mid October. The bathrooms are clean but for a tent camper, they are far away. The setting under the pecan trees is beautiful but be aware, there are cockroaches at the tent site. On the plus side, there are water and electric at each site. It looks as if this KOA is mostly filled with permanent guests and their RVs are crowded together. Not a preferred KOA for us.
Oct 13, 2020
Clean place, friendly & helpful staff !
Oct 12, 2020
The campground was very accessible to our needs in the area. The staff was visible throughout the day and often stopped to see if there were any needs that needed to be met! They were very friendly and Maria was a Godsend as we were in and out of the campground! I would recommend this campground because of all the extras that come with the site����ϋ�
Aug 30, 2020
Wonderful time, clean pool, great shade for tent camping, clean restrooms and showers. thanks for the free wood to burn!
Aug 03, 2020
The tent campsites were fantastic and well maintained and the staff was friendly and accommodating. Very clean restrooms. Great experience.
Jul 28, 2020
Very dirty chairs at the pool! Need cleaning. A lot of trash on the canal side behind the tents.
Jul 27, 2020
Our stay was great thanks to Dave he did everything to make our stay comfortable n made sure we had everything we need everybody was friendly
Jul 12, 2020
We had a lovely stay. This is a smaller KOA but it was very clean and the staff was super nice.
Jun 07, 2020
Nice, quiet campground. Everything was clean and the pool was awesome. Good location and close to restaurants and stores. Needs a little improvement on the fire pit sites in the tent area. And our water access pipe was barely above the ground.
May 25, 2020
Our car battery died and David helped us get it going. The manager of the KOA was super nice. Everything was perfect! We had the best spot for our tent. Thanks for a great time!
May 19, 2020
You had multiple sites open and placed me in the muddiest site. Wish I could share the photo of my ruined sneakers when I stepped out of my car into the quicksand.
Apr 01, 2020
I was charged $35 for a tent site that was too far away for Wifi. The showers were out of order and the bathrooms were closed. I had a diverticulitis attack and was unable to use the bathroom and had to travel to a nearby restaurant a couple of times. I understand that there was a problem with the pluming but being charged $35 for a spot to sleep in my car with no shower or toilet is way much.
Mar 19, 2020
1st time camping and it was an awesome experience at your campgrounds. Really loved your Texas sinks in the restrooms. Will definitely be back!!
Jul 08, 2019
Super clean bathrooms and showers, nice and quiet. Perfect for a stop in any adventure.
Jul 07, 2019
Totally amazing people there. Very friendly. Extremely nice. They go the extra mile!
Jul 04, 2019
Denise in the office was wonderful. She accommidated our very large tent. The bathrooms were very clean and hot showers. Pool was kept nice too. Great stop on our trip.
Jun 15, 2019
Very beautiful campground with a lot of shade trees.
Jun 12, 2019
I came I stayed I liked
May 27, 2019
Awesome tent sites! Bathroom clean but could use some maintenance.
May 17, 2019
It was very clean and nice!
May 11, 2019
I only stayed briefly on my way to Big Bend but was not impressed. I have stayed at many KOAs across the country and this was not the usual experience. Tent sites are as far as you can get from the restrooms and did not look well maintained. Although the bathroom was clean it was freezing cold I side. The sink bowls, although clever, were tough to fit your hand in to properly wash them.
Apr 20, 2019
The manager there, Denise was super nice and helped me with anything and everything I needed. She is what KOA needs. 10/10 would recommend and would definitely come back! Thank you KOA!
Nov 11, 2018
This is great campground. Easy on. Easy off highway 20. Wonderful staff who got out of their way. Very friendly and accommodating.
Oct 11, 2018
I know this is under new ownership so I hope they can turn it around. It was a live-in RV park with a handful of bug infested,rundown tent sites...we are tenters . The water was orange,even after running it for some time. The picnic tables (2) were broken. A trash-filled ditch of stagnant water ran along the back. We paid for three nights, but left at dawn after only one loud,uncomfortable night.
Sep 25, 2018
The new owner was very helpful and kind couldn't have asked for a better stay
Sep 10, 2018
Kamp hosts Bob and Marsha were friendly and helpful; I'm pretty sure they stayed late at the office to check us in. <3 The roads inside the Kampground *are* a little worn, but even close to the worst I've seen. Tent camping sites are well-drained and have lots of shade. Would definitely stay at Weatherford KOA again if we were in the area.
Jul 27, 2018
À Map and the toilet code would have been appreciated for late Check in. Everything else was perfect.
Jul 15, 2018
Every thing was great, restrooms were clean, pool was clean and refreshing after Peach Pedal bike ride. Only complaint only one electric outlet out of the two would accept a plug. No worries, we were the only ones in tent area and were able to borrow one on camp spot next to us. Other than that, everything was great! Thanks
Jul 05, 2018
Very clean and quiet facility with friendly and attentive staff. The tent sites are located in the back under shade trees; there is practically no foot traffic because the shower/restrooms are toward the front. The pool is clean, opens early, and has a couple of shady spots. This KOA is very quiet at night despite being conveniently in the city. We loved it so much we stayed an extra night.
Apr 23, 2021
Franklin always does us good. That guy is always cracking me up while inspecting our vehicles. He is a ray of sunshine.
- Casey Benton on Google
Mar 18, 2021
Fantastic RV park right off I-20, but secluded and quiet. The best part of this RV park is onsite RV parts and services!!!
- Paul Miller on Google
Mar 01, 2021
Propane refill
- Timothy Smith on Google