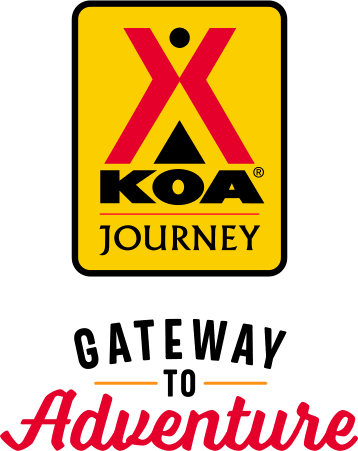 KOA Journey Campgrounds
KOA Journey campgrounds are the perfect oases after a day on the road. Whether it's along the way or a quick getaway, they've got you covered. Located near the highways and byways of North America with long Pull-thru RV Sites, they deliver convenience to the traveling camper. Pull in, ease back and take a load off.
KOA Journeys Feature:
Pull-through RV Sites with 50-amp service
Premium Tent Sites
Well lit after hours check-in service
Directions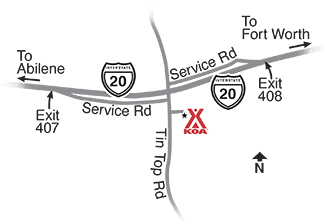 I-20 West Bound: Exit 408. Stay on service road crossing over Main Street/Hwy 51. Continue west on service road down the hill to stop sign. (Home Depot will be on your right). Turn left (south) onto Tin Top Road. Go straight under I-20. Continue on Tin Top about 1 block, we are on the left.
I-20 East Bound: Exit 407. Continue on Service Road for about 2 miles. Turn right (south) onto Tin Top Rd. Continue on Tin Top about 1 block, we are on the left.
GPS: N32.725036, W97.795830
Get Google Directions
Apr 02, 2021
I cannot get anyone at the KOA number to call me back I have to membership numbers instead of renewing by existing they opened a new number I need to get them combined To get my points. Please call me at 4073535529 and combine my memberships. Thank you very much
Apr 01, 2021
Had a short but fun visit there while visiting my children in Granbury. A storm came up quickly but turned out to be strong wind. Over all everything was nice, clean and the hosts were very accommodating.
Mar 31, 2021
The sites are very tiny. And the rules state that you can't park on the grass, but our neighbor did. His truck was parked crossways at our front door.
Mar 31, 2021
Everything was fine, quiet. The sites were not as level as they were in years past.
Mar 31, 2021
Stay was very good! This KOA could use some updates!
Mar 27, 2021
It was great. We arrived late but had typed it in when making reservations online, the clerk left out envelope with a map and instructions. The tent grounds light was on for us to find it in the dar. The bathrooms, showers and camp grounds were clean and enjoyable. Staff was super friendly and helpful.
Mar 27, 2021
Restroom could be modernized.
Mar 26, 2021
I got worried when I read some of the Google reviews; guess I need to stop reading them. The campground was clean, quite, safe, and near lots of things to do.
Mar 24, 2021
Very well maintained park The repair shop at the entrance is a REAL plus. We discovered a major leak when we attached the water that had to be repaired before we we could set up. They had the leak repaired within an hour, so we were set up before dark. GREAT!!
Mar 24, 2021
There are several good things about an overnight stay here. 1. The people are wonderful and accommodated our last minute delay of a day due to weather. 2. The dog run and huge grassy areas are great for dogs. 3. The Mexican restaurant nearby is excellent and worth showering. We did takeout. On the downside: A. Close to highway noise. B. Very close to neighbors. C. Water was high in mi
Mar 23, 2021
We had a good stay at the KOA in Weatherford Texas. We had some issue with the wi-fi but otherwise all worked well.
Mar 21, 2021
The gravel drive and parking areas are difficult to walk across. The bathrooms are adequate but not ADA compliant. The bathroom sinks are cute little sinks in the shape of Texas, not easy to use and keep the counter or your clothes dry. It's an ok place to overbite but that's about it.
Mar 19, 2021
There is nothing to do here and tent spots are completely exposed and just dumped in a cleared out area. Not worth 35 a night, much better off going 20 miles away to mineral wells lake and making the drive if you must go to weatherford for any reason.
Mar 18, 2021
This is a good one/two night stop. Nice grassy areas & trees for dogs, picnic tables, very clean bathrooms/showers, friendly staff & quiet. An area in the back looks to be for long-term trailer residents but up front for short-stays. There is an RV repair shop & a Harbor Freight next door you can walk to which was very nice and lots of stores & services within a short drive.
Mar 16, 2021
Great people there ! Took very good care of us!!
Mar 16, 2021
We stayed ten days at the Weatherford KOA while we did our searching for new homes on 1-2 acre lots. So many choices of food establishments. KOA staff were easy going and very amenable to prolonging our stay without having to shift campsite space. Used the Laundry service there and coin operated Speed Queen units for both washers and dryers allowed us to launder all our dirty clothes. Taking walks
Mar 16, 2021
WiFi didn't work
Mar 13, 2021
Great location
Mar 12, 2021
Good for an overnight visit. It is mid-March, so I would hope it is a more attractive park in Spring- Fall.
Mar 11, 2021
Mostly long term RV's. My selected space was super nice. I had a nice view of the trees and tent area. I extended my stay to enjoy. Where I was it had minimal traffic noise. Was very quiet at night had owls to serenade me to sleep each night. Camp hosts where super nice and very accommodating with extending my stay. I did not use any facilities so can not give a review on them. Loved the trees.
Mar 08, 2021
Very friendly and helpful people
Mar 02, 2021
The WORST KOA we have ever stayed at, AVOID this one at all costs, you are better off sleeping in the Walmart lot up the road. This "KOA" is full of trailer trash, LOUD pickups trucks (not diesels) starting very early in the morning and going in and out. The sites are a mess with a piece of wood covering the sewer opening. Never been so disappointed in a campground! Read some old reviews.......
Feb 26, 2021
I needed help. Directions, an extension cord, information on a later long term stay this fall when I go to school.....the help was always there when I needed it, and very friendly��. Thank you Weatherford KOA. Beverly Jensen
Feb 23, 2021
The staff was friendly and courteous. The utilities were new and reliable. The downside, the sites were very narrow and close together. Our next door neighbor's and our slides were within 1 foot of each other.
Feb 19, 2021
A wonderful place to stay great staff very clean and easy access from Highway
Feb 08, 2021
The big rigs need more space between some of the spots. We were in a situation where our slideout was w/in 2feet of our neighbors slideout and our lines were getting intertwined w/theirs bc the neighbor was using the sewer hookup intended for our spot.
Feb 07, 2021
Very nice staff. Had a problem and needed to extend my stay and they accommodated us. Thanks KOA Weatherford.
Feb 02, 2021
Very accommodating staff but we just needed a quick stay as we wanted hiking and biking trails
Jan 31, 2021
Only stayed for two nights, on our way to Arizona. But the campground was just what we needed. Clean, friendly, accommodating. With lots of room.
Jan 31, 2021
Water pressure really bad; otherwise, it was ok
Jan 30, 2021
It's a simple rv park the sites are dirt and when I checked in were a bit muddy but it wasn't a big deal. Price was fair for accommodations and late check in was easy. I would stay again
Jan 29, 2021
Lance and his staff were great to us
Jan 18, 2021
Pull thru full service 50 amp sites are very close together and short.
Jan 17, 2021
Nice place, clean, friendly, but very cramped and many full timers that fill most of the campground
Jan 10, 2021
Easy in and eady out for my ine night stay.
Jan 08, 2021
It was a nice KOA however we had an issue with our picnic table being next to the dump tank and on the back side of trailer not on the front door side. The long term section was away from overnight RV's but wouldn't stay more than 1night.
Jan 06, 2021
Great hosts!
Jan 05, 2021
Septic tank was apparently full when I dumped and overflowed and backed up. No warning from management. The worst stay we've ever had. Terrible.
Jan 04, 2021
There are many lower spots run paved and not very well graveled unfortunately our side had mud puddles everywhere. More importantly however the dump when we took the Lid off was already overflowing so we just did not dump until we moved onto the next campground.
Dec 29, 2020
Lot size too small, have to share lot with site next door, and closed office early
Dec 24, 2020
Lance is great to work with helped out a lot AAA