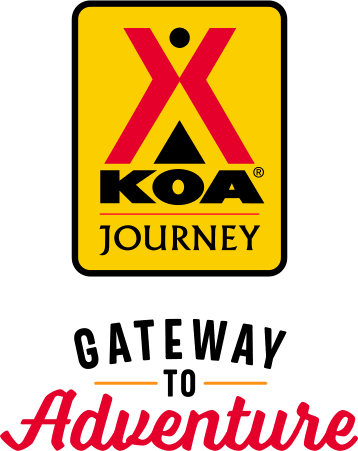 KOA Journey Campgrounds
KOA Journey campgrounds are the perfect oases after a day on the road. Whether it's along the way or a quick getaway, they've got you covered. Located near the highways and byways of North America with long Pull-thru RV Sites, they deliver convenience to the traveling camper. Pull in, ease back and take a load off.
KOA Journeys Feature:
Pull-through RV Sites with 50-amp service
Premium Tent Sites
Well lit after hours check-in service
Directions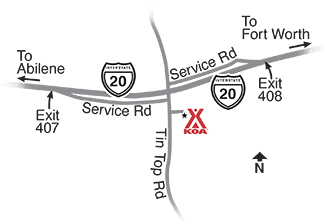 I-20 West Bound: Exit 408. Stay on service road crossing over Main Street/Hwy 51. Continue west on service road down the hill to stop sign. (Home Depot will be on your right). Turn left (south) onto Tin Top Road. Go straight under I-20. Continue on Tin Top about 1 block, we are on the left.
I-20 East Bound: Exit 407. Continue on Service Road for about 2 miles. Turn right (south) onto Tin Top Rd. Continue on Tin Top about 1 block, we are on the left.
GPS: N32.725036, W97.795830
Get Google Directions
Dec 12, 2022
The park was shabby and mostly long term residents. Noise from some construction in the back of the property. Dog run was bare dirt. Not to KOA usual standard.
Dec 10, 2022
Old and rundown. Sewer access had no cover and water and hydro hookups did not look maintained. Site was really close to neighbours.
Dec 08, 2022
We loved it. Close to everything we came for around weatherford, Fort Worth area. Clean restrooms, dog lot. 10/10
Dec 08, 2022
It was a great place to stay. The staff was very helpful. I will stay there again and would recommend it to others.
Dec 07, 2022
Late check-in Paperwork in envelope on door. Easy to find RV spot
Dec 07, 2022
A lot of full timers the place was a mess, the only Good thing was the rooster in the morning from a neighbouring farm! Won't stay their again
Dec 06, 2022
Keep going! Don't stop! Primitive dump Rats climbed up shrubs and chewed on A/C vents Neighbor ended high wattage lights under vehiles to stop rats. They caused thousands in damage to wiring. Water was shut off twice/old broken pipes. Brown water. Cable TV very unreliable. One dumpster- 50 trailers. Traffic noise unbelievable. Mud holes with no gravel. Nice lady. Horrible husband. Keep going b
Nov 30, 2022
lots were tight lots of people living there, just not for us
Nov 30, 2022
I worked Calif. campgrounds for 26 year, I know it's difficult to balance the needs of live ins and tourists. First impression, especially after dark wasn't good, tarps, junk, and trash around the campground isn't the KOA groomed site I expected.
Nov 28, 2022
The staff was very nice, the sites I thought where closer together than I like and it look junkie, but it was great for a 1 night lay over on the way south
Nov 27, 2022
Most of the campsites were occupied by long term renters. Campsites were junky and cluttered. Campsites were close together and not well maintained. When we arrived at 4 the office was already closed. If you just need a place to park and sleep this KOA is adequate otherwise I would not recommend it.
Nov 19, 2022
Bathrooms were old and dirty. Campsites to close together. No handicap showers.
Nov 19, 2022
Our stay was great. Please keep the trees trimmed back.
Nov 17, 2022
Worse looking KOA we have stayed at
Nov 16, 2022
We did not use the restrooms so cannot rate them. The sites were very tight, when our slide and our neighbors slide were open, there was probably 2 feet separation. Neighbors on the other side had less than a foot. Very hard to level our rig, uneven sites, park is mostly full timers, lots of free roaming cats and people drive way too fast. But, employees were nice. Office not open on Mondays.
Nov 16, 2022
Way too close to neighbors sewer which was 4 feet from our door literally. Gross. The site way too sloped and we had to unhitch to level which was not our intent on an overnight pull through. Acorns were falling in our airstream from an oak tree above. Terrible traffic noise from the highway.
Nov 16, 2022
Laundry room is 24 hrs, but the light switch is really hard to find after dark. I went and got my headlamp, so I could find it.
Nov 13, 2022
Can't believe KOA is associated with a facility like this location. What a dump!
Nov 12, 2022
We had to have work done on our truck and we had just bought our RV in Lubbock. KOA was recommended for us to stay at. It was very clean. Friendly staff.
Nov 11, 2022
One night en route to destination
Nov 10, 2022
Quite possibly the worst KOA ever. I didn't fit into the first site they gave me. The water was turned off the first morning we were there. Others in the park said it was a daily experience. Lots of permanent run down RVs with tarps covering them. Then there was the guy with the revolver on his hip walking around with no shirt. Normally I know what to expect at a KOA, stay away from here
Nov 10, 2022
This is a good place for a overnight stay. Permanent campers need to clean up their areas. The sewage hooks ups on some of the sites are not angled properly, which makes it difficult to hook up. Overall, this camp ground needs to be upgraded. Staff were very friendly and the facilities were clean. As an overnight camp it was fine.
Nov 09, 2022
No water pressure from 6pm and very limited cable and Wi-Fi. Campgrounds are not KOA standards. Very un-level campsites. Very junky and unkept looking. Not what we expected as we stay in KOA's all the time and never have had no water pressure absolutely none. Not a good stay.
Nov 07, 2022
Too close to the other R.Vs n gravel not concrete pads could not level out the r.v causing my shower to leak .5hen as we were letting out our water reserve since we couldn't drive with all thatv.the porter came over n said your getting the ground wet .well if you had proper parking instead of gravel .1 of the worst KOA s I have ever been too .n will not go back .Pictures were to fool ya to ��
Nov 07, 2022
This is a nice RV park with an enclosed pet play area and a large walking area. They have propane and a RV repair shop next door. They are only one block from I 20 and very close to many great stores.
Nov 03, 2022
The people were very friendly but it was a very shabby KOA with unlevel sites. It's ok for an overnight stay.
Nov 02, 2022
Enjoyed the small feel of the KOA and not as crowded as some. Friendly staff.
Nov 02, 2022
Not up to par with a KOA. Man who took my reservation could not figure out how to use my points. Office needs better staffing, grounds need much work and bathroom and laundry terrible. KOA needs to go see this place. I would be embarrassed if I were Corporate. We have 42,0000 KOA points and stay at KOA's often. We full time RV. Stay away from here!
Oct 29, 2022
Very enjoyable low key campground. If you are looking for a stop with good hookups, quiet sites with little interference from staff, this is it. The facilities we clean and nice and location is close to stores and Brazos river that we enjoyed kayaking.
Oct 27, 2022
Finally met operators after several stays where I arrived late & left early. Very nice people.
Oct 26, 2022
One night stay, while heading west to AZ.
Oct 23, 2022
Friendly service with a large grass area. However, it is obvious that this is an older KOA in need of an uplift. RV sites need work such as leveling and new gravel. The sewer pipe hookups are set at an angle making it difficult to connect your hose, plus they're set at a higher level than your RV which causes water flow issues. The water source shutoff were cheap quality and hard to operate.
Oct 20, 2022
Ok needs a little TLC
Oct 18, 2022
Clean, easy to get on pull thru, dog park and close to grocery stores.
Oct 15, 2022
Was quiet. Not very spacious sites
Oct 12, 2022
campground itself seemed a bit commercial with the repair shop right there. Also some traffic noise, it seemed to be at a busy crossroads. Had a nice site, shady. The grounds needed some sprucing up. The pool needed cleaned and there were no lounge chairs and only 1 table, chairs and umbrella! We didn't use laundry or restrooms. We were told the campground is in transition. We would stay again.
Oct 11, 2022
We had a nice camp site and the bathrooms and laundry were nice and clean. It was a little noisy from I-20. All in all it was pretty nice.
Oct 11, 2022
This place really needs a new management. Most of the tent sites are unusable, the better one has no table. Old and dirty bathrooms...
Oct 09, 2022
Worst kept KOA we have ever stayed at. Spider webs in bathroom stalls. Grounds were not kept well. Could use some grading of road area.. Really disappointed. It looks like people are there on a perm basis. Lots of junk sitting around. Didn't even get wifi password and they were closed when we arrived at 5 pm
Oct 06, 2022
Very tight to put 42' 5th wheel in, not much excess parking very rundown park. Traffic nightmare to get in the park off the interstate 4way stop people not very considerate. Can say one thing positive there is on site RV repair we had a problem with a slide they walked over and helped get reset so we could go down the highway and they didn't charge us hat off to them!!!!!!!!
Oct 03, 2022
This KOA location does not reflect the KOA brand. It looked like a permanent trailer park. The office closed at 4:30. The bathrooms were a 550 yard round trip from the tent. I called corporate to complain, because it was that bad.
Oct 02, 2022
Okay for an overnight. Site was not level and right next to the highway so pretty noisy.
Oct 01, 2022
Gross KOA. Very surprising. Exiting my camper I immediately stepped on a giant wet wipe that was covered with fecal matter. All hook ups were on the wrong side necessitating extra pieces of hoses. Laundry room was disgusting. Paper from someone's laundry was on the floor all over but also dirty and stepped on so was there awhile. Folding table and chairs dirty & slimy feeling. Nowhere to fold.
Sep 28, 2022
Most enjoyable, nice shaded spot and clean
Apr 06, 2023
Clean kind perfect sized park, good spots each with shade. Green and lovely
- Lorie Prior on Google