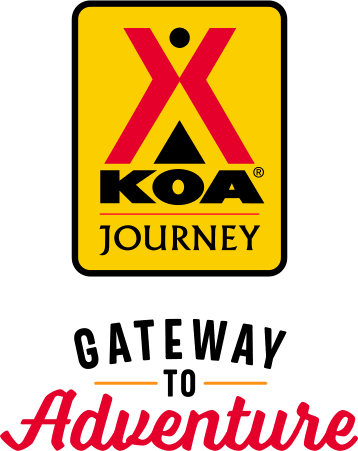 KOA Journey Campgrounds
KOA Journey campgrounds are the perfect oases after a day on the road. Whether it's along the way or a quick getaway, they've got you covered. Located near the highways and byways of North America with long Pull-thru RV Sites, they deliver convenience to the traveling camper. Pull in, ease back and take a load off.
KOA Journeys Feature:
Pull-through RV Sites with 50-amp service
Premium Tent Sites
Well lit after hours check-in service
Directions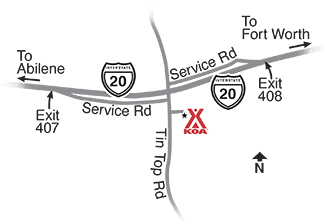 I-20 West Bound: Exit 408. Stay on service road crossing over Main Street/Hwy 51. Continue west on service road down the hill to stop sign. (Home Depot will be on your right). Turn left (south) onto Tin Top Road. Go straight under I-20. Continue on Tin Top about 1 block, we are on the left.
I-20 East Bound: Exit 407. Continue on Service Road for about 2 miles. Turn right (south) onto Tin Top Rd. Continue on Tin Top about 1 block, we are on the left.
GPS: N32.725036, W97.795830
Get Google Directions
Nov 06, 2020
Great staff. Decent sites. Good cable. Didn't use the wifi so can't rate.
Nov 02, 2020
Friendly people, clean camp ground, clean restrooms. Easy access, shopping food etc. close by.
Nov 02, 2020
they treated me like an old friend. would recommend to everyone.
Oct 28, 2020
we stayed a whole week and the barhrooms were mostly unuseable the entire stsy.
Oct 27, 2020
We stay here when we visit Ft Worth. It is very clean and the staff is very helpful. If you are looking at a map and are worried about road noise from I-20 it is a constant hum, like a background noise generator, not disturbing. Campsites are very level, spacious, and hook-ups easy.
Oct 24, 2020
Sites are nothing like the website pictures. Sites are cramped roads narrow. Office/store shelves were bare and the host was not very friendly. They did have our reservation and the check in went smoothly. Several tree limbs hungover the roadway and we could barely get our slide- outs out. Sites are crushed stone and uneven. Fresh water Spicket was old and very close to the ground.
Oct 20, 2020
The facilities were well maintained and the staff is efficient and friendly.
Oct 19, 2020
Nice little campsite. Wooded and shady even though close to highway. Restrooms always clean, and staff/owners friendly.
Oct 17, 2020
It was very comfortable to stay there. The staff were very helpful. Needing to get to a rental car location, we were fortunate to have an offer to take us to the car rental location!
Oct 17, 2020
Great place to stop off the highway.
Oct 16, 2020
We tent camped here in mid October. The bathrooms are clean but for a tent camper, they are far away. The setting under the pecan trees is beautiful but be aware, there are cockroaches at the tent site. On the plus side, there are water and electric at each site. It looks as if this KOA is mostly filled with permanent guests and their RVs are crowded together. Not a preferred KOA for us.
Oct 13, 2020
Clean place, friendly & helpful staff !
Oct 13, 2020
This was our "maiden" voyage with our new camper. The staff were very helpful to us, assisting us in locating our site, helping park, and everything else. The park is very well kept and we really like the idea of the dog park so our pup could run free a bit. Met several other campers, and all were super friendly.
Oct 12, 2020
Very peaceful, quite, served our purpose, thank you
Oct 12, 2020
The campground was very accessible to our needs in the area. The staff was visible throughout the day and often stopped to see if there were any needs that needed to be met! They were very friendly and Maria was a Godsend as we were in and out of the campground! I would recommend this campground because of all the extras that come with the site����ϋ�
Oct 12, 2020
Nice people, great sites, easy in and out, clean laundry close to shopping yet very quiet.
Oct 05, 2020
The sites were nice and had all hook ups very conveniently located. The public areas were very clean.
Oct 04, 2020
The park needs to be updated. The sewer hook up was on ground higher than the coach pad thereby making it difficult to properly connect. People were friendly and helpful.
Oct 03, 2020
One night only...passing thru.
Oct 02, 2020
Campground is very clean, well maintained and professional, efficient & friendly staff.
Oct 01, 2020
Nice quiet park. Great staff, clean facilities. Easy in, easy out. Nice level, roomy pull through spaces. My only negative, trees around KOA sign and entry need trimming Hard to see sign and they restrict exit view of traffic from the left. I'd stay there again without a doubt.
Sep 30, 2020
Older, very crowded park that has not measured up to KOA expectations, based on several others campgrounds we have stayed over the past 3 months. Far too many potholes, uneven pads, and long term campers. They apparently have been here for a few years
Sep 30, 2020
It's a lower end KOA. A place after a long drive and get up in the morning to be on the road again it is perfect. Not a place to hang out during the day. The ladies room could use a facelift plus some signage on holding down the handle of the toilet. Every toilet had not been flushed. They might want to consider sensor lights so electricity is not wasted because someone did not turn off switch.
Sep 29, 2020
Very convenient location. Lots of mature trees. Very helpful staff.
Sep 25, 2020
Very spooky, negative environment
Sep 23, 2020
We stayed 2 nights. The site was clean and ready. Everything went as planned. The campground has many full-timers that don't keep their areas looking great so parts of the campground looked run down. The sites were close together with little privacy. We stayed there because of location.
Sep 20, 2020
Below average condition. Sewer connection was higher than rv pad....crap doesn't flow up hill.
Sep 20, 2020
Glad we found you, grass needed mowing where we stayed 12, and need to correct tv channels unable to view 4 5 6 7 8 9 10 We will see you again
Sep 20, 2020
I liked being led to my site. Night watchman was very helpful.
Sep 19, 2020
Needed a place to sleep. That's all. I-20 noise was horrible, all night long. Loud. One end of campground I guess is for monthly campers but it looks like a dump. Nothing maintained back there at all. The sites in front are level and mowed at least. On the property is an RV repair business looks like wrecking yard. If you're looking for a hub from which to see DFW, this place is not for you.
Sep 09, 2020
Just an overnight stay
Sep 06, 2020
I just hit the trail in my new RV and was having all the normal break-in issues. check in was Great, Staff was wonderfully accommodating especially appreciated since it was on the long Labor Day weekend--and the RV Parts and Services store on the access road was Wonderful! They not only solved all my New Rig, New Brand issues, they had in stock everything I needed. Great Place! Thanks!!
Aug 31, 2020
This campground was very clean. The staff was nice and helpful. They had a dog run that my dogs enjoyed being able to get off their leashes. The laundry room was clean and nice. The pool was great to cool off in also.
Aug 31, 2020
We had to evacuate for hurricane Laura, the KOA staff were extremely nice and helpful, they went as far as bringing us ice from the campground store on Thursday night 2 hours after the store had closed. Very clean campground, with lots of stores and eateries near by. Thanks again to the staff for all their help and support.
Aug 30, 2020
Wonderful time, clean pool, great shade for tent camping, clean restrooms and showers. thanks for the free wood to burn!
Aug 23, 2020
Arrived late and the trailer/camper assigned to the site next to ours had occupied our site with corn hole, games, multiple bikes, children. Vehicle with boat was parked in front of our site and made it difficult to pull around to enter our site.
Aug 21, 2020
My Husband and I were driving late in the evening and were too tired to continue to our destination. We found this KOA online and gave them a call. We were so very impressed that someone answered the phone this late! We gave our info to them and they gave us self check-in instructions. We pulled in and everything was exactly how it had been explained to us. Great place! Definitely recommend!
Aug 21, 2020
This was one of the most peaceful KOA parks with the absolute best staff yet. I plan to return there many times in the future.
Aug 20, 2020
Conveniently located, quiet and clean. Staff is very friendly. We enjoyed our "quarantine" camping at this campground very much! Thank you
Aug 17, 2020
We are first timers, and the friendly and helpful staff were wonderful. Thanks for the hospitality.
Apr 23, 2021
Franklin always does us good. That guy is always cracking me up while inspecting our vehicles. He is a ray of sunshine.
- Casey Benton on Google
Mar 18, 2021
Fantastic RV park right off I-20, but secluded and quiet. The best part of this RV park is onsite RV parts and services!!!
- Paul Miller on Google
Mar 01, 2021
Propane refill
- Timothy Smith on Google