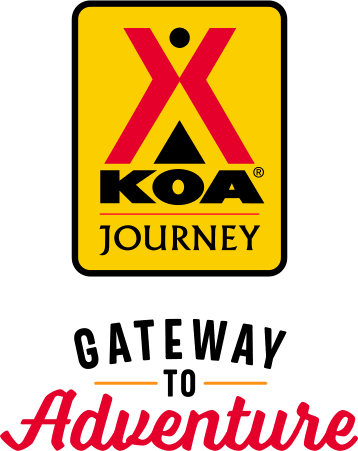 KOA Journey Campgrounds
KOA Journey campgrounds are the perfect oases after a day on the road. Whether it's along the way or a quick getaway, they've got you covered. Located near the highways and byways of North America with long Pull-thru RV Sites, they deliver convenience to the traveling camper. Pull in, ease back and take a load off.
KOA Journeys Feature:
Pull-through RV Sites with 50-amp service
Premium Tent Sites
Well lit after hours check-in service
Directions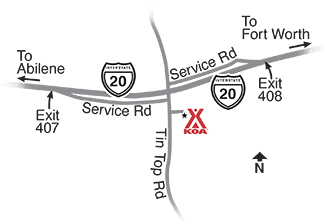 I-20 West Bound: Exit 408. Stay on service road crossing over Main Street/Hwy 51. Continue west on service road down the hill to stop sign. (Home Depot will be on your right). Turn left (south) onto Tin Top Road. Go straight under I-20. Continue on Tin Top about 1 block, we are on the left.
I-20 East Bound: Exit 407. Continue on Service Road for about 2 miles. Turn right (south) onto Tin Top Rd. Continue on Tin Top about 1 block, we are on the left.
GPS: N32.725036, W97.795830
Get Google Directions
Feb 08, 2021
The big rigs need more space between some of the spots. We were in a situation where our slideout was w/in 2feet of our neighbors slideout and our lines were getting intertwined w/theirs bc the neighbor was using the sewer hookup intended for our spot.
Feb 07, 2021
Very nice staff. Had a problem and needed to extend my stay and they accommodated us. Thanks KOA Weatherford.
Feb 02, 2021
Very accommodating staff but we just needed a quick stay as we wanted hiking and biking trails
Jan 31, 2021
Only stayed for two nights, on our way to Arizona. But the campground was just what we needed. Clean, friendly, accommodating. With lots of room.
Jan 31, 2021
Water pressure really bad; otherwise, it was ok
Jan 30, 2021
It's a simple rv park the sites are dirt and when I checked in were a bit muddy but it wasn't a big deal. Price was fair for accommodations and late check in was easy. I would stay again
Jan 29, 2021
Lance and his staff were great to us
Jan 18, 2021
Pull thru full service 50 amp sites are very close together and short.
Jan 17, 2021
Nice place, clean, friendly, but very cramped and many full timers that fill most of the campground
Jan 10, 2021
Easy in and eady out for my ine night stay.
Jan 08, 2021
It was a nice KOA however we had an issue with our picnic table being next to the dump tank and on the back side of trailer not on the front door side. The long term section was away from overnight RV's but wouldn't stay more than 1night.
Jan 06, 2021
Great hosts!
Jan 05, 2021
Septic tank was apparently full when I dumped and overflowed and backed up. No warning from management. The worst stay we've ever had. Terrible.
Jan 04, 2021
There are many lower spots run paved and not very well graveled unfortunately our side had mud puddles everywhere. More importantly however the dump when we took the Lid off was already overflowing so we just did not dump until we moved onto the next campground.
Dec 29, 2020
Lot size too small, have to share lot with site next door, and closed office early
Dec 24, 2020
Lance is great to work with helped out a lot AAA
Dec 20, 2020
people were friendly and site was nice.
Dec 19, 2020
Felt like a trailer park, no other campers. Felt unsafe, had to go to a hotel.
Dec 19, 2020
This RV park is much improved since the last time we stayed there. The old trailers are gone and the RV spots are much improved. Would stay there again without hesitation.
Dec 16, 2020
Mostly full time live ins. Very basic - right off the main road - but was good for an overnight stop as it was right off the I-10 and close to gas stations, restaurants and stores.
Dec 16, 2020
Spacious sites with trees providing shade. Excellent facilities and staff. Highly recommend.
Dec 12, 2020
I have tent camped all over the USA & this was the worst spot. I arrived 8:30 PM. Rest room toilet was clogged, at 1030 Am next day still clogged. 1 hand dryer, 4 sinks, shower plumbing all loose, common drain for 3 showers? & very unclean, built up grime. Camp site had litter around it, no picnic table at my site. A black eye on KOA. A letter to Corp headquarters is next.
Dec 07, 2020
Lance is very helpful and a nice guy
Dec 02, 2020
Price is right, but not a typical KOA
Dec 01, 2020
Always friendly clean place to stay we will be back
Nov 30, 2020
Laundry was nice. Office was not open during our three day stay. Couldn't get propane or change for laundry. No notice about it.
Nov 29, 2020
Called 3 times to give ETA, went to Voicemail. No return call. Arrived envelope taped to door. It was dark when we arrive. Lots are on top of eachother. We could not set up our trailer properly, no room due to the neighbors on either side. Not able to hook up the water. Had to use the showers and restrooms at the camp. Very disgusting and no toilet paper over our 3 night stay. Not worth the $$
Nov 29, 2020
We loved the location, very close to restaurants and shopping and easy on/off I-20. KOA is fairly clean the bath house was exceptionally clean. A large part of this park is a "trailer hood" and looks like a ghetto. The short term camping area is not paved, but covered in chunky rocks and the camp sites are extremely close together, sharing the picnic table.
Nov 26, 2020
All was great I just hope I don't get a neighbor that walks around all night on the phone next time .
Nov 26, 2020
Nice park. Was disappointed that people did not pick up after their pets. Nice area for pets to go.
Nov 16, 2020
Staff very friendly and accommodating! Good locations. Sites flat and gravel with easy pull throughs. Restrooms could have been kept cleaner. Wished for fire pits.
Nov 16, 2020
Great staff !!! Very clean restroom/showers. On-site shop noise was a little annoying but overall a decent stay.
Nov 15, 2020
No problems. May want to consider bringing in some fresh gravel for the RV sites. Everything was dry but had it rained, it might have been muddy and my puppies would have tracked into my coach.
Nov 09, 2020
I enjoyed staying here. I would enjoy staying here again. The price was good. Nice clean bathrooms with the cutest Texas shaped sinks! I enjoyed having electricity and water. I felt safe. It was near the woods as I heard coyotes in the distance for a short time. So cool. That is much better than traffic sounds. Other than that it was very quiet with lots of campers here! Others love it!
Nov 06, 2020
Park needs to do some cleanup and sprucing up. Manager was very nice, just seemed pretty run down.
Apr 23, 2021
Franklin always does us good. That guy is always cracking me up while inspecting our vehicles. He is a ray of sunshine.
- Casey Benton on Google
Mar 18, 2021
Fantastic RV park right off I-20, but secluded and quiet. The best part of this RV park is onsite RV parts and services!!!
- Paul Miller on Google
Mar 01, 2021
Propane refill
- Timothy Smith on Google