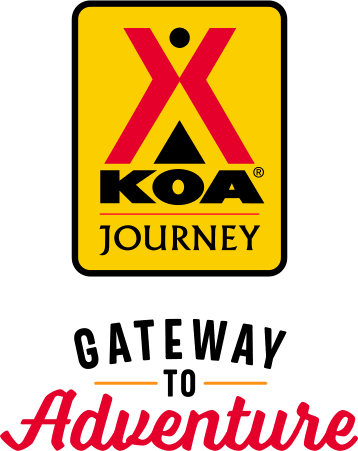 KOA Journey Campgrounds
KOA Journey campgrounds are the perfect oases after a day on the road. Whether it's along the way or a quick getaway, they've got you covered. Located near the highways and byways of North America with long Pull-thru RV Sites, they deliver convenience to the traveling camper. Pull in, ease back and take a load off.
KOA Journeys Feature:
Pull-through RV Sites with 50-amp service
Premium Tent Sites
Well lit after hours check-in service
Directions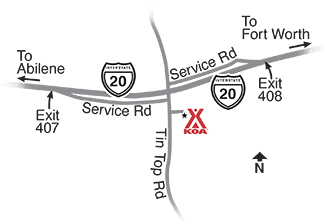 I-20 West Bound: Exit 408. Stay on service road crossing over Main Street/Hwy 51. Continue west on service road down the hill to stop sign. (Home Depot will be on your right). Turn left (south) onto Tin Top Road. Go straight under I-20. Continue on Tin Top about 1 block, we are on the left.
I-20 East Bound: Exit 407. Continue on Service Road for about 2 miles. Turn right (south) onto Tin Top Rd. Continue on Tin Top about 1 block, we are on the left.
GPS: N32.725036, W97.795830
Get Google Directions
Jun 05, 2023
Didn't seem like a very friendly place and it looks like most people there live there year round.
Jun 05, 2023
Looks very run down. Staff is not very friendly. There are better campgrounds in the area.
Jun 05, 2023
Very friendly and accommodating. Will absolutely stay again the next time we're in town!
Jun 02, 2023
Trashy, too many permanent run down trailers. Needs landscaping and care.
Jun 01, 2023
Place was pretty clean. Lots of full timers, but still clean. Pool was nice too! Close to the interstate but still pretty quiet. Would stay here again when visiting Fort Worth.
Jun 01, 2023
The travel sites are mixed in with the local sites and it is not very attractive. The pictures on the site are very deceiving. The dog park is very small.
Jun 01, 2023
The only positive thing I can say about this Koa location, we that the staff were friendly. The rv park itself was a dump.
May 31, 2023
Not as clean looking as most KOA's. Tight campsites with shared utilities. Older facility most likely. TV reception from cable was 50/50. Near I-20.
May 30, 2023
The photos of the facility posted online are OLD. Maintenance, upkeep and cleanliness have not been a priority. There are numerous permanent residents of this park, some with maintained sites and some, not so much. The sites are small (narrow) and not level. We had to mark a spot to prevent stepping into a pretty large hole. Beautiful trees; lots of potential. Would not stay again.
May 29, 2023
We stayed 1 night. Bathrooms were clean and cool. Glad there was a dog park
May 27, 2023
Cable Bo's melted coaxial and ours and neighbors sewer was backed up. Additionall neighbors 50 amp box would not work and we were asked to move after being set up. Worst place ever - will never return. Owners/hosts need to mow and clean restrooms!
May 25, 2023
This KOA is by far the worst KOA I have ever stayed in. It is obvious many people live in this park. The site next to me had a backed up sewer hook-up that was due to the park and not his rig. I asked him about it since it was coming out of the sewer connection and not his drain hose. He told me he had alerted the office about the issue but nothing was done to correct it or to move him.
May 25, 2023
Excellent communication with the office. Arrived very late and had a wonderful envelope waiting to guide me to my wonderful spot that was easy to pull into. I can't wait to come back, clean and quiet with great facilities for my family, an added plus - the wonderful staff and how accommodating they were for me. Thank you! We will be back, this will be our go to place!
May 24, 2023
camp ground appeared to be old with a lot of permanents,but close to everything
May 21, 2023
Not up to KOA standards. Looks like an old trailer/RV graveyard. I arrived early afternoon and office was closed, no one around just an envelope on the door with my site #.
May 19, 2023
We never saw anyone from the park. The office was closed when we got there mid afternoon. We got an envelope with instructions. They checked us in the next day when my credit card was charged. The place looked like a dump. There were very old sketchy trailers in the park. The rig that came in after us left the park very upset. Worst KOA I've ever seen.
May 19, 2023
The campground seems to be mostly long-term rentals, with a lot of junk in many of the sites. The grass hasn't been cut in a while. The roads are rough and not well maintained. Overall, not a pleasant place to stay. I see they're putting in new hookups. Maybe that will be set-up for shorter stays and hopefully will be more organized and clean.
May 16, 2023
Looks like a run down trailer park!
May 15, 2023
This KOA does not.live up to KOA standards. Bathroom dirty. Laundry room had all working equipment but the room itself hadn't been cleaned in quite a while. Sites were not kept up. Long grass. Dog park also unmowed. The sewer connections were at odd angles and the hoses couldn't drain properly. Water connection was broken and was fixed.by adding a Y fitting. This is not what we expect.
May 14, 2023
Great one night stay
May 12, 2023
By far the worst KOA I have stayed in during my KOA membership and traveling around the USA the past 7 years. Grounds were not kept up very well. Restrooms looked very good and the shape of the sinks (Texas) was interesting.
May 11, 2023
This KOA is in very poor shape. The onsite dumping was backed up! The front office is not inviting and there really isn't anything good I can say about this place. I had the impression the people running it are hanging on by a thread!
May 10, 2023
Rental space was rented to us, knowingly by Staff that the site had "Sewer Problems which resulted with Sewage Spillage". Recommended solution by management, "to empty black/gray water Very, Very, Very Slowly". KOA Corporate responded with "any type of reimbursement for inconvenience is between the KOA site and customer, they don't get involved; they just collect annual membership fees".
May 07, 2023
We were quite happy with this RV stay; however, the only thing we would say is that they were trimming and chopping down trees in our site, and those around us, while we were camping in those sites. It seems that it would have been more convenient, and less intrusive for the guests, if they had chosen sites that were not in use.
May 05, 2023
I will say this… if this were the first KOA I ever stayed at, it would also be the last. Sketchy. Unkempt. I honestly don't know if anyone actually works on the property since I never actually met anyone at the office or on the grounds. Seasonals (more likely "lifers") have junk and poop piled everywhere. I can't imagine KOA has inspected this facility in the recent past. Will never retu
Apr 29, 2023
Friendly, cozy wooded campground. Close to attractions. Clean.
Apr 28, 2023
check in is not till 3pm, I got there about 4:10, office locked up. I left voice mail and they finally called back much later. I found a spot from night box as no envelope on door with my name. They had lot branches down from recent storm they were stacking up. Spot was level. Easy in and out from highway. yes was road noise but no biggey.
Apr 27, 2023
If you advertise internet service, please provide!
Apr 27, 2023
Great little spot close to everything and RV repair store on the property!
Apr 26, 2023
Now I heard someone bought the site and is remodeling THANK YOU!!! Lots of new sites coming and it will be nice. Staff was nice. The bathroom and showers are NOT cleaned every day or even every week...The same trash was on the floor the whole week we were there. The shower curtains could be thrown away would be better. dead spiders Just plain YUK Water hookup is so low the guage wont fit
Apr 25, 2023
Park could use a healthy dose of TLC. Everything worked but is well worn, covers off of cable box etc. It does have a RV repair shop which could be handy for a needed repair.
Apr 25, 2023
We arrived when the office was closed. Our site/reservation info was posted on the door and pointed us to our site, which was nice. The park itself is pretty shabby in appearance. We did see that new sites are being added in the back, so those will help, but the existing sites were limited and internal roads were not well maintained. Location was good for an appt we had in Ft Worth the next day
Apr 17, 2023
Very nice and quite
Apr 15, 2023
Great place to stop one night. Bad wifi but we'll located
Apr 15, 2023
The spots are close together. If the wind is blowing it blows dust around! We would not stay again! We don't think it is up to KOA standards!
Apr 11, 2023
Very ghetto looking campground, I was concerned for our safety there
Apr 11, 2023
Good place to stay for 1 night but needs some TLC
Apr 09, 2023
Most definitely not up to the KOA standards. Grass needs cutting and looks like a camper graveyard.
Apr 08, 2023
3rd time to stay there. Provides all I need. Staff very nice
Apr 07, 2023
Narrow, you better like your neighbor sites; with leaky faucets so you have to walk around mud. Permanent residents with junk everywhere. washrooms were old but clean. I wouldn't choose to come return
Apr 06, 2023
Booked a spot that was supposed to have our own green space. Nope, shared green space. Very unlevel gravel sit packed in tight. Lots of trashy full-timers. Not up to even minimal KOA standards. We won't be back. There a much better options nearby!
Apr 02, 2023
This KOA is very much in need of renovation ,... and soon .This KOA is not representative of the KOA experience. The essentials are there but everything is very run down and grim. There is no landscaping you basically sit in a gravel parking space. Laundry is very dirty and minimal. Not a good experience !!!!
Mar 31, 2023
I was completely surprised when we pulled into the campground. It was as though we pulled into a run down mobile home park. Worst KOA I've ever stayed in and I've stayed in quite a few, from the Atlantic coast to the Pacific. It was late and I'd been driving for 14 hrs. There were no other options. I will continue using KOA, just not the Weartherman/Ft.Worth
Mar 29, 2023
Very quiet park. All was good!
Apr 06, 2023
Clean kind perfect sized park, good spots each with shade. Green and lovely
- Lorie Prior on Google