Local Area Attractions Near Waterloo / Lost Island Waterpark KOA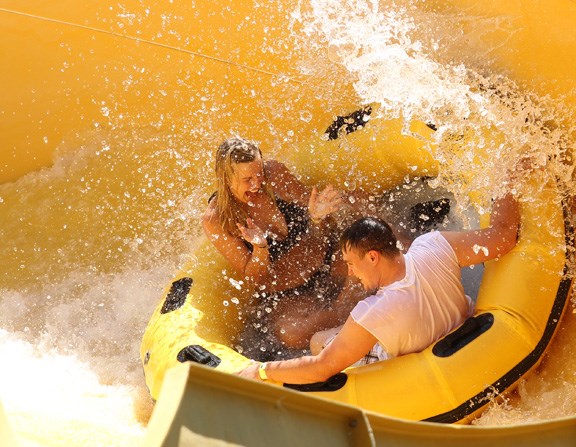 Lost Island Waterpark
Iowa's largest waterpark, wavepool, lazy river, over 13 major waterslides.  2 onsite cafes, beer tent, gift shop, showers and much, much more.  Open June-August
Lost Island GoKarts and Adventure Golf
Open weekends in May, daily June through August, and weekends in September. www.thelostisland.com Isle Casino Hotel Waterloo
Isle Casino Hotel Waterloo is the place to go for a good time, no matter what you're looking for. Come for our extensive selection of casino games, and stay for our entertainment lineup, delicious dining choices, and enticing promotions. When you're ready to turn in for the night, our cozy and well-appointed accommodations are right at hand. It all adds up to an experience you won't find anywhere else, at a place you'll want to return to again and again.
777 Isle of Capi Blvd
Waterloo, IA 50701 South Hills Golf Course
South Hills (established in 1974) was once rolling farmland is a beautiful eighteen hole municipal course.  The course is characterized by hills, plentiful space, and unpredictable winds.  Views of the surrounding countryside add to the charm and challenge of this course.
1830 East Shaulis Road
Waterloo, IA 50701 Grout Museum District
Established in 1932, the Grout Museum District is widely acknowledged as one of the cornerstones of culture in Northeast Iowa. Accredited by the American Association of Museums, the Grout Museum District includes five distinct properties: Sullivan Brothers Iowa Veterans Museum, Grout Museum of History and Science, Carl A. & Peggy J. Bluedorn Science Imaginarium, Renssellear Russel House Museum, and Snowden House.
503 South St.
Waterloo, IA 50701 Phelps Youth Pavilion / Waterloo Center for the Arts
The Pavilion is an interactive children's museum featuring over 40 hands-on exhibits for all ages to explore. Milk a life-sized cow, drive a tractor through a Grand Wood painting, test your skill at digital finger painting, explore music, language and culture of other countries, and more!
225 Commercial Street
Waterloo, IA 50701 Cedar Valley Arboretum & Botanic Gardens
Recreational, cultural and educational opportunities abound at this developing 35-acre site. The gardens showcase a variety of plants and trees native to this area.
1927 E. Orange Rd
Waterloo, IA 50702 Cedar Falls Tourism & Visitors Bureau
Come see what Cedar Falls has to offer for visitors!
6510 Hudson Rd
Cedar Fall, IA 50613 Waterloo Convention & Visitors Bureau
Check out all of what Waterloo has to offer for people visiting the Cedar Valley!
500 Jefferson ST
Waterloo, IA 50701