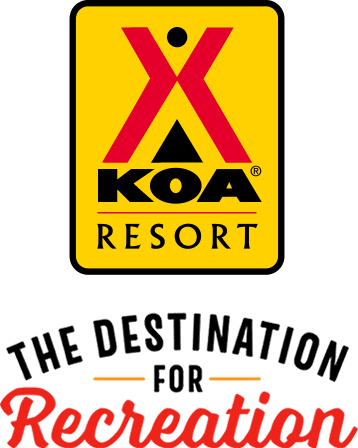 KOA Resort Campgrounds
KOA Resorts offer a carefree vacation in the great outdoors. Enjoy robust recreation and staff-led activities, kick back and relax by the resort-style pool, or grab a bite to eat, all while never leaving the campground. And with plenty of RV Sites with KOA Patios® and Deluxe Cabins with full baths to meet your needs, it's the ultimate camping getaway.
KOA Resorts Feature:
RV Sites with a KOA Patio®
Deluxe Cabins with full baths and linens
Premium Tent Sites
Resort-style pools
Indoor and outdoor group facilities
Directions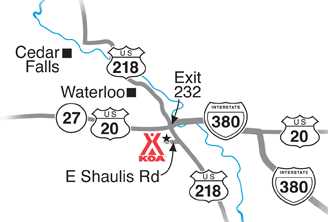 From the North: Take Highway 218 South past Waterloo, turn right on East Shaulis Road, then right onto Hess Rd. From the West: Take exit 230 off Highway 20 and turn right onto 21 south.Turn left on East Shaulis, then left onto Hess Rd.
From the East: Take exit 71A off Highway 20 onto 218 south. Turn right on East Shaulis, then right onto Hess Rd
From the South: Take highway 218 north to East Shaulis Road, left onto East Shaulis, then right onto Hess Rd.
GPS: N42.450221. W92.317507
Get Google Directions
Jan 19, 2021
Camp ground was great people were great
Dec 28, 2020
Overall we really enjoyed our stay and the experience we were able to have as a family. There was one hiccup, at some point during the night the furnace stopped working. It was freezing cold in the cabin. Eventually it started working again around 4:30AM. I did let staff know at checkout. She was apologetic and said that she would pass the information on. We will definitely stay again...soon!
Dec 06, 2020
Lovely staff. Upkeep is great. Highly recommended!
Dec 03, 2020
Mostly a good stay, but 1 major issue. When booked website said open all year and the site I chose was listed as full hookups. No where on the website or any confirmation emails was it noted that there would be no water due to the time of year. We checked in and it was not mentioned at the counter there was no water. Understand seasonal water, but would be good to know ahead of time to plan.
Nov 29, 2020
Great place to stay matt the manager Alan the guy who checked us in and Janet the house keeper were all very accommodating
Nov 26, 2020
Great camping love to stay there!
Nov 25, 2020
Very well maintained
Nov 25, 2020
We were there at the end of October, and there was no heat in the restrooms.
Nov 17, 2020
Great park, friendly staff, always accommodating �
Nov 12, 2020
Well maintained, great staff friendly and helpful. Only down side was that propane was not available. Apparently they ran out. Would absolutely stay there again.
Nov 10, 2020
Best KOA we've seen
Nov 10, 2020
Everything was spotlessly clean and we enjoyed walking around the lake. The only thing that could be improved is that the employees in the camp store/gas station weren't wearing masks to help stop the spread of COVID-19. This made me a little uncomfortable, because we had to go into the store to check in. But other than that, it was a perfect stay!
Nov 10, 2020
Ive stayed at many KOA's in the past and this by far was my favorite locations so far. The cabin was absolutly beautiful and I really enjoyed my time fishing. Everyone was extreamly kind and helpful and wasn exactly what I needed. It was an extremely nicle place to stay.
Nov 03, 2020
We had a great time while we were there!
Oct 29, 2020
We love staying there. Stay there every year at least a couple times. Always enjoy our stay!
Oct 29, 2020
Working in Waterloo and stayed in my motor home while there for 3 months and liked the property and the staff. Would definitely stay there again.
Oct 29, 2020
Water park was not open due to the time of year. The campground was great! Employees were wonderful. We have already told people to go if they get a chance.
Oct 29, 2020
Friendly helpful staff. Nice place with dog park, beach and trails. Close to Water park and casino.
Oct 28, 2020
During our last stay - Labor Day - we noticed some issues that need to be addressed. Dog feces was in several places, and the person next to us just let their dogs "go" and did not attempt to pick up. Some spaces had grass growing and crumbled material in the pull through pad. Like park in general. Good dog park. Convenient location. Don't let this park deteriate.
Oct 28, 2020
Always great, just what we expect.
Oct 28, 2020
second time we have stayed here. Very helpful during our stay when we had electrical issues. Great campground with lots of things to do. Love this park!
Oct 28, 2020
Very friendly, easy to get to and clean and lots of space!
Oct 28, 2020
Exceeded expectations.
Oct 28, 2020
It was our first stay at the Waterloo KOA, but it was very pleasant. The sites are nicely prepared and spaced. We will probably stay there when in the area again.
Oct 28, 2020
We enjoy this KOA..nice, clean..good walking trail..set up of the grounds is great...good place to come camp..nice staff & store ����
Oct 28, 2020
Great stay. Great staff. Thx!!!
Oct 27, 2020
Despite requesting when we booked and then asking once we go there they didn't bother to even try to give us a camping spot closer to the rest of the people we were camping with. The staff were also not wearing masks and were rude in saying that the state didn't require masks. The kids playground was very small.
Oct 27, 2020
We called in advance to let them know we would like to stay one more night. The male employee said "No problem"..we got there to check in and were told we would have to move across the road on Sunday! We have a big 5th wheel and we were very upset about having to move across the road in 2 days just to stay ONE more day! We left Sunday and won't be back to this campground again. Ridiculous!!
Oct 27, 2020
We had a great time! I loved the cabin! My only real complaint was the beach was very unkept, there were discarded clothes and drink containers everywhere for our entire stay. Otherwise, we had a wonderful time and will be coming again!
Oct 27, 2020
This was our first family vacation as a family of 8. The KOA in Waterloo was more than accommodating for all ages of children. Ours range from 5-15. The Cabins were very clean and had all the necessary amenities for however long of stay you choose. I would highly recommend this if you are looking for a cheap vacation with a good amount of amenities. We will be back!!!
Oct 27, 2020
This review has been removed by KOA due to profanity.
Oct 27, 2020
Beautiful RV park with nice amenities.
Nov 26, 2020
Staff was nice and professional
- Tammy Alcott on Google
Nov 20, 2020
We booked a deluxe kabin for Friday night, just one night in November. With our KOA membership it was $110 for the night including tax. The kabin is great. Microwave, mini fridge, shower, table, futon, and a bedroom. The perks include 2 TVs with cable, there is also a small coffee maker, and reading lights. Linens are provided including towels. There are supplies; silverware, plates, cups, and soap. The beach looks awesome and I bet it is fun in the summer. The playground is also great for all ages. Our 1.5 year old loved it. Be warned there is a $125 security deposit and I was informed it will take 7 to 10 days to be refunded. Also there are two different kinds of deluxe kabins and you may not get the one you thought you booked. One has the futon and shower while the other has a tub and bunk beds. Make sure you specify when you check in which you want. Overall a great place to stay. Highly recommend.
- Sugar Laing on Google
Oct 15, 2020
(Translated by Google) Great KOA, a lot space, very clean an quiet, the manager was super friendly and ready to help. Allen was so helpful and kind, if we are back we gonna stay there again Great KOA, the manager was super nice and good person, allen was very helpful. We will be back if we go back to Waterloo (Original) Great KOA, a lot space, very clean an quiet, the manager was super friendly and ready to help. Allen was so helpful and kind, if we are back we gonna stay there again Gran KOA, el manager fue súper amable y buena persona, allen fue de mucha ayuda. Volveremos si volvemos a Waterloo
- Edith De La Fuente on Google