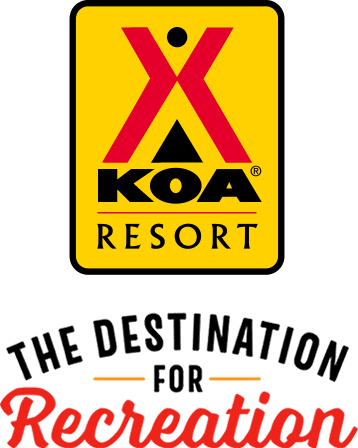 KOA Resort Campgrounds
KOA Resorts offer a carefree vacation in the great outdoors. Enjoy robust recreation and staff-led activities, kick back and relax by the resort-style pool, or grab a bite to eat, all while never leaving the campground. And with plenty of RV Sites with KOA Patios® and Deluxe Cabins with full baths to meet your needs, it's the ultimate camping getaway.
KOA Resorts Feature:
RV Sites with a KOA Patio®
Deluxe Cabins with full baths and linens
Premium Tent Sites
Resort-style pools
Indoor and outdoor group facilities
Directions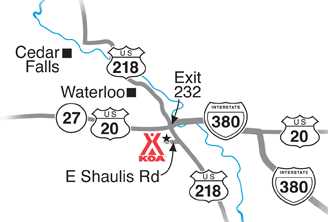 From the North: Take Highway 218 South past Waterloo, turn right on East Shaulis Road, then right onto Hess Rd. From the West: Take exit 230 off Highway 20 and turn right onto 21 south.Turn left on East Shaulis, then left onto Hess Rd.
From the East: Take exit 71A off Highway 20 onto 218 south. Turn right on East Shaulis, then right onto Hess Rd
From the South: Take highway 218 north to East Shaulis Road, left onto East Shaulis, then right onto Hess Rd.
GPS: N42.450221. W92.317507
STARTING AUGUST 1ST, 2021, THE LOST ISLAND WATERPARK WILL BE CLOSED TUESDAYS & WEDNESDAYS FOR THE REMAINDER OF THE SEASON
Get Google Directions
Sep 14, 2021
My reply only applies to campground..we did not use the Waterpark facilities
Sep 14, 2021
Loved the wine mixer and the staff - beach area was great. Kids loved the pancake breakfast
Sep 14, 2021
Excellent service. Kristina was very helpful. Enjoyed the Sunday morning breakfast.
Sep 14, 2021
Everything went as planned Site was good bathrooms and showers were very clean Everyone was very friendly and efficient
Sep 14, 2021
1 washer broken out of 2 in the one laundry room; 1 dryer broken out of 2 in the other laundry room. Unfortunately we had planned to do our laundry during our stay, and this made it extremely difficult and very time consuming!
Sep 14, 2021
Things I loved: clean, friendly helpful staff Things I didn't love: the band that played scream rock until 1030 and rocked my camper with it's bass. Disturbed the entire place and freaked out my dogs.
Sep 13, 2021
Beautiful RV Park! Love the lake and the walking trail and the pretty landscaping! Our site was an end site with the patio with pavers and a curved brick wall, which was very pretty! Loved the convenience to restaurants & shopping, and the store at the campground was very nice and staff was very friendly. My family and I will definitely stay here anytime we visit this area! A+ rating!
Sep 13, 2021
It was all good until Saturday at 4:00. We totally support the vets and what they doing but the music at the end of the night was awful. The language of some of the acts was offensive. We had young children with us and our site was right across from all the activity.
Sep 13, 2021
Clean, friendly
Sep 13, 2021
Great people. Great campground
Sep 13, 2021
It was ok had some stuff stolen over night one night but rest of the stay was ok. A lot of golf carts running around and see a kid driving one and about hit a kid walking
Sep 13, 2021
Grounds were clean. Only downside is this is a large campground. Upon arriving its difficult to find your site. We made 2 loops around before we could find ours and we noticed many going around more than that. They need to have someone show the campers to their site like all the other KOA's I've stayed at.
Sep 13, 2021
Very nice RV park we enjoyed our stay the people are very friendly
Sep 12, 2021
Great Place. Everything was nice and clean.
Sep 12, 2021
Front desk staff were less than helpful the 3 times I needed information. Maintenance man indicated the air pump pressure was 130lbs. I started with 120lbs and ended at 105lbs. Their air tank has more air in it now. Bathrooms were filthy during the week but spotless Friday morning. I would stay again despite this.
Sep 12, 2021
Site was very un level , water hydrant leaked out of rod, there's no reason that you can't level your sites, I seen all campers around me with lots of blocking !!
Sep 12, 2021
Very nice campground. I wish all KOA's were the same as yours. Quiet, clean, beautiful grounds, superb lake, plenty of room to stretch out. A memorable campground in which next time I go through Iowa I will go out of my way to stay at your park. Thank you KOA, management, and employees for a very enjoyable stay. Keep doing what your doing. David and Cathy Huffman
Sep 11, 2021
The internet, and cable was down. The shower house wasn't maintained. Went to store to order food and supposedly the burgers were dropped, and out of tenderloins due to the truck not bringing any
Sep 11, 2021
Very nice kept place. Our site was really long (we are over 45 feet long) and the side yard was plenty of room. Very quite and relaxing. Nice to have the casino across the street as we didn't leave negative lol.
Sep 11, 2021
Our stay was good ���
Sep 10, 2021
This place would be great for families who want to visit the water park. I'm grateful we came after the holidays so most chaos was gone.
Sep 09, 2021
This is the second time that we stayed at this campground. The grounds were not as neat and trimmed as compared to the first stay. The Water Park had already shut down for the season, but the KOA was still packed for Labor Day weekend. The hosts on duty we're still cheerful and informative. I would still strongly recommend this campground to my family and friends.
Sep 09, 2021
Site was fine. Neighbors were friendly. Utilities worked well.
Sep 08, 2021
Dirty Cabin, no cable TV, no internet, needs some better customer service at the lodge.. blamed it on a storm a few weeks back and said the I.T. guy couldn't figure it out..Will definitely be looking elsewhere on future visits to the area..
Sep 08, 2021
Love the park. However too many people have their dogs unleashed and nothing seems to be done about it
Sep 08, 2021
This is a great park! Everything is very clean and well maintained. The campground also has tons for families swimming, playgrounds, etc.
Sep 07, 2021
we had a great time over labor day! our first time but will definitely be back next year for the cardboard boat races :)
Sep 07, 2021
Great campground. Always have fun activities to engage with during the weekend. Keep up the great work!
Sep 07, 2021
Helpful staff
Sep 07, 2021
The men's bathroom in the west shower house was extremely dirty the entire 3 day weekend. I don't think it was ever checked.
Sep 07, 2021
Very family friendly atmosphere with lots of things to do around the area especially with the theme park/water park right next door.
Sep 06, 2021
I was annoyed the cable didn't work, but everything else was great.
Sep 06, 2021
wife did not like showers and could use another shower facility
Sep 04, 2021
Loved the site, the only thing I didn't enjoy, was the mosquitos bites I received. Great view of the lake, cabins and enjoyed the site. Would definitely stay there again.
Sep 04, 2021
Nice little campground, we enjoyed our stay and met some great people at the sand lake swimming area.
Sep 04, 2021
Loved our site. So close to everything. Staff was very friendly and helpful.
Sep 04, 2021
Great park with lots of room. It has lots of things to entertain children including a lake with kayaks, canoes to rent.
Sep 02, 2021
last minute request, very appreciative nice place, very clean
Sep 01, 2021
Nice size sites. Well supplied store. Friendly staff.
Sep 01, 2021
In great condition. The second time we have stayed.
Sep 09, 2021
Amazeballs! Love the staff
- Jared Holt on Google
Sep 07, 2021
Very family friendly atmosphere with lots of things to do especially with the water/ theme park right next door.
- Patrick Richard on Google
Sep 01, 2021
SUPER FUN but remeber to bring your own sunscreen towels etc because its expensive at the gift shop
- Katherine Azbill on Google