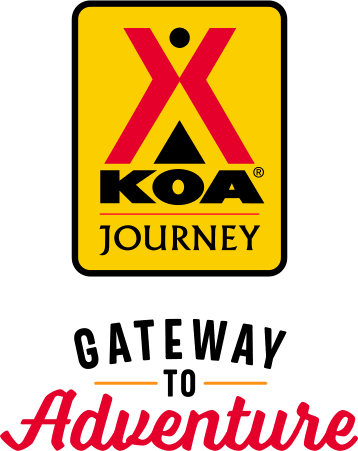 KOA Journey Campgrounds
KOA Journey campgrounds are the perfect oases after a day on the road. Whether it's along the way or a quick getaway, they've got you covered. Located near the highways and byways of North America with long Pull-thru RV Sites, they deliver convenience to the traveling camper. Pull in, ease back and take a load off.
KOA Journeys Feature:
Pull-through RV Sites with 50-amp service
Premium Tent Sites
Well lit after hours check-in service
Directions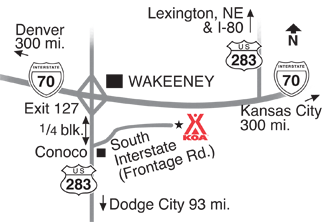 Exit 127 off I-70: go south 1/4 block on US 283 to South Interstate, turn east (left) in front of Conoco station and go 2 blocks.  GPS does not recognize address.
Get Google Directions
Dec 01, 2020
Fine, but I never did get any Internet connection, and that is pretty important to me. Also - it is improperly routed on the Google Directions/maps application, and I ended up in the middle of nowhere driving in circles, the street sign to go in there is only printed on one side, miss that turn and forget it, s/oro it would be good to either put something on the sign and/or contact google maps.
Nov 10, 2020
No problems, a little noisy with the proximity of the interstate. Nice campground, friendly folks!
Nov 03, 2020
Wonderfully nice folks, great place to overnight. Safe and comfy with beautiful sunsets!!
Nov 02, 2020
Gravel pad level. Bathhouse and laundry spotless. All utilities worked well. Desk clerk was exceptional.
Oct 31, 2020
Our stay at WaKeeney is alway one of our favorite.
Oct 28, 2020
Nice folks, always helpful
Oct 26, 2020
We stayed overnight in a travel trailer, had full hookup and were quite happy with our stay. The bathrooms and showers were very clean.
Oct 26, 2020
The place looked nice but we went there to stay for one night in the middle of a winter storm. The clerk sent us to a site that had the water faucet covered. We went back to ask how we're supposed to use the faucet and she did not know but said the owner would come and help us which he never did. We finally had to go back in and she moved us to a different site but it was 30° and windy. Poor
Oct 25, 2020
Very nice camp ground. Host was very helpful in getting us in our site. Will stay with them again.
Oct 23, 2020
Stayed one night to rest on my way to Colorado Springs. Was just what I needed. Nice place.
Oct 22, 2020
My first time arriving in the pitch dark and setting up in a drizzle. If ever I needed a level spot it was on this night, and this KOA came through with the most level spot I've ever been (there's been several!). I'll definitely stay here again in the future!
Oct 22, 2020
Always a great stop on our trip from St. Louis to Colorado. Staff is friendly & efficient. Campground is clean. Convenient in & out and a good fuel stop also. They've even repaired the road out front. Thank you!
Oct 22, 2020
Wonderful campground. Friendly and efficient staff. Thanks
Oct 21, 2020
Restrooms and laundry clean. Made to feel welcome. Mail drop available.
Oct 21, 2020
Long pull thru sites. Easy access off I 70.
Oct 20, 2020
People at the park are very nice and helpful. We intended to stay one night the first time we stayed, but found there is actually a lot to see in the area. We stayed 4 nights on the way out West. On the way back East, we only stayed one night, but again found it a very pleasant place to stay. This will be one of our regular stop off places when traveling across the country!
Oct 20, 2020
A clean and convenient stopping point in Western Kansas
Oct 20, 2020
we were just there for an over nighter. We didn't use any facilities or go to the store. Everything was just fine.
Oct 20, 2020
Great stopover place. Convenient and lots of room. Big rig friendly. Nice dog park.
Oct 18, 2020
Super windy day so we had to hide inside. It was a good stopping spot along 70 but it was literally next to 70. Still clean facilities and nice spot
Oct 18, 2020
My brother-in-law was traveling with us and was hospitalized. This camp ground rescheduled our reservations 3 times to accommodate our return trip
Oct 18, 2020
This was our very first stay at a KOA. We were told by several friends how friendly folks were at KOAs and the great hospitality. This was also just an overnight stay for us in our way to CO. Hospitality was poor. No friendly greeting. Campsite was average. Won't be staying over here again
Oct 18, 2020
Our stay was wonderful Friendly workers Nice and clean bathrooms and showers
Oct 18, 2020
We have now stayed at the WaKeeny KOA two or three times. It has easy access off I-70 and the people are friendly.
Oct 17, 2020
This was a convenient stop for a night, but it lacked any eye appeal. The grass was mostly dead and the gravel was dusty. That said the services worked well and there was a spectacular sunrise.
Oct 17, 2020
Very convenient place, just off the freeway. Internet was very good, and easy to access.
Oct 17, 2020
Glad to have your location available traveling between Missouri and Colorado. Staff was very friendly.
Oct 16, 2020
Super nice people; easy pull in/out sites; great for overnight; nice dog park and convenient location;
Oct 15, 2020
Great spot for an overnight stop. Wish we got here a bit earlier to enjoy the ice cream. Very clean park. Highway noise not too bad at all. Large site with plenty of room for a pull thru. Beautiful sunrise. I will definitely stay here again but will spend a few days. One of my favorites KOAs.
Oct 15, 2020
Perfect for an overnight traveling stay
Oct 15, 2020
The young man checking us in the the most polite teenager I have ever met!!! He was so knowledgeable and friendly!! Great job! Put a star on the map to stay here again next time we are passing through!
Oct 13, 2020
We ended up having to stay two nights, but as this is clearly a night stop for people who are just traveling the highway, I guess I expected more from a Journey KOA.
Oct 13, 2020
Quick overnight enroute to RMNP, no issues, low maintenance.
Oct 12, 2020
We thoroughly enjoyed our stay.
Oct 12, 2020
All good STAY HERE
Oct 12, 2020
Our family stayed in a cabin and it was FANTASTIC! Super clean and so many extras! There was a shelf with lamps above the full size bed and plenty of electrical outlets. Restrooms were very clean and updated. Will stay with you all again when we pass through!
Oct 12, 2020
Quick/easy location off I-70. Some road noise but not excessive and to be expected based on location. Bathrooms and showers open and in good condition. Used it as a quick overnight stopover so can't speak to other amenities. Would definitely stay again.
Oct 12, 2020
Good place to break up the drive from Colorado
Oct 12, 2020
Very easy to get in and out - just what we needed on long journey. Staff was very friendly and accommodating to our request to be socially distant from others during the pandemic.
Oct 11, 2020
The KOA was fine but store had very little in it and no pancake breakfast anymore.
Oct 11, 2020
You need to improve signage at the interchange to locate your road. Stay was fine. Overnight stop on the way