Local Area Attractions Near WaKeeney KOA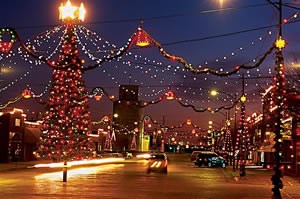 Christmas City of the High Plains
Discover rural America in a small town where community values are still important and neighbors continue to help their neighbors. During the Christmas season WaKeeney has a unique display that has been an annual tradition for over fifty years. Although the decorations are only displayed for a couple of months the spirit of Christmas is present the entire year. Trego County Genealogy
If you are a genealogy buff and have family from the WaKeeney area, the website link is a great place to begin your search. The Trego County Historical Society Museum
The Trego County Historical Society Museum, along with the recent addition of a one-room country schoolhouse, is located on the Trego County Fairgrounds. There is a vast collection of pioneer possessions on display. Trego County ghost towns
If your interests include searching out old settlements, then take a look at Trego County. The following is information about different communities or towns in Trego County that at one time had Post Offices. Out of the twenty listed, only three still have post offices, three still have community gatherings, and the other fourteen are ghost towns, some of which haven't been heard of before.