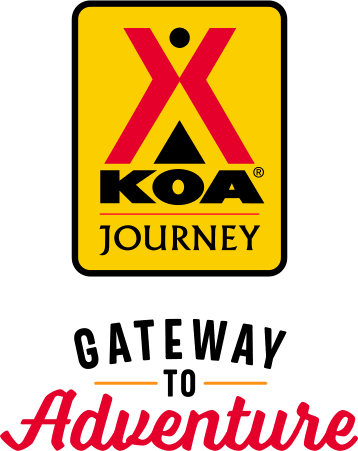 KOA Journey Campgrounds
KOA Journey campgrounds are the perfect oases after a day on the road. Whether it's along the way or a quick getaway, they've got you covered. Located near the highways and byways of North America with long Pull-thru RV Sites, they deliver convenience to the traveling camper. Pull in, ease back and take a load off.
KOA Journeys Feature:
Pull-through RV Sites with 50-amp service
Premium Tent Sites
Well lit after hours check-in service
Directions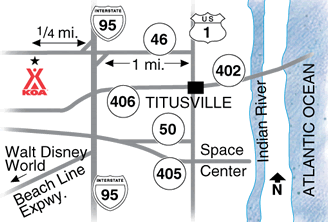 Take I-95 to Exit 223 (SR 46) west 1/4 mile (1 1/4 miles west of US 1).
GPS: N28.665884, W80.875371
Get Google Directions
Sep 24, 2021
We went there so that we could go into town to view the launch. Just perfect! Helpful office staff as well.
Sep 23, 2021
Staff is always friendly and helpful.
Sep 23, 2021
The host was nice. The grounds were horribly overgrown and unkept. Lots of tents and stuff outside of them and the majority of campers were in need of TLC. This could be a great place with some major landscaping and removing or placing the tents in another area.
Sep 22, 2021
Dirty not well kempt. Signage not clear
Sep 22, 2021
The area for the Cabins, where we stayed are by the highway and the storage area for building material and dead trailers, we were not inside the main campground but by the year round residents. No vacation feel, actually it felt very unsafe. Our cabin was fifthly, there was still feces inside the toilet bowl and the toilet seat was broken off. It was a sad KOA
Sep 21, 2021
Property needs some serious cleaning and maintenance .
Sep 20, 2021
We had a great time relaxing by the pool with great weather. Will visit again.
Sep 19, 2021
Friendly and helpful staff WiFi can use improvements
Sep 18, 2021
The Staff was outstanding with helping us find the best place to see the night ySpaceX Inspiration4 launch from Kennedy Space Center. Also they were very professional and courteous in extending our stay!
Sep 15, 2021
Our site was overgrown with plantings, and the bathrooms were dirty. This KOA is more a permanent RV residence park, with very poorly or not maintained campers. It is not what I expect to find in a KOA campground. .
Sep 14, 2021
This campground is run down and full of long-term renters. It looks like a cheap trailer park. The staff was nice enough and the pool was nice but the rest of it was overgrown, the bathrooms were OLD and while clean, not nice to use. The dog park is tiny and just dirt. I understand new management is taking over - they have their work cut out for them.
Sep 14, 2021
My first time in a KOA deluxe cabin! It's really a tiny house that had every amenity we could imagine. The box spring was really loud but the cabin was clean, private and well appointed. KOA staff was exceptionally friendly and happy to answer questions. Highly recommend! Great stay!
Sep 14, 2021
This was a beautiful, quiet, shady, well kept campground. We have a large rig, and it was very easy in and out! Lots of little ground squirrels and small critters that were just a laugh a minute. One of the best places we have been!
Sep 13, 2021
The kampground was the most run down koa my wife and I ever stayed in Mold growing in the wall near ac Ant hills all over the place We came to the conclusion that the vast amount of residents get more attention then overnight guest,understandable monetary wise. However if you have koa brand it should be inviting to all,it was certainly not for us
Sep 13, 2021
The campground and it's facilities have not been updated in many years. It was crowded, noisy and overgrown. The employees were nice and helpful and the location was convenient, but with a Loves station opening across the street, it will only get noisier.
Sep 13, 2021
Al ot of weeds, uneven roads, store was not stocked, a lot of long term residents. Young boy soliciting for money to do work around our camping spot. Concrete pads were level and long, not blown off. Not sure about sharing slab with another RV. Park needs attention. Staff was pleasant but nothing to really mention. WiFi was not able to be accessed at one point due to requirement of password.
Sep 13, 2021
Besides missing pots & pans, and the cabin was a bit dirty- it didn't matter! The stay was awesome!!! Totally coming back!!
Sep 12, 2021
Nice & quiet campgrounds. Sad to hear that it's being sold. Hope it continues to be a KOA campground.
Sep 09, 2021
Way to many long term residents. There is also an area that is attached to the park that looked like permanent residents. Lot of them roaming around the park. Did not feel that our personal property was safe. We locked everything up when we left the park. KOA Parks are not what they use to be!
Sep 09, 2021
The campground is not very clean. Seems like a bunch of trailer trash, campers packed in where ever they can cram them, sites not very clean, was given a grassy lot when I requested a paved one and was told none were available, yet the 3 days we were there, saw 3 sites that were vacant and paved. Not one of the best koa's I have stayed at. Would not stay there again.
Sep 08, 2021
We were very disappointed this time.The cabins were not cleaned properly.There was dog hair throughout the cabin,the AC filter in one of the cabins was dirty and I had to clean it to make the AC work properly.What really bothered me was the grill.It wasn't cleaned out and when I tried to clean it out I cut my finger on the bottom,which was rusted out and pealing away.I bought a grill.
Sep 08, 2021
Lots of long term R'vers behind fence. Not maintained at all. Cigarette butts in our grill. Hasn't been mowed in sometime. Glad it was just an overnight and we didn't unhook. Staff was very friendly which was the best thing about this KOA
Sep 07, 2021
Good stay, friendly staff. The way some lots were set up, it created less privacy with other campers diagonal to your outdoor space. Bath house and showers were kept very clean. Pool was nice and relaxing. Ideally, more 'campers' and less 'residential' campground.
Sep 07, 2021
Before I booked our stay I looked at reviews and was highly rated so we were quite surprised to see the state of the campground. Lawn looks liked it never got mowed and there were several people living in run down campers with stuff piled up around them along with old cars sitting around that looked like they didn't run. We will never stay or recommend anyone to stay here.
Sep 07, 2021
They need to improve maintenance !
Sep 07, 2021
This is a very crowed, cramped campground and not like other KOA's. The bathhouse had issues and wasn't very clean. We had a relatively safe place to park for the night.
Sep 06, 2021
We stay at a lot of KOAs and usually they have a lot more amenities. They had great level concrete pads and full hook ups which was nice. The customer service was also EXCELLENT at the desk. I would have given them all 5s but it looks "old" with alot of what appears to be permanent resedents with tents setup as storage areas/ garages and high grass growing under them. The location is also nice
Sep 06, 2021
It was easy check in. Very mature KOA. Could use a little TLC. But loved the trees a secluded area.
Sep 05, 2021
If I could have given a zero I would have.. it was dirty!! The store had no provisions.. Everything was run down and broken..the bathhouse was horrid.. we only spent 1 night as we were passing through on the way to the keys and wanted to stay near the Kennedy Space Center. We have stayed at many KOA'S this last year and hands down this was the worst..the long term rentals were scary!!!!!
Sep 02, 2021
This was the most Disgusting KOA that I have been to Employees look like dirty Homeless People My dog was attached while we were walking and to be Honest I didn't use any of the guest services Pool sits next to puppy park that was so full of Poop you could go in and when the Breeze came over the pool I couldn't stand the Smell. I had to demand my grass be cut after the first 8 days Don't go there
Sep 02, 2021
Nice people, run down camp sites and dirty bathrooms. No landscape, like parking your camper in a parking lot. It was quiet, I would be an okay stop along the way, not a weekend getaway.
Sep 02, 2021
Convenient location. Clean sites. Helpful staff. Could not get the wifi to work.
Sep 01, 2021
The was not mowed in places where it looked like tents/RVs had been there a long time. Saw many homeless come through to use the rest room/sleeping in their cars. Restrooms were not cleaned daily. Not good especially for a KOA.
Aug 31, 2021
Thank you so much ... we had a great stay at the campgrounds , nice , friendly & helpful staff & neighbors ... very sad the laundromat was closed & we weren't able to do laundry before leaving , other than that it was a great place since we are novice campers ...blessings in Jesus name �����
Aug 30, 2021
We came in Thursday upon entering the cabin it was dirty . We went to open the refrigerator and it was filthy inside the freezer was the same way. We then checked out the shower the curtain was so black on the bottom they have not replaced or cleaned it in some time. We went to the pool and there is grime on the tiles at the water line of the pool very bad. This pool has not been cleaned in along
Aug 30, 2021
grass was unkept, lots of full time residents. unkept around the campers and tents. Abondaned and clasped tents . It was quiet and the people were friendly.
Aug 30, 2021
Nice RV pad. Park was very trashy and run down. No wifi.
Aug 30, 2021
Needs some updates
Aug 29, 2021
It is a very tired looking property and not what I have come to expect from a KOA facility. There are broken tables. The pavilion needs repair. Trash is here and there. The manager properties are in disrepair as well. Overall, the entire place needs a refresh.
Aug 29, 2021
Great place friendly staff
Aug 25, 2021
The office was great to work with. We had to extend our stay due to the industrial generator was delayed at our next destination. They blocked our spot 24 hrs past our new out date in case we were still delayed.