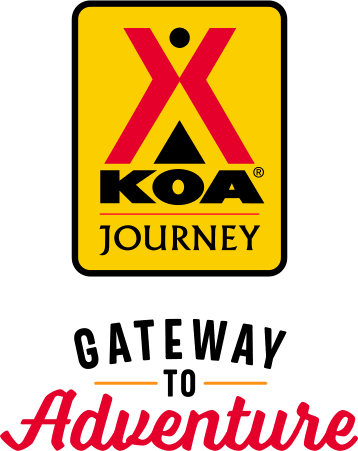 KOA Journey Campgrounds
KOA Journey campgrounds are the perfect oases after a day on the road. Whether it's along the way or a quick getaway, they've got you covered. Located near the highways and byways of North America with long Pull-thru RV Sites, they deliver convenience to the traveling camper. Pull in, ease back and take a load off.
KOA Journeys Feature:
Pull-through RV Sites with 50-amp service
Premium Tent Sites
Well lit after hours check-in service
Directions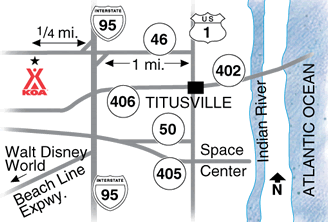 Take I-95 to Exit 223 (SR 46) west 1/4 mile (1 1/4 miles west of US 1).
GPS: N28.665884, W80.875371
Get Google Directions
Mar 01, 2021
The sites were extremely small and there were full-time residence with trash all over the sites next to us. The campgrounds were not very appealing. Almost like living in tent city. You open your blind and there's another camper right next to you. Very little room for grilling and dining outside.
Mar 01, 2021
Staff was very friendly and helpful but the Sites are very small and unkept. Streets are very bumpy. There are permanent residents on site and their living conditions are disgusting.
Mar 01, 2021
Not what you expect from a KOA! Ok for an overnight stay! Convenient to I-95 and some attractions! Not very taken care off! Staff was nice!
Mar 01, 2021
Loved the concrete pad, the privacy provided by the bushes and the pool. Would definitely recommend and will definitely be back!
Feb 28, 2021
We would not stay here again. Another camper told us to lock things up because some of the permanent residents have sticky fingers. They won't damage anything, but ya have to lock things up at night. We could smell marijuana a few nights in a row and saw the police patrol through the campground. There are also some derelict vehicles along the highway in the campground property. Pool was closed.
Feb 28, 2021
This KOA needs some TLC. It was a nice enough site. Concrete pad, level. But the roads need some repair, there could be some attention paid to cleaning up the area. We never used bathrooms so I can't speak to that. Other reviews mentioned people living there full time, never had a problem with that.
Feb 28, 2021
Nice park but not very well maintained. Associates were very friendly, bathroom/showers very good and kept clean, just tired looking. Campsite could have been racked up before I got there. I had to do it. Roads definitely need to be repaired, many pot holes.
Feb 28, 2021
Our camping cabin was not clean when we arrived. Floors, table, bench and mattress were dirty.
Feb 27, 2021
Our site, OF35, was on dirt. I would prefer a level, paved site under the RV. Otherwise, all good. Staff was very friendly and helpful. Thank you!
Feb 27, 2021
Staff was absolutely fantastic to deal with!!! Facility could use some updating and some junk trailers/etc should be removed.
Feb 26, 2021
The cabins are nice. Campground met my needs but not where I would bring kids. Bathrooms needs to be cleanes more often and more thoroughly.
Feb 26, 2021
Although the staff was friendly and helpful, the site itself needs serious improvement. Very tight and cramped and not at all suitable for larger rigs.
Feb 25, 2021
Very nice, quiet shaded sites. Also clean spacious laundry facilities...
Feb 24, 2021
Staff was very helpful dealing with our dead truck battery.
Feb 24, 2021
The staff is 5 stars, the spots are very close together and the metal grill is about close enough to melt the side of your RV. The permanent "private" spots made it feel like a trailer park, we planned a 10 day stay, left after 2.
Feb 23, 2021
Staff were very helpful. Sites are a little close to each other. Overall a pleasant stay for us.
Feb 23, 2021
Very nice people
Feb 22, 2021
We stayed there to attend a friends wedding in the area. It is clean, the staff is friendly, and they had Hallmark Channel!!! I had to check out a day early and they were very accommodating. I will stay there again!
Feb 22, 2021
We won't be back. Most of the laundry machines didn't work, the pool was filthy, most of the surrounding rigs were unkept, we had to play Frogger between the potholes, the sewer hookups were uphill, and I could go on. The best part of this campground was the friendly staff and the weather. We expected the KOA standards and were greatly let-down.
Feb 22, 2021
I prefer more space in between campers. It was to close together. Neighbors lit a campfire and we couldn't breathe all the smoke was coming directly into our camper.
Feb 21, 2021
Very helpful staff. Nice campground with all you need to enjoy your stay. Good place to stay.
Feb 20, 2021
I spent 4 nights at the Titusville KOA. They have a really nice heated pool. They have a very large laundry room with about 10 washers and 10 dryers. They have a clubhouse and a game room. The staff was super friendly and helpful. They escorted me to my campsite. It's close to stores and parks. I would definitely recommend.
Feb 20, 2021
Had a good stay and we were rewarded with a good rate! I would have like to see the camp ground rake better as there was a lot of leaves and moss on ground...Lots of little black ants! Area growing new truck stop going in across street could be big problem if turn lane is not provided for access to camp ground. Ok thanks for a good stay...
Feb 20, 2021
The best KOA this side of Florida. 5 out of 5 for me!
Feb 20, 2021
The campground was full of ancient campers in disrepair. There was little effort for cleanliness at these sites. There was one camp road that we didn't feel safe walking down. It was like a refugee camp. In the office, no one was following the Covid protocol, ie wearing a mask. The bathrooms were clean but the fixtures were old and cruddy. We left early. We couldn't wait to get out of there.
Feb 19, 2021
Ot up to KOA normal. Clientele seems very shakey. Dirt on lots is not nice sand, very dirty. They rent firepits which I never seen done. No firewood to be found for miles. Pros- very nice people at front desk and right off expressway.
Feb 19, 2021
I have stayed at many KOA's, so pretty much know what to expect. The laundry room had broken units, the park was pretty messy and worn down and I was a little apprehensive about the homeless people living in tents. There was also some abandoned trailers, boats etc on the property.The bathroom had posted cleaning from 10-11 and they were there @ 8:30, but reception was friendly and professional
Feb 19, 2021
The residents only area and the cops on foot patrol at 6am gave the place a real weird vibe.
Feb 17, 2021
The staff was very helpful and accommodating. The KOA is very far out from everything so having a car is a must. The park is a little to run down and seems like alot of people live there full time. Needs some upgrading. I don't think i would recommend to anyone i know based off appearance.
Feb 17, 2021
Very friendly staff and clean campground
Feb 16, 2021
Ok for one night but that's it. We stayed 2 nights because we were visiting friends. Next time we will find somewhere else to stay.
Feb 15, 2021
this was my 2nd time there and will be back next year.
Feb 15, 2021
Really kind and friendly staff. Check in was easy and we were escorted to our site. Site was wide and easy access at back corner with a 40 ft class A. Location was good, right off the interstate. My only complaint is permanent trailers with junk around them. I would stay here again.
Feb 14, 2021
We stayed in a deluxe cabin. The beds were comfortable and the bathroom was clean. Front desk staff was great! kitchen appliances, esp the toaster and coffee maker were old and dirty. Kitchen area could have def been cleaned better. The floors throughout were DIRTY!! Left our feet black- yuck. There were 4 wasps inside which we killed. More outside seating needed. Pool was nice.
Feb 14, 2021
We were parked next to the bathouse (the smell had us keeping all windows closed). Huge pothole as you drive in from main road. Parked next to area with long-term residents and not in the general park. Needed a pull-thru for one night. Live and learn. Did not care for the separation, "caste" order. Aren't we trying to get away from that? Not my favorite KOA, sorry!
Feb 14, 2021
The staff was wonderful The campsite were clean, the whole park was very well taken care of. We well be coming back. Highly recommended.
Feb 12, 2021
My comments are more than 400 words. I will attempt to send my comments on your web site. KOA Management needs to read my comments!
Feb 12, 2021
Not a nice campground, very beat up, nasty old beat up campers parked all over. Over all felt unsure of safety. Would never stay there again. Thus facility changed my feelings about KOA overall.
Feb 12, 2021
This is a fairly tired KOA. Roads are poor & fairly narrow - particularly for big rigs. Restrooms & showers are in poor condition and not particularly clean. On the bright side, the nightly cost is very reasonable (particularly given the conditions) and this KOA is conveniently located to Interstate 95.
Feb 12, 2021
The campground is not well maintained. The bathrooms are outdated, the few paved roads are full of potholes, many roads are not paved, there are sites not maintained by the long term renters of those sites including the managers site. The wifi is intermittent on/off and has insufficient bandwidth when it is on.There are no firepits at many sites. The office staff is very nice and helpful.
Feb 11, 2021
This campground was not up to the KOA standards: tight sites, bathrooms not great, looked run down and had MANY permanent residents
Feb 11, 2021
Do not understand why they are KOA . Worst koa I have ever stayed. People in office nice but campground is terrible. More like a rundown residential trailer park with u kept grounds, junk piles around trailers, cars with missing hoods and flat tires. During pandemic no one wearing mask in laundry or some in office. Koa inspected while there. If they keep Koa status I will question Koa quality.
Feb 11, 2021
Everything was amazing, Hallie and the staff made sure to make us feel at home! My only complaint is the boy scouts weekend. They were in our space, (i couldn't even park both vehicles in my spot) didn't respect quiet hours, our or our friend's property, blocked the road and refused to move, ran through our and others' camps, hit our vehicles with frisbees, terrified my dogs, etc.
Mar 04, 2021
I have stayed here and as a van dweller, utilized the KOA campground for showers. In the state of Florida where all day parking can range from $25-$40 dollars, and high end hotels, campgrounds and all inclusive resorts are the norm rather than the rule, the Kennedy Space Center KOA is designed for the middle class wallet. The showers are cleaned and sanitized daily. Our pets are welcome here. The sound of the Children laughing in the playground, the birds chirping in one of the many Spanish moss draped trees, which provide shade and a tree forest coolness will greet you. There are many more pluses but the cost is by far the best if you make decisions based on your budget. The staff members are extraordinarily helpful and accommodating. You only have to ask.
- Lynn Davis on Google
Mar 02, 2021
Campground was nice and clean and employees were very friendly- some sites had room between each but it was tight in a few spots/ They have a dog park and that was nice- would stay again when we are in area
- Mike Carter on Google
Feb 20, 2021
Great place
- Morrel Shingleton on Google