Local Area Attractions Near Titusville / Kennedy Space Center KOA Journey
Kennedy Space Center Visitor Complex is where rockets launch and inspiration begins at Florida's gateway to space, all just one small step from Orlando.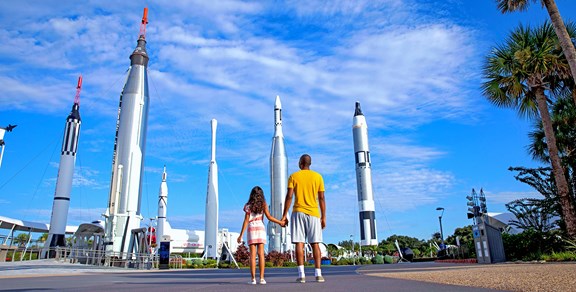 Kennedy Space Center
Launching the NASA vision! Welcome to NASA's John F. Kennedy Space Center (KSC), where our team launches the dream of exploring our Universe. KSC is the starting point for America's human space flights. On July 16, 1969, the eyes of the world were on the coast of Florida as the three astronauts of Apollo 11 began their journey to the Moon. Soon, the world's attention will once again return to Kennedy Space Center as NASA returns to the heavens. Open every day from 9 a.m. - 5:30 p.m. (except December 25 and certain launch days).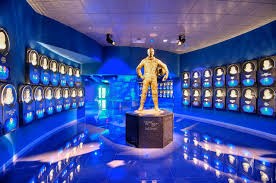 U.S. Astronaut Hall of Fame
6225 Vectorspace Boulevard, 321-269-6100 Featuring the dramatic story of America's first 44 Space Pioneers. Blast off on your own Astronaut Adventure -- engage in high-pressure g-force conditioning, traverse the treacherous terrain of the Red Planet, climb aboard our full-scale Shuttle for a glimpse into our fantastic future in space, and much, much more. Open seven days from 10 a.m. to 6:30 p.m. Space City, USA
Where space meets nature! Space City USA offers a delightful entry into the annals of time: an exploration of yesterday, a look at the present and a walk into tomorrow. Jungle Adventures
Experience the charm of Native Florida.
An exciting cruise around the island provides a close-up of native Florida and wildlife. The endangered Florida panther, alligators and many other native animals are featured during daily wildlife shows. Open daily 9 a.m. to 6 p.m. For more information, see the Jungle Adventures website. Ron Jon Surf Shop
This shop is located in Cocoa Beach. For more information, visit Ron Jon surf shop online.
Local Area Recreation Near Titusville / Kennedy Space Center KOA Journey Scenic & Ecotours
Air Boat & Kayaking Tours - St. Johns River