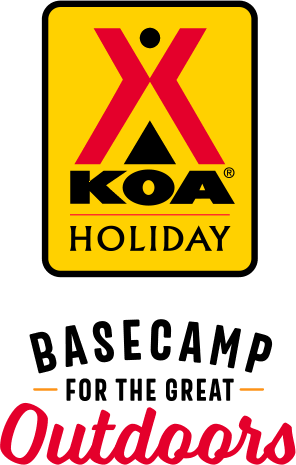 KOA Holiday Campgrounds
Whether you're exploring the local area or hanging out at the campground, KOA Holidays are an ideal place to relax and play. There's plenty to do, with amenities and services to make your stay memorable. Plus, you'll enjoy the outdoor experience with upgraded RV Sites with KOA Patio® and Deluxe Cabins with full baths for camping in comfort. Bring your family, bring your friends, or bring the whole group – there's plenty of ways to stay and explore.
KOA Holidays Feature:
RV Sites with a KOA Patio®
Deluxe Cabins with full baths
Premium Tent Sites
Group meeting facilities
Directions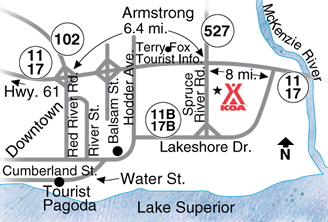 On Trans-Canada Hwy (11/17) just east of Thunder Bay, turn toward Lake Superior on Spruce River Road. Follow signs. GPS: N48.494236, W89.13158
Get Google Directions
Oct 23, 2020
We love KOA!
Oct 22, 2020
No problem arriving late. Close to highway. Site easy to navigate. Washrooms clean. Laundry not available. Not sure if that was COVID or just time of day. Overall good stay.
Oct 19, 2020
Great owners and staff. Look forward every year spending our summer at KOA Thunder Bay
Oct 19, 2020
Our trip was delayed by a week and we nearly missed out, arriving on the last evening of the season. The camp was sparsely populated but we received friendly, efficient service and were relieved to have a place to stay on our cross country journey.
Oct 18, 2020
Mike and Christie, even during these unprecedented times, created a superior and safe camping experience. They are a huge asset to the KOA network.
Oct 17, 2020
Best Koa ever we are now officially season campers there. The owners Kristie and Mike are amazing people and did all the right things to keep the camping safe and healthy this past year with the COVID situation I would highly recommend this KOA to anyone anywhere
Oct 17, 2020
Friendly staff
Oct 17, 2020
Way Overpriced for what you get in late season. Operator was snarky on the phone and didn't give us a site with a campsite despite that I asked for one.
Oct 16, 2020
We arrived and the laundry facilities were no longer open (we arrived at 4:30PM). The 30amp plug wiring on our site was so loose our connector wouldn't stay on.
Oct 15, 2020
Stayed for 2 nights on my way west to check out TB. Stayed 1 night on my way back home. Met my travel requirements well. Friendly staff. Easy check in. Nice facility and location.
Oct 15, 2020
A welcome smile, quick check in.
Oct 14, 2020
Was all good.......everyone was very pleasant and helpful
Oct 14, 2020
Late season campers on our way to Vancouver Island stayed 2 weeks before we left friendly helpful all good hope to stay on our return
Oct 14, 2020
Beautiful sites, reasonable rates and now great internet as just did an update. Wish they would have seasonal 50 amp service as we would definitely consider staying all summer!
Oct 14, 2020
Kristie and Mike were wonderfull hosts. Love staying here.
Oct 12, 2020
Grounds were not well maintained and we did not have a pond view as booked.Staff was friendly and park is close to Thunder Bay.
Oct 12, 2020
Beautiful cabins n location is amazing cause the feeling is like not even close to city n away from home I'll go back any day
Oct 11, 2020
the nice place and great people and was treated great
Oct 11, 2020
The lady at reception was especially welcoming and helpful. The site we had was beautiful, well-maintained and very peaceful in front of a charming pond! Will return surely! KOA's standards of quality demonstrated, once again! Thanks.
Oct 05, 2020
Awash a great weekend to end our year. We even upgraded our site
Oct 05, 2020
Great place staff friendly but a little noisy
Oct 04, 2020
Very friendly staff. Met all expectations.
Oct 03, 2020
Excellent service for a remote check in
Oct 02, 2020
Kristie Mike & their staff are always welcoming and amazing!!! Can't wait till next year ��
Oct 02, 2020
Clean sites, close to highway. K9 park was very clean.
Oct 02, 2020
Clean easy access off thee highway... highway 17 is right there and there is road noise from trucks. Staff was very nice and helpful. For sure we would stay again... We stayed two night travelling home from the west coast so didn't have a chance to use all the park had to offer. We did some hiking at near by Sleeping Giant Park, a must see.
Oct 01, 2020
Lovely spots, very well kept, friendly staff, Amenities were very good.
Sep 30, 2020
As usual we had a fabulous stay at the Thunder Bay KOA with our dogs. We appreciate our friendly camp hosts Kristie and Michael, the outside of the city location, the clean facilities and the large fenced dog park. We've already booked to return next year.
Sep 30, 2020
$60 + is pretty pricey for this time of year for one night stay!
Sep 30, 2020
We had a great 2 day stay. Wi-Fi was great, nice area for our dogs. Staff were very knowledgeable and helpful. Would definitely stay at this location again. Location was close to the highway, but not too close for noise.
Sep 29, 2020
Friendly staff and beautiful property. We can't wait to come back next year. Very impressive. Thanks
Sep 28, 2020
Great place to stay.
Sep 28, 2020
Our deluxe cabin was amazing! Super cozy and comfortable.. The whole set up was pretty amazing. Glamping at its finest!
Sep 28, 2020
Not bad. Small spaces, someone stole my rear carrier off my unit during the early evening while we were out for supper. No cameras? Oh, well.
Sep 26, 2020
Very accessible from the Hwy. Staff very friendly. Really liked our campsite. Showers are great. Would come again.
Sep 26, 2020
Loved the cabin. It was clean and well maintained. Cozy. Just perfect
Sep 26, 2020
Mike and Kristi are the best and their staff is very friendly. It is a wonderful place to camp. Can't wait until next year.
Sep 26, 2020
2 nights, nice campground, highway & train noise a little bit of inconvenience this time. Great wifi ... only 1 local channel over the air (TVO). 3rd time here, would recommend staying here while in the area. Plenty of sights to see, Terry Fox, Kakabecka falls ... Sleeping Giant view!!!
Mar 12, 2021
the greatest campground in The Thunder Bay area owners are so nice
- Cooking With Jeff on Google
Oct 20, 2020
Fabulous customer service. Phoned in a reservation request and had no issues whatsoever. Courteous and energetic response. 1 night stay while passing by, but we will be back. Looks to be a great place to spend a little extra relaxing time. Clean, well kept and organized campground.
- Bruce Hamm on Google
Oct 19, 2020
Amazing people here. We were due in for two nights but our RV broke down just 10 minutes away in Thunder Bay. We called to let them know and they spent so much time helping us find a place that we could call for repairs. Because of their advice, we were on our way the next morning and got to spend at least one night in their clean, beautiful park. Such kind and helpful people, we are so grateful!
- Telva Merlo on Google