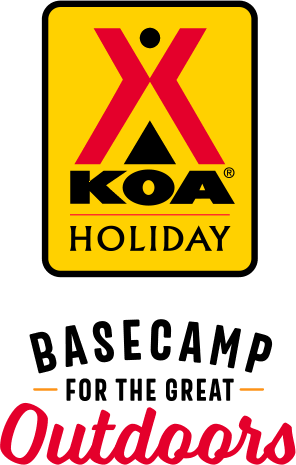 KOA Holiday Campgrounds
Whether you're exploring the local area or hanging out at the campground, KOA Holidays are an ideal place to relax and play. There's plenty to do, with amenities and services to make your stay memorable. Plus, you'll enjoy the outdoor experience with upgraded RV Sites with KOA Patio® and Deluxe Cabins with full baths for camping in comfort. Bring your family, bring your friends, or bring the whole group – there's plenty of ways to stay and explore.
KOA Holidays Feature:
RV Sites with a KOA Patio®
Deluxe Cabins with full baths
Premium Tent Sites
Group meeting facilities
Directions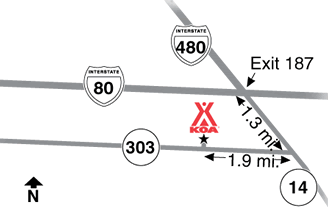 Exit 187 - Ohio Turnpike. East on Rt 14. Right on State Rt 303. 2 miles on right. 
GPS: If you're having trouble with the address, try 187 Streetsboro Rd.
Get Google Directions
Jul 19, 2021
TENT AREAS NOT CLEARLY MARKED FOR LATE CHECK IN. DIFFICULT TO FIND A FLAT PLACE TO PUT TENT. HAD ME PUT TENT DOWN BY SWAMP IN POURING RAIN. HAD TO MOVE IN THE MIDDLE OF THE NIGHT NOT TO GET DROWNED OUT
Jul 12, 2021
The property itself is very pretty, and quite close to Cuyahoga National Park, which we visited. Unfortunately, weekend shop hours aren't listed anywhere. We arrived during usual shop hours, but it was closed and texts/calls were not answered until Monday. We therefore couldn't get firewood and changed plans. Internet did not reach our site. The rabbits were charming, but we probably won't return.
Jul 10, 2021
We had an amazing stay, swam and fished and cooked out. Very nice campground with friendly staff, nice and quiet evenings.
Jul 08, 2021
Clean, well maintained campsite. Great pool. Only negative was road noise from the nearby highway.
Jul 05, 2021
Only complaint was lack of picnic table at our site when we arrived, which was cheerfully resolved by staff. We would recommend signage to identify sites. The music provided by American Pie was excellent! Thank you! We always enjoy our time at your campground.
Jun 30, 2021
This KOA has a family vibe to it! It also has TREES!!!! If you have a teen who loves to fish - this is a great KOA.
Jun 28, 2021
Only issue was there is a discrepancy in the the map of the campground and the site marking. We are assigned to D14 which on the map is labeled as the last sand pad site with a red box around it. That site is labeled D12. We asked the desk and assured us we were in D14. Someone else showed up to camp on D12 though. Please rectify the map vs the site labels.
Jun 21, 2021
Staff went above and beyond for us and we are so grateful for such a wonderful stay!
Jun 19, 2021
Excellent location: Right next to Cuyahoga, 10 min drive from Walmart, 5 min drive from Malted Meeple (highly recommend after a long day walking). Campground was quiet & peaceful with friendly staff. Bath house needed some work but staff moved to correct it when brought to their attention.
Jun 01, 2021
Overall, I was very pleased with the campground. Only negative experience was that the bathrooms are not maintained well, up to date, and cleaned frequently enough. Bathrooms are in need of renovation, particularly the showers that had little to no water pressure.
Jun 01, 2021
Amazing place to stay!
May 17, 2021
Our site was so so so over weeded n over grown. We were asked to move to a different location because of it. There was no cleanup done prior to our stay and the picnic table was so disgusting and covered in mud and dead leafs we had a clean up our site for a good hour before we even pitched our tent.
May 15, 2021
Clean bathrooms, great friendly staff.. A+ on all of that... I got a tent site and was the only one amongst a sea of RVs, kind of felt like this was an RV park, which maybe it is and I was lucky to get a tent spot.
Oct 10, 2020
Very helpful staff. Clean and spacious campsites. Lots of activities for the young campers!
Oct 05, 2020
I would give it a 3.75 in a rating. Bathrooms could be a lot cleaner. sites could be better kept. Lots of potential at this site if only landscaped a little better and cleaned little better. Excellent location right off of turnpike. Front desk staff very nice and made check in and payment easy.
Oct 03, 2020
Hot water- great !! Pressure in showers- poor. Signage for tent camping- not great. Totally would stay again solely for the water temp.
Sep 27, 2020
Staff is great. Atmosphere is very nice. The sand tent sites are small, but the fire pit and bbq are nice. Bathrooms were clean.
Sep 27, 2020
A very nice campground close to Cuyahoga Valley National Park. The shower water pressure was not good, at it's worst it was a trickle. The staff did allow one of our group to move sites to be closer to us which was nice.
Sep 23, 2020
Really enjoyed the campground, friendly helpful staff, loved our tent site and the location. Only downfall of the stay was hearing the trains in the middle of night but this is something that really can't be helped.
Sep 21, 2020
Spent the weekend Tent camping in the Primitive area with my 6 year old daughter. Staff was very friendly and accommodating. The grounds were very clean overall as well as the restrooms/showers. We enjoyed the playground and jump pad area as well as painting pumpkins and trick-or-treating. Everyone camping was very friendly and gave my daughter an overall positive experience! See you in 2021!
Sep 16, 2020
My only complaint would be the train that ran what seemed to be every 2 hours at night. Wasn't too crowded while we were there, had nice showers and bathrooms. I would definitely stay here again.
Sep 09, 2020
Had a very good experience. All the employees in the shop were great and the campground is very nice and wooded. The proximity to Cuyahoga Valley Natonal Park is great. My only complaint would be that the bathrooms and showers didn't seem to be cleaned often enough, as the toilets and showers were pretty dirty every time I used them.
Sep 09, 2020
The staff was very nice and friendly. However the campground itself was disappointing for 42$. We used the tent sites and their location is on a grass field only without any trees. The fire pit had no grid to grill on. They are just used truck wheels. This place would be good for 5$, but for 42$ it is highly overpriced. I had stayed in much well equipped campgrounds many times for way less price.
Sep 09, 2020
Nice enough campground for a weekend stay. However, the bathroom / showers need renovating. The water pressure in some showers hardly removed shampoo from my hair and I have short hair. Those with longer hair would be best to avoid this park. Staff was nice.
Sep 05, 2020
We always enjoy our stay here. Quiet, clean.
Aug 31, 2020
I drive from NYC to Chicago and back monthly. Unfortunately this KOA is right in the middle of my route so I have to stay here. There is a big METHANE GAS pipe in the middle of the tent camping hill. So every time I stay here I drift off to sleep with the smell of methane gas. I have emailed this KOA about it multiple times and never get a response. Receptionists say they don't know why. Duh.
Aug 30, 2020
Very nice campground with a lake and pool! Didn't set up my tent due to high winds and threatening weather. Saw a branch fall from a tree. A storm was brewing with thunder in the distance so I went to the office and asked if I could rent a cabin for the night. I was told that there is a 2 night minimum. I get it - probably a KOA policy. I left and went elsewhere.
Aug 20, 2020
Lovely! Private, quiet primitive tent site with easy access to bathrooms, shower and water.
Aug 10, 2020
Our stay was great. We were welcomed, and found a great place to primative camp. It was peaceful and enjoyed fishing . Happy there were showers. Will definitely return.
Aug 10, 2020
it was very nice
Aug 10, 2020
We stayed at KOA Streetsboro during COVID. We were able to pitch our tent a safe distance from others and there was not a crowd at the restroom/showers - but we weren't able to tell if/how often the facilities were cleaned.
Aug 03, 2020
We had a great time this past weekend! We could've gotten away with a little less rain, but made the best of it anyway.
Aug 01, 2020
A true oasis in the midst of a great metropolitan area! Food delivery idea was brilliant! Handling COVID really well!
Jul 30, 2020
Awesome.. wish covid was over but the stay was still fun!
Jul 20, 2020
My son and I had a wonderful time. Site was great. We appreciated the firewood being delivered to our site. We also really enjoyed the pool on such a hot day.
Jul 13, 2020
Friendly staff nice area and quiet. Definitely cannot wait to go back!!!!
Jul 13, 2021
Enjoyed stay..Water stands on our site if it rains. Would like to see 120 V plug at power pole.
- Rick Holton on Google
Jul 13, 2021
Really beautiful campground. The lake is so nice. We were only here for a night, so we didnt get to enjoy the many amenities they seemed to have. Very nice place to stay!
- Roxy Beaudet on Google
Jul 08, 2021
Just stayed here for three nights, staff was very friendly, site was spacious and easy to back trailer into, facility was clean and beautiful, and swimming pool was refreshing during the heat of the day.
- Shawn Melis on Google