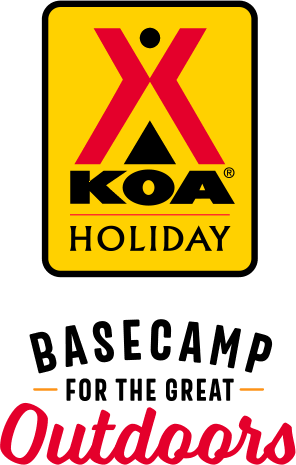 KOA Holiday Campgrounds
Whether you're exploring the local area or hanging out at the campground, KOA Holidays are an ideal place to relax and play. There's plenty to do, with amenities and services to make your stay memorable. Plus, you'll enjoy the outdoor experience with upgraded RV Sites with KOA Patio® and Deluxe Cabins with full baths for camping in comfort. Bring your family, bring your friends, or bring the whole group – there's plenty of ways to stay and explore.
KOA Holidays Feature:
RV Sites with a KOA Patio®
Deluxe Cabins with full baths
Premium Tent Sites
Group meeting facilities
Directions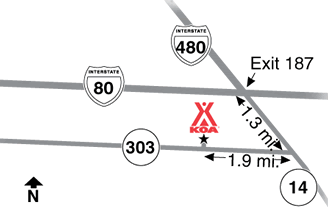 Exit 187 - Ohio Turnpike. East on Rt 14. Right on State Rt 303. 2 miles on right. 
GPS: If you're having trouble with the address, try 187 Streetsboro Rd.
Get Google Directions
May 07, 2021
Site was very muddy. RV was a mess.
May 06, 2021
lawn was crazy long , dog park grass long , our dog picked up a tuck in there . Had to leave day early due to medical issue . No offer of partial refund even though we were out before check out . some employees not wearing masks and letting people in store without them .
May 05, 2021
Short stay but definitely would come back! Friendly and helpful staff!
May 05, 2021
Entire side was sodden and muddy from rain. Both my and hubby's shoes were caked with water and mud. His were new and ruined. Upon checking in, two people in the office without masks and the man behind the counter servicing them did not have a mask or a glass barrier. Could not locate the sewer cap and someone from the office finally foraged around and found it hidden in the grass.
May 04, 2021
Nice clean campground. It is in a beautiful setting! We found the sites a little narrow and the campground was really wet. I'm not sure it was seasonal wet or just wet with all the water that surrounds the campground. If in Cleveland again we will try it again.
May 04, 2021
Love this campground!! Jimmie and his staff are doing a fantastic job. Thank you!
Nov 21, 2020
seasonal camper love the place.
Nov 20, 2020
Streetsboro Koa is fantastic. Your employees are great. The Campgrounds are clean. Will definitely be back.
Oct 24, 2020
We enjoyed our stay at your KOA. The people were very nice. We wish our site was a little more level, but OK. It would be nice if the shower heads were replaced.
Oct 21, 2020
Beautiful fall campground with plenty of space and trees. My son loved the jump pad and we enjoyed the live music on Saturday night. We stay at KOA's when we can and this one is one of the best we have stayed at
Oct 17, 2020
Good location and a variety of different campsites (pull-thru; back-in; premium). Sites are reasonably far apart. Would be good for families. However, the wi-fi is very slow and pretty much useless.
Oct 16, 2020
Everyone was very friendly and accomodating. They were ready to assist and were patient with my questions. Really enjoyed the stay at KOA!
Oct 15, 2020
Beautiful site. Friendly staff. Clean bathrooms. Just a wonderful place to visit. This is my 5th total time visiting here. I will happily do it again.
Oct 14, 2020
We were very happy with our stay. The staff was wonderful. They delivered wood to our site. The only thing that we had difficulty with was how level the site was. We were on site 201. It was difficult to get the trailer level. After we were successful, we needed and extra stepstool in order to get onto the steps to get into the trailer.
Oct 14, 2020
Everyone was welcoming and the grounds and bathrooms were very clean. thanks for a wonderful stay
Oct 14, 2020
This is our second time to stay here and we really like it. We plan on staying in the future!
Oct 14, 2020
There was a dirty shirt under the bed in our cabin. Clearly no one cleaned before we arrived. In the age of Covid that's pretty unacceptable.
Oct 14, 2020
Very nice campground. Lots of things do to and keep the kids busy. At check in the woman gave us the veterans discount. Which was an added bonus. Thank You very much.
Oct 14, 2020
Nice scenery. Check-in not clear. Dumpster was full.
Oct 13, 2020
Very clean! Loved the atmosphere....many places to hike and see water falls.
Oct 13, 2020
Friendly people. generous size spaces and quiet. helpful staff. close to many things in the area. A good central location
Oct 13, 2020
Friendly staff, nice location and clean well maintained camp grounds.
Oct 13, 2020
Very nice week spent at the KOA. Friendly employees. Been coming here for 14 years. Usually visit around six - eight times a year. Have many seasonal friends there. Enjoy spending time with them. I enjoyed bringing my 2 dogs with me in the past but since last year i do not like bringing them because of the skunk problem. One reason why we only visited once this season and without our dogs.
Oct 13, 2020
Very nice site. Helpful staff. Will drive the 6 hours to visit again sometime.
Oct 13, 2020
We loved our site. It was quiet and spacious. We enjoyed having the campfire. The kids loved the jump pad and riding bike. Thank you!
Oct 13, 2020
Everyone was nice and efficient and it was clean and lovely!!
Oct 12, 2020
Wonderful, quiet, very clean, pleasant staff
Oct 12, 2020
Lovely property convenient to CVNP. We had a great spot for tent camping. Thanks for the personal service on that.
Oct 12, 2020
Bathroom was "Ok" but not quit up to the high standards of KOA. Sites were nice and pretty big.
Oct 12, 2020
We arrived after dark, and they provided us with an escort to our site to help us back in for a good start to our stay. So friendly, and SO helpful! The campground was clean, quiet, and beautiful. Thank you! We will be back!
Oct 12, 2020
This was our last camping trip out for the season and wanted someplace close to home. We have stayed here before but it has been some time now. Campground is clean and staff friendly. We used our own facilities so I'm not sure what the restroom/showers were like but KOA usually has very nice restrooms. The camp was busy for the end of the season but was very peaceful.
Oct 12, 2020
We love Streetsboro and can't wait for next year. We were sorry to see we lost an hour on the check out time though.
Oct 12, 2020
This was our first visit. We had a really nice time. My only 2 minor complaints would be we didn't have a screen door on our cabin, and it was really nice out. We couldn't leave the door open for a breeze bc there was no screen. Also, our kids were really excited about ice cream and fudge. Unfortunately we were told there was no ice cream and just a little fudge, which we did buy.
Oct 11, 2020
Nice stay. Friendly and clean. One bad thing, WiFi was terrible. That being said, overall nice stay, thank you.
May 03, 2021
This was our first camping outing and the staff was friendly and very helpful. Nice campground. Quiet and peaceful. Nice clean bathrooms and super cute cabins for rent.
- Shannon Hafer on Google
Oct 10, 2020
Great stay here. A lot of activities for the kids several fishing ponds, within a half hour of towpath trail and Peninsula. Staff super helpful and friendly.
- Michele Zappa on Google
Sep 09, 2018
Beautiful place. Cleanest KOA I've ever been to.
- James Bussiere on Google