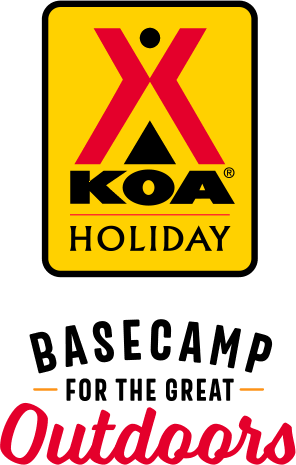 KOA Holiday Campgrounds
Whether you're exploring the local area or hanging out at the campground, KOA Holidays are an ideal place to relax and play. There's plenty to do, with amenities and services to make your stay memorable. Plus, you'll enjoy the outdoor experience with upgraded RV Sites with KOA Patio® and Deluxe Cabins with full baths for camping in comfort. Bring your family, bring your friends, or bring the whole group – there's plenty of ways to stay and explore.
KOA Holidays Feature:
RV Sites with a KOA Patio®
Deluxe Cabins with full baths
Premium Tent Sites
Group meeting facilities
Directions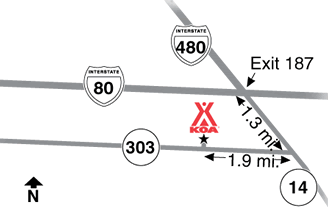 Exit 187 - Ohio Turnpike. East on Rt 14. Right on State Rt 303. 2 miles on right. 
GPS: If you're having trouble with the address, try 187 Streetsboro Rd.
Get Google Directions
Oct 21, 2021
From beginning to end. Staff is friendly and caring. Looking forward to next stay at a patio site ..level. Activities are fun especially the potlucks with very helpful and friendly people.
Oct 21, 2021
Quiet, peaceful, totally awesome as usual
Oct 21, 2021
Nice place clean and quiet just needed heat in wash rooms
Oct 21, 2021
Beautiful camp with a charming store. Friendly staff. I rated this camp As one of my favorites. �ϋ�
Oct 20, 2021
Amazing experience from beginning to end!!! Very helpful and accommodating staff - super friendly and polite! Top notch facility with great activities planned. Super pet friendly as well!! Can't say enough great things about it! Thank you for a memorable stay!
Oct 20, 2021
The campground looks good. Many of the previous muddy areas were now covered in gravel which made it very nice. We were there for a trick or treat weekend. It was very kid friendly and enjoyable.
Oct 20, 2021
Very clean facilities. Friendly staff!
Oct 20, 2021
Nice place, friendly staff, everything was very good
Oct 20, 2021
The grounds are beautiful and the cabin was very nice! The hot water went out Sunday morning and was still not back (in the bath house by our cabin) when we left on Monday! According to the gentleman that we spoke to there was HOT water in the back bathhouse by 3p.m. on Sunday! We had to take cold showers Sunday morning so we could go into Cleveland! We will not be back to this KOA!
Oct 19, 2021
We enjoyed the campground. The campground was set up nicely, VERY well kept and it is obvious that the owners take pride in their establishment !!! It we are ever in the area again, we will 100% camp here again.
Oct 19, 2021
We have stayed there for many years, 10 +, and have seen the improvements the new management has made this year Only wish would you would stay open thru November so we could visit family on Thanksgiving weekend We now stay in Canton KO A which is an hour away Will be back in May 2022
Oct 19, 2021
We stayed one night and it was wonderfully quiet!! It had excellent amenities and we loved the bathrooms!!
Oct 19, 2021
We had a comfortable night stay. Although our site had a big water puddle where the door opened. We know weather happens but maybe some drainage issues could be addressed. We would stay again if we needed an overnight in the area
Oct 18, 2021
This was a great location, great sites, nicely spaced and great size. Facilities and the bathhouses were very clean and the playgrounds looked well maintained.
Oct 18, 2021
Love the campground! Everything was clean and LOVE that they will deliver firewood directly to your site for you! I would love to come again and stay in the summer to use the swimming lake and the pool. Only issue we had was that the dryers did not work, no heat. There was a sign only one 1 dryer so I thought only that one was broken, however after trying 2 different dryers it was all of them.
Oct 18, 2021
Nice place, clean, pricey, no hot water in any shower.
Oct 17, 2021
Over night. All was fine.
Oct 16, 2021
Had a great time
Oct 16, 2021
Very close to the National Park. Nice roomy lots. Beautiful landscaping. Really nice bathrooms. Overall a very pleasant campground and we would stay here again.
Oct 16, 2021
A beautiful campground in the midst of a metro area. The stay was great, and lots of God's creation to see close by!
Oct 16, 2021
Park was nice. Looks like new gravel will be down on sites in the near future which will be great.
Oct 15, 2021
cable poor - internet poor couldn't use- ground care good - sites just ok - nice swimming pool - gate control difficult to use - helpful and pleasant owner
Oct 15, 2021
Clean and well kept. Staff was friendly and helpful. Only issue was that there was a period of time when there was no water available at the campsite. Loved the KISS pinball machine in the game room. Appreciated that they allowed us to leave our camper parked in the lot for a couple of hours after checkout to be able to go see the Rock and Roll hall of fame.
Oct 15, 2021
Huge park with a ton of things to do! Bathrooms were in very close proximity to the sites and were amazing….individual bathrooms with showers, more like a real bathroom than a communal bath house with stalls which were clean and the area was well lit. Sites were huge and the area itself was quite beautiful.
Oct 14, 2021
We have stayed here on two separate occasions and during both visits have been very impressed with this campground. It is very clean and a safe place to stay. It makes a great home base to explore the National park and all of the metro parks nearby. They are also allow late night check in's.
Oct 14, 2021
Level gravel space to set up your camper and decent amount of space between you and your nieghbor.
Oct 13, 2021
The campground was very nice, well kept up. Staff was so friendly. Enjoyed our stay very much
Oct 13, 2021
Stayed a week while exploring the area. The park was clean and quite. The roads are a little narrow making it difficult to maneuver a 40' motorhome on to a back in site. But otherwise we enjoyed our stay.
Oct 13, 2021
Laurie the housekeeper was EXCELLENT. very friendly and kind. She appreciates her leadership; great job taking care of your own!
Oct 13, 2021
The pool was amazing! Super warm snd the kids loved swimming in Ohio in October!! Bathrooms were updated and store was cute! Loved Halloween wknd-trick or treat, hayride, haunted walk! Ponds were awesome for fishing too! Kids had a blast Playgrounds look unkempt and need cleaned up/updated Our site was a muddy mess-rained 1st of the 4 days. Need more concrete pads. Roads need maintenance.
Oct 12, 2021
cabin was nice and clean. cabin received a microwave and refrigerator upgrade since my last stay which was a nice surprise and makes it more convincing to come back...eating out of a cooler all the time and buying ice gets old
Oct 12, 2021
Beyond my expectations. Enjoy every minute! ��
Oct 12, 2021
Very nice staff excellent customer customer and beautiful campgrounds
Oct 12, 2021
Amazing time staff was great kids and us adults had a blast!
Oct 12, 2021
We were at a sure that was difficult to back in trailer. The end view was nice, quiet and private. The reeds view was very pretty. I was to have a pkg delivered (overnight) on Thursday & never checked mail until Sunday, even after asking 3 days in a row. I understand it was a busy holiday weekend, but told on Friday they'd check it within hour. Clean, friendly staff, nice store. Pricey laundr
Oct 12, 2021
Our camp was a simple tent stop for the night for my wife and I. We found the staff and campground to be wonderful. Clean restrooms were a blessing.
Oct 11, 2021
Great park and nice friendly staff!
Oct 10, 2021
We stayed for 5 nights while in town on family business. The park was well kept and the bathrooms were clean. We had a patio site and it was well worth the extra cost. Looked to be a great family destination. Wish there were more groceries available but still a great park.
Oct 15, 2021
A beautiful park to drive. Lots of accessible hiking too.
- Marsha Lance on Google
Oct 14, 2021
We had a great experience here. Staff was pleasant, efficient. Park was quiet and we'll maintained
- Renee Schantz on Google
Oct 14, 2021
Very nice campground with multiple little lakes. Pretty close to Cuyahoga valley and Hudson springs park. A cute little dog park is a great addition.
- Life's Good on Google