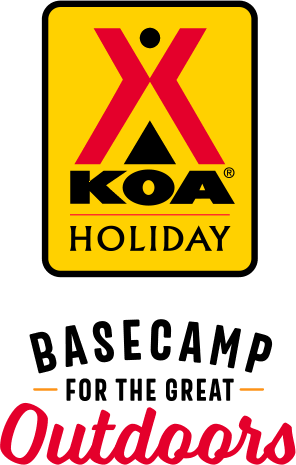 KOA Holiday Campgrounds
Whether you're exploring the local area or hanging out at the campground, KOA Holidays are an ideal place to relax and play. There's plenty to do, with amenities and services to make your stay memorable. Plus, you'll enjoy the outdoor experience with upgraded RV Sites with KOA Patio® and Deluxe Cabins with full baths for camping in comfort. Bring your family, bring your friends, or bring the whole group – there's plenty of ways to stay and explore.
KOA Holidays Feature:
RV Sites with a KOA Patio®
Deluxe Cabins with full baths
Premium Tent Sites
Group meeting facilities
Directions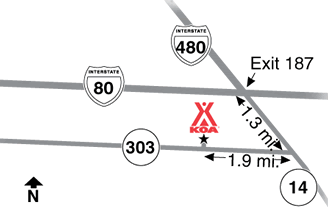 Exit 187 - Ohio Turnpike. East on Rt 14. Right on State Rt 303. 2 miles on right. 
GPS: If you're having trouble with the address, try 187 Streetsboro Rd.
Get Google Directions
Jul 22, 2021
leaving google review not enough space, don't worry it's not bad.
Jul 22, 2021
Wonderful campground. Staff was exceptionally friendly. Made us feel welcome to stay. We will definitely stay again next time we are in the area.
Jul 22, 2021
We stayed in the deluxe cabin. It was very clean and would stay again if ever in the area. The hosts were very welcoming and went above and beyond when we had car troubles the morning we were scheduled to leave. Great area and we enjoyed visiting the National Park.
Jul 22, 2021
We always enjoy are stay. Workers very friendly everything always clean.
Jul 21, 2021
Over priced for what you get. Low water pressure. Not well maintained
Jul 21, 2021
It was wonderful! The only problem I saw was with the dog park- it is extremely small, & was unkempt- mowing in & around it had not occurred. Only suitable for very small dogs. Good location to historic downtown. Nice large lots. Owners are most friendly & accomodating. Grounds are lovely.
Jul 21, 2021
The person cutting the grass pelted my new RV with rocks. Unbelievable!. Then by phone, they direct me to where I can fill up with LP I sit there waiting for a lone while when I call the office and they tell me the gas is not working. Waisted a lot of my time.
Jul 21, 2021
Nice campground. They need to throw away the toilet paper. Way too much work to use this TP. The sites could use more gravel. We would stay here again. Lovely pool and area is well maintained.
Jul 20, 2021
Friendly, curious, helpful staff. Super clean restroom, showers and plenty of space between sites. Lots of amenities and convenience with dropping them off and picking up trash.
Jul 20, 2021
I ask for a full hook up on line. After I got there I didn't get told the site I got was not a full hook up the water had a smell to it I had to go to my sister to shower and wash up.
Jul 20, 2021
Probably the nicest KOA we've ever visited! Spacious camp sites, wonderful big pool, ponds to walk around, clean bathrooms, and a well-stocked camp store. We only wish the camp store and pool would stay open later on Sundays (in summer).
Jul 19, 2021
Just over night and it worked well. Their communications were great and up to date
Jul 19, 2021
We had so much fun this weekend! Even with all of the rain - the staff was wonderful and all accommodations were kept clean. Any interaction with employees was always friendly and welcoming. You have an incredible crew!!!! Keep up the fabulous work!!!
Jul 19, 2021
Staff was very nice and helpful. We had site 713 which was a great location only wish it had a gravel spot for our camper instead of just grass. We had ice cream from the kamp store and were surprised and very appreciative of the dairy free ice cream choice. Thank you! When we checked out and used the dump station there was some leakage around the pipe. Very nice spot to camp! Would recommend.
Jul 19, 2021
I didn't know you guys upgrade a few things in cabin. I love the new pool, that wasn't there the last time I stayed. The last time I stayed was before my husband passed away 5 years ago. It was nice to come back. Thank you
Jul 19, 2021
It was our first time here and first time camping with our little family! It was wonderful and we made a lot of great memories.
Jul 19, 2021
This was a last minute stay and we enjoyed every moment. It was easy to check in and had lots of space for our son to bike around. They camp spot was level and the facalities clean. We enjoyed taking a dip in the pool which was one of the larger pools at a KOA that we have seen. It had to good size ponds to fish from and lots of space for kids to play. The store was well stocked.
Jul 19, 2021
We rented a cabin for the weekend.
Jul 19, 2021
TENT AREAS NOT CLEARLY MARKED FOR LATE CHECK IN. DIFFICULT TO FIND A FLAT PLACE TO PUT TENT. HAD ME PUT TENT DOWN BY SWAMP IN POURING RAIN. HAD TO MOVE IN THE MIDDLE OF THE NIGHT NOT TO GET DROWNED OUT
Jul 19, 2021
People working there are great. The property is in great shape. Why 4 stars? Near us the people were loud way beyond quiet time. I did not make it an issue. But cruising the property would be helpful.
Jul 19, 2021
Enjoyed our brief stay. We were on lot 712. A little narrow for a trailer with a slide out. Enjoyed the lakes and the fishing. Look forward to visit again as you revive the camp.
Jul 19, 2021
Came in late for one night. Only was able to stay in my camper as my site was water logged. Still charged me the full rate. Felt they should have reduced and or not offered that site due to water. They need to manage the quiet times as there was a party going in until 2 am.
Jul 18, 2021
Sites are not any where near level. Land around them, on both our stays, is like swamp land
Jul 18, 2021
RV site very nice. RV personnel friendly and accommodating.
Jul 18, 2021
Overpriced back in spot that required a multipoint turn to back in because the road is too narrow and no one enforced the parking requirement. Roads were not well maintained. Sites were not well maintained.
Jul 17, 2021
we keep coming back while it is a nice campground the attraction for us is the walking trails both in the Cleveland metro parks and the Cuyahoga National park This i last trip we even went to the Cleveland Metro Zoo
Jul 17, 2021
The staff where very welcoming and friendly.
Jul 17, 2021
Worst decision ever to stay in "The Lodge." Has leaking area between the cabin and awning ruining the door. You have ants all over the wall and countertops in the kitchen area. You can't get local channels as advertised on your flyer, and lastly your lights and air conditioning unit in the master bedroom went out. And you don't even try to resolve any concerns. Not a good way to run a business.
Jul 17, 2021
Staff was great. Will recommend for sure. Site's were easy to back in and facilities were nice
Jul 17, 2021
We know you are under new management and look forward to seeing your improvements! On our first site, the water faucet was broken. We were given another site right away, thank-you. On the second site the sewer fixture was broken but we made it work for us. The electrical box was wobbly and leaning to the side but it worked. The cable channels had poor reception, regular TV was better. Poor WiFI.
Jul 16, 2021
Poor customer service! We pulled in at 9 PM, headed to our campsite only to find it was a complete mud pit. We understand they cannot control the rain however they did absolutely nothing to try to accommodate us into another spot with less mud. Owning a campground is a 24/7 job. Unfortunately we shortened our stay and left the next morning. We will not be returning to this KOA!
Jul 15, 2021
Very nice park, clean and spacious sites.
Jul 15, 2021
This was our second time there. Very clean, level and friendly. We will go back again.
Jul 15, 2021
Everything was pretty and well cared for. General store, pool and lakes were beautiful. Our site 18 was very unlevel. WE could not get the RV to auto level and even with manual levelling techniques we were still stlted 2 degrees front to back.
Jul 14, 2021
Most sites shaded with large trees. My only complaint is the dog park, it needs lots of care.
Jul 14, 2021
Large pull through space. Convenient to Cleveland and Rock and Roll Hall of Fame.
Jul 14, 2021
Great camp ground. Clean and well kept. Everyone was very friendly.
Jul 13, 2021
Enjoyed stay..Water stands on our site if it rains. Would like to see 120 V plug at power pole.
- Rick Holton on Google
Jul 13, 2021
Really beautiful campground. The lake is so nice. We were only here for a night, so we didnt get to enjoy the many amenities they seemed to have. Very nice place to stay!
- Roxy Beaudet on Google
Jul 08, 2021
Just stayed here for three nights, staff was very friendly, site was spacious and easy to back trailer into, facility was clean and beautiful, and swimming pool was refreshing during the heat of the day.
- Shawn Melis on Google