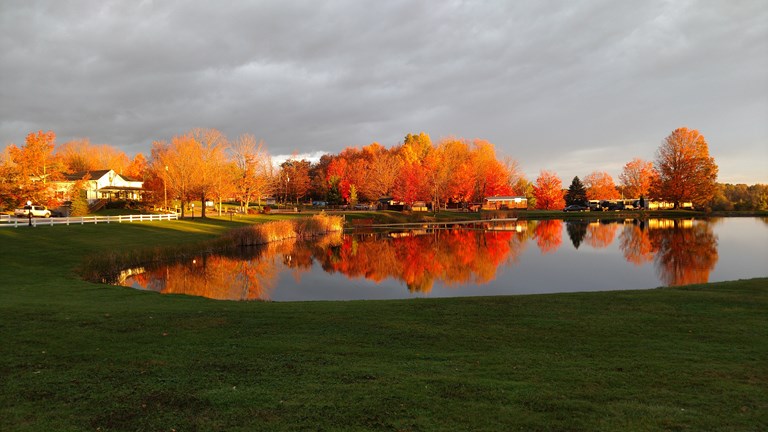 Local Area Attractions Near Streetsboro / Cleveland SE KOA Cleveland Botanical Garden
Cleveland Botanical Garden's newest attraction is the Eleanor Armstrong Smith Glasshouse. The glass house is a magnificent, 18,000 sq. ft., crystal-peaked conservatory that encourages visitors to explore two of the world's most fragile and exotic ecosystems: the spiny desert of Madagascar and the misty cloud forest of Costa Rica. Biodiversity is interpreted through living exhibits, which include more than 500 species of plants and 50 species of butterflies, birds, insects and other animals. Fun'n'Stuff Amusement Park
Come in and enjoy premier indoor and outdoor fun. Roller-skating, laser tag, miniature golf, Grand-Prix go-kart racing, batting cages, a video arcade, bumper boats, a NEW Kids' World, inflatables, a Rock Climbing Wall and much more still to come. Visit Fun-n-Stuff online for more information. Cleveland Metroparks Zoo & Rainforest
At the Cleveland Zoo, come and experience the wild, the tame and the exotic! See over 3,000 animals occupying 165 rolling acres. The RainForest features a 25' waterfall, a tropical rainstorm and over 600 animals and 10,000 plants. Akron Zoological Park
At the Akron Zoological Park, enjoy an intimate encounter with endangered species of birds, mammals and reptiles. Be sure to visit Tiger Valley, Penguin Point, Zoo Gardens and much more. The National Inventors Hall of Fame
The National Inventors Hall of Fame museum highlights over 150 inventors from 1776 to the present time. The exhibits allow you to discover the inventor in yourself through hands-on, fun and educational interactive programs and activities. Rock and Roll Hall of Fame and Museum
The Rock and Roll Hall of Fame is the world's only museum dedicated to the living heritage of rock & roll music. The museum exists on seven levels, has over 50 exhibits, multimedia interactive technology and an incredible collection of rock & roll artifacts. Pro Football Hall Of Fame
America's premier sports showplace! The Pro Football Hall of Fame is a dynamic museum that is home to the Hall of Fame ceremony and the infamous Hall of Fame game. This five interconnected building includes a movie theater, a GameDay Stadium, which allows visitors to experience football as never before and interactive exhibits where football greats from the past and present are honored. MAPS Air Museum (Military Aviation Preservations Society)
"Where history takes flight!" the MAPS museum is dedicated to educating people about the history of aviation and its impact on society. It houses a permanent collection of vintage military and significant civilian aircraft. Great Lakes Science Center
At the Great Lakes Science Center, you will discover more than 350 hands-on exhibits and then kick back and experience the area's only OMNIMAX Theater, a 6-story high domed theater. Crawford Auto-Aviation Museum
The Crawford Auto-Aviation Museum has an extensive collection of 200 antique, vintage and classic autos and aircraft. Hale Farm and Village
At the Hale Farm and Village, you will travel back to 1848 and explore life in Ohio's Western Reserve Region. Share in the daily lives of historical figures and watch the skilled artisan's demonstrations. Cuyahoga Valley National Park
Follow the Cuyahoga River for 22 miles between Akron and Cleveland. The Cuyahoga Valley National Park offers numerous hiking and biking trails, scenic overlooks, picnic areas, bird watching, music, arts and plays. Cuyahoga Valley Scenic Railroad
Enjoy an excursion through the heart of the Cuyahoga Valley National Park on the Cuyahoga Valley Scenic Railroad for a special event excursion or a round trip destination. Each trip is a different adventure filled with fun, excitement, natural beauty and historic sights.