What's New at Strafford KOA in 2020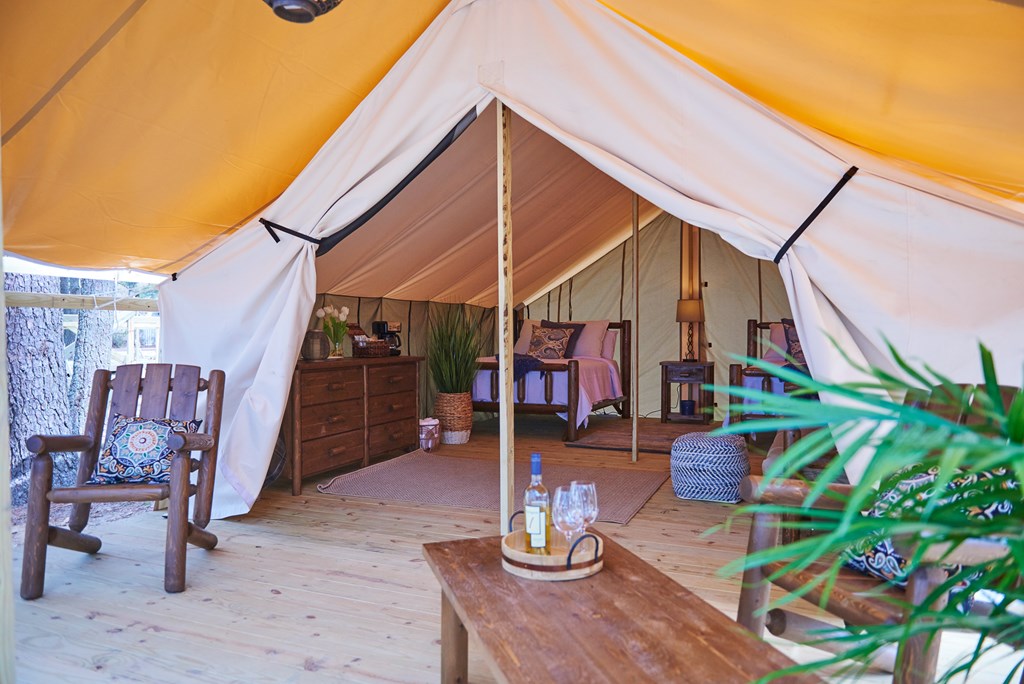 You're not going to believe how many new things are coming to Strafford KOA in 2020! We've got new accommodations, new site types, new amenities and new events! Book now so you don't miss out on seeing the new and improved Strafford KOA!
Here's what you have to look forward to!
Safari Tents
Get the perfect combo of the simple life and modern amenities in one of these chic tents. They sleep up to six and come with two queen beds, a seating area with a futon and a furnished porch. You'll have water and electric too, so you can charge your phone while listening to the crickets chirp.
RV Rentals
In addition to adding more of our original RV rentals, we're adding a new destination RV rental. This luxurious rig comes with a full kitchen, a full bathroom, a dining area, a screen room and a living room with La-Z-Boy recliners and a fireplace. There's room for six with a queen bed in its own room, a loft area with two twin beds and a sleeper sofa. Live the good life in this luxurious rental!
More RV Sites
Don't worry, we didn't forget about our RV campers. We're adding more premium, patio and pull-thru sites.
Our extra roomy premium sites come with gravel pads, fire pits and plenty of space for large RVs.
Deluxe patio sites have concrete patios, outdoor furniture and fire pits.
Try something new during your next stay at Strafford KOA!
New Amenities
We aren't just giving you new ways to stay. We're also working to make your stay more comfortable and fun. The arcade is getting upgraded bathrooms and air conditioning and you'll have some new furniture to lounge on by the pool.
We're also adding new ways to play. Kids will have a blast on our new playground and the whole family can play a game together with our new cornhole set up.
New Events and Theme Weekends
Our events line up is better than ever! We're adding fun activities like golf cart drive in movies and karaoke night, plus we have new events like School at Camp, our 50th Birthday Bash and Puppy Palooza.