10 Awesome Ways to Spend a Day at Strafford KOA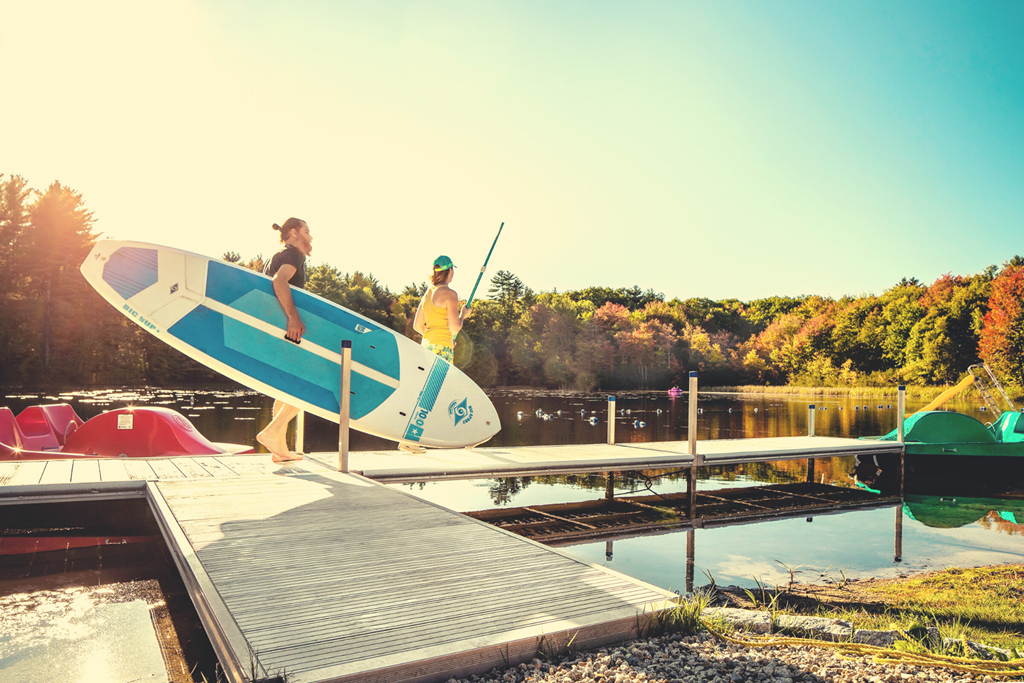 You did it! You booked that much-needed getaway. Now What?
Or, maybe you're still on the fence? Maybe you only get a few vacation days and you want to make sure you are spending them where you can get the most bang for your buck? Or, perhaps you want to take the grandkids camping but you want to make sure there is plenty for them to do?
When you make a reservation with us you are not just reserving a piece of ground on which to park your camper. At Strafford KOA your reservation provides you with access to event-filled weekends, friendly activity staff, generous amenities and conveniences. Not to mention that Strafford KOA is centrally located, meaning day trips to the ocean, mountains, and lakes are just minutes away as is gourmet dining, premier entertainment, and quaint New England Villages.
Whether you are enjoying a quick weekend getaway or settling in for a month-long stay we want to show you just how many things there are to do when you camp at Strafford KOA.
10 (Amazing) Ways to Spend Your Day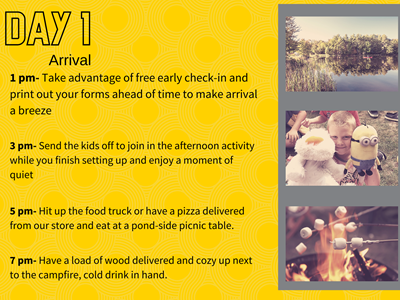 Arrival day is exhausting! We have everything you need to make it all go as smoothly as possible, from a quick convenient check-in process to onsite food choices, and delivery of any item carried in our camp store.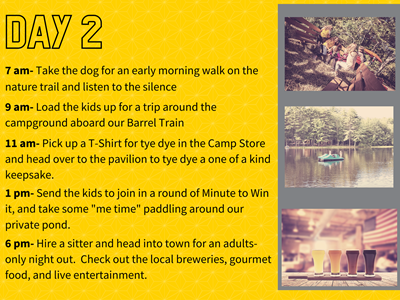 One of the added benefits of there being plenty to do at Strafford KOA is that it makes it that much easier to do "nothing" when the mood strikes. No matter how many people are in your party, camping with us provides plenty of opportunities for solitude and relaxation.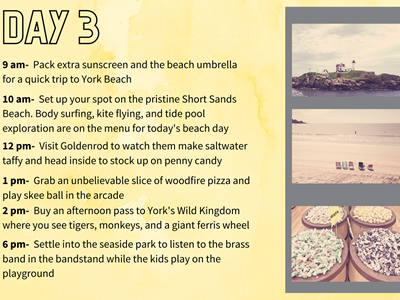 A day camping with us can take on many disguises. You may be sleeping in a tent in New Hampshire, but that won't stop you from experiencing York, Me and the iconic Short Sands beach and Nubble Light House.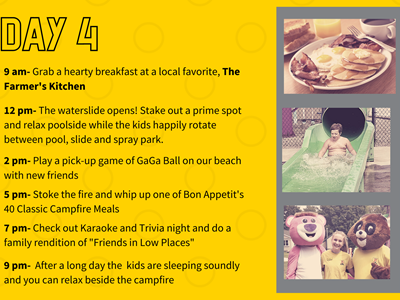 The Strafford KOA pool, spray park, and waterslide are open all season. Did I mention that our pool is heated to 80 degrees around the clock? So whether you are celebrating Mother's Day or Columbus Day be sure to pack your swimsuit and pencil in some quality pool time.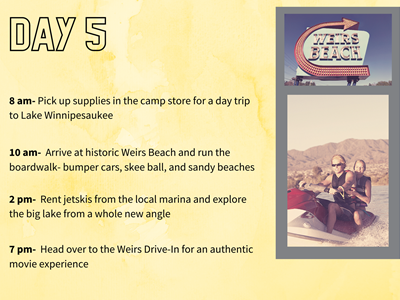 Feel those laid back lake vibes? You know what the best part is? When Strafford is your basecamp one day's vibes don't have to be the whole story. Lake Winnipesaukee is just one of the many special places where you can make new memories during your stay.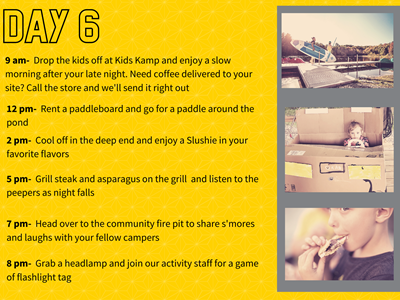 Kid's Kamp is new to Strafford KOA this year, and tired parents everywhere approve. What we won't tell them is that the kids are just as psyched. With crafts and games designed with them in mind, our vivacious pack of activity counselors standing in as dream older siblings and a non-stop attitude on fun, it's no wonder why.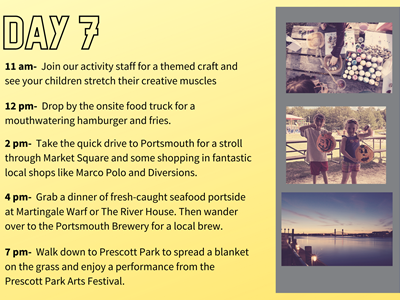 Another benefit of our central location is that it provides our guests with the opportunity to balance their stay experience. Around here we believe that camping is not a one size fits all prospect. What more, we believe that camping can meet the needs and interests of all people.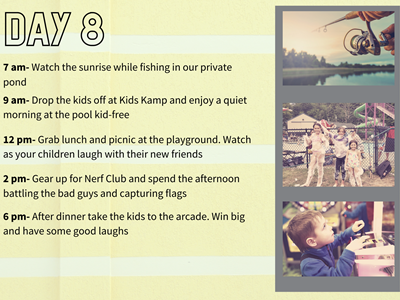 The KOA mission is to connect people to the outdoors and each other. Here in Strafford, we believe that connection is born from shared experience and we strive every day to provide the best guest experience.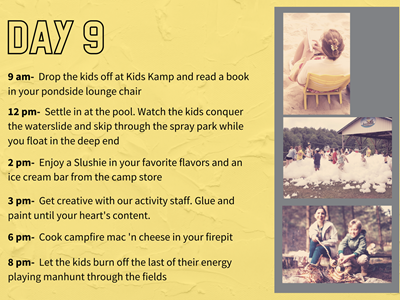 By now I think it's clear that the combination of day's activities needed to create the perfect day at camp is limited only by your imagination and willingness to join in. We have all the raw materials to create an experience as unique and special as your family.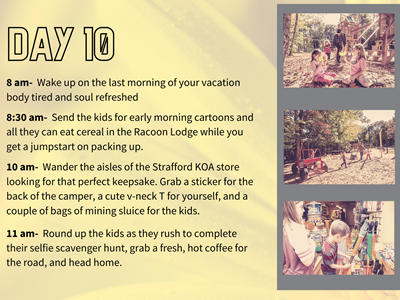 Packing up camp, tracking down lost floaties, and wrangling little explorers not ready for the fun to end can make the last day of any trip a trial. We do our best to ease the camp-end blues with a healthy dose of last-minute fun and souvenirs to match the memories you've made.
Until Next Time
And there you have it, ten different ways to spend your stay at Strafford KOA and really I've just scratched the surface. Are you planning your season of camping? Need help figuring out how to keep your kids busy? Looking to plan a reunion, a couple's getaway, or a solo adventure? We have a plan for you.
Want More Ideas About What to Do at Strafford KOA?
Get discounted access to the ropes course, mini-golf, and river float at our sister campground, Lebanon KOA
Check out these great local trails for hikers of all levels
Discover this season's themed events
Spend a day at these local theme parks
Explore the past and bring history to life at one of New Hampshire's historical destinations