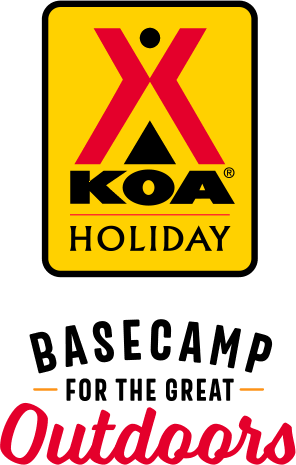 KOA Holiday Campgrounds
Whether you're exploring the local area or hanging out at the campground, KOA Holidays are an ideal place to relax and play. There's plenty to do, with amenities and services to make your stay memorable. Plus, you'll enjoy the outdoor experience with upgraded RV Sites with KOA Patio® and Deluxe Cabins with full baths for camping in comfort. Bring your family, bring your friends, or bring the whole group – there's plenty of ways to stay and explore.
KOA Holidays Feature:
RV Sites with a KOA Patio®
Deluxe Cabins with full baths
Premium Tent Sites
Group meeting facilities
Directions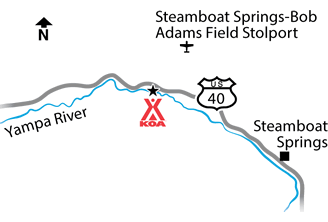 3 miles northwest of downtown Steamboat Springs on Highway 40/Lincoln Avenue.
GPS: N40.50508, W106.87690
Get Google Directions
Jan 04, 2021
We came over for a weekend ski trip. I really appreciate you guys keeping spaces for overnight guests!
Jan 03, 2021
Everything was ok except the bathrooms . The ladies bathroom should had been cleaned more often. The individual restroom stall's trash was full and showers had hair on the drain everyday of our stay. Other than that it's very close to the village and slopes. Very quiet and beautiful views.
Jan 03, 2021
Staff was friendly and very helpful, the facilities were very well maintained and always clean.
Dec 30, 2020
Very Clean and accommodating.
Dec 30, 2020
We went there for Christmas with our RV and ended up extending our stay. Friendly and accommodating staff. Our dogs also enjoyed their stay.
Dec 23, 2020
Staff neither warm nor welcoming like our cabin. Two credentialed emotional support animals but were charged for their stay. Woman explained only service animals are exempt, which is understandable. I mentioned KOAs had always waived fees, and she became VERY RUDE. We later realized hospitality was non-existent which IMO makes/breaks a KOA. Our cabin was cozy! Women's restroom=gross / Men's=fine.
Dec 11, 2020
the picture of the site online was nothing like my site. mine was near the highway and constant noise and lights. everyone was very nice though.
Dec 07, 2020
The staff was very friendly and helpful. Everything was in good order. My water spigot froze and cracked and the maintenance team had it fixed within an hour of letting them know. Washing machines were clean and in good condition. I stayed a total of about two months and enjoyed it. I hope to come back in the summer for vacation, not work.
Dec 02, 2020
We were only able to stay for one night but it was great. We rented a small cabin and it had everything we needed and more. We will definitely be returning for a longer period of time!
Nov 28, 2020
We stay at the Steamboat KOA several times a year and are always impressed with the staff and the campground. The added bonus is that the shuttle bus stops by every 20 minutes so you can get a ride into town to hit the restaurants, shops, and bars, and maybe get lucky and shag with one of the local hot chicks. It is always a great stay.
Nov 23, 2020
Great people!
Nov 17, 2020
Very helpful! Nice campground!
Nov 16, 2020
Very nice and clean.
Nov 11, 2020
Unbeknownst to us, the water and restroom facilities were shut down for all of the tent camping areas. Considering this was one of the most expensive KOAs we have stayed at in recent months, it would have been beneficial to know that facilities and water were not at all available in the tent area. Also, despite saying there was a tent pad, no such pad existed and the site was not level at all.
Nov 03, 2020
Great place, quiet, good facilities.
Oct 30, 2020
Great place to stay! Clean. Nice people. City shuttle bus stops by every 20 minutes.
Oct 27, 2020
The cabin was great! We loved having heat, the small kitchen and cookware. It took us a while to figure out the stove top, so maybe explain that part to future guests, because we didn't understand how it worked at first.
Oct 25, 2020
Very clean and friendly. Cabins over the bridge are a tad far from bathrooms.
Oct 24, 2020
Always a welcoming and beautiful place!
Oct 24, 2020
Just an overnight, it was all gravel, un kept, site was not level at all. We have a 40ft bus and toad, notified them when making reservations, the pull threw they put us in wasn't long enough. Went to leave in the morning and had to ask neighbors to move thier vehicles so I could pull out....No dog area. We should have saved the money and stayed at a rest area....
Oct 23, 2020
They didn't have pictures on the reservation page of site I reserved. Also the employees zone have the best sites there & they have many signs that say "no trespassing" & the sites are on the river, i was walking my dog over by the employee area & was scolded about being near the employees area. Employee just atv around to check sites that have checked out & don't even get off atv to clean
Oct 23, 2020
Bathrooms were dirty. Campground was dirty and untidy.
Oct 22, 2020
Nice staff but just a KOA, nothing special
Oct 20, 2020
Beautiful camp ground nice and quiet. Everyone who works there was super friendly.
Oct 20, 2020
No notice of registration package being left out for pick up. No one answers the phone, 13 attempted calls after hours. No code to access bathrooms upon arrival, had to go into town to use a bathroom. We were told fires were not permitted only to see 5 fires burning that night. Terrible experience!
Oct 18, 2020
Very easy to check in and out. Cabin was clean, campground was organized and tidy. Furniture in cabin could use improvement. Other than that, everything else fell into place nicely. Thank you KOA of steamboat.
Oct 18, 2020
Very nice RV Park. Sites are nice and well maintained. Office and Maintenance Staff king and professional. We stayed a day longer than anticipated due to an unexpected 2" of snow. It was worth the stay and beautiful. The town of Steamboat Springs is a blast out of the past with all of the modern day convenyances.
Oct 18, 2020
Bathroom was very clean when we arrived, however, by the end of the 2 days we were there the toilets had paper towel overflowing from 3/4 of them, the floor was soaking wet, and the showers had hair all over them. Pretty unappealing. But our cabin was very clean and, in my opinion, better than any other KOA cabin we've stayed at (better heater, cleaner). Thank you!
Oct 17, 2020
I stayed in one of the little cabins by the river. The aspen trees on site were basically mostly bare but I imagine when they are green or at peak the campground must be amazingly beautiful. The cabin was very clean. The little heater worked great. I definitely want to come back! There is a small amount of highway noise.
Oct 16, 2020
Beautiful setting, friendly staff, clean facilities.
Oct 14, 2020
Filthy laundry, RV sites too small, grounds not well kept. Laundry should have been cleaned and sanitized due to the pandemic. It was awful. Filth on the floor, hair on the washers.
Oct 13, 2020
Beautiful fall foliage! Spacious campsite!
Oct 12, 2020
Fabulosa ;un ambiente muy agradable y bonito nos encanta ir todos los años a veces vamos asta 2veces al año;Gracias
Oct 12, 2020
the camping cabin was great. it had a beautiful view since it was right on the yampa river.
Oct 11, 2020
This was our first time renting an RV and staying in an RV park- something I stated on my reservation form. We arrived after dark and had no clue what to do. I looked over my emails but didn't see anything explaining what to do. We finally stumbled upon the registration area where I found our map with the car tag and name on it. I received the welcome email after we left the next day.
Oct 11, 2020
4 glasses under 4 corners of the bed to level it out to sleep on it. No counter top. No table, No space to put any thing on for storage. Went to Walmart and spent 50$ for a table and chair. Bed was hard as a rock. Could not take a shower because the room was about 40 degrees. TV had pour reception. For a deluxe cabin, this was the worst I have ever rented. The property was beautiful.
Oct 11, 2020
So beautiful! Great location, really clean facilities, nice people and cute gift shop �� we loved it!!
Oct 10, 2020
1)When I made my reservation I emailed the next day and asked to move my site, no reply. 2) upon arrival I told your front desk people I would be in a class until 2:00 on Tuesday and was told there was a place I could move my camper to. 3) was told $10 per hour late checkout fee, then was told $5/hr late fee and was charged $50 for a 2 hr late check out. Not enough characters left to finish
Oct 04, 2020
Stop every year at this KOA. Staff is great. Usually rent a cabin along the water. This year parking RV for the whole month of July
- Jeff McLane on Google
Sep 30, 2020
Nice people. Close to town. Clean bathrooms. Good vibe to place.
- Stacey Evans on Google
Jan 10, 2021
Decent winter campground with showers but the wifi did not work at all.... frustrating when you pay top dollar. Extra for a kid and dog, which during the winter doesn't make sense.
- Brent Swartzentruber on Google