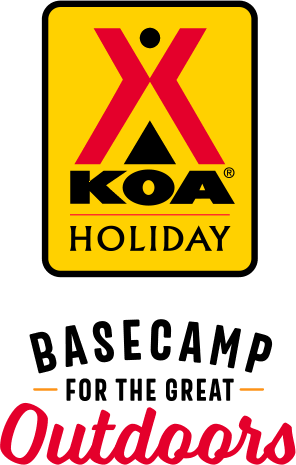 KOA Holiday Campgrounds
Whether you're exploring the local area or hanging out at the campground, KOA Holidays are an ideal place to relax and play. There's plenty to do, with amenities and services to make your stay memorable. Plus, you'll enjoy the outdoor experience with upgraded RV Sites with KOA Patio® and Deluxe Cabins with full baths for camping in comfort. Bring your family, bring your friends, or bring the whole group – there's plenty of ways to stay and explore.
KOA Holidays Feature:
RV Sites with a KOA Patio®
Deluxe Cabins with full baths
Premium Tent Sites
Group meeting facilities
Directions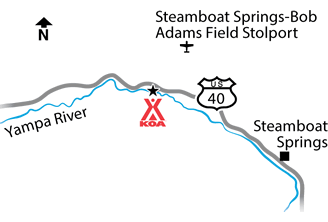 3 miles northwest of downtown Steamboat Springs on Highway 40/Lincoln Avenue.
GPS: N40.50508, W106.87690
Get Google Directions
Sep 24, 2021
The KOA has a great location, but many of the spots are way too close! Our slide out practically encroached into our neighbor's picnic table. Staff was helpful and friendly.
Sep 24, 2021
Friendly and efficient check in, great location near town, clean, we will return
Sep 24, 2021
SUPER Friendly staff, clean campground
Sep 24, 2021
We spent three nights and enjoyed our stay there. Is convenient to town and the staff there is very nice. Hope we can return.
Sep 23, 2021
Everyone was very friendly. Our cabin was clean and very nice
Sep 23, 2021
We camped for 3 nights. Staff was incredibly friendly!! They came by each morning and gave our pups treats. The location was perfect! We hung out in Steamboat each day. We would definitely recommend this KOA to anyone visiting the Steamboat area. Happy Trails, from The Lost Girls!
Sep 23, 2021
Staff was very helpful and made us feel welcome!
Sep 22, 2021
we have stayed at koa sbs for the past 10 years. 6-8 weeks at a time. we will be back.
Sep 22, 2021
Journey and Jim were great. Bathrooms need to be updated. Some sites look like they were just waste ground and made into sites. Lots of puddles and mud. No water available at some sites
Sep 21, 2021
This KOA is under renovation which will greatly improve the rating. The location is perfect along a beautiful waterway but the sites are crowded and the ones along the fence lack any view of the mountains. The staff is so friendly and helpful. Special kudos to Chris and Charlene. Super close to the great activities in Steamboat.
Sep 21, 2021
Friendly staff, nice amenities, good stay
Sep 21, 2021
Everyone on KOA staff was very friendly. Very helpful, and the activities, Such as miniature golf and horseshoes and the playground for the children were excellent very much needed for my grandkids thank you. However the town of steamboat springs needs a go kart track. I think that would be a good investment for myself. Thanks for a wonderful stay for myself and my grandkids David Lyles
Sep 21, 2021
Felt like we should have gotten a discount, having to listen to the construction across the river which KOA was doing on another part of their campground. (constant backup beeping of big machinery.)
Sep 21, 2021
Very organized and clean. Everyone was happy and friendly.
Sep 21, 2021
We really enjoyed our stay here.The cabin was perfect for our needs.The views from our porch were so beautiful.Chris was super helpful in bringing us our firewood!
Sep 21, 2021
Journey and Jim were very helpful and pleasant. The shuttle bus was great. However the camp site was not good. We were put in a spot that was not really a site and we saw several of these. Just squeezed in. No water at some sites. Bathroom was small and needed update. Only one Bathroom for so many sites. There are extra sites being built at the minute so maybe will improve.
Sep 21, 2021
Office staff was very helpful with my last minute stay, and found me a great spot to extend our stay for 2 more days! Much appreciated, Trisha
Sep 21, 2021
We enjoyed our camp site next to the river, just amazing. We all have fun playing the miniature golf, suggest y'all have outdoor lighting to play at night. �
Sep 21, 2021
We loved all the activities for the kids, that really helps when you are traveling with young ones that they can get out and run and play.
Sep 20, 2021
Beautiful setting, activities for kids, extremely friendly and helpful staff.
Sep 20, 2021
it was great, very good towards pets, and very helpful toward us
Sep 20, 2021
Great site friendly staff.
Sep 19, 2021
Very efficient campground! Processes lots of campers. Pretty setting and close to town. Very friendly
Sep 19, 2021
Best KOA we've been to! Nice, clean bathrooms and showers. Beautiful surroundings, nice sites, and so close to town!
Sep 19, 2021
Very friendly and helpful staff. Cabin was clean and cozy. Very busy place though.
Sep 18, 2021
A+ for the bus into town. Only negative was road noise.
Sep 18, 2021
Have been staying at this camp ground for many years, even before it became a KOA. Have never had a problem until this time. Our son lives and works in Steamboat and has for 20+ years. He has always come in the evenings to spend a couple hours and have dinner with us and then go home (never spending night with us). This year, one of your employees (Adam) gave him some problems and made him pay
Sep 18, 2021
I come here to relax after my elk hunt for a couple days. The staff is top notch. Marcia and Sanena are the most sweetest people I met. Todd and Mark were excellent if you needed guidance or just have a conversation. ( Mark liked this alot. Lol !) Sorry Mark. Your stories are the best and I even learned about the magic of the sheep herd on ranches. KOA Steamboat has it all.
Sep 17, 2021
Very helpful Front Desk, the guys on the Golf Carts are always asking if you need anything or help. Restrooms were Very Clean. Everybody was Always Smiling and Very Nice. Nice KOA, we will be Back !!
Sep 17, 2021
This was the nicest staff I have ever run across. Super friendly and helpful.
Sep 16, 2021
The staff was very friendly and accommodating. The park was clean and well maintained. I rated them as 4 stars because they charged extra for my dog and my site wasn't level.
Sep 15, 2021
Always a great place to stay, so friendly.
Sep 14, 2021
stayed in a larger cabin. cabin seemed fine at first glance, but after taking a disinfectant wipe on the highly traffic areas it was filthy when i was done with it. felt like the bowls and silverware were dirty also. holes in the screens of the windows. windows didn't stay shut prevented more of the traffic noise from being silenced. i liked that the tv had good channels and the wifi was good.
Sep 14, 2021
Very relaxing, very helpful and friendly staff
Sep 14, 2021
Very nice amenities & people. Needs a walkway from the KOA all the way to town to get the highest rating. The bus service did not work for us ( times & had a dog as well as the covid restrictions)
Sep 14, 2021
We were charged $10 for arriving one hour early to our site that was ready for us. We have been to many KOA's and never charged for this! The campground is nice and clean but lacks privacy when all the pull thru sites alternate with doors opening to your neighbor. It made me spend more time indoors when the neighbors were outside.
Sep 14, 2021
Liked putt putt gulf and games.could use hot tub.
Sep 14, 2021
The 2 men on the golf cart were SOOOOOO nice and helpful. And the woman in the office was really nice too. Very different than the reviews I read online.
Sep 14, 2021
friendly staff, great location. will definitely return
Sep 13, 2021
Very nice KOA. Camp kitchens much better at other KOA's. Had to sign special paper to not smoke in cabin, but smoke from other fire pits enters the cabin through open windows....so don't see the point...we don't smoke anyway. Cabin had a great fan upstairs, but need a vent or small window fan to pull cool air inside the upstairs....very hot to sleep. Upstairs could use a bench along wall to place
Sep 13, 2021
Great campsite with amazing proximity to the Yampa and to town. The staff is friendly and helpful. If you're able, get a site along the river!
Sep 07, 2021
Very nice and very big. It has all the emenities: power, water, showers, restrooms etc. It does need to be reserved, call ahead for vacancies. They were expanding. It is not cheap, it is by the river. Liked it alot.
- Anne R on Google
Sep 05, 2021
2nd time here. They need to upgrade.
- Tom Schwalger on Google