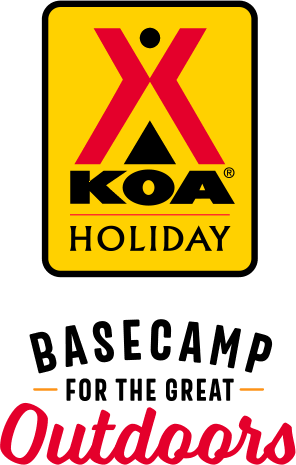 KOA Holiday Campgrounds
Whether you're exploring the local area or hanging out at the campground, KOA Holidays are an ideal place to relax and play. There's plenty to do, with amenities and services to make your stay memorable. Plus, you'll enjoy the outdoor experience with upgraded RV Sites with KOA Patio® and Deluxe Cabins with full baths for camping in comfort. Bring your family, bring your friends, or bring the whole group – there's plenty of ways to stay and explore.
KOA Holidays Feature:
RV Sites with a KOA Patio®
Deluxe Cabins with full baths
Premium Tent Sites
Group meeting facilities
Directions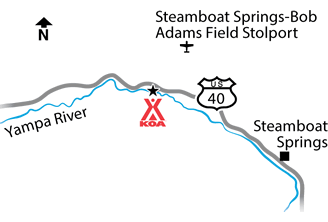 3 miles northwest of downtown Steamboat Springs on Highway 40/Lincoln Avenue.
GPS: N40.50508, W106.87690
Get Google Directions
Apr 06, 2021
Just what I needed. Very relaxing and very close to the town of steamboat springs. I'll be back!!! Lol
Apr 05, 2021
Staff friendly, clean bathrooms, beautful setting especially if u get a spot along the creek. We didn't but the staff said to enjoy the creek views on sites that were vacant so we did w/ glass of wine along the creek after an exhausting day of skiing. The city bus drives thru every 15 minutes like clockwork so took bus into downtown for tacos at Cabo Taco - enjoyed their outdoor seating
Apr 05, 2021
We booked a water and electric site. The water was not on, nor did the cable work. We called the after hours number for help and no one answered nor returned our calls.
Apr 05, 2021
Great property, really enjoyed the stay!
Apr 05, 2021
Was not.given a space number for a pull-through after hours. Called to no avail. We left and spent the night at Walmart parking lot in Craig. Need a refund. No one is answering the phone at this location at Steamboat. Bob
Apr 04, 2021
Very clean camp sites and bathrooms. Quiet time wad actually quiet. Friendly staff. Kids had a blast.
Apr 04, 2021
Celine was great! All the staff were friendly and helpful.
Apr 04, 2021
The location is close to Steamboat and the facilities were clean. The cable did not work the entire time of our stay and the WiFi was extremely spotty. If you pay for a deluxe spot you should be able to enjoy the deluxe features.
Apr 01, 2021
The cabin was so clean and so cozy, we stayed on colder days and the heater in the cabin kept us warm all night! The view was absolutely beautiful and peaceful. We were the first to see bears in the campground this season, when we told the kind woman at the front office the entire staff immediately jumped on top of putting signs up and locking things down! We will definitely be back soon!
Mar 31, 2021
Great place to just relax no distractions but the creek
Mar 27, 2021
For the price, I'd suggest access to water (a central spigot would be fine) and working internet. Also, more gravel, and/or pave stones to mitigate the inevitable mud. A picnic table would have been nice too - other unused sites had them, but ours was nothing more that a dirt parking spot directly next to another occupied spot. I'm sure it's better in summer but winter could be much better t
Mar 22, 2021
When booking. photos of winter sites in no way reflect what you get. Digging out of a mud bog every morning is not fun. Put down some gravel or pavement.. or warn folks they may need a 4x4 to camp in your spaces. I understand managing snow, ice, and water is not possible but you can make parking spots that are usable. Paying $60 a night to park is six inches of mud is a waste.
Mar 08, 2021
Under the bunk bed in the cabin we stayed in (with our puppy) there was some kind of sticky substance on the wood on the outside wall, which our puppy kept trying to eat! It was disgusting. We had to move one of the mattresses under the bed so she would't get at it. Please check your cabins a bit more diligently to clean up these kinds of messes. Thank you so much. kathy
Feb 23, 2021
My girlfriend and I had a great stay. The cabin was warm and the beds were comfy. The deck was big enough to cook food on. Plenty of space to enjoy the Yampa river and walk off a home made breakfast. The bathrooms were spacious and the showers were nice and hot.
Feb 19, 2021
The WiFi didn't work. We were able to connect, but the connection was so slow I wasn't even able to check my e-mail. I'm not exactly looking to be able to stream a show but at least fast enough for e-mail and to listen to stream music would be nice. Also our site didn't have cable TV.
Feb 12, 2021
Great time! Loved the off leash area over the bridge! Blessed with great snow. Nice quiet nights to get much needed rest. We'll be back!
Feb 09, 2021
Very understanding and accommodating when we arrived a day late due to Rabbit Ears Pass being closed. Only charged us for the night that we did stay instead of charging us for the 2 nights of our original reservation. We had a back in RV spot with electric for reference. These spots did not seem to be in high demand while we were there in early February. Thanks for being reasonable KOA!
Feb 02, 2021
Good: Snow removal, quiet, at the beginning of the bus line, friendly, laundry area has decent clean machines and folding area, hot showers. Bad: one of the toilets had no paper for 2 days, and the toilets and showers are not cleaned often enough.
Jan 29, 2021
While our site was what some call a "reverse" site (#70, your right side of vehicle faces the neighbor's right side, and your fire pit and tables are on the left side and away from your camper door, with no feasible option to park the other way due to the utilities location) the winter stay was really nice. The couple managing the campground were very nice and helpful.
Jan 27, 2021
Great place to stay in Winter.
Jan 16, 2021
Stayed at this KOA during The COVID. We appreciated their abiding by the mask requirement. Beyond that it was a well cared for facility. Being Steamboat in the winter the snow was present but there were paths everywhere, trails to take the dogs, (and doggy cleanup stations readily available). The cabin was well stocked, clean and warm for the below zero temps. Local buses came directly to the camp
Jan 04, 2021
We came over for a weekend ski trip. I really appreciate you guys keeping spaces for overnight guests!
Jan 03, 2021
Everything was ok except the bathrooms . The ladies bathroom should had been cleaned more often. The individual restroom stall's trash was full and showers had hair on the drain everyday of our stay. Other than that it's very close to the village and slopes. Very quiet and beautiful views.
Jan 03, 2021
Staff was friendly and very helpful, the facilities were very well maintained and always clean.
Dec 30, 2020
Very Clean and accommodating.
Dec 30, 2020
We went there for Christmas with our RV and ended up extending our stay. Friendly and accommodating staff. Our dogs also enjoyed their stay.
Dec 23, 2020
Staff neither warm nor welcoming like our cabin. Two credentialed emotional support animals but were charged for their stay. Woman explained only service animals are exempt, which is understandable. I mentioned KOAs had always waived fees, and she became VERY RUDE. We later realized hospitality was non-existent which IMO makes/breaks a KOA. Our cabin was cozy! Women's restroom=gross / Men's=fine.
Dec 11, 2020
the picture of the site online was nothing like my site. mine was near the highway and constant noise and lights. everyone was very nice though.
Dec 07, 2020
The staff was very friendly and helpful. Everything was in good order. My water spigot froze and cracked and the maintenance team had it fixed within an hour of letting them know. Washing machines were clean and in good condition. I stayed a total of about two months and enjoyed it. I hope to come back in the summer for vacation, not work.
Dec 02, 2020
We were only able to stay for one night but it was great. We rented a small cabin and it had everything we needed and more. We will definitely be returning for a longer period of time!
Nov 28, 2020
We stay at the Steamboat KOA several times a year and are always impressed with the staff and the campground. The added bonus is that the shuttle bus stops by every 20 minutes so you can get a ride into town to hit the restaurants, shops, and bars, and maybe get lucky and shag with one of the local hot chicks. It is always a great stay.
Nov 23, 2020
Great people!
Nov 17, 2020
Very helpful! Nice campground!
Nov 16, 2020
Very nice and clean.
Nov 11, 2020
Unbeknownst to us, the water and restroom facilities were shut down for all of the tent camping areas. Considering this was one of the most expensive KOAs we have stayed at in recent months, it would have been beneficial to know that facilities and water were not at all available in the tent area. Also, despite saying there was a tent pad, no such pad existed and the site was not level at all.
Nov 03, 2020
Great place, quiet, good facilities.
Oct 30, 2020
Great place to stay! Clean. Nice people. City shuttle bus stops by every 20 minutes.
Mar 27, 2021
This place is awesome! Never been treated so kindly or had A1 service where staff seemed to to truly care and go out of their way to make me feel right at home...Be sure to ask for Adam's help....he is the best!
- Sally Okun on Google
Feb 15, 2021
My husband and I booked 2 nights at a campsite for winter camping and planned to ride at Steamboat in between. We showed up around midnight and the staff had left clear instructions for check in, despite late arrival. Our campsite was cleared of snow and it was easy to set up. (We were also very excited to find out the bathrooms and showers were heated and clean!) When the temperature dropped lower than we expected and the forecast for the next night got into the negatives, Journey helped us upgrade into one of the cabins on the river and we spent a cozy night there. Over all it was a great experience and we'll be looking for more KOA cabin stays in our near future!
- Zab Steenwyk on Google
Apr 07, 2021
Very pretty walk over the bridge. Spotty Wifi.
- Terry Powell on Google