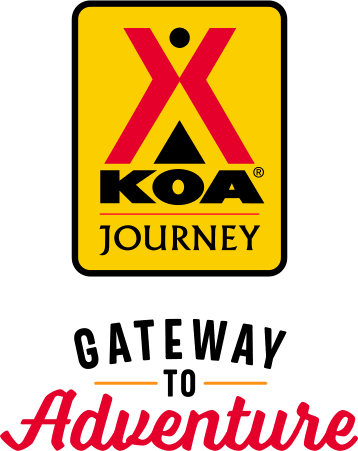 KOA Journey Campgrounds
KOA Journey campgrounds are the perfect oases after a day on the road. Whether it's along the way or a quick getaway, they've got you covered. Located near the highways and byways of North America with long Pull-thru RV Sites, they deliver convenience to the traveling camper. Pull in, ease back and take a load off.
KOA Journeys Feature:
Pull-through RV Sites with 50-amp service
Premium Tent Sites
Well lit after hours check-in service
Directions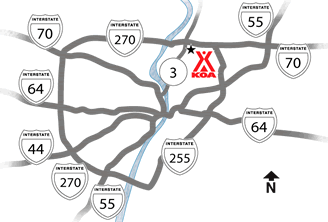 From IL 55S or IL 70W: Take 270W to Exit 3 in Illinois north of St. Louis.
From IL 64W or MO 55N: Take 255N to 270W to Exit 3 in Illinois north of St. Louis.
From MO 44E or 64E or 70E: Take 270N to Exit 3a in Illinois north of St. Louis. From Exit 3 or 3a, go 1/8 mile. Turn left at stoplight onto West Chain of Rocks Rd at Hardee's. Proceed 1/2 mile, look for sign on right. Turn right onto Dial Dr.
GPS: N38.7619. W90.1155
Get Google Directions
Nov 11, 2020
Quiet and pleasant. I was staying during a work project. Met my needs
Nov 07, 2020
i had to stay for six weeks of medical treatment in St Louis during the covid 19 pandemic. KOA was conveniently located near grocery stores and IL 3 for a short low stress trip across the McKinley Bridge and city streets to the hospital complex. We Have stayed at rv parks on the other side of St Louis in the past, but KOA St Louis NE will be our stop in the future.
Nov 07, 2020
It's a little bit difficult to find. It was a quiet spot, but there were not very many campers the night we stayed. In fact, if the place were full, it would be pretty uncomfortable. Adjacent sites would be about 6-8 feet apart, with slideouts out and all. It might even be hard to squeeze between campers! Otherwise, it was a nice place.
Nov 05, 2020
I stayed for 5 months while working in town. Stafff was friendly and I rarely needed to get ahold of anyone. Great spots. Shaded water was clean. No problems with pressure or power. No Campfires is kind of a bummer because after work I like to sit by a fire and wind down. But other than that I recommend this campground.
Nov 04, 2020
As always very clean bathrooms and showers.
Nov 01, 2020
Easy to find. We don't use the facilities. We are one nighters as we make our Snowbird trip. Very level park, gravel sites, friendly staff. We are a 40 foot motor home towing an SUV.
Oct 28, 2020
Very big lots level raining quite a bit but totally enjoyed staying there
Oct 28, 2020
Utilitarian place to stay if you need to stop. Train tracks run next to it and not a real friendly person behind the desk.
Oct 26, 2020
Only stayed one evening so my review isn't in-depth. Quiet even though it's located in an industrial area. Level gravel pull through spots. Clean restroom. Big clean shower stalls. Hot, high pressure showers. I'll stay here again.
Oct 24, 2020
The park needs TLC. The only staff member we encountered needs some personality.
Oct 23, 2020
Easy in easy out. Road the Old Chain of the Rocks Bridge, Route 66 and the St. Louis Greenway.
Oct 22, 2020
East access to St. Louis sites. Close to train tracks
Oct 21, 2020
It was dirty, scary, small & very dark. It appeared that most people were living there, which is fine, but they were very unfriendly. We will never stay at this KOA again.
Oct 20, 2020
it was "ok"nothing here to do.. a playground for kids -what looked like an inflatable for them to jump on that was deflated..grounds were unkept..branches lying everywhere..it is next to a trucking business -trucks coming and going all the time...quite noisy...race track not far away which made the noise level even worse on Friday and Saturday nights till midnight! will not stay here again !!
Oct 19, 2020
Not what I expected out of a KOA. Typically they have higher standards. Surrounded by industrial parks, very basic campground, and rude attendant/owner in office.
Oct 19, 2020
No WiFi, but the bathrooms and showers were very clean. Friendly people and quiet sites. Very nice!
Oct 18, 2020
We got in near sunset but folks there were kind and we enjoyed the place. We hope to be back in 7 or 8 days! Ben and Saneh Boothe
Oct 18, 2020
Everything was great. Only complaint, pet area disposal can was overflowing for two days.....then bags ran out as well.
Oct 18, 2020
Its an okay KOA for a short stay. Very close to Chain of Rocks bridge. Turn left from the camp and you are on Historic Rte 66. Cross the intersection and u are on the road to the bridge. Note no fire pits coz no open fires allowed in Madison county. Relatively quiet except for when train passes.
Oct 17, 2020
Campground and assigned camping space are extremely difficult to locate after sunset. Lighting is poor. Signage is poor. Sites are extremely close together. Surrounding area is a safety concern.
Oct 16, 2020
Sites were small, no fires per county. Were there 4 nights across from pet park, the poop container was filled too the top, never emptied. Lady at front desk had personality of a rock, not friendly at all. The older gentleman was very friendly & personable. Restrooms & showers very clean.
Oct 15, 2020
Park needs cleaned and updated. Staff was curt and not helpful.
Oct 14, 2020
It was a great stop over with no problems except the CATV connector is loose and will break soon. Thanks for a good time.
Oct 13, 2020
One of the nicest and cleanest we have been to. It was so nice to be greeted by a great young man named Jake. He was very polite, friendly, and helpful. Great job Jake!
Oct 12, 2020
If you are traveling east to west this is a great location - the primary reason I stay here. You bypass all of the St. Louis traffic coming and going yet if you choose to you can scoot into the city.
Oct 12, 2020
There were very few advantages to this campground and certainly was not what we have expected from KOA. The playground was filthy, the jump pad deflated, no other activities, and you CANNOT HAVE A CAMPFIRE! While it was on the map at check-in it was not obvious when we booked. Only advantage was the proximity to the Chain of Rocks Route 66 bridge. Campground sits in middle of industrial park.
Oct 12, 2020
Great campground!!! Nice location and nice amenities! We even arrived late and a camp host took us to our spot. Thanks for a great stay!
Oct 12, 2020
Good as always. I like the open spaces for walking AND the hot showers. Those folks who don't pickup after their pets make those of us who do look bad. Sad but true
Oct 11, 2020
The campground was convenient to the interstate. However, the noise from the racetrack and the trains made sleeping impossible!
Oct 09, 2020
Stopped by the office 2 times. No one there! On our second night another camper came to our door because he had been given the same spot we were in. Again, no one in office. Next morning I called to ask about the problem and Shelly (I think) said she saw that our reservation had been canceled by them but she could not explain why. No one on duty caused this problem. Won't stay there again.
Oct 09, 2020
Well maintained. Nice bathrooms and showers. Lots of highway noise. Pretty constant though so was able to sleep. Convenient to Cahokia and Lewis and Clark sites.
Oct 09, 2020
We were only there one night so it is difficult to give a 5 when you don't use all facilities. However, staff were helpful and accommodating. My husband had trouble hooking up the water and help came right away to assist. Sites were good sized and easy to get in and out of.
Oct 06, 2020
Koa was a little run down, next to the railroad tracks, and surrounded by industrial park. But it served it's purpose for one night. Never saw any personnel.