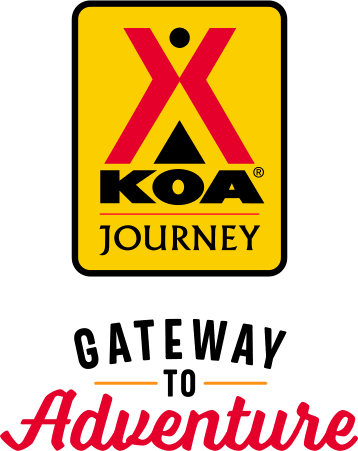 KOA Journey Campgrounds
KOA Journey campgrounds are the perfect oases after a day on the road. Whether it's along the way or a quick getaway, they've got you covered. Located near the highways and byways of North America with long Pull-thru RV Sites, they deliver convenience to the traveling camper. Pull in, ease back and take a load off.
KOA Journeys Feature:
Pull-through RV Sites with 50-amp service
Premium Tent Sites
Well lit after hours check-in service
Directions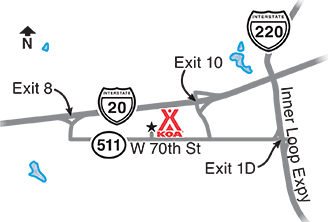 I-20 Eastbound (Toward Bossier) Exit 8 ( Ind Loop) right off ramp, left at first light one 1/2 mile on left
I-20 Westbound (Toward Texas) Exit 10 (Pines Rd) left Lane turn left off ramp; 6/10 mile turn right on West 70th, one mile on right. 
HWY 71S from Little Rock becomes Hwy 220, Right toward Dallas, continue over I-20 becomes Hwy 3132W, get in center lane to exit 1D, turn right onto W 70th street, 2 1/2 miles on right.
I-49 from New Orleans  exit 201 onto Hwy 3132 toward Dallas, Exit 1D  turn left onto W 70th street, 2 1/2 miles on right
GPS:  N32.44249, W93.87818
Get Google Directions
Sep 24, 2021
Kindest, friendliest, most hardworking bunch of folks that run this place. They worked so hard to get repairs to some serious weather damage this year and have upgraded in addition. They obviously pour a lot into the Kampground.
Sep 24, 2021
The wifi was the worst I have ever seen and had a water leak as we were without water for almost a day.
Sep 24, 2021
Very beautiful RV park. Staff was very friendly and organized. Space was very roomy.
Sep 24, 2021
Very nice except no cable.
Sep 22, 2021
Was a very nice park with everything the family needed. Travel a lot from Nebraska to Louisiana and will make this KOA a stop. Convenient to get to and with all the trees it actually held the noise down from I 20.
Sep 22, 2021
Was a very nice place friendly staff
Sep 21, 2021
Friendly. This was our second stay here
Sep 21, 2021
Pleasant and friendly staff. Concrete pad had a very narrow entrance with a roll off of 3-4 inches on right side. Watch the inside of your tires. Would still stay again with a watchful eye on site.
Sep 21, 2021
Clean. Would definitely stay there if we are back in Shreveport.
Sep 20, 2021
Too tight, sewer in neighbor's front door.
Sep 20, 2021
Very clean and well kept. Big pull through concrete pads.
Sep 20, 2021
Easy check in, friendly staff and close to everything. Quiet at night.
Sep 20, 2021
Lovely little KOA. Friendly staff. Store with nice separate room of RV accessories. Enjoyed stay.
Sep 20, 2021
Everything was quiet and pleasant. Hook up was easy. All around a very good and would stay there again.
Sep 19, 2021
In seven years of going to KOA campgrounds, this is the best one I've been to. Everything is done first class.
Sep 19, 2021
Good place to stay. Will come back
Sep 18, 2021
Overall a very nice campground! Grounds are well maintained. Staff is great!! The restroom and showers need work. Kind of falling to bits in places but very clean. We'll stay there again.
Sep 18, 2021
Our cabin was spotless, comfortable and spacious. The bed and couch provided a great night's sleep. The camp store was big and well stocked and the receptionist at checkout was friendly. Perfect stay for passing through.. Our dogs really liked playing at the clean dog park.
Sep 17, 2021
Gosh! What a friendly staff!! And my site was spacious, too. The park has great amenities. Would suggest "doggie stations" throughout the park, though, and recycling.
Sep 17, 2021
Great overnight stop campground
Sep 17, 2021
Just a tad high on the rate
Sep 16, 2021
We had a great pull thru with concrete pad. Check in was simple, bathrooms were clean, campground was well maintained. We heard road noise when outside and I thought it might be a distraction for sleeping but inside the camper we didn't hear it. We would stay again.
Sep 15, 2021
Nice place whether you stay several days or just overnight. Employees always nice.
Sep 15, 2021
Beautiful campground. Friendly, helpful staff. Quiet and clean. Loved it!
Sep 15, 2021
rude staff will never stay here again
Sep 15, 2021
Very clean, staff was friendly. The patio furniture is nice and the bathrooms are immaculate. Our pull through site was easy access, flat and had a nice cement patio.
Sep 14, 2021
Our cabin was cozy and clean. The staff was super kind and pleasant to deal with. Will be staying here next year when we come to visit family again.
Sep 14, 2021
I paid for a premium spot got the cheaper one.
Sep 13, 2021
The staff is very friendly and welcoming!! Grounds are well cared for too. All in all a great stay
Sep 13, 2021
All the spots (at least in the front) were pull though, which was one less headache to deal with. Easily accessible location. Staff was friendly and helpful. We plan on staying here again very soon.
Sep 13, 2021
Always a great place to stay for a weekend in Shreveport!
Sep 13, 2021
Stayed in delux cabin. Ants on floor especially around doorway. Otherwise enjoyed our stay Thank you.
Sep 12, 2021
We have stayed here several times and we will stay here again next time we are coming that way.
Sep 11, 2021
The campground was comfortable. My only complaint is that we evacuated here for Hurricane Ida and I was disappointed when I asked if they were taking Fema claim numbers for extended stays because it was getting expensive. Also the power went out for 12 hrs and I think we should have had something knocked off thst night's stay. Other than that it was fine, although Shreveport is boring
Sep 11, 2021
Had a very bright lite shine in our bedroom window all nite, I know safety is good but that is altogether to bright
Sep 11, 2021
Very very clean
Sep 06, 2021
Staff was friendly, place was extremely clean..
- macd322000 on Google
Aug 23, 2021
Good customer services. If they can, they will accommodate your request. They maintain their grounds, clean showers , & clean bathrooms. ALSO, they have a LAUNDRY ROOM. Amenities for everybody. Like a swimming pool . A play ground for the kids. Even a playground for your fur babies. I love this place. The couple who runs the camp are super sweet.
- Joy Carbona on Google
Aug 17, 2021
We enjoyed our two day stay. Very nice friendly people working here. The Campground has easy access to all of its sites.and many pull thrus available. We enjoyed the pool and found everything to be very clean and neat. The Restrooms and Showers are kept clean very clean. We have traveled over 10,000 miles and we feel of all the KOA Campgrounds we have been at this one is outstanding. Thanks for having us and we will see you again. David and Kim Roberts
- Kim Roberts on Google