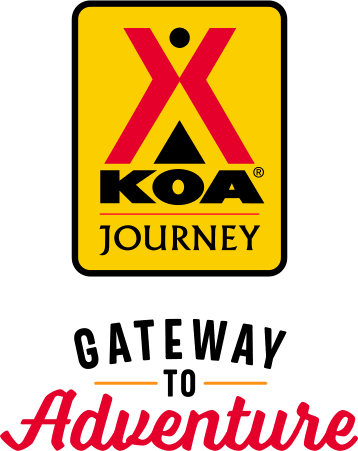 KOA Journey Campgrounds
KOA Journey campgrounds are the perfect oases after a day on the road. Whether it's along the way or a quick getaway, they've got you covered. Located near the highways and byways of North America with long Pull-thru RV Sites, they deliver convenience to the traveling camper. Pull in, ease back and take a load off.
KOA Journeys Feature:
Pull-through RV Sites with 50-amp service
Premium Tent Sites
Well lit after hours check-in service
Directions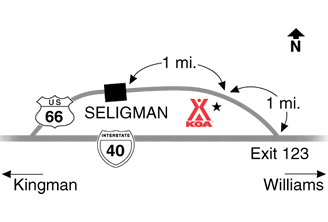 Exit 123 off-ramp from I-40: Turn north 1 mile on I-40 Business Loop and you will see us on the left.
Hwy 66 coming from the West: Drive through the historic town of Seligman, continue straight for 3/4 mile and you will see us on the right..
Hwy 66 coming from the East: Turn right just past the campground and take the second entry road into the park.
GPS: N35.317627, W112.854223
Get Google Directions
Sep 21, 2021
Everything and everyone was just great
Sep 20, 2021
Just OK, It gave us a place to plug in but being right next to a very busy train track made sleeping uncomfortable. It was also not very well kept.
Sep 19, 2021
Friendly...quiet...clean.....looove it
Sep 19, 2021
Very dirty campground and the staff was not very friendly. Dog crap not picked up and piles of dirt in campsites. Not to mention there's a train that goes through the campground all night.
Sep 18, 2021
Willams and Flagstaff were a no go (Full) and Seligman was the perfect stop. Nice yards and well kept, power and water on most separate dump station very convienent. All in all good stay
Sep 17, 2021
Trains run directly by the campground all night long. The facility is very old and needs updating. It is basically a gravel lot with hookups. It was okay for an overnight stay on our way home, but I would make a different choice next time I am in the area.
Sep 16, 2021
Staff nice. I love KOA have lodged and tented many times. This KOA is older but I have stayed in older. That wasn't the problem. The giant grasshoppers and the frozen pool( it was abt 90 degrees but could have been just a tad warmer. And the grounds are not kept up.
Sep 16, 2021
We stayed in a small trailer with all the windows and hatches open because it was so hot, so we heard the trains on one side of us and Route 66 on the other, along with I40. So the campground is pleasant and we had a nice view, but it is not a peaceful place. The pool is now full of unheated water and the bathrooms are clean so it was a good stop over for us. It was nicer than the other place
Sep 15, 2021
Everything was really nice, we had an issue but it was resolved quickly. The staff is very nice and very helpful.
Sep 14, 2021
When we arrived, the office was already closed for the night. As we're heading to our spot that was assigned to us, it was already occupied. The spot was double booked. We had to find another available spot. The next morning the owner was not concerned that our spot that we reserved was taken. No credit of any kind or apology was made. Pool was cold. Coffee was good. Bathrooms okay. Trains loud.
Sep 14, 2021
The only thing that was awful was the stickers. They were really bad at the tent sites.
Sep 13, 2021
Stickers all over the place and we were tra king them in and out of the rv. They were everywhere.
Sep 13, 2021
Always a pleasure to stay here. Clean and safe. Management helpful.
Sep 12, 2021
Well.... very mixed bag of good and not so good..... The dependable electrical connection was a life saver, in the desert heat 100 degrees September weather. But the showers need a Lot of work.... Nice registration/check in area. Pleasant fellow checked us in. We saw the boxes of new washers and dryers.... potential positive..... but it is the bathrooms that need total renovation !!
Sep 09, 2021
As usual, what we need this campground to be it is. We use it as a base camp. It has a nice atmosphere and the trains are part of that.
Sep 09, 2021
9-5-21 to 9-7-21. This was our Basecamp for visiting The Grand Canyon and the Historic Rt 66 - The little town of Seligman is delightful - just a couple of miles from the KOA - Roadkill cafe, Angel's barbershop, and fun 50s memorabilia. The folks at the KOA were very helpful, friendly and interested in making sure we had a good stay. Everything was clean and we would stay here again !
Sep 07, 2021
Campground could use some major upgrades
Sep 07, 2021
clean quiet and relaxing,
Sep 07, 2021
Lots of space. Very friendly owners. You have desert views forever. The trains pass through close by, however we enjoyed watching them.
Sep 06, 2021
It was acceptable. On arrival, the electrical system at the unit we were assigned was malfunctioning. We were given a replacement unit that did not have sewer hook up. We were refunded the difference in rental space cost and were treated respectfully. All in all it was a satisfactory stay.
Sep 04, 2021
I liked it! Quiet small town. Clean campgrounds and free wifi. Train runs next to site but it didnt bother us. I would do it again for sure.
Sep 02, 2021
Friendly staff, services were clean. Bathroom and showers free and open 24/7. Little cabin was clean and had AC worked out well
Sep 01, 2021
Worst koa ever stayed at, older, bathroom look old although they tried to decorate to look ok Dry desert environment. Ok but would rather not stay again if any other choice.
Sep 01, 2021
Staff friendly, run down. But the train nearly in camp running all night is the reason we won't return
Aug 31, 2021
Bare bones place, camped by dead tree,
Aug 31, 2021
I would recommend more time spent on landscaping and daily pool cleaning. I had to skim the bugs out so we could use the pool. Clean cut and clean property is a must. if the park is clean and maintained the train noise is tolerable with some white noise.
Aug 31, 2021
My favorite nicest KOA so far. Super clean and friendly staff. Will use again and recommend for suur.
Aug 29, 2021
Clean, comfortable, pleasant place to stay
Aug 29, 2021
No cable, no TV reception, no sewer connections. Located within a few feet from railroad tracks
Aug 28, 2021
Enjoyed our stay. Really nice pool.
Aug 25, 2021
Easy access. If you do not like to hear the sounds of trains this is not the site for you. It didn't bother us. Rural and pleasant.
Aug 23, 2021
It was very nice. Nice space for our dogs.
Aug 21, 2021
Area is very nice however the train is way to close and kept us from sleeping. The wind was also pretty bad. We didn't use any of the facilities so I cannot comment on them. If you need to stop it's ok to stay over one night but bring earplugs! West side Lilos is the best spot to eat! They did refund our last night as we left a day early and skipped Sedona I needed sleep.
Aug 21, 2021
We have stayed there many times.
Aug 19, 2021
A great KOA gem on RT. 66. We stayed 4 days and could not have had a better stay. Owners are very helpful and the office has a great little store with basic needs. Sites are level and well maintained. Laundry is clean and in good order. Play ground, pool and Dog walk. Just a shortbdriver from town with great food and RT. 66 goodies. We will be back.
Aug 18, 2021
Good facilities. Clean. Laundry convenient. Pool should be open later, 8 pm too early.
Aug 16, 2021
I arrived in search of land. I had only booked one night because I didn't really have a plan. The next day I checked to see if I could extend my stay. I booked another week. Ended up in contract on a property. I asked to extend my stay till the close date. They worked with me flawlessly on all of my extensions. I'm now on my land thanks to KOA Seligman giving me a place to work from!!
Sep 02, 2021
Clean easy access friendly staffs and very peaceful with all the trains going bye
- Tim Burkhardt on Google
Sep 01, 2021
Very friendly staff all over the park. The entire park is spotless and well cared for. The office store is well stocked and has some beautiful offerings. The park has easy off and on access to the interstate.
- Kim W on Trip Advisor
Aug 29, 2021
Great place great staff, updated facility
- Timothy Moore on Google