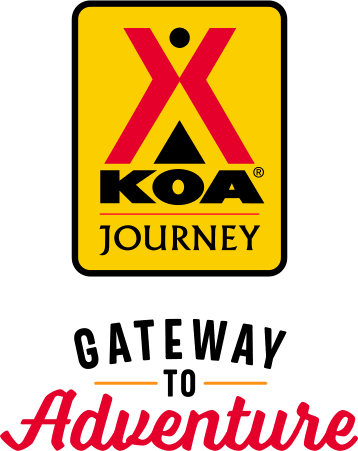 KOA Journey Campgrounds
KOA Journey campgrounds are the perfect oases after a day on the road. Whether it's along the way or a quick getaway, they've got you covered. Located near the highways and byways of North America with long Pull-thru RV Sites, they deliver convenience to the traveling camper. Pull in, ease back and take a load off.
KOA Journeys Feature:
Pull-through RV Sites with 50-amp service
Premium Tent Sites
Well lit after hours check-in service
Directions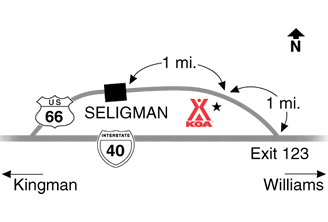 Exit 123 off-ramp from I-40: Turn north 1 mile on I-40 Business Loop and you will see us on the left.
Hwy 66 coming from the West: Drive through the historic town of Seligman, continue straight for 3/4 mile and you will see us on the right..
Hwy 66 coming from the East: Turn right just past the campground and take the second entry road into the park.
GPS: N35.317627, W112.854223
Get Google Directions
Jun 09, 2021
If this were my first stay at a KOA I would never give any KOA a second chance. This particular KOA was very unkept. The bathrooms were very dirty, the urinals didn't flush and were full of urine making the whole bathroom stink. This place needs a very deep cleaning and a renovation of the bathroom.
Jun 08, 2021
Pool needs to be fixed or filled in, it is an eyesore! Property needs TLC!
Jun 08, 2021
Landscaping was horrible; many plants were dead and there was no grass. Bathrooms needed maintenance and the shower heads sucked. No cable; the trains ran all night and the guy who ran the place was not friendly or personable. The pool needed repairs so it was not open. The Wi-Fi was great! It is not a place to stay for more than one night.
Jun 08, 2021
Easy access, nearby gas station. Everything worked. Neighbors and employees were friendly and helpful.
Jun 07, 2021
easy access and hook-ups. Clean restroom/showers.
Jun 07, 2021
Run down and not to the KOA standards. Pool closed and doesn't look like opening any time soon.
Jun 07, 2021
The worst KOA we have ever stayed in. The nearby train rails run all night and all day. These trains are so long it takes up to 8 or nine engines just to pull them and they run about every 20 minutes, sometimes as little as every ten minutes. No sleeping or relaxation at this park. There was no cable TV. The park is in need of some serious cleaning up.
Jun 06, 2021
This campground was excellent. It provided us with beautiful scenery and the opportunity to watch the trains as they made their way through New Mexico. Campground was clean and well maintained, exactly as you would expect from a KOA. We would use this campground in the future. The Burrells from Bogart Georgia ����������
Jun 06, 2021
To bad it was so close to the railroad tracks. I'd not recommend this place because of that. Also no pool or any recreation facilities. Really a bare bones camp.
Jun 05, 2021
We had a space thatallowed us to see and hear the trains. We loved it. Others maybe wouldn't but we loved watching them. And we slept fine. I would stay there again and love it. Mike was a great host and always made us feel welcome.
Jun 04, 2021
Great place to stop over when traveling in the area. Friendly staff, clean park & facility, campers spaced well. Only negative was mild vibration from train and a few stickers. Dog parks good sized, though equipment aged & could use repair. Didn't use playground but appreciated there was one.
Jun 03, 2021
We understand that this KOA was fairly recently purchased by these owners & when they purchased it, the place was in need of repair so there were some things that were let go for some time. We were however kind of dissapointed to find that the pool was not up & available like shown in the online advertising. Other than that, Chris was very nice & helpful- the bathrooms/showers were always clean.
Jun 03, 2021
Mike and staff did a great job appreciate all the help in making our stay enjoyable. Being on Rt 66 and just min from downtown we were able to visit the many RT 66 shops and eateries. Mike provides ear plugs for the many trains that pass by but that did not keep us awake at night.
Jun 02, 2021
One night stay. Very clean park. Short sites, had to disconnect. Very weak wifi, could never connect to it.
Jun 02, 2021
To start with the man that checked us in looked high and was not very friendly. I had to ask him to speak up I couldn't understand what he was saying. The park was not being kept up to KOA standards in my opinion . The pool was empty and being worked on , the trash can was over flowing even the recycle can was full of trash. I understand the was a holiday weekend but I was disappointed
Jun 01, 2021
Somewhat friendly staff, not really talkative. Campground is located very close to the train tracks, but the train noise wasn't bothersome. We were hit by a dust devil within a couple of hours after arriving. So glad our awning and chairs weren't out.
Jun 01, 2021
The combination road and rail noise was outstanding. The grounds were covered in a fine lunar dust that covered everything. The bathroom had one of the two urinals covered with a garbage bag, and one of the sinks was filled with dirt. The road noise is unavoidable, but the rest is just sloppy.
May 31, 2021
I loved that our cabin was clean and that the bathrooms were clean. What I didn't love was the pool was not open and that on the last day there was no water for the bathrooms or for clean up! Yikes! I'm glad it was n the last day as it would have been really disappointing to pack up for a camping trip and then not have any bathrooms the whole time. We did have fun with family!
May 30, 2021
It was easy to get in and out for our over night stay the staff was real nice
May 30, 2021
Staff was very friendly, reservations were easy to make. The park needed attention, the pool appeared to have been out of order for a long time, some trees were dead. We were there just overnight. I would not stay there except to pass through. One big factor in my rating was the park ran out of water! They claim it is a public water system problem. Many at camp had no water!
May 30, 2021
Restrooms needed a lot of a tension. Laundry room was ok and the price was good. Thank you. Pop
May 30, 2021
Every thing we needed on the short notice! Helpful and friendly staff. Nice store. Many activities. We found the dump site very convenient. Interesting town and perfect location. We will see you on our way back to Texas in August.
May 30, 2021
Water was out the first day.. not the camps fault. Little dusty bit hey . It is the high desert.
May 29, 2021
Stayed 1 night driving thru. Level rock parking old but clean restrooms, showers and laundry rooms. Pool shut down needs work.. Wouldn't want to hang out here for long.
May 29, 2021
Great last minute stay. After hours check-in was very easy. Site nice and flat. Noise from the road and train to be expected, but we all slept soundly. All and all a good, clean, safe stop-over along the 40. Thanks!
May 27, 2021
Manager was helpful upon checkin. Bathrooms and laundry very clean. Easy bike ride to town.
May 26, 2021
Excellent facility, super friendly staff. We'll be back!!�
May 25, 2021
The campground was ok, hosts were cordial . But the trains every 15 minutes all day and all night were awful !
May 24, 2021
There was a 20-25 mph wind with gusts strong enough to rock trailer. It was not a good time to evaluate campground.
May 24, 2021
They were very organized and had our reservation already printed out when we got there. The camp was kept free of litter.
May 23, 2021
It is a very quiet and clean place. But the office closed too early to get some personal assistance.
May 22, 2021
Great relaxing stay. Excellent host
May 22, 2021
Had a very nice one night stay. Park was clean and easy to find off the interstate. Staff was friendly and site were level.
May 22, 2021
Peaceful except for the railroad coming through every half hour. Very clean .
May 22, 2021
First off, I wasn't given the reward member discount. Site was next to train. Very windy, although not KOA's fault, however, because there was nothing but dirt and gravel we were Sand blasted. It's out in the open and grounds are simple. It was the best choice for the area we were in.
May 21, 2021
Uneventful. Too many trains going by to rate any higher. WiFi was great. Friendly staff.
May 20, 2021
While trains are charming, having them pass by frequently in the night is not. The hosts were great. Though we didn't meet them, they were helpful and accomodating when we spoke with them.
May 20, 2021
We arrived earlier than our protected date. Mike was very accommodating. Jake (our dog) enjoyed the doggy park.
May 19, 2021
Ice place for a short stop over, the constant train noise is a setback though.
May 19, 2021
Stayed here many times. The campground is well maintained and looks better than ever.
May 17, 2021
Great stay there... a good place to put the RV while travelling the Old Route 66 road. drove to the West boarder of AZ and drove the Old Route 66 road back to Seligman and beyond finishing in Williams. Great trip and hope to utilize the park again.
May 17, 2021
We would come back to this RV camp ground.
May 14, 2021
Very relaxing stay. Sites were level and wide. The camp K9 enclosed in areas were very nice. Will stay again.
May 14, 2021
Peaceful, railroad went by every hour so if you wake up easy beware.
May 16, 2021
If you love trains, it's a 5*! They go by about every 20 minutes, 24/7. The bathrooms were kept clean, 3 out of 6 stalls had sufficient TP. They need to finish the concrete to get into the bathrooms, as the 2 pieces of wood are very unsafe, not wheelchairaccessible. As for the pool, it does not appear any repairs are being done. All the sites are well maintained. We would definitely go back!
- Melody Barbeaux on Google