Local Area Attractions Near Seligman / Route 66 KOA Journey
The town of Seligman is known as "The Birthplace of Historic Route 66" in Arizona, a wonderful, centrally located place to use as base camp for many day trip adventures!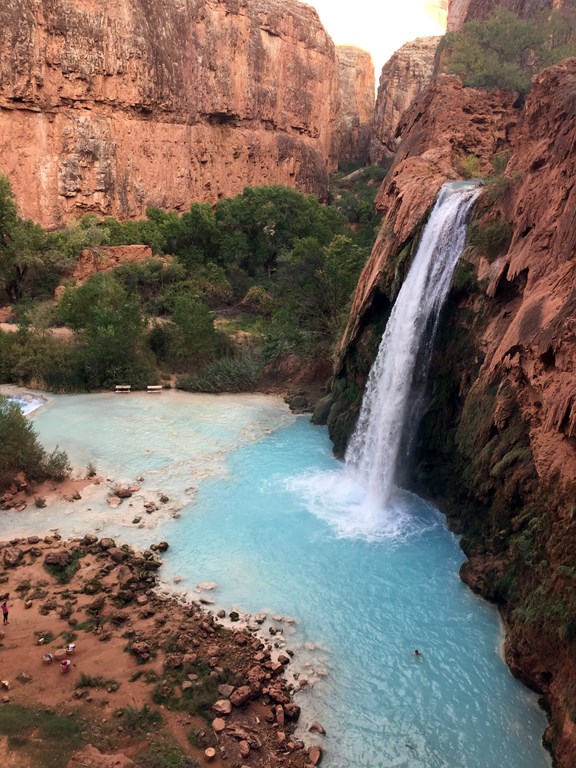 Havasupai Falls
Located on the south side of the Colorado River Havasupai Falls is one of the most remote and beautiful corners of the Grand Canyon and is noted for its four stunning blue-green waterfalls. Accessible only by foot, horseback or pre-arranged helicopter service, the trail from Hualapai Hilltop descends at a moderate grade for the first 1.5 miles into Hualapai Canyon and then levels off slightly for the remaining 6.5 miles to Supai Village.
The famous site of the canyon begins 1.5 miles downstream from Supai where four waterfalls plunge over cliffs of Redwall limestone in a space of two miles. The first is 72 feet high, Navajo Falls, and then Havasu Falls which drops 100 feet into a beautiful turquoise colored pool rimmed by travertine deposits… a perfect spot for swimming. The third is Mooney falls, 196 foot beautiful pool of water. Lastly two miles down is Beaver Falls. For information call Havasupai Tourist Enterprises at (928) 448-2731.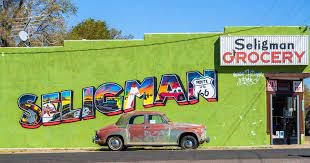 Town of Seligman
Self-guided walking tours of Seligman include historic buildings, classic automobiles and gift shops.  Stop by Angel (the angel of Route 66) Delgadillo's world famous gift shop and barber shop.  Bring your camera and take pictures of the Snow Cap Drive-In, which has been on the cover of National Geographic, Arizona Highways and many more. Grand Canyon Caverns
Visit a place 21 stories deep in the earth...a place of our ancient past. See 3 million year old marine fossils...a replica of a giant ground sloth extinct for 20,000 years and the remains of a mummified bobcat. Guided walking tours take approximately 45 minutes. An elevator takes the tour 210 feet underground to the caverns. The trails are paved and well-lit. Handrails enclose the paths. Grand Canyon Caverns is open year-round except for Christmas Day. Hoover Dam
Visit the western hemisphere's highest concrete dam: 66 feet thick at its base, 726.4 feet high and stretching 1,244 feet across the Black Canyon. Constructed with 6.6 million tons of concrete in 1931, Hoover Dam was completed in 1935. It generates 1,344,800 kilowatts of hydroelectric power. Laughlin, NV
Third largest vacation spot in Nevada. Enjoy the area with good food, gambling, entertainment, special events, boating and shopping at the brand name discount stores.
Local Area Recreation Near Seligman / Route 66 KOA Journey Route 66 History
Check out the local historic buildings, cars and businesses along the old route as well as the "Burma Shave"  signs along the highway.