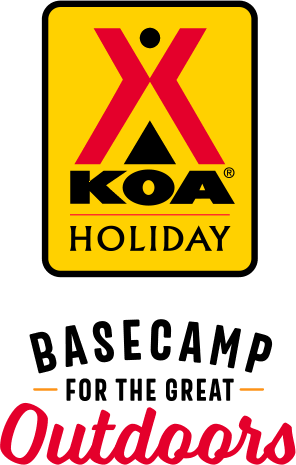 KOA Holiday Campgrounds
Whether you're exploring the local area or hanging out at the campground, KOA Holidays are an ideal place to relax and play. There's plenty to do, with amenities and services to make your stay memorable. Plus, you'll enjoy the outdoor experience with upgraded RV Sites with KOA Patio® and Deluxe Cabins with full baths for camping in comfort. Bring your family, bring your friends, or bring the whole group – there's plenty of ways to stay and explore.
KOA Holidays Feature:
RV Sites with a KOA Patio®
Deluxe Cabins with full baths
Premium Tent Sites
Group meeting facilities
Directions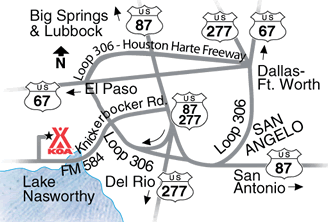 All highways, 67, 87 and 277: Take Loop 306 to Knickerbocker Rd (FM 584). Then proceed south 2 1/4 miles. Campground will be located on the west side of Knickerbocker Rd. GPS: N31.388847, W100.493670
Get Google Directions
Jun 22, 2021
First campground we ever stayed . Friendly and helpful staff. Clean and nice all through the park! We will be staying again!
Jun 21, 2021
The people were very friendly the grounds were just kept up very nicely had no complaint about this Campground in San
Jun 21, 2021
First Class Stay. Good Service. Will come back again and again
Jun 21, 2021
Great place, awesome staff. Quiet and comfortable, we had an great time.
Jun 21, 2021
Very friendly people although we didn't get to stay. Bought a brand new fifth wheel and had problems and had to return the trailer. Only bright part of the day was the friendly people at this KOA.
Jun 20, 2021
I stayed 1 night and then 4 days later I stayed 3 nights. All the staff were very friendly and helpful. It was a very relaxing stay and I enjoyed it so much.
Jun 20, 2021
Bob was especially helpful. My surge protector is difficult to see in daylight, and it appeared to give a "reverse polarity." At night both green lights made it obvious that the electrical connection was sound. While I was confused about the reverse polarity condition, Bob invited me to try any other electrical supply in the camp. He was genuinely concerned. He also tipped me to the green TV light
Jun 20, 2021
Very clean and friendly staff. Pool was starting to show age, but was a welcome respit in the sweltering heat. Easy access to freeway and services. We would certainly stay here again.
Jun 19, 2021
It was wonderful for the most part except for the weeds around the premium sites and no doggie bags
Jun 19, 2021
Very nice RV park, very clean, facilities, pool, etc.
Jun 19, 2021
This is a very clean campground and the services are very well laid out. It is on the approch for the airport, but it is barly noticeable,noise level is low and not a lot of it. Enjoyed our time there. Lots of places to walk your dog or run also.
Jun 19, 2021
HOT, not their fault!!! People were all very nice and halpfull.
Jun 18, 2021
Fantastic place! Beautiful, clean and great staff!
Jun 17, 2021
We only stayed 1 night but was comfortable.
Jun 17, 2021
Check-in was quick and painless. We reserved on line and desk was ready for us in every way when we arrived. Staff was very pleasant and welcoming. We've stayed at this KOA before and will stay again.
Jun 17, 2021
Very polite and friendly staff. Gravel sites, wifi would not support any kind of streaming for example Netflix. Kept freezing. Reliable wifi should be a basic in any park.
Jun 16, 2021
Nice clean facility. Helpful and friendly hosts
Jun 15, 2021
Great Campground and Staff!
Jun 15, 2021
The hospitality of this place was amazing. The two awesome people upfront helped us out so much. We had a tire blow out and had to stay the night. They helped us out so much, with the things we needed for a new trailer. Also we had the best camping neighbors. If we make it back down there we will stay again at the KOA. Thank you so much
Jun 14, 2021
We stayed at four KOA locations over the week, this one was the best by far. Our little cabin and private restrooms were very nice.
Jun 14, 2021
Comfortable and clean! Very kind staff.
Jun 14, 2021
It was great. Loved everything about the KOA
Jun 14, 2021
The pool was outdated and needed repairs. My site was very unlevel.
Jun 14, 2021
Very friendly staff. Well maintained property
Jun 14, 2021
The Owners, Bob and Julie were very friendly! Very clean and efficient - special site! Would love to see more souvenir selections in the store on-site, as we did not have a vehicle to travel to shops.
Jun 13, 2021
We were travelling with 2 other couples and when we requested 3 sites together in the delux accomodations we were told that was not available. In the 6 nights we stayed there we had 5 different RVs in the spot that would have put us next to our party. Not quite understanding that,the weeds surrounding the campsites are out of control. I had to remove "stickers" from my little dog everyday
Jun 13, 2021
Very hot. Used pool a lot. Fowl mouthed kids weren't appreciated at pool.
Jun 13, 2021
I love the setup with the privacy panels between sites. It was easy to get in and out. A very nicely kept park.
Jun 12, 2021
Clean, well maintained and friendly staff. Utilities well sited for ease of use. Will be back....in cooler weather!!!
Jun 11, 2021
It was a nice getaway. We were in San Angelo for football camp and stayed in cabin 2. Great location by playground, new bathrooms�and next to the best running trail in town! The AC kept us cool in the triple digit weather. A pretty great stay in my book!
Jun 11, 2021
Very nice and clean facility, staff is polite and attentive, only stayed one night, but will definitely stay longer next time.
Jun 10, 2021
Very nice KOA,
Jun 08, 2021
Allowed two trailers of 7 dogs next to us. Bad policy. They said as long as the were not aggressive the they were welcome. No policy on # of animals.We stayed a full week and they put us where people stay on night an leave. Coming and going all week. They said it was there only 30 amp area.
Jun 05, 2021
Enjoyed a week's stay. Close to everything, food, shopping, entertainment. Spacious well maintained sites. Friendly staff. Complementary weekend breakfast, pancakes, sausage and great coffee a big hit! Will be back.
Jun 05, 2021
All of the staff members we encountered were so pleasant and helpful! The campground was one of the best maintained that we have stayed at. The ladies restroom was very clean and even decorated nicely, making it so welcoming! The only downside was the push button shower, although I understand the need for it for water conservation. Also, big points for having recycling bins available.
Jun 04, 2021
We always stay at the San Angelo KOA, it's absolutely the best! Clean, quiet and super friendly staff to above and beyond!
Jun 04, 2021
It is the best rv experience I have ever had. It was nice, clean, and very beautiful in the area. Highly recommend staying there.
Jun 03, 2021
Very nice clean park and friendly people
Jun 02, 2021
First time staying at San Angelo, Host were great, very friendly. campground was very nice, had covered tables & firepits which made our stay very enjoyable.
Jun 02, 2021
The staff was so friendly and the entire campground was super clean and well maintained, will definitely stay here again!
Oct 23, 2021
Outstanding
- Robert Richardson on Google
Oct 11, 2021
Awesome establishment. Marshall and Sherry are top notch owners
- Mark Mccarty on Google
Oct 09, 2021
We had a great time. My kiddos are in this area, it was nice seeing them. The office and escorts are very nice and friendly.
- elizabeth geasley on Google