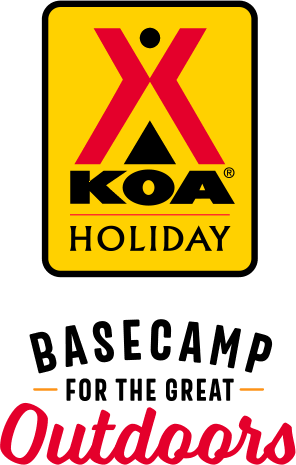 KOA Holiday Campgrounds
Whether you're exploring the local area or hanging out at the campground, KOA Holidays are an ideal place to relax and play. There's plenty to do, with amenities and services to make your stay memorable. Plus, you'll enjoy the outdoor experience with upgraded RV Sites with KOA Patio® and Deluxe Cabins with full baths for camping in comfort. Bring your family, bring your friends, or bring the whole group – there's plenty of ways to stay and explore.
KOA Holidays Feature:
RV Sites with a KOA Patio®
Deluxe Cabins with full baths
Premium Tent Sites
Group meeting facilities
Directions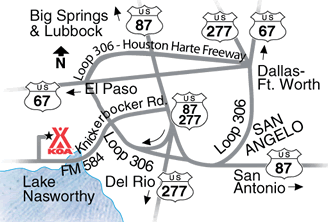 All highways, 67, 87 and 277: Take Loop 306 to Knickerbocker Rd (FM 584). Then proceed south 2 1/4 miles. Campground will be located on the west side of Knickerbocker Rd. GPS: N31.388847, W100.493670
Get Google Directions
Jan 20, 2021
Nice clean park and very friendly staff. We will stay here again.
Jan 20, 2021
I stayed in one of the cabins for two nights. The first night, I was not going to arrive until after midnight. The staff called me earlier in the day to check on my arrival time and were very friendly, understanding and accomodating...almost like family. Everything was prepared for my arrival, including the heat being on, as it was 28 degrees on arrival. Clean room, facilities and friendly.
Jan 20, 2021
We look forward staying here every so often just to get away from home and relax.
Jan 19, 2021
Clean, fairly spacious campground. Loved seeing the deer beyond the split-rail fence. Staff helpful and courteous.
Jan 19, 2021
Very nice and kid friendly. We will stay again.....
Jan 19, 2021
We only stayed one night and it was a good place to stop over. Staff were very helpful.
Jan 18, 2021
We were met promptly at check in and the staff was very helpful, escorted us to our site and spotted us, very helpful. We would stay again.
Jan 18, 2021
We always use the San Angelo KOA as a stop over and have never had an issue. This past vist we requested to arrive earlier than scheduled due to impending weather issues and then we were able to stay an extra day until the weather cleared. Staff was very accommodating. Thank you!
Jan 18, 2021
The facilities were clean and well kept. I was a little disappointed that there were not fire pits at all sites (only at 10 or so premier sites) yet they sell firewood. Instead they require you to bring an elevated pit and remove the debris on your own.
Jan 17, 2021
Made me feel like family. Never a bad day here. Pleasant and polite staff. Excellent managers. I would recommend and stay again I'd I get a choice
Jan 17, 2021
Very clean park and friendly staff.
Jan 16, 2021
Fantastic stay! Clean, park area is great, staff members are so friendly. Love the SA KOA
Jan 15, 2021
All of the staff are friendly and very helpful. The park and restrooms are clean and well kept. The park is close to the lake and a lake road. There are many amenities. We wish there had been a little more space between RVs and fire pits or grill stands at our space.
Jan 14, 2021
Check in was seamless, space was unlevel but coach compensated. Wifi a little slow but was able to watch Netflix. Overall for one night stay good park, a little out of the way but still good.
Jan 13, 2021
We had to extend our stay due to weather issues, the staff was extremely accommodating and went about and beyond to help us. Top rate facilities and staff!
Jan 13, 2021
Stayed Jan 8th 2021, toasty warm when we went to bed. Woke up freezing. It was 28 degrees outside. I understand stuff happens .But when I checked out I mentioned they should check the heater and the back up was actually a fan not a back up heater. They didn't believe me. I love KOA's but I'll stay in a hotel next orthodontist appt. Which we have about every month. It is pretty there.
Jan 12, 2021
Extremely helpful, courteous and friendly!! Will definitely make this our go to campground for our weekend getaways! Thoroughly enjoyed everything about our stay!!
Jan 10, 2021
We stay here a lot and we love it. Staff is awesome, sites are raked daily, trash pick up by site daily. And the hill walk is great.
Jan 10, 2021
KOA has the best hosts of anywhere. Always helpful and willing to help you if needed.
Jan 10, 2021
We only stayed 2 nights, but the staff was very helpful and courteous. We would definitely stay at San Angelo KOA again! The grounds were well kept.
Jan 06, 2021
We were there for a short overnight stay. The woman in the office was very friendly.
Jan 06, 2021
Clean facilities, very friendly staff. Excellent area
Jan 04, 2021
Excellent service, very friendly people
Jan 04, 2021
Great customer service and wide site space.
Jan 03, 2021
Staff was extremely accommodating as we actually couldn't get back home due to a snow storm. The staff was able to extend us one more day without us even having to move sites. We were extremely appreciative of this and their willingness to help us.
Dec 28, 2020
I love the simplicity of getting in and out. I like staying at the pad with a fire pit. The dog park is clean. Nice walking trail next to the KOA that one of the local churches allowed the KOA to use.
Dec 28, 2020
It was nice!
Dec 28, 2020
The staff here are very helpful and responsive. The place is well maintained and clean. We enjoyed our stay!
Dec 25, 2020
Check in at evening was guided by a very friendly and professional gentleman, showers and restroom clean and well-appointed
Dec 22, 2020
This was our first KOA stay. We found it to be easy to schedule and check in, and the staff was highly accommodating. We were able to purchase propane there which was a plus, and to to it off, the price was great
Dec 21, 2020
It was a good stay enjoyable
Dec 21, 2020
They are always so nice and accommodating
Dec 21, 2020
Nice place to stop we will be back. Would like to have seen more trees planted for shade and sound barrier but not a deal breaker by no means.
Dec 21, 2020
perfect, asked for a spot near the restroom and it was perfect. People are very nice and friendly.
Dec 19, 2020
The place was very clean and the people so friendly and helpful. Would definitely stay again!!
Dec 18, 2020
It was great!
Jan 09, 2021
Very clean and comfortable. The dog park has lighting for evening dog walks which is very, very nice..
- Jeff Kramer on Google
Jan 09, 2021
Hi great KOA. We stayed 3 days, nice laundry and my son loved the showers! Great dog park and we'll lit. Would definitely stay there again.
- Chalice Markus on Google
Jan 02, 2021
This KOA is in a great location, very well run, and spacious. Wintertime travelers were passing thru but I believe it can fill up quickly during the busy season. Great playground area also. We will return.
- Bernie W on Google