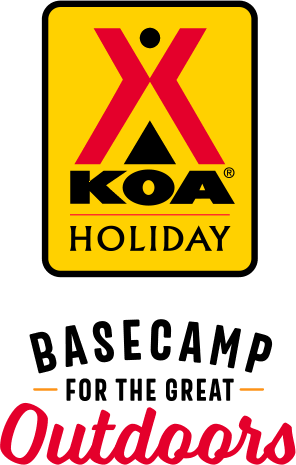 KOA Holiday Campgrounds
Whether you're exploring the local area or hanging out at the campground, KOA Holidays are an ideal place to relax and play. There's plenty to do, with amenities and services to make your stay memorable. Plus, you'll enjoy the outdoor experience with upgraded RV Sites with KOA Patio® and Deluxe Cabins with full baths for camping in comfort. Bring your family, bring your friends, or bring the whole group – there's plenty of ways to stay and explore.
KOA Holidays Feature:
RV Sites with a KOA Patio®
Deluxe Cabins with full baths
Premium Tent Sites
Group meeting facilities
Directions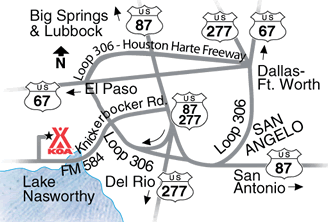 All highways, 67, 87 and 277: Take Loop 306 to Knickerbocker Rd (FM 584). Then proceed south 2 1/4 miles. Campground will be located on the west side of Knickerbocker Rd. GPS: N31.388847, W100.493670
Get Google Directions
Oct 13, 2021
Perfect place for a lay over stop or to spend a few days. Enjoyed watching the deer nearby. Mgrs were friendly and efficient. Park was neat and clean.
Oct 11, 2021
Wonderful place and so convenient . Nice sites
Oct 11, 2021
The campground was very nice, clean and well organized. The staff were very friendly, very accomodating! We love staying at the San Angelo KOA.......we will be back!!!!!
Oct 11, 2021
Clean quiet and well laid out drives
Oct 11, 2021
Site was small. Next to entrance. Felt like we were sitting on the side of the road. Not our best experience with KOA.
Oct 08, 2021
Please trim your trees! Scraped left side of RV from a tree!
Oct 08, 2021
Great hosts!
Oct 08, 2021
Very nice. Staff very helpful. Would definitely stay there again.
Oct 07, 2021
Always a nice place to stay. Have to give accolades to one of the staff members. She actually went into the dog park and on her hands and knees removed all of the growing spur weed so that dogs would not be hurt. That's right, one section at a time. Thank you
Oct 07, 2021
Very clean and maintained park. Staff was very friendly. Would definitely stay there again.
Oct 06, 2021
This was are 3rd visit and we will be back again. Great people and Location.
Oct 06, 2021
As always, the stay was very enjoyable. The park is very well maintained and the facilities in excellent working condition. The only issue this trip was the highway noise but that was my fault for selecting the spot on the end of the row toward the highway. The other spaces that we have used in the past did nto have the same issue..
Oct 05, 2021
Relaxing stay only recommendation is you need more trees. But it's west Texas!! Lol!
Oct 03, 2021
Some slots need more leveling
Oct 02, 2021
We stayed here twice on this vacation -- coming and going. Both times the sites were extremely clean, quiet and very pleasant. Your guide who leads campers to their site is very helpful and friendly. I would highly recommend your KOA and will most likely be back.
Sep 30, 2021
We found the KOA San Angelo to be clean and quiet. It was close to all we needed and really enjoyed visiting the city especially Downtown.
Sep 30, 2021
GREAT PLACE TO STAY!!!
Sep 30, 2021
Everything was great!
Sep 29, 2021
the park is very nice, however, I was not happy that the patio chairs, table and the patio itself were caked with bird doo. I cleaned the chairs as best i could, but, it would have been nice for the park to hose everything down before we showed up. We did pay extra for the use of the patio. otherwise the park with very nice.
Sep 28, 2021
Staff is helpful and friendly, very clean campgrounds. Quiet and peaceful. Second time staying and love it. Will return time and time again
Sep 28, 2021
Nice camp, quick stay but felt safe
Sep 27, 2021
Best place to satay in San angelo
Sep 27, 2021
Nicest KOA we've visited. Much better than the old, tired, LOA look we have experienced in the past. We would recommend.
Sep 27, 2021
Things were great. We had a short stay, but loved all the staff we did encounter. Everyone was super nice and very helpful. We come in the area to visit our Air Force son and it has been tricky finding a good place to come where our whole family fits and hang out. This was a great find for us. We will be back!
Sep 27, 2021
Stayed one night. Glad we had a patio site reserved for a little more space. Other sites very small and close together. Camp K-9 was ok. Staff was friendly.
Sep 27, 2021
We love it here! It's a little tight sometimes especially when its busy, but it isn't unbearable. Super clean and everyone in the office is super friendly.
Sep 26, 2021
Beautiful place, near town, and much wildlife that came to visit during the quiet hours.
Sep 26, 2021
Clean, very friendly, nice sized spots with privacy fence and lovely patios and nice furniture Close to restaurants. Old town is fun as is Riverwalk, plus informative If you like forts, they have a great Fort in San Angelo. Dog area decent, some green. All and all, good.
Sep 26, 2021
Very nice staff and camping sites. Big pull through site with a patio and outdoor table and chairs for relaxing. Garbage pick up daily. Thanks
Sep 25, 2021
Clean grounds in a pretty spot. Nice people working there.
Sep 25, 2021
Loved this KOA, exceptionally clean & beautiful! Bath & laundry facilities immaculate. This is the best kept camp park I've ever the pleasure of staying at. Staff was respectful, helpful and just plain friendly! Will stay here again!!!!
Sep 24, 2021
Friendly staff, clean grounds, nice pool, although the park was nearly full it was very quiet.
Sep 24, 2021
Excellent overnite stay. Easy in and out. Professional and friendly staff.
Sep 24, 2021
Everyone was extremely friendly. The grounds were immaculate.
Sep 22, 2021
Nice campground near the lake. Many areas to walk. The campground is well kept and is my favorite KOA to date. The reason for a 4 is spots aren't real level and everything is gravel which causes a lot of dust when it is windy.
Sep 21, 2021
Very nice KOA. The grounds were clean and maintained. We didn't use the bathrooms/showers, but looked in and they were clean. The laundry room was clean and $1.2 5 to wash and $1to dry. The pool was also very clean. All in all great place to stay for the price.
Sep 21, 2021
Campsite was amazing. Staff super friendly and helpful. Only issues we had was with the walking path next door. Wished it had had a earring on the gate that it was full of stickers. Took over 30 mins from a walk halfway through to get them out of two schnauzers that got into the edge of the grass. Not the parks fault by any means… just a warning to pet owners.
Sep 20, 2021
We stayed at San Angelo KOA many times in the years 2013-2015, especially during football season. We loved it then, and WE LOVE IT now! They are always friendly, helpful, clean, and organized. We have never had a complaint, and really wish every campground was this nice! We love having the small patio area and the screens between sites. Also, the trees and landscaping are perfect!
Sep 20, 2021
Could not have been nicer. Spaces were level. Quiet environment. Would definitely stay there again.
Sep 20, 2021
Very nice campground, staff were very friendly and helpful and the campground and facilities were very clean.
Oct 09, 2021
We had a great time. My kiddos are in this area, it was nice seeing them. The office and escorts are very nice and friendly.
- elizabeth geasley on Google
Oct 07, 2021
Awesome establishment. Marshall and Sherry are too notch owners
- Mark Mccarty on Google
Sep 27, 2021
Very nice staff and prompt service!
- Laura Mohler on Google