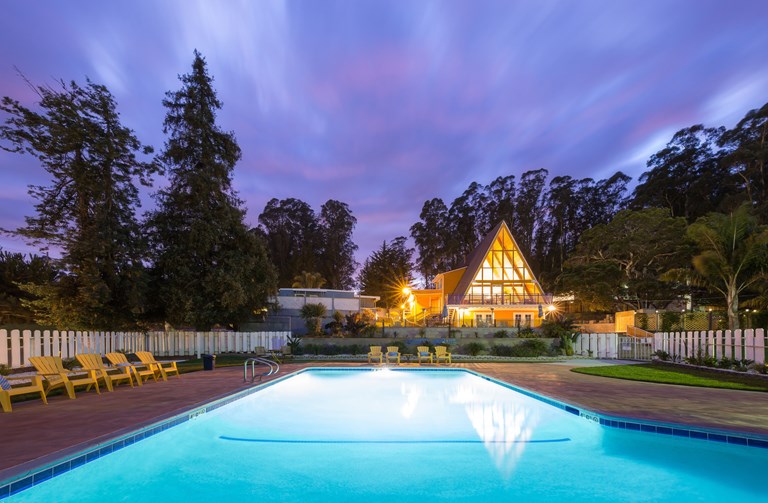 Salinas / Monterey KOA General Information
General Campground Information
Restroom Codes
Our restrooms have codes to keep you safe and secure. Please do not give our codes to non registered guests.
After Hours Arrivals
Please inform the front desk/office if you will be arriving after office hours. If you are arriving after hours and have reservations for a cabin or RV site, you will find a map to your site in an envelope at the front door of the office labeled with your last name. Please pull all the way up to the top and veer to right to the STOP sign. If you have any difficulty checking in, please call the after hours numbers posted on the front door. If you arrive after hours without a reservation, we will have envelopes with site information, (for example: Site 136, 40 ft, full hookup). Please fill out the envelope completely, including payment information, or cash inside the envelope, and drop it in the secure slot in the wall at the night registration station. You can come to the office in the morning to receive your receipt. If you have an email listed on the envelope, you will be emailed the receipt.
Freeway Noise
Our KOA is conveniently located next to the junction of Hwy 101 & Hwy 156. Due to our close proximity to these freeways, you will hear the freeway at the campground. We do not give refunds for early departures or discounts for having excess freeway noise.
Pool Rules
The pool is heated to approximately 80 degrees
. Street clothes are not permitted
. You must wear proper swimwear in the pool. Children under 14 must be accompanied by an adult. The registered adult is responsible for the enforcement of all rules for everyone on their site. Dogs are not allowed poolside.
Do you require a 50-Amp site?
For RVs requiring 50-amp service:
You Must request 50-amp service at the time of your reservation.
We have a very limited number of 50-amp sites, and only assign them by request. If you reserved online, and selected a 50-amp service site, you need to do nothing else.
Meet Your Hosts
Our KOA Staff looks forward to your arrival.
Thank you for choosing Salinas / Monterey KOA.