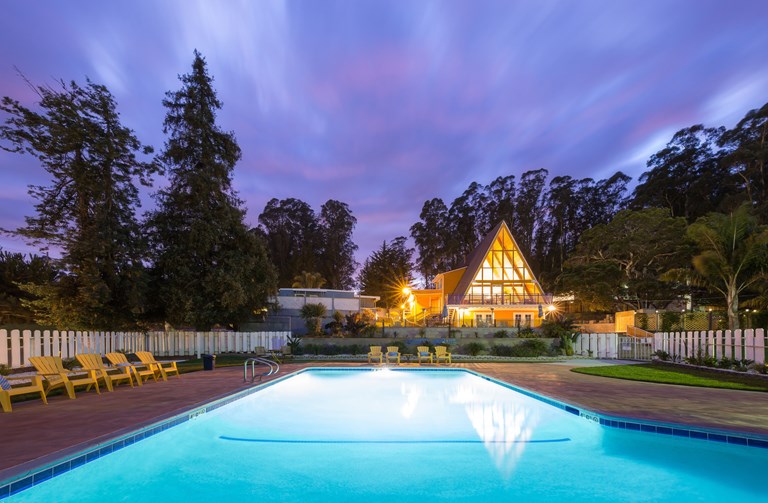 Salinas / Monterey KOA Reviews
Directions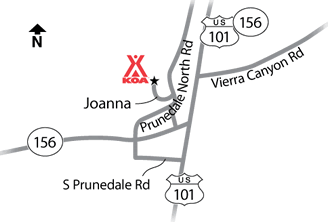 North 101: Take Exit 336, Vierra Canyon Road, make right at light onto Hwy 156. Proceed to next light, make a right onto Prunedale North Road. Go to stop sign, turn right. KOA on left. ***except RV's OVER 30 feet***
RIGS OVER 30 feet... please: Take Exit 337, San Miguel Canyon Road. Proceed to light, go left on Prunedale North Road. Go about 1 mile. KOA on right.
South 101: Exit 337, turn right on San Miguel Canyon Road, go to light, turn left on Prunedale North Road, go about 1 mile KOA on right.
Late Arrivals: There will be an Envelope with your last name and site number at the night registration area outside of office. Inside the envelope will be a map to your site and everything you might need for your stay. If you have reserved a cabin, the keys to your cabin will be in the envelope. Please come to the office before 10:00 am the following day to register. If you have not come to register by 10:00 am the following day, we will register you, and charge any remaining balance to the credit card on file, and send your receipt to the email provided when registering. The WiFi codes and restroom codes will be sent via email or VM. For security reasons, we no longer leave them in envelopes at night. Late checkins without a paid reservation will have to call posted after-hours number to get codes.
Get Google Directions
Oct 16, 2020
Great place to stay and close enough to everything in the area thats along the coast you want to see. There staff is really friendly and helpful as well.
Oct 14, 2020
Everything was great except for the noise from the hwy. but it was bearable.
Oct 13, 2020
We enjoyed our week there , the proximity to the Monterey area is great and the convenience of grocery stores, auto parts and hardware stores less than 1 mile away is great as well. We will visit again.
Oct 11, 2020
Cranky front desk. Freeway noise.
Oct 11, 2020
Check in went very well. We were placed close to the freeway, isolated, no one around us. At 11 PM that night, another RV was place right next to us, plenty of other spaces available. They were drinking, talking loud, and laughing all night as they slammed the door repeatedly as they set up past midnight. Not fun.
Oct 08, 2020
Close to Monterey aquarium to close to the freeway
Oct 07, 2020
Enjoyed stay, especially exchanges with Tuly.
Oct 07, 2020
This is the closest reasonably priced RV park we can use that's close to Monterey. It's a typical private park with RVs pushed as close together as possible. Our picnic table was rotted and warped and the dog walk had quite a few dog feces that were never cleaned up. WiFi nonexistent. Parking makes it look a bit junky. But employees and fellow campers were friendly so good stay. We'll stay again.
Oct 06, 2020
From the time we were greeted to the time we departed the staff was welcoming and professional. All COVID guidelines were followed and our family felt safe. I am so glad we took a chance on staying in a location that wasn't on our top 5. We will definitely be returning to this hidden gem.
Oct 06, 2020
Just fine for an overnight stay, easy on/off highway access, there was traffic noise also a rooster or two, no problem for us we needed to leave early! Clean restrooms, we would stay again
Oct 05, 2020
Very clean, friendly staff and nice convenient store right off the freeway, only downfall is the drive-thru sites are very close together. Paid a little bit more to get a bigger site so it all worked out.
Oct 05, 2020
The park was clean and close to stores. Bathrooms and showers were nice and clean as well, only down fall is it is close to the freeway and there is a walking trail that attracts some characters. Our site was good, but another camper came up to us in the morning asking if anything was missing as their bikes were almost stolen, we made sure and packed our chairs inside our truck at night.
Oct 03, 2020
quiet nice to hear the chickens.easy on and off the hi way
Oct 03, 2020
Only negative was the traffic noise from the highway. Maybe planting trees would help buffer the noise some.
Oct 02, 2020
We were placed at the end of the parking lot next to a dumpster...many open spots. No WiFi because it said we were too far.Office said we could leave and be refunded! Poor set up of picnic tables with people sitting right outside our door for four hours until 10pm! Homeless man ca,e and went through garbage cans for tin cans! Large outdoor light shined right into our window. Unsafe, unpleasant.
Oct 01, 2020
First rate facility. Under tough condition very helpful, friendly and professional. Followed all the county and State rules for the pandemic. Will be my number 1 forever.
Sep 29, 2020
Clean, quiet campground (other than freeway) with friendly, helpful staff. 20 minutes to Monterey and Carmel!
Sep 29, 2020
Rooms were not clean. The floors were not cleaned or mopped so our feet was dirty. Place was not sanitized and clean.
Sep 29, 2020
The staff were all extremely helpful, friendly and followed COVID guidelines! They made sure we had a spot that was easy to park in...we are 1st timers. Also were a fantastic resource on all things RV. Location was perfect for day outings to Monterey and a quick drive to Elkhorn Slough for kayaking. Only complaint was a roster that had no sense of time.
Sep 28, 2020
The Campground is nicely maintained, the space was comfortable and staff were very nice (specifically Nick). However the location is less than desirable. Hwy. 101 is very loud and we had a Rooster right behind us that made his presence known frequently through the night and early morning. If you can sleep with ear plugs or are a heavy sleeper the location is convenient but that noisy.
Sep 27, 2020
I was there for 14 weeks and enjoyed every minute of it. Located close to town with easy drive to beach, work, and other towns. Sites kept clean, quite time respected and the staff was very professional and helpful. I was checked on frequently and treated with top professionalism. When repairs were needed on my RV I was given top notch recommendations who were able to help me out. Loved it!
Sep 22, 2020
it was nice and clean the grounds was kept up very nice... the only thing i didn't like is that every time we went in the store to shop and look around we were asked if we needed somehting multiple times. after we told them that that is what we enjoy doing when we go camping. look around for long periods of time and then shop.
Sep 21, 2020
Stayed in Cabin K8. It was clean and Comfy but needs some upgrade. Close to market and restaurants. Mike's Mountain Pizza is the Bomb. Pool area is nice with fire pit seating overlooking pool. Would recommend still recommend a stay there.�
Sep 21, 2020
We made a mistake when booking and accidentally selected "Tent Trailer" instead of "Travel Trailer". The site we were to stay in had a large dip that prevented us from being able to back our trailer into the site. The staff was WONDERFUL about it. We were extremely fortunate that there was ONE small, pull thru site available in the park and they relocated us there. Thank you!
Sep 21, 2020
I wish I could give you a five start but I can't. There was a rooster that was crowing early in the morning and almost all day. There was also the freeway noise. Its close to the on ramp and you can hear trucks braking hard to avoid some slow drivers merging in. The personnel are courteous and the area is clean. I think it's perfect for an in between stop.
Sep 21, 2020
Loved our stay!
Sep 21, 2020
great rv park to stay at, great hosts at check in, only negative have is being handicapped the sites were to narrow for me to get around. in my comments when i placed the reservation i stated that i was handicapped. and, it was a little steep around our site for walking our dogs.
Sep 21, 2020
Only request is KOA should have propane on premises just in case of emergencies other than that our stay was amazing as usual we love it here
Sep 20, 2020
Disappointed that the WiFi was never fixed during our stay. When we decided to leave one day early because of continued heavy smoke and closure of a majority of attractions and businesses in the area, it would have been nice if the campground worked with us to either refund the last day or offer a credit of one day on a future stay rather than a flat out NO.
Sep 19, 2020
We were placed in a site that barely fit our fifth wheel and tow vehicle. The front office staff were friendly and professional. The manager was rude without cause. The park only has two 50 amp spaces. Very old park and facilities.
Sep 15, 2020
Wi-fi was non-existent. Crammed us all into the lower half while the upper half was empty. In COVID times, this was just ridiculous to do. Just not that nice a place and a full 20 miles from Monterey which translated to 30 minutes drive each way so fairly disingenuous when they claim this is a Monterey campground.
Sep 11, 2020
The cabin was nice and patio was big. Though the reason for a 3 star is the Heater and AC was not working. The staff informed me it was because the hvac unit would cause an electrical outage. Though it was very hot in the day and very cold at night. The potbelly fireplace gets dangerously hot and I do not think it is safe. Consider added a notice of how to use the fireplace and replace hvac.
Sep 09, 2020
Arrived on Saturday and no power until Sunday Evening.. Didn't sleep much on the first night with the heat, rooster crowing, freeway noise. personal where very friendly , understanding and sympathetic. Sunday night with power was perfectly fine as the a/c fan noise blocked out all outside noise. If they get their power situation fixed, would definitely go again.
Sep 09, 2020
We enjoyed our stay here! Everyone was very nice, cabin was very clean along with the pool. We knew it was right off the freeway and it only bothered us at night when trying to sleep. I docked 1 star because there was no AC in the cabin and that was brutal over the Labor Day super hot weekend. We really loved the pool and the community firepit was nice. Location is great! (minus the freeway :))
Sep 09, 2020
Park is very clean people in charge really nice but our experience was not good power was out for two days we use the RV generator for 16 hour my wife said this is going to bad camping trip they refund the last two nights that was
Sep 09, 2020
The Salinas KOA is my new favorite place! We have stayed twice in the last month. I love the Kabins and the pool is great! I keep telling all of our friends about it! My husband says to stop giving away my good secrets! The Kabins are clean and the area is quiet and peaceful. I love the trees. The freeway noise doesn't bother me!-Thanks to the staff too- They work hard!
Sep 08, 2020
The staff were very nice and accommodating; however, this site is not set up for bigger rigs as spaces are very tight with little to no room for cars/trucks with rv. Pool and washrooms were clean. The electrical power was out during our stay but the owner did refund our money as we paid for full hookups but nothing was working due to outage.
Sep 08, 2020
Cabin was spacious and clean. The facility is nice, but close to the freeway is noisy
Sep 08, 2020
There was an incident where the electricity was off for about 24 hours of our stay. The workers at the KOA were amazing! They worked above and beyond to fix the situation, apologize to guests and try to make it right for guests. I am so impressed with the workers!
Sep 08, 2020
The power went out because of the California wildfires and PG&E issue but the park staff was constantly communicating and made every effort to make our stay as comfortable as possible. I would highly recommend this place as the staff is surely one of a kind.
Sep 08, 2020
Here's the thing, this would be one of the best KOA's around if it wasn't for it's proximity to the highway, which creates a lot of noise. Now, if you're like me and kinda like the highway noise, you're gonna love this place. Great and accommodating staff. Clean facilities (toilets, showers). Great location.
Sep 04, 2020
It's bad enough that it's super tight spaces wedged between the freeway noise but the early morn beautification of building brick walls noise pushed us over the edge at this one. Luckily we were only passing thru but I would never visit this one again.
Sep 04, 2020
Wonderful facilities, convenient location for beach access about 15 min away. Great park! Easy after hours check in with brochure waiting for me at the office. Also, I enjoyed walking the KOA Salinas/Monterey park each morning and playing basketball there.
Sep 04, 2020
The caretakers are very neurotic. Rude and rigid.
Sep 03, 2020
Friendly staff. Had a great time.
Aug 25, 2020
We were unable to book due to sites being sold out, no biggie. Unfortunately the lady answering phones was on her own and clearly very busy. I'm sure it's tough right now with so many people evacuating. My advice to those seeking reservations is don't call more than once, as they are short on people to help answer the phones and it sounds pretty stressful in there. To the lady who took our call, I hope your day gets better!
- Les Wells on Google
Aug 28, 2020
It was a good place to stay, not too far from the ocean. We visited during a brown out, just wish we would have brought our generator
- Charlene Sousa on Google

Salinas / Monterey KOA
Open All Year
8710 Prunedale North Road
Salinas, CA 93907
Check-In/Check-Out Times
RV Sites
Check-in: 1:00 pm, Check-out: 12:00 pm
Accommodations, Deluxe Cabins
Check-in: 2:00 pm, Check-out: 11:00 am
Get Google Directions

© 2020 Kampgrounds of America, Inc.