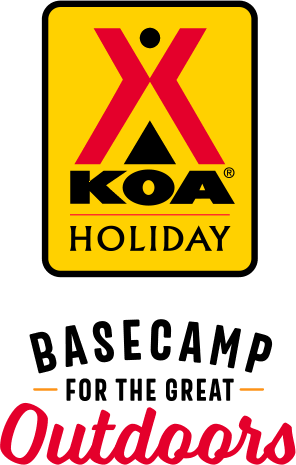 KOA Holiday Campgrounds
Whether you're exploring the local area or hanging out at the campground, KOA Holidays are an ideal place to relax and play. There's plenty to do, with amenities and services to make your stay memorable. Plus, you'll enjoy the outdoor experience with upgraded RV Sites with KOA Patio® and Deluxe Cabins with full baths for camping in comfort. Bring your family, bring your friends, or bring the whole group – there's plenty of ways to stay and explore.
KOA Holidays Feature:
RV Sites with a KOA Patio®
Deluxe Cabins with full baths
Premium Tent Sites
Group meeting facilities
Directions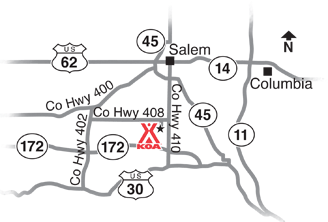 Located 3.5 miles south of Salem or 3.5 miles North of Rt 30, just west of Depot Rd. on Winona Road
From Rt 11: Rogers/Lisbon Exit, take Rt 30 W, bear right on Rt 172, then take Depot Rd N (right), then turn left on Winona Rd. KOA is first lane on left.(10 miles total from Rt 11).
From I-77: Take 62 East through Alliance to Rt 45 S, go right on Depot Rd. 3.5 miles turn right on Winona Rd. KOA is first lane on left (35 miles from I-77).
Get Google Directions
Jun 19, 2021
Cabin clean staff was fantastic The younger staff helpful polite and friendly.
Jun 17, 2021
The staff was wonderful,anything you need they were right on it.The campsite was very relaxing and peaceful and the kids had a blast fishing.Next time we go to Ohio we will be staying at your KOA
Jun 17, 2021
Only one day but very nice. Great satellite restroom facility. Beautiful pool
Jun 16, 2021
One of our favorite campgrounds to visit. Staff is wonderful and accommodating!
Jun 16, 2021
we requested in our reservations to be beside our friends. The facility does not read the reservation until you arrive the request was not considered, t considering the specific situation this caused an inconvenience and us not to enjoy our evenings, if the request was considered before we arrived. The check in person was not nice about it. We almost left but made the best of it. Disappointed!
Jun 16, 2021
The staff were most helpful and very friendly. They seem to go the extra mile. We didn't use many of the amenities but we were happy with our stay overall.
Jun 14, 2021
Great KOA. Nice place, nice setup really enjoyed the site.
Jun 14, 2021
We had so much fun! They were very friendly, and helpful. Accommodated my son's b-day party, and made it a great day! Ty to everyone at SLO KOA!!
Jun 14, 2021
Very nice, clean and friendly place to stay !
Jun 14, 2021
Very nice, very clean.
Jun 14, 2021
We were very impressed with the Salem Lisbon KOA. The kids really enjoyed the splash pad, pool and playground. The cabin was very nice and clean. It offered all the amenities of home.
Jun 12, 2021
Loved the yurt. We forgot a fan. Cooled off nicely overnight. Grateful for bathroom and sink.
Jun 12, 2021
Awesome place, most people were friendly, clean, and fun for kids. Barb was very nice and helpful.
Jun 11, 2021
Great place for the whole family....
Jun 10, 2021
Frequent weekenders here, very family oriented campground. Super friendly people whether you are seasonal or weekenders. Love barb and her staff.
Jun 10, 2021
Family friendly environment, great fishing pond in the middle of the campground and the pool is quite large and well maintained. The staff was friendly and I will return to this KOA.
Jun 09, 2021
it was very relaxing, little confusion when we got there with our site, but they got us in as quickly as possible and gave us a complimentary bundle of wood :D the pool is huge, a nice dog park area, lots for the kids, just a clean, nice campground
Jun 09, 2021
The best KOA. We told all of Salem about how awesome the park is. Our family members are already planning to stay there.
Jun 08, 2021
Our Cabin was much nicer than we expected. It was clean, and anything we needed was taken care of promptly. The grounds were beautiful and there was plenty to do!
Jun 08, 2021
Great place, the staff was great, especially Barb!
Jun 08, 2021
We love staying in the lodge. Very clean. And we love how kid oriented it is!!
Jun 08, 2021
Wonderful time , will definitely be back soon.
Jun 07, 2021
We really enjoyed our stay there for the winter. We felt like we were part of a family. They went out of their way to make our stay the best it could be. I love the people that work there!
Jun 07, 2021
Staff is friendly, and the campground is very clean.
Jun 03, 2021
Problems with a particular site requested for our group. Things worked out, but we could have done without the issue. Campground was great, but our weather was terrible - cold and rainy.
Jun 02, 2021
Even though it rained a few days we had a great time, great fishing. All the people are great. Thanks Barb see you next year. God bless you. Frank
Jun 02, 2021
Our recent stay of Memorial Day weekend was perfect!! Our site was huge, clean, and perfectly located. We had plenty of space even though the campground was full. Although the weather was not amazing, the entire staff made sure the fun still went on!! There were plenty of activities. Barb and the staff do an amazing job! The Veterans were honored and each camper was so friendly! We will be bac
Jun 02, 2021
Had a great time with lots of great people as always camping. Barb was great
Jun 02, 2021
Freindly fun weekend. Thank you KOA SALEM
Jun 01, 2021
Fun entertainment for kids and good DJ. Wish they had more kid activities during day for kids!
Jun 01, 2021
Absolutely love this campground. The staff and owners are such Great people. Always love hitting this great KOA a few times a year.
Jun 01, 2021
This KOA is by far the best around. The owners and staff go above and beyond to make your stay a successful one!! We will continue to go back!
Jun 01, 2021
We had a birthday party there and, they gave us a refund for all the confusion that went on that day.
Jun 01, 2021
The cabin was great and the campground is very nice.
Jun 01, 2021
GREAT PLACE TO STAY!
Jun 01, 2021
This is truly the best campground and is perfect for making memories. We love fishing at the lake and enjoying all the campground has to offer. You can tell how much the owners care for their guests and want everyone to have a great experience. We try to get there as often as possible because it is a beautiful place to be. Thank you for another wonderful stay!
May 30, 2021
Stuck in with Year rounders. No view except storage sheds. Entrance area looked trashy.
May 28, 2021
The staff and fellow campers here are a.m absolute delight! There are lots of great amenities and the value is the best around! I will definitely be returning!
May 27, 2021
Quiet, enjoyable stay. Kids had a blast in the playground and inflatable pillow. Nice weather and friendly staff. Can't wait to return.
Jun 18, 2021
We had a good spot within walking distance to pool, playground, jump pad, and the store/office. We really appreciated the kind staff who not only escorted us to our site but also took the time to help us back in! Great for kids, clean pool and splash pad with areas for shade and picnic tables. We loved it. Thank you for a great time Koa!
- Becky Bowes on Google
Jun 11, 2021
Great camp ground, Barb was helpful and nice, fun for kids, most people were friendly. Great place for kids.
- shanna zitkovic on Google
Jun 11, 2021
Great nice place
- David Stewart on Google