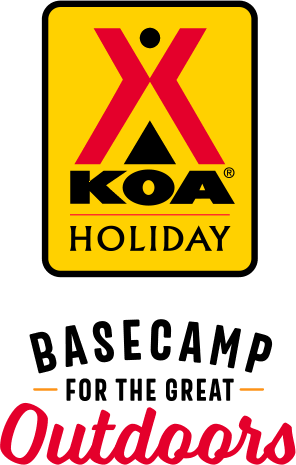 KOA Holiday Campgrounds
Whether you're exploring the local area or hanging out at the campground, KOA Holidays are an ideal place to relax and play. There's plenty to do, with amenities and services to make your stay memorable. Plus, you'll enjoy the outdoor experience with upgraded RV Sites with KOA Patio® and Deluxe Cabins with full baths for camping in comfort. Bring your family, bring your friends, or bring the whole group – there's plenty of ways to stay and explore.
KOA Holidays Feature:
RV Sites with a KOA Patio®
Deluxe Cabins with full baths
Premium Tent Sites
Group meeting facilities
Directions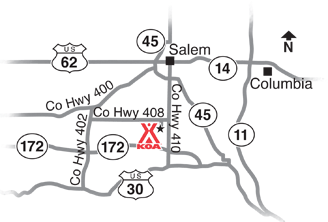 Located 3.5 miles south of Salem or 3.5 miles North of Rt 30, just west of Depot Rd. on Winona Road
From Rt 11: Rogers/Lisbon Exit, take Rt 30 W, bear right on Rt 172, then take Depot Rd N (right), then turn left on Winona Rd. KOA is first lane on left.(10 miles total from Rt 11).
From I-77: Take 62 East through Alliance to Rt 45 S, go right on Depot Rd. 3.5 miles turn right on Winona Rd. KOA is first lane on left (35 miles from I-77).
Get Google Directions
Jan 04, 2021
very friendly and helpful
Jan 04, 2021
So nice that they took me to my campground at night and helped me get plugged in!
Jan 03, 2021
Love it here, it's perfect.
Jan 03, 2021
Wonderful KOA. Enjoyed our stay!!!
Dec 30, 2020
This is such an amazing experience. Thank you Very family friendly. Stayed in a cedar cabin for 11 weeks. Will be back..
Dec 17, 2020
My son and I have been to koa 5 time in the last 2 summer. We like it alot everyone is very friendly and there's such to do highly recommended you won't regret your stay
Dec 17, 2020
The welcoming staff is extremely attentive to the needs of their guests. They went above and beyond to help me out of a setup jam. I will return to this park.
Dec 06, 2020
Was cold out and with Covid in the air we didn't get to do much but the folks were really nice and the camping area clean.
Nov 27, 2020
Awesome people there!
Nov 21, 2020
Too many golf carts, too many golf carts with too young of drivers, too many of the carts playing loud music on the weekend. Other than that the campground was nice.
Nov 18, 2020
Very friendly and helpful staff! It was a beautiful sunset, too.
Nov 18, 2020
We only stayed 2 days here. It was our first stay but won't be the last!! The campground was very clean and the staff were great. Love this place. Will be back.
Nov 12, 2020
The accommodations were amazing! The cabin was clean and modern with all of the amenities we needed to feel comfortable and relaxed. We will definitely return.
Nov 12, 2020
No Covid precautions being taken. No masks. Infrequent cleaning. Very political location. Went on vacation to relax and feel safe, not to feel like i was at a rally.
Nov 12, 2020
Very peaceful well kept campground.
Nov 11, 2020
nice campground, friendly people. we especially liked the night-time train ride for the kids- the kids had a ball !
Nov 11, 2020
Love this KOA. Very clean and the owners are super super nice people. Barb has always made us feel welcome there. Visited twice this year and hope to visit more next year.
Nov 11, 2020
Beautiful campground
Nov 10, 2020
They always go above and beyond to accommodate us
Nov 10, 2020
i already sent an email
Nov 10, 2020
We had a nice late season stay. We enjoyed the fishing pond, and the store had nice selection for late season camping. The escort to the site is always nice! Would definitely come back!
Nov 10, 2020
very nice place it was our first time there we will stay agian
Nov 10, 2020
always a good time at the Salem KOA
Nov 10, 2020
Incredibly nice staff!
Nov 09, 2020
THEY DO A GREAT JOB OF KEEPING A CLEAN, ENJOYABLE CAMPGROUND THAT IS 100% FAMILY FRIENDLY
Nov 06, 2020
It was a relaxing stay, a Much needed change of pace!
Nov 04, 2020
Everyone was so friendly! Thanks guys for making us welcome. Loved the fishing pond. Hot dog trained fish. Ha ha ha ! So funny! Loved having a restaurant on the premises and sooo nice to have firewood delivery. Thanks again. P.S. Beautiful fall leaves too.
Nov 01, 2020
Love the campgrounds and the employees. Soo much rain it got very muddy. No ones fault.
Oct 29, 2020
Close to home but had that faraway charm to it. My grandson had a great time.
Oct 28, 2020
We had a wonderful time there!
Oct 27, 2020
This is a very nice campground but we were very sorry/ unhappy that the swimming pool hours were so short. Middle of July and the pool was open noon to 7:00 !! It's a fabulous pool but the hours were terrible!!
Oct 27, 2020
We love it at the Salem / Lisbon KOA!
Oct 27, 2020
If Site 35 got any smaller the back of my camper would be part of the cabins. I looked out my camper window and was looking inside the cabin. The people were talking in there cabin, and my wife and I could hear them. They had dropped something in the late hour of the night and we thought there was an intruder in our camper.
Oct 26, 2020
Great place to relax by a fire and fish
Oct 26, 2020
Enjoyed the relaxing and reading time was able to rest and take morning and evening walks. The cabin was very clean and nice. Will be back �Thanks
Oct 26, 2020
The site, personnel and the stay was overall very nice. One small issue was that the air conditioner in KL 7 did not cool at all. We did not need it as the temperatures at night were ok but did run it for a couple of hours during the day. Again, not a big deal at all, however maintenance may want to check it to see if it needs to be recharged or replaced. One of the best KOA we have ever been to.
Oct 26, 2020
We LOVE staying at KOA Salem/Lisbon!! Everyone is so friendly and my children have such a great time!!!!
Oct 25, 2020
Very enjoyable. Nice amenities. Good people. Reasonably priced. Will visit again.
Nov 18, 2020
Wonderful, restful, cozy
- Shirley Elosh on Google
Nov 10, 2020
Went to a birthday party here and staff was very friendly and didn't get charged for my short vist was very impressed keep up the good work Campers 👍😊
- Tassy Everett on Google
Oct 20, 2020
Such a great KOA. Lots of things to do for adults and kids. Really nice peaceful Lake right in the middle of the park which makes for a beautiful setting.
- Marc Peterson on Google