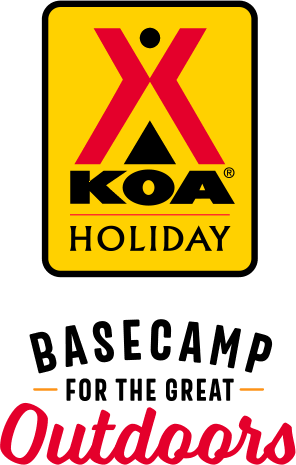 KOA Holiday Campgrounds
Whether you're exploring the local area or hanging out at the campground, KOA Holidays are an ideal place to relax and play. There's plenty to do, with amenities and services to make your stay memorable. Plus, you'll enjoy the outdoor experience with upgraded RV Sites with KOA Patio® and Deluxe Cabins with full baths for camping in comfort. Bring your family, bring your friends, or bring the whole group – there's plenty of ways to stay and explore.
KOA Holidays Feature:
RV Sites with a KOA Patio®
Deluxe Cabins with full baths
Premium Tent Sites
Group meeting facilities
Directions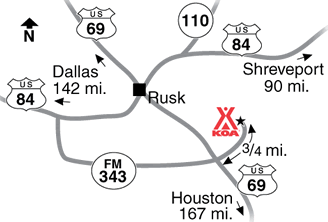 Turn east on FM 343 from Hwy 69 at flashing light. Go 1/2 mile to top of hill. KOA is on the left. GPS: N31.791495, W95.118546. Don't use GPS as the iron ore in East Texas will send you in different directions!
Get Google Directions
Jun 09, 2021
The staff were very friendly and accommodating, especially Wayne.
Jun 08, 2021
We organized a family reunion and chose Rusk because of the location, never having stayed there before. The facilities and staff are awesome. We have stayed at many KOA's throughout the U.S. and this ranks as the best in terms of facilities. Other than problems with the computer system, our stay was very enjoyable.
Jun 08, 2021
Despite the holiday weekend, our stay was fairly quiet. We enjoyed the Saturday pancake breakfast, the view of the woods, and the friendliness of the staff.
Jun 08, 2021
Enjoyed Great place. Plenty of things for the Kids to do. WIFI was spotty.
Jun 07, 2021
we had a family reunion with 30 family members. The staff was great and the facilities were wonderful for the family. There was plenty of things for kids ranging from age 1 to 75... The only complaint would be that their computer system didn't seem to be user friendly for the staff. We are planning another trip back there..
Jun 07, 2021
The stay was wonderful, the staff very helpful and pleasant. The campgrounds were well maintained and clean. The spaces available had everything I needed and the whole stay was peaceful and quiet. Jack was awesome and fun to talk with. I will definitely stay there again when in the area. This place is a gem and should be on everyone's list of places to stay!
Jun 04, 2021
From start to finish, the entire stay was perfect. We really enjoyed the pancake breakfast and hot dog/ hamburger supper. All KOA staff were friendly & welcoming.
Jun 04, 2021
Love the Rusk KOA, i've stayed there are a number of times and it's always beautiful, quiet, friendly, clean and welcoming. Can't wait to go back to the Piney Woods of East Texas in the near future
Jun 03, 2021
Had a great time. Nice and friendly people. Clean campsite. Will return soon.
Jun 03, 2021
All the staff were very friendly and helpful. The park was very clean and they escorted me to my campsite
Jun 02, 2021
Enjoyed the stay except for two things. 1). The bed was to high for a short person and the pillow top mattress sank to the middle and made it hard to move. 2). The bathroom door was hard to close. Forgot to tell you that information when we checked out.
Jun 02, 2021
Beautiful setting. Great staff here. Only one thing is that it got kinda loud one night after quiet time but no biggie and doesn't reflect on the overall rating. We will be back
Jun 02, 2021
I am not what one would consider a "camper" however had an absolute blast at your KOA Campground in Rusk Texas. The cabin was perfect in every way. From the porch swing to mini fridge - absolutely awesome. The showers and restrooms were close enough to use even late at night. Everything was clean and Saturday's breakfast was such a treat. Looking forward to coming back in a couple months!
May 31, 2021
We normally stay in our RV. This time we tried the deluxe cabin It was ok the staff was friendly but not as organized as past KOA directors at rusk. It was still a pleasant experience
May 31, 2021
Great place, lots of things to do, clean restrooms and showers and very nice people who are very dedicated to what they do.
May 31, 2021
Well kept and friendly owner and staff. WiFi was not working. Staff said the system had been hit by lightning, but said the same 3 weeks prior when we stayed there. Apparently no concern about repairs. They seemed satisfied as long as they were able to use the internet in the office to charge credit card. Stains using KOA overall.
May 28, 2021
Beautiful campground and terrific staff!
May 27, 2021
Very clean and everyone was so nice. Always willing to help.
May 26, 2021
Had a great time. Everyone was so nice. The only issue I have is there were signs for the walking trail at the campground but once you started walking it. There was really no trail cause it was overgrown and no signs that say which way to go. Almost started panicking cause I thought we were lost. The pool was clean. Bathrooms were immaculate. Will be back this summer.
May 25, 2021
Great customer service!!
May 17, 2021
We very much enjoyed our rally! Staff are friendly and helpful.
May 17, 2021
Great Place...we will be back
May 17, 2021
We rented one of the cabins, it was very clean, had everything you needed to cook with and a full bath w/shower and towels. The park was very clean and mowed. The people working there were very nice. The only problem we had was the rain! Will go back in the future.
May 17, 2021
great staff, easy access
May 17, 2021
Net Clean Park . Easy access to the Texas Railroad.
May 17, 2021
Ms.Donna was a breath of East Texas fresh air to work with and my group of Dual Sport/Adventure Riders will be back.
May 17, 2021
Stop over from travel in-between. Great staff and great park. Thanks!
May 16, 2021
Enjoyed the stay. Nice staff. But no wi fi.
May 16, 2021
Most quiet KOA we've ever stayed in.
May 14, 2021
We stayed one night. It was quiet and clean. We especially enjoyed ordering pizza at the campground office and having it delivered to our site. It was great!
May 13, 2021
Stopped for an overnight and found the campground a very nice place to stay. Quiet and clean. Wish we had more time to explore.
May 12, 2021
The cabin was clean and well stocked and everything worked as it should. The staff was exceptionally helpful and friendly. The campground was peaceful and quiet. We appreciate the fact we could take our dogs with us. We were double-charged for the $25 pet fee but the error was caught by the staff and a credit was issued immediately. The downside...VERY expensive nightly charge.
May 12, 2021
We had a great time.
May 10, 2021
Cabin was nice but much smaller than it looked in the pictures. But after storing all our belongings it was just right. Staff is amazing and took care of our every need. Campground is very clean and a great place to experience nature.
May 10, 2021
We stay here several times a year for long weekends. It is quiet, clean, and very pet friendly. the staff is always friendly and helpful. I can't recommend staying here enough, I guarantee you will enjoy yourself.
May 09, 2021
Nice quite campsite.
May 09, 2021
Great staff, clean and well kept park. Only glitch....the WiFi was horrible. Staff said the system suffered a lightning strike, so it was out of their control. I hope it's repaired quickly. I would not hesitate to stay there again.
Jun 09, 2021
Nice place.
- Edward Kneupper on Google
May 21, 2021
Fantastic place and employees. I'll definitely be back.
- Michael Moore on Google
Apr 28, 2021
Beautiful
- Barbara Crews on Google