Local Area Attractions Near Royal Gorge / Canon City KOA Holiday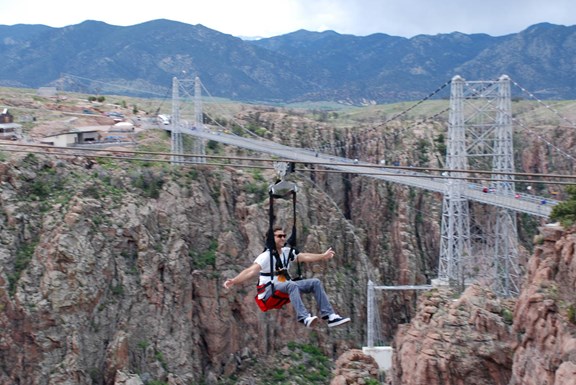 Royal Gorge Bridge
Colorado is known for its spectacular scenery. And there's no place more spectacular than the famous Royal Gorge...where one of the world's highest suspension bridge soars 1,053 feet above the Arkansas River. A thrilling aerial tram and incline railway add to the experience. In fact, an entire park has grown up around the bridge, combining quality entertainment with unparalleled natural beauty.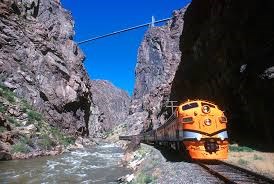 Royal Gorge Route - Train Ride
Canon City & Royal Gorge Railroad is fun for the whole family. This Train ride through the Royal Gorge operates year round. The Royal Gorge Route follows the most famous portion of the old Denver & Rio Grand Western train line, 24 miles round-trip, from Canon City to Parkdale and return. The two hour train ride takes passengers through the "Grand Canyon of the Arkansas" on an unforgettable journey over the famous Hanging Bridge, which clings precariously to the steep granite walls of the Royal Gorge, towering over 1200 feet above. Ask KOA staff to make your reservations.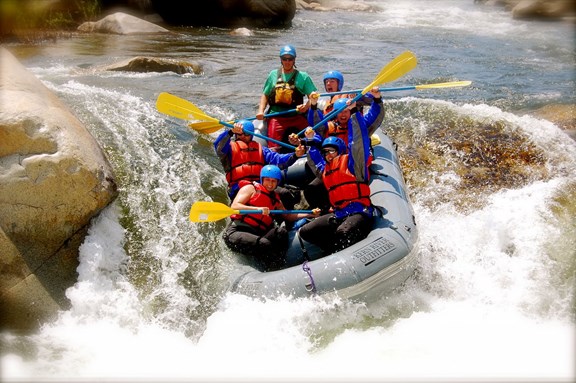 River Rafting
As the snow melts high in the Colorado Rockies, world class whitewater rapids are born in the Royal Gorge Region. The Arkansas River hosts more rafters than any other river in the world. Easy access and wide diversity, awards the Arkansas River recognition as the number one river in the country for rafting and kayaking. Bighorn Sheep Canyon just west of Canon City offers Class II-Class III waters, ideal for first time rafters and families, while the Royal Gorge itself boasts the steep drops and huge rapids that make this the Class IV and V run that draws experienced rafters from far and wide. The Arkansas River also provides other water sports for the ultimate sports enthusiast - kayaking the rapids to fly fishing for trout in trophy waters. Horseback Rides at Fort Royal Riding Stables
Take a ride into the foothills surrounding Royal Gorge Country. Length of ride available to suit your comfort!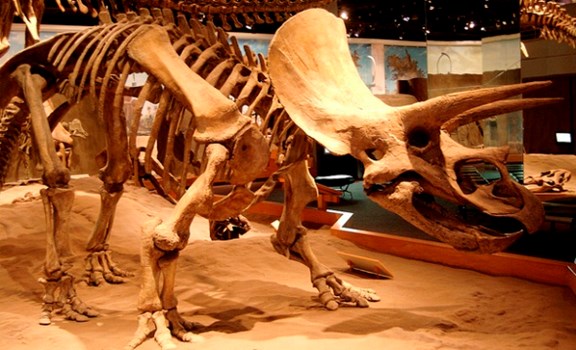 The Royal Gorge Dinosaur Experience
The Royal Gorge Dinosaur Experience gives kids of all ages the opportunity to experience science-focused interactive displays, full-scale dinosaur fossil casts, hands-on exhibits with real dinosaur fossils, skinned animatronic dinosaur exhibits, guided tours, and—for added family fun, value and lasting memories—a multi-story ropes course. Colorado Springs

Pikes Peak Highway
The Road to a new adventure. Open daily to uphill traffic. December through March open at 9 a.m. to 3 p.m. Wednesday through Sunday. April-May open 9 a.m. to 3 p.m. seven days a week. Memorial Day Weekend open 7 a.m. to 7 p.m. June through Labor Day open 7 a.m. to 7 p.m. seven days a week. September through November open 9 a.m. to 3 p.m. seven days a week. (The weather may affect the opening and closing times.)

Cog Railway
Sit back and relax as the world's highest cog railway takes you to the top of America's best-known mountain, Pikes Peak, 14,110 feet! Depart seven days a week. The round trip takes three hours and ten minutes. This railway operates from late April through late October (weather permitting). Advance reservations are highly recommended. Royal Gorge staff can make reservations for you.

Garden of the Gods Trading Post and Visitor Center
A free city park, a park for all seasons. Enjoy features like theater presentations, educational exhibits, bus/walking tours, nature talks, dining and refreshments, information on the region and souvenirs and gifts. Hours are summer 8 a.m. to 9 p.m. and winter 8:30 a.m .to 5:30 p.m. Closed Thanksgiving and Christmas Days. There are various tours to choose from. They are Discovery Tour (stroll through a world millions of years old), Explorer's Trip (spend a day in the dark), Laser Canyon (we're a magic mountain after dark), and Lantern Tour (experience the past, today). Open year round. Cave tours are conducted Labor Day weekend through Memorial Day weekend 10 a.m. to 5 p.m. (last tour at 5 p.m.) and Memorial Day weekend to Labor Day weekend 9 a.m. to 9 p.m. (last tour at 8 p.m.). Laser Canyon Shows are conducted Friday, Saturday in May at 9 p.m. and Memorial Day through Labor Day 9 p.m. nightly.

Northpole - Home of Santa's Workshop
Admission includes unlimited rides, all shows and attractions. Special rates are available for large families and tour groups. Mid May through May 31 (closed Thursday) open from 9:30 a.m. to 6 p.m., June 1 through August 31 open daily 9:30 a.m. to 6 p.m. and September 1 through December 24 (closed Wednesdays and Thursdays) open 10 a.m. to 5 p.m.

Flying W Ranch
Chuckwagon suppers and original western show. The ranch is open October through May and closed January and February. Reservations are necessary. To make reservations please call (719) 598-4000. Cripple Creek

Cripple Creek Gold Mining Camps Area
See old mine sites and also a current state of the art gold mining operation midway between Cripple Creek and Victor on CR 67.

Florissant Fossil Beds National Monument
End of July - Hornbeck Homestead Days and Florissant Heritage Days.

Mollie Kathleen Gold Mine
Take the Goldmine Tour that goes 1000 feet underground. This tour is designed for all ages. No steps, ladder or climbing involved. You will enjoy the slow walking pace. Open daily at 9 a.m.

Lowell Thomas Museum
Located in Victor, Colorado. This museum was named for the famous journalist and broadcaster who grew up and began his newspaper career in Victor. Outstanding mining exhibits, historical items, Thomas momentos.

Pikes Peak Heritage Center at Cripple Creek
Visit this new state-of-the-art interpretive center and learn about the region. All Colorado Springs Attractions
There are many things to see and do in the area. Some of which are: Flying W Ranch, Cave of the Winds, Pikes Peak Summit House, Manitou Cliff Dwellings, Santa's Workshop/North Pole, The Manitou Springs and Pikes Peak Cog Railway, Garden Of The Gods Trading Post, Cheyenne Mountain Zoo, Seven Falls, Pikes Peak Highway and United States Air Force Academy. KOA staff can provide brochures on all of these attractions. Cripple Creek Gold Mining Camps Area
There is plenty of family and adult fun in this historic area. There is something for everyone - The Narrow Gauge Railway, local museums, restaurants, casinos, turn-of-the-century gold mine digs, a "state of the art" gold reclamation operation and the Mollie Kathleen Mine which takes people down 1000' into a mine that was an active gold mining operation in years past. Gold Belt Auto Tour
This National Back Country Byway follows three historical travel routes that connect Canon City and Florence to Cripple Creek/Victor and Florissant. The whole route is marked with blue Scenic Byway signs containing the Colorado Columbine. Please note that portions of this tour are restricted travel routes and trailers, campers, buses and motor homes are unable to travel these roads. Allow two hours to travel each route. KOA staff can help with directions. Wet Mountain Valley Auto Tour
Spectacular mountain scenery can be enjoyed on this 104 mile journey from Canon City. Wet Mountain Valley sits between the Sangre De Cristo and Wet Mountain Ranges. Take a side trip on Hwy 165 to Bishop's Castle. Arkansas Headwaters Auto Tour
Discover America's most popular white water river, the Arkansas and view the 14,000 foot peaks of the Collegiate Mountain Range. The Arkansas Headwaters Recreation Area runs 148 miles west of the Pueblo Reservoir. Enjoy an abundance of recreational activities in this area.