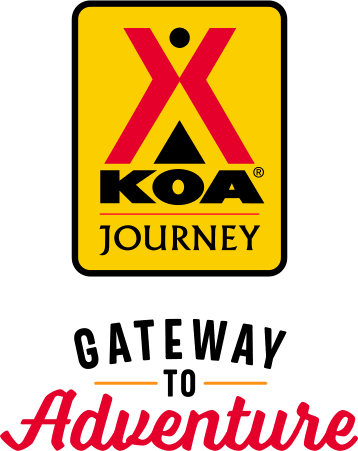 KOA Journey Campgrounds
KOA Journey campgrounds are the perfect oases after a day on the road. Whether it's along the way or a quick getaway, they've got you covered. Located near the highways and byways of North America with long Pull-thru RV Sites, they deliver convenience to the traveling camper. Pull in, ease back and take a load off.
KOA Journeys Feature:
Pull-through RV Sites with 50-amp service
Premium Tent Sites
Well lit after hours check-in service
Directions
Located on M-28 in Wetmore: 3.5 miles east of Munising. The campground is approximately 125 miles from Mackinac Bridge and 45 miles from Marquette.  GPS: N46.3773, W86.5915
Get Google Directions
Sep 08, 2020
Friendly staff. Our fire pit did not have a grate. Women's bathroom was in bad shape. Getting out of the shower onto tiles that are not secured down is not safe. The tile would pop up. Broken grout was in chunks on top of the tile & could hurt. Shower drains full of hair. I have stayed at many KOAs and their bathrooms are clean. Revving up loud snowmobiles in the morning was extremely unpleasant.
Sep 02, 2020
Bathrooms very dirty - camp too busy and almost overcrowded. Camp is next to the road and a hotel - very very noisy.
Aug 29, 2020
Staff were friendly, campsite was nice and shaded. Bathroom could use updating, and showers need to be cleaned more often. If you are staying in a tent, beware of the low spots on your site, and put your tent on the highest ground possible. During a thunderstorm with heavy rain (which can happen often here), the campground becomes a flowing river with water at least 6 inches deep in low spots.
Aug 28, 2020
The bathrooms were pretty clean and staff was nice and helpful. However, there was minimal privacy at the camp sites which was not ideal the cops came to the camp next to ours at midnight and stayed until 12:45 in the morning and they had their headlights shining right into our tent for 45 min. Masks were not inforced and it made me uncomfortable.
Aug 28, 2020
I enjoyed my stay! Wish we could've stayed longer. It was cozy and quiet and the bathrooms weren't dirty. Also very close to Pictured Rocks/Munising (10 min drive)
Aug 26, 2020
Perfect place to stay for a camping weekend away! Felt very safe with all the Covid precautions that were taken and enjoyed all that they had to offer.
Aug 16, 2020
Everything was nice except for the bathrooms. Hate to say that I will never stay here again after walking into those outdated, stinky, and moldy bathrooms.
Aug 15, 2020
We had a very nice time at the Munising KOA. They had some problems with their facilities that were not their fault and they did everything possible to keep us apprised of the situation and to make it right (giving water, ice and ice cream to us throughout the stay). They were gracious and kind and good people. The site we stayed in was nice and most sites were very welcoming. We would stay again!
Aug 12, 2020
It was okay the restroom and showers were out of order the last night other then that it was okay
Aug 12, 2020
Campsite was fine however bathrooms were quite dirty and need to be cleaned more than once per day. Noticed the interior and exterior of the bathrooms also looked in need of maintenance.
Aug 10, 2020
Quick and easy Check-in \out. No hassels. Great location.
Jul 31, 2020
Great location!! Wooded lots and great facilities!
Jul 31, 2020
Needed a place to stay, you had a spot available. Wasn't best campsite I've ever stayed in but you were friendly folks blessing a family in need. Thank you.
Jul 29, 2020
Had a wonderful time at Munis KOA. It was my first time at a KOA & we couldn't have had a better time. Friendly folks.
Jul 26, 2020
This KOA was very considerate of the current COVID crisis. Masks required in buildings, and hand sanitizer in several places. They were very accommodating and had our campsite reserved. We were a little noisy one night and they had a friendly worker come and gently put us in check. Will recommend!
Jul 24, 2020
Having recently stayed at KOA campgrounds in Wyoming and Colorado on a 5-week road trip, I would say that the bathroom facilities at this location definitely need to be upgraded. The shower stalls were grungy, and the floor right outside the stall was full of dirt and sand at all times, with water on the floor instead of rubber mats to step on to. General cleanliness could be improved overall.
Jul 19, 2020
Small and old bathroom. No water close to the site.
Jul 13, 2020
It was great..we had a great time
Jul 13, 2020
The bathrooms were run down and gross.
CAMPGROUND RESPONSE / COMMENTS:
Thank you for taking the time to answer the survey. Our bathhouses are outdated but we try very hard to keep them clean. I am so sorry that they weren't up to your standards. Thank you again.
Jul 07, 2020
Way better them expecting,
Jul 06, 2020
The stay was great! The gentleman at the front i think his name was Kevin or Steven, well he pointed my wife and I in the right direction to sight see. Literally walked me through what to do, almost like a travel planner, and he didn't have to at all. what great service! we loved our stay and would recommend this to literally anyone that is going to this area specifically.
Jul 06, 2020
Staff was friendly, bathrooms where clean and tent site was a great size.
Jun 22, 2020
Great service and wonderful campground! Only small complaint would be the bathroom/shower accessibility, but it is a small campground and not too far of a walk.
CAMPGROUND RESPONSE / COMMENTS:
Thank you for taking the time to answer the survey. We are so happy that you enjoyed our campground. We are hoping to add another bathhouse for next season, so I hope you will come back again.
Jun 19, 2020
It's a great area of Michigan — but the mosquitos at the campground were SO bad. They weren't bad once I got out to other places.
CAMPGROUND RESPONSE / COMMENTS:
Thank you for taking the time to answer the survey. You are right, the mosquitoes were out in full force. We had a very wet spring, and they were bad. I hope you will try our campground some other time. Once again, thank you.
Oct 04, 2019
Such a beautiful location. The people behind the desk were so sweet and kind, it made us feel like we were staying at a family run campground.
Aug 05, 2019
Very good customer service we had a late change in schedule and they did a great job accomodating our situation. Great site and close to what we wanted to experience!
CAMPGROUND RESPONSE / COMMENTS:
It was our pleasure to have you stay with us and hope you'll visit us again soon!
Jul 28, 2019
Tent sites were dirt. Only one bathroom and shower for a large campground. They were always very dirty.
Jul 24, 2019
Great stay. Great staff. Great times
Jul 13, 2019
Staff was wonderfully hospitable, even delivering firewood to our tent site. The pool was great for relaxing with the kids. Location is convenient to hiking the Pictured Rocks.
Oct 16, 2018
Very good location, clean washroom, nice campsite. Very friendly stuff, will definitely come again.
Oct 16, 2018
This was my first KOA experience and was pleasantly surprised. I will be using them again.
CAMPGROUND RESPONSE / COMMENTS:
Thank you for writing. We are so happy your experience was so pleasant. Come see us again, please.
Oct 13, 2020
What a beautiful location.
- Alicia Purser on Google
Oct 10, 2020
We stayed here for two weeks. Very quiet with friendly staff.
- Mike Bristol on Google
Oct 02, 2020
Beautiful campground all around!! Plus lots of sights to see in town!!
- Caitlyn Moore on Google